Whether you're celebrating a special occasion, or simply just looking for a taste of luxury in the mountains, there are some truly memorable luxury resorts for a ski holiday. These exclusive ski resorts offer a five-star experience; choose between the top luxury ski hotels in the world, dine at Michelin-starred restaurants and make turns on perfectly groomed pistes. It doesn't stop there either; think private airstrips, 20,000 bottle wine cellars, designer boutiques and art galleries. Welcome to the most luxurious ski resorts in the world.
1. Gstaad, Switzerland
The picturesque village of Gstaad in Switzerland has retained its fairy tale Alpine charm, despite it being as one of the world's most expensive ski resorts. Charming, traditional chalets contrast with fabulous designer shops such as Prada and Ralph Lauren, which sit alongside award-winning restaurants.
On the mountain, skiers can explore 200km of slopes, reaching a snow-sure altitude of 3,000m up on Glacier 3000. The pistes here are immaculately groomed and quiet; you'll often have the pistes to yourself and rarely encounter a queue at the lifts.
One of the best luxury ski resorts, Gstaad has some fabulous five-star ski hotels. Amongst our favourites is the iconic Gstaad Palace, where Swiss hospitality and luxurious design make for a glamorous stay. The Gstaad Palace is one of the most famous luxury ski hotels in Switzerland, welcoming guests from all over the world, with its elegant interior, state-of-the art spa and fabulous restaurants. For an alpine dish with a twist, we recommend the exquisite truffle and Champagne cheese fondue at the hotel's La Fromagerie.
Stay At:
The Grand Hotel Park Gstaad is situated in the centre of Gstaad, which is well-known for its understated luxury, and of course, great skiing.
Gstaad ski holidays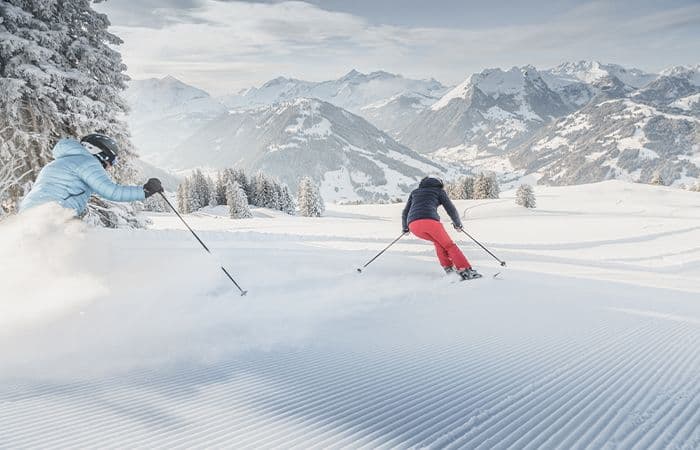 2. Cortina, Italy
Often referred to as the 'Queen of the Dolomites' Cortina d'Ampezzo is a wonderfully glamorous ski destination and one of Italy's most luxurious ski resorts. The town itself is chic and lively; if you love fashion and gastronomy as much as a perfectly groomed piste, the boutique shops and Michelin-starred restaurants will tick every box.
Up on the mountain, the views are spectacular. You can look forward to spending your days enjoying long lunches and sipping aperitivo on sunny terraces. Set in the Dolomiti Superski, the skiing opportunities are endless, with over 1,000km of downhill skiing to explore. The fun doesn't stop beyond the slopes, either. After enjoying a few aperitivo on the piste during après, there are plenty of cosy wine bars and Michelin-starred restaurants to take you all the way from piste to pillow. We recommend Masi wine bar for a post-ski drink; located on the piste, it's a vibrant bar with a great atmosphere and incredible views from the sun terrace.
The Grand Hotel Miramonti Majestic is also one of the top five-star ski hotels in the Dolomites. Originally inspired by the Art Nouveau movement, this is a notable rendezvous for high Italian society and fine Italian hospitality shines through in every aspect of the service.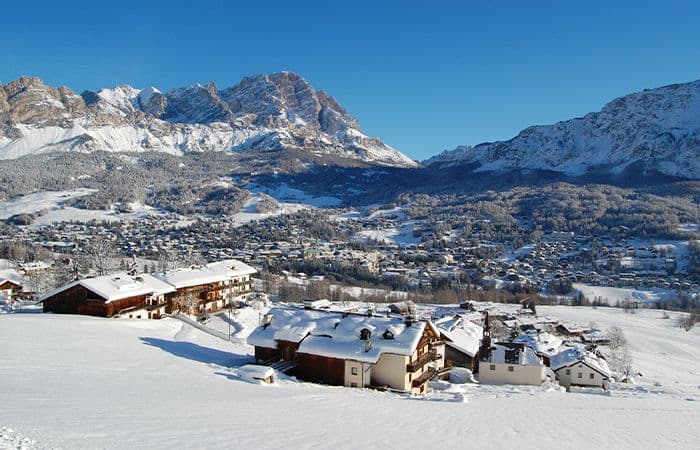 3. Zermatt, Switzerland
The exclusive Swiss ski resort of Zermatt is home to some of the highest skiing in Europe and is one of the best luxury ski resorts. The vast ski area consists of 360km of terrain, connected by ultra-modern lifts. The skiing at Matterhorn Glacier Paradise reaches up to a spectacular 3,883m. When you arrive at the glacier, take the peak lift to the highest viewing platform in Europe; the view up here really does justify the name 'Glacier Paradise'. Non-skiers have excellent access to the mountain – it's possible to get right up to the glacier on foot – meaning everyone can enjoy the delicious mountain restaurants and views.
Zermatt is pedestrianised, aside from the small electric cars used as taxis in resort. As a result, guests access Zermatt itself by a mountain train, leaving their cars behind. It's a wonderful way to arrive in Zermatt and gives the feeling of entering another world. Just walking through the main streets, it's easy to see why this is one of the most expensive ski resorts in the world. The streets are lined with designer shops, beautiful fairy lights adorn the buildings and small market stalls sell mulled wine and roasted chestnuts.
For a memorable stay, Hotel Omnia is one of the most impressive ski hotels in Zermatt. This contemporary mountain lodge sits high on a 45m rock above town and offers uninterrupted Matterhorn views. Omnia's personal five-star service is all about the detail and the experience is unforgettable. The lavishly, and sometimes eccentrically designed Hotel Alex was built in 1960 by local mountain guide Alex Perren, and boasts a 25-metre pool, spa, gym, squash court as well as an indoor tennis court.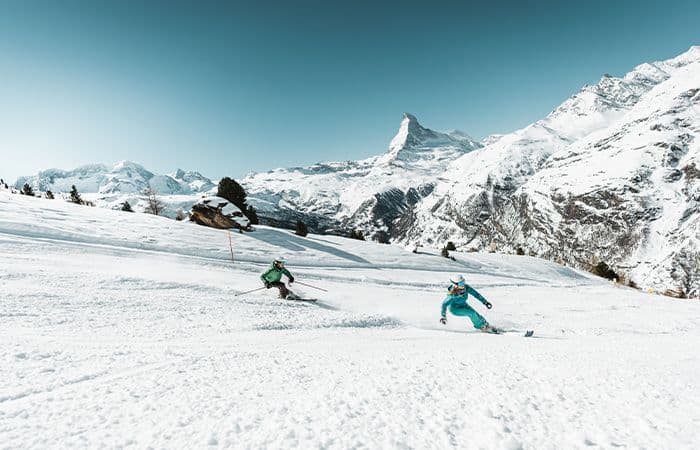 4. Aspen, USA
Aspen lies in the Rocky Mountains in Colorado, USA. It's one of America's most luxurious ski resorts and boasts a vast ski area. If you're looking to arrive in Aspen in style, the ski resort even has its own airport. This luxury ski resort is a little more expensive but it is well worth it.
The town has an eclectic restaurant scene with every cuisine you could imagine – from farm-to-table, to vegan or sushi – and lures some of the countries top chefs down from New York. Aspen has a vibrant nightlife, and there are a number of private members clubs to choose between, such as the Caribou and Cigar Bar. The luxury ski resort is home to fantastic designer boutiques such as Gucci, Prada and Louis Vuitton and surprisingly, over 50 art galleries.
The ski area is also one of America's most extensive with 461km of piste split over four different mountains; Aspen Mountain, Snowmass, Aspen Highlands and Buttermilk. Expect first-class lifts – including heated gondolas – and even pop-up Champagne bars on the piste. Well, what else would you expect from one of the world's most luxurious ski resorts?
Stay at luxurious The Little Nell to experience one of the finest hotels in the world. The hotel has a Five Diamond rating, awarded for world-class luxury, amenities and indulgence. Little Nell's restaurant 'Element 47' is one of the 'must-tries' in the resort for foodies. Specialities like Wagyu beef and lobster grace the menu and the legendary wine cellar holds over 20,000 bottles. The hotel offers unique experiences, such as Snowcat Powder Tours, which take you out into the backcountry to enjoy 10-12 untracked runs in the fresh powder followed by complimentary massages.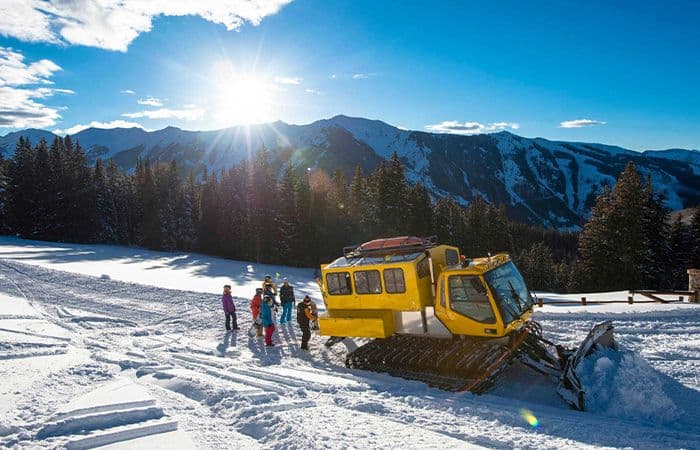 5. Courchevel, France
Courchevel sits in the Three Valleys and is one of France's most exclusive ski resorts, with an incredible ski area to match. This luxury French ski resort has its own airstrip and helipad. Jet setters can fly in by private plane or helicopter. Courchevel is split into four villages and each is unique. We recommend 1850, which is the highest and largest of the villages.
The Three Valleys is one of the world's largest ski areas, with 600km of piste to explore. The pistes in Courchevel are meticulously maintained every night with guests waking to perfectly groomed runs. Courchevel sits on the far side of the Three Valleys and as a result, the slopes are usually quiet.
It's easy to see why Courchevel is one of the most expensive French ski resorts. Firstly, it's said the ski resort has the highest concentration of five-star hotels in France outside Paris. Further to that, Courchevel also has the most Michelin-starred restaurants in the Alps. If you're looking for somewhere special for dinner, we recommend Le 1974 at Cheval Blanc, which has an impressive three Michelin-stars. This five-star hotel is also an excellent base for your stay, with ski-in ski-out access to the Three Valleys and a luxurious spa. Another of our favourites is The Portetta. This is a great choice for families or couples looking for understated luxury with high-end service. 'Cucina Angelina' is the hotels' flagship restaurant. Founded by top British Chef, Angela Hartnett, the restaurant serves up Italian-inspired mountain food in a rustic setting.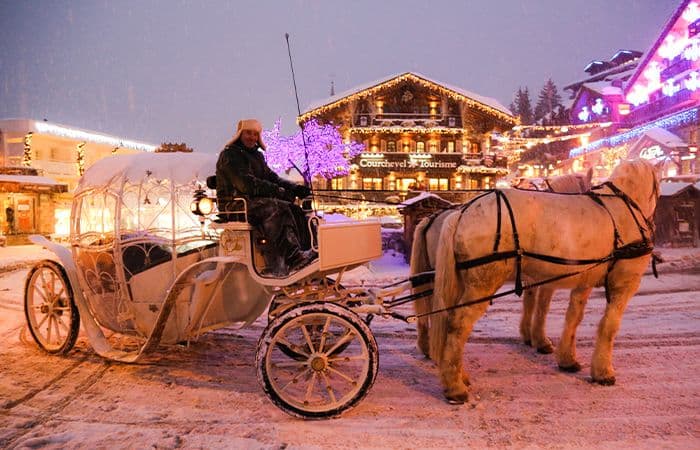 6. Lech, Austria
Lech is one of the most exclusive resorts in Austria, if not the world. Part of the incredible Arlberg ski area, Lech is top class on and off the slopes. The scenery is breath-taking and the skiing is fantastic. You can explore an impressive 305km of pistes linking to neighbouring ski resorts St. Anton, Zürs, Warth and Schröcken.
Off the slopes, the choice of luxury accommodation is brilliant. Whether it's a chalet, hotel or an apartment there are incredible 5-star options to book. In addition, there are great bars and restaurants to enjoy in the area too. Whether you're looking for a classy piano bar or a fine-dining experience Lech delivers.
One of our favourite hotels is the Hotel Aurelio and Spa. It has all the state-of-art facilities and luxury you need to make your ski holiday one to remember. It has 19 individually designed bedrooms which are guaranteed to make you feel the height of comfort. Unwind in the new day spa with a swimming pool, sauna, hot tub and gym facilities. You can also relax in the tranquil meditation centre in front of a soothing open fire.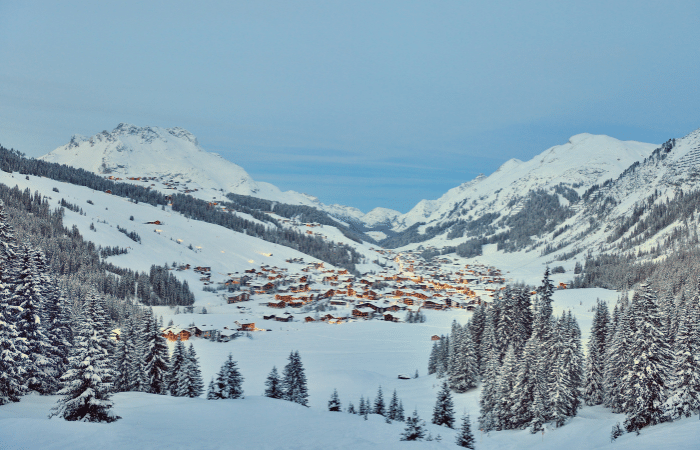 7. St. Moritz, Switzerland
One of the most luxurious ski resorts in the world is St. Moritz. The Swiss resort regularly hosts celebrities and leading business people because of its vast luxury options. Located in the Engadine Valley, it offers stunning mountain views. In addition, the skiing is fantastic with 326km of pistes to enjoy in the area.
There are excellent 5-star hotels to choose from in St. Moritz. All of which look like stunning palaces and make you feel like you're royalty. The service in the hotels are unrivalled and the facilities are world-class. It is also home to one of the best mountain restaurants La Marmite. Enjoy wonderful mountain views whilst enjoying caviar, truffles or Bellinis. It is one of the most expensive ski resorts in the world.
If you're looking for the best hotel in town, Kempinski Grand Hotel is notorious for being the height of luxury. The famous hotel offers first-class service and has a dedicated 2500 square metre spa area. There are superb restaurants that offer delicious cuisine. Some of the best food in the Alps. On top of this, the rooms are spacious and are elegantly decorated.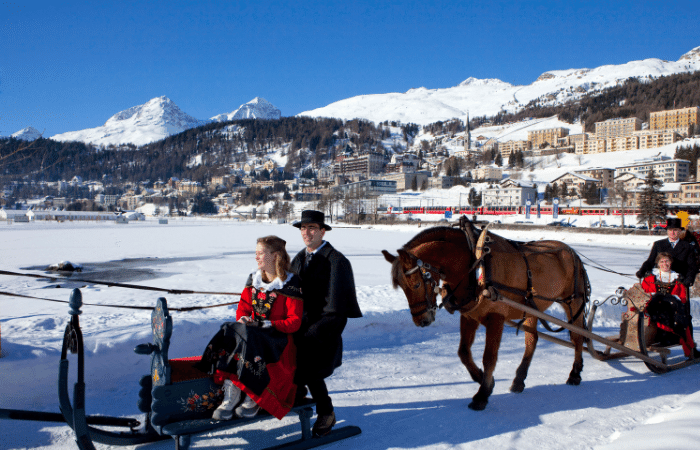 8. Megève, France
Megève is one of the best luxury ski resorts in France. It's considered one of the most stylish ski resorts because of the chic boutiques, classy bars and top-class restaurants to visit. Not only this, there are superb luxury accommodation options to choose from too. You can also access an impressive 445km of slopes with a full lift pass.
Megève has some of the best restaurants in the Alps. The Michelin-starred Folcons de Sel is a favourite. The restaurant serves delicious cuisine with an artistic and creative twist. If you're looking for great après spots there are plenty of trendy cocktail bars and quaint cafes to enjoy a drink. There are also plenty of designer shops in the village including Hermès, Yves Saint Laurent, Poivre Blanc and Blanc Bleu.
La Table de Noémie is a piece of paradise in the French resort. It has a traditional alpine feel with a modern twist. The Hotel is split into different chalets all of which have superb facilities. The chalet Alice and Noémie are available for sole use which is great for families and groups. If you're a foodie you're in for a treat. Several excellent restaurants within the hotel serve a diverse selection of delicious cuisine. It doesn't stop there, you can unwind in the intimate spa with 3 treatment rooms, a couples' suite and a heated indoor-outdoor pool.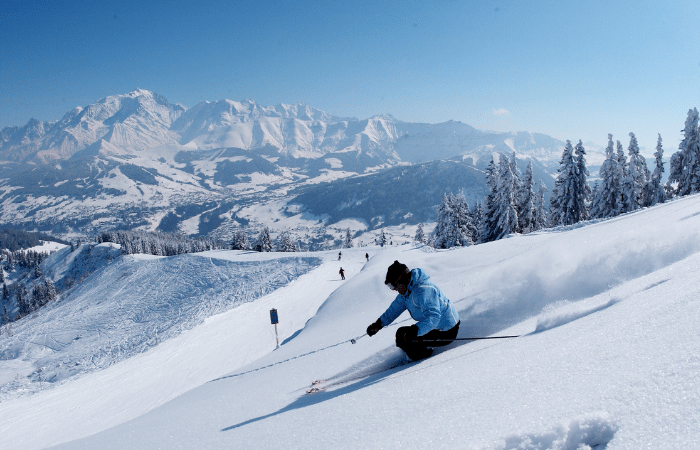 9. Vail, USA
Vail is the largest single mountain ski area in the US with 234km of pistes to explore. You can also access terrain in neighbouring Heavenly and Northstar with a Vail Epic Ski Pass. Not only is the skiing excellent, but it's also considered one of the best luxury ski resorts in the world. The choice of superb shops, bars and restaurant are brilliant.
If you love a bit of retail therapy there are plenty of shops with many designer labels available in town. We recommend the Larkspur if you're looking for a place to eat. The modern American restaurant serves first-class ingredients and has an extensive wine list. To fill your apres itch, Roost & Flower serves delightful Calamari and oysters, along with delicious wine or cocktail.
Hotel Lodge at Vail is considered the pinnacle of luxury ski accommodation. Expect the best service and facilities in the world of skiing. Located right next to the main lift you're only a short stroll away from the slopes. You will feel deeply relaxed in the 7500 square foot spa, offering a divine escape after a busy day on the slopes. The Elway's restaurant offers an incredible menu too.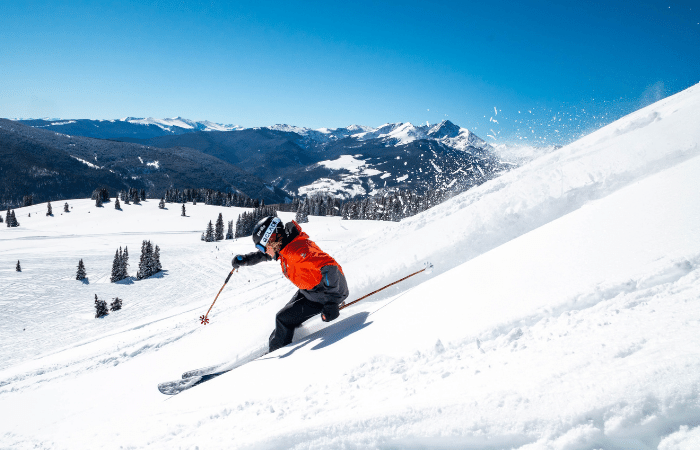 10. Whistler, Canada
The Canadian resort of Whistler is often on many skiers' bucket lists. The choice of top restaurants and accommodation makes it one of the most exclusive ski resorts in the world. You can ski 200km of piste with a full lift pass and there are also excellent off-piste opportunities too.
For the best food in town, you should head to the Araxi Restaurant and Oyster bar. Be prepared to be wowed by the creative dishes served at Araxi, with only the best fresh ingredients used. You'll find it hard to find a better place to eat on a mountain. The village also has plenty of local art, music and culture to experience too during your stay. This all makes Whistler one of the most luxurious ski resorts in Canada.
We recommend staying at the Westin Resort & Spa because it's the only slope-side luxury full-service hotel in Whistler. Excellent for those who want to maximise their time on the slopes. Its facilities are top-class with indoor and outdoor pools, two whirlpools plus a full-service spa and fitness studio. Enjoy delicious dishes at the 'Grill & Vine' restaurant within the hotel. You can eat the freshest seafood to warm comfort food.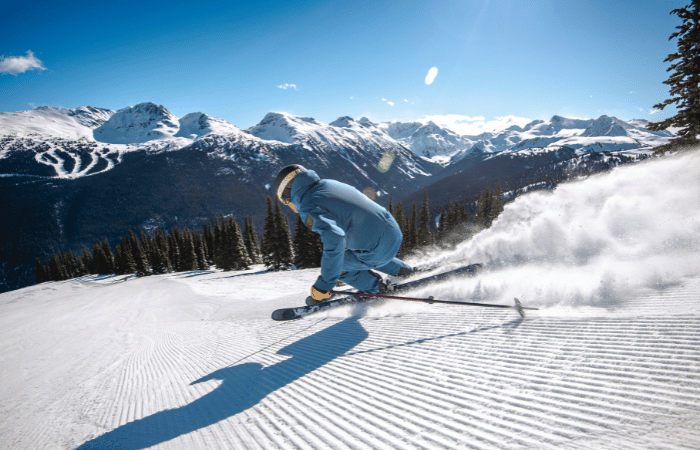 To find out more about the most exclusive ski resorts in the world, call our ski experts on 020 7471 7700.