Comfort and top-quality facilities can maximise your ski holiday experience. Canadian ski resorts have fantastic luxury accommodation, fine dining options and superb skiing opportunities. Ski Solutions prides itself in its tailor-made luxury ski holidays. Our ski experts have created a guide to the best luxury ski resorts in Canada.
Whistler
Whistler is on a lot of skier's bucket lists because of its superb skiing and unique atmosphere. It is also one of the best luxury ski resorts in Canada due to its top-class accommodation options and fine-dining experiences. You can explore an impressive 200km of slopes and ski amazing off-piste terrain. On and off the slopes Whistler delivers a high-end ski holiday that you will remember for years.
The five-star Westin Resort & Spa has incredible facilities and excellent dedicated service staff. Located at the base of the slopes, you are in a prime position to maximise your time on the mountain. In addition, the hotel has an impressive spa and health club which is over 8000 square feet in size. There's also an on-site 'Grill & Vine' restaurant which has a delicious menu throughout the season. In town, there is a delightful fine-dining restaurant called Araxi which specialises in seafood and Pacific Rim dishes
Stay At:
Pan Pacific Village Centre is one of the finest condominium hotels in town in Whistler.
Whistler ski holidays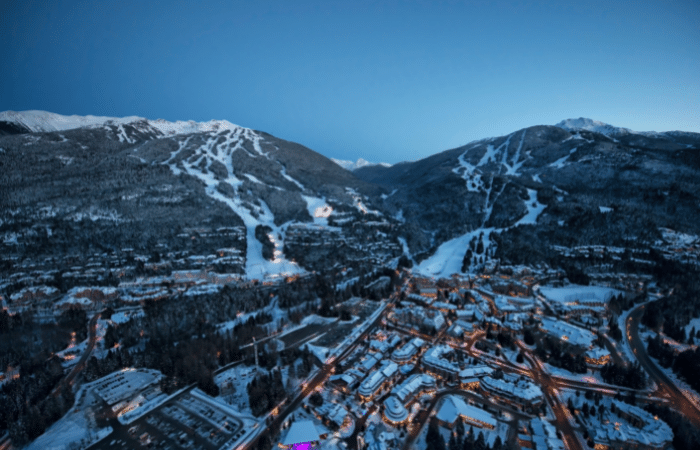 Tremblant
Only an hour and a half away from Montreal airport, Tremblant has excellent luxury accommodation options and fantastic skiing. It has a charming but modern look to it as a village. The locals speak both French and English which gives the area an alpine feel like the Alps. Being so near Montreal it has one of the shortest transfer times of any North American ski resort.
Most of the accommodation is ski-in ski-out, which maximises the time on the slopes. If you want the best off-slope experience, you need to stay at the five-star Fairmont Tremblant hotel. The hotel's spa has amazing facilities such as an indoor pool, outdoor pool, sauna, steam bath, indoor and outdoor hot tubs. In addition, it also has a superb restaurant, cafe, bar and lounge. In town, for the best views and delicious food visit the Altitude Seafood and Grill.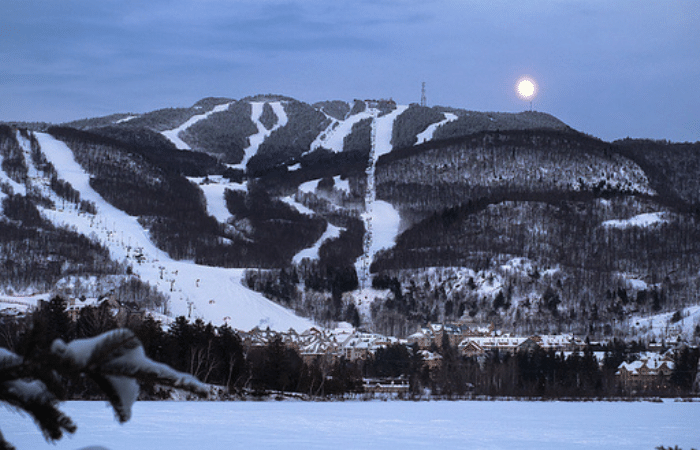 Jasper
As one of Canada's most northerly ski resorts, Jasper is a stunning location to go skiing. It is also a great place for luxury ski options. You can ski 100km of slopes with a full lift pass and there are also fantastic off-piste opportunities. On and off the slopes Jasper is a winter paradise with its beautiful scenery and superb skiing.
For a top-class stay in the mountains, Fairmont Jasper Park Lodge is one of the best places to stay in Canada. Its spa was voted the 4th best in Canada because of its state-of-the-art facilities, which include a relaxing outdoor pool, steam room, sauna, and gym. In addition, it has eight on-site restaurants with only the best food for different tastes. A truly five-star experience.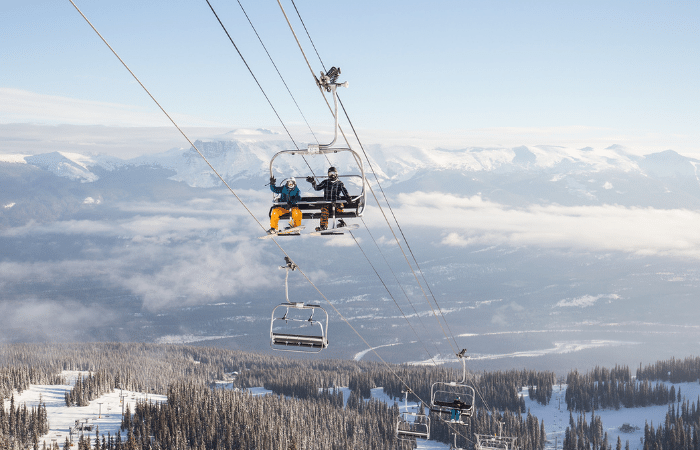 Fernie
Fernie is known as the powder mecca of Canada because of its incredible snow record and off-piste opportunities. It also has some brilliant luxury accommodation options to enjoy too. The ski area has 145km of slopes to explore, in addition to the fantastic off-piste terrain. You can also admire stunning views of the iconic Rockies mountain range on and off the slopes.
One of the best places to stay in Fernie is the Hotel Lizard Creek Lodge. Perfectly located near the slopes you can maximise your skiing time. The hotel has a great bar/lounge to enjoy a relaxing drink. In addition, there's a lovely restaurant with a delicious menu. On top of this, you can enjoy the outdoor pool and sauna after a day on the slopes. A great way to unwind in the mountains.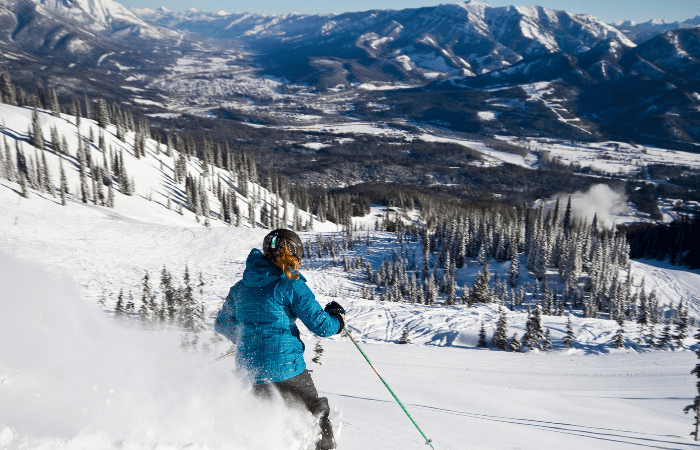 Lake Louise
Part of the Banff ski area, Lake Louise is one of the most beautiful ski areas in the world. It is also one of the best luxury ski resorts in Canada. The luxury ski accommodation options and the stunning views make this a ski resort to remember. There is 100km of pistes to enjoy and some great off-piste to enjoy too. Skiers and snowboarders of all levels will be able to find slopes that suit them in the ski area.
The best hotel to stay in whilst in Lake Louise is the Fairmont Chateau. This hotel is in the heart of the Banff National park and is surrounded by natural beauty. On top of this, the hotel has some of the best facilities you can have in a ski resort. It has a fantastic health club and spa with an indoor heated swimming pool and steam room. In addition, there's also a boutique shopping mall, a children's playroom, and a business centre. You will eat superb food at the six restaurants within the building too.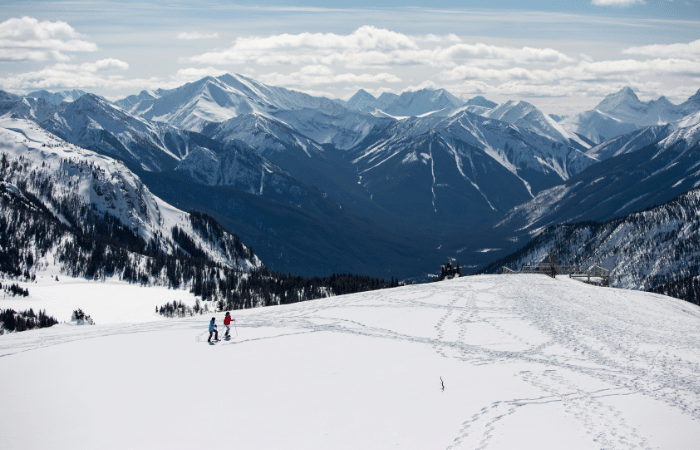 Revelstoke
Considered a hidden gem ski resort in North America, Revelstoke is one of the best luxury ski resorts in Canada. It has fantastic ski terrain for all levels of skiers and snowboarders. There are 55km of slopes and incredible off-piste opportunities too. It is considered the powder haven of Canada. The town itself has a traditional alpine charm with a modern twist.
If you're looking for the height of luxury, Chalet Bighorn. It is perfectly located for an off-piste adventure with a private helipad, cat skiing and lifts near the chalet. You will also be able to relax in superb facilities such as the world-class spa with an indoor exercise pool, sauna, gym and large outdoor hot tub. In addition, the chalet has a movie theatre, cocktail bar, entertainment room, triple-height Great Room and eight-bedroom suites, each with a designer en-suite bathroom.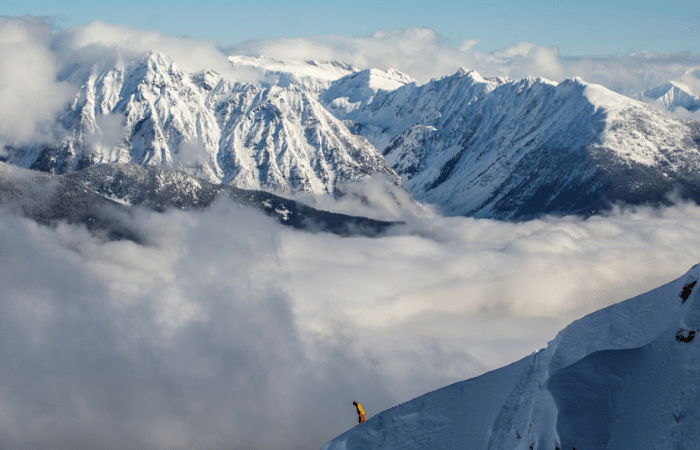 Panorama
Panorama has something for everyone but it also has excellent luxury options too. It is a great ski resort for different levels of skier or snowboarder with 100km of slopes and fantastic off-piste ski terrain. There are breath-taking views and great places to visit in the village. Whether you're visiting for a family ski holiday or an off-piste adventure Panorama is suited to many different tourists.
One of the best places to stay in the ski resort is the Panorama Upper Village Condos. This modern accommodation is perfectly located near the slopes. The apartments have amazing facilities, with the Panorama Springs Pools on your doorstep. In addition, there's also a gym and sauna to enjoy when you're not hitting the slopes.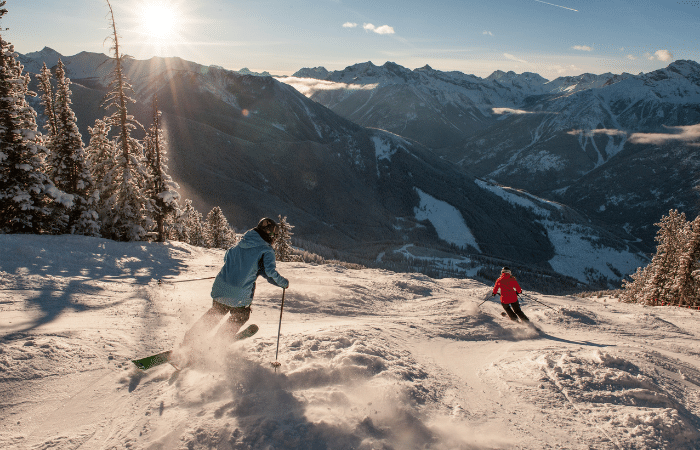 To find out more about luxury ski resorts in Canada, please call our ski experts on 0207 471 7700.