Do you want the easiest and quickest route to go skiing from the UK? We have created a list of the closest ski resorts to the UK by plane; we have factored in the flight and transfer time. In these ski areas, you can squeeze extra ski time due to the easy connections to airports. Take a look at our closest ski destinations in Austria, France, Switzerland and Italy.
1. Seefeld, Austria (Approx. 2 hours 20 mins)
There are smaller ski destinations closer to Innsbruck airport, but Seefeld is the first real notable ski resort to visit once you touch down in Austria. The beautiful ski resort has a transfer time of 30 minutes which is fantastic if you want to squeeze in extra hours on the slope on either side of your ski holiday. Making Seefeld one of the closest ski resorts to the UK. There are 27km of pistes to enjoy or if you want to try something different there's also 250km of cross-country skiing. The village is stylish and has great alpine authenticity. The scenery is breath-taking too.
Stay At:
The Interalpen Hotel Tyrol in Seefeld is a luxurious hotel with breathtaking panoramic views.
Seefeld ski holidays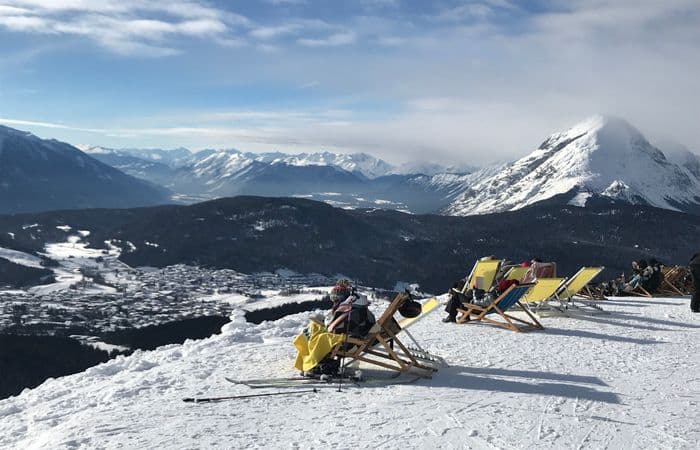 2. Chamonix, France (Approx. 2 hours 25 mins)
Geneva is a great hub for those travelling to the Alps. Chamonix in France is one of the closest ski resorts to London, because of a 50-minute transfer on a good day from the Swiss airport. The French ski resort is a massive ski area that's easy to access. You can enjoy 150km of pistes in no time. There's a variety of runs for different ski abilities and you can also admire the views of the iconic Mont Blanc Mountain. The village has a lively atmosphere, so if you enjoy a fun après night Chamonix is a great ski resort to visit.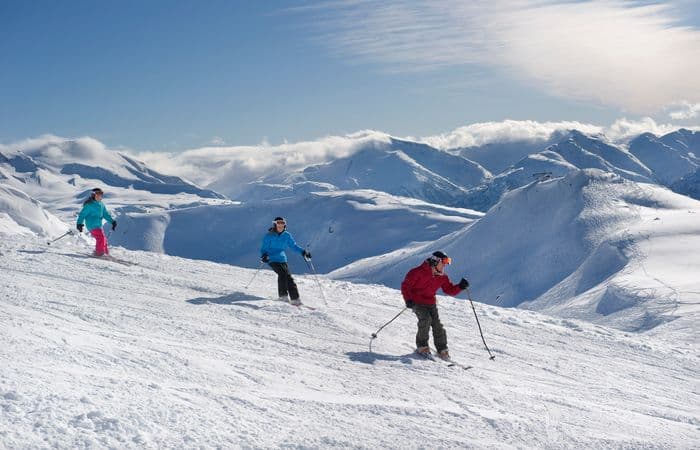 3. Crans Montana, Switzerland (Approx. 2 hours, 26 mins)
Crans Montana is one of the closest Swiss ski resorts to the UK, due to being so near to Sion airport. The transfer is only 36 minutes, but the only issue is flights to Sion are hard to book at the best of times. So, you have to keep an eye out for flights if you want that quick transfer time to the slopes. The Swiss ski resort has 140km of varied pistes to explore. There's also a fantastic gourmet dining scene, as well as great luxury accommodation options.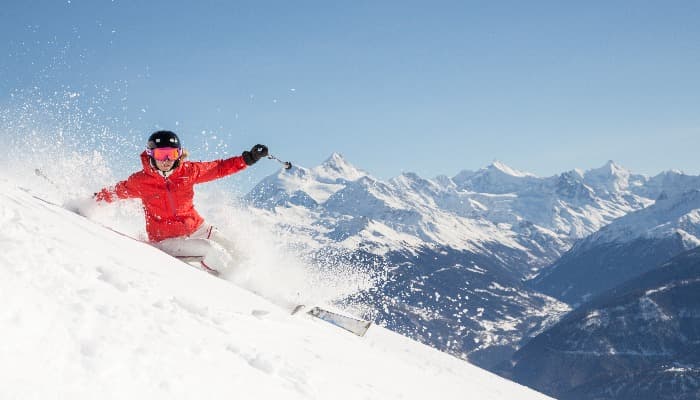 4. Megève, France (Approx. 2 hours 40 mins)
Another French ski resort that is one of the closest ski resorts is Megève. The transfer time is just over an hour from Geneva airport. It's one of the most stylish ski resorts in France and has some great skiing on offer. There are a lot of smart boutiques and delicious restaurants and bars to visit off the slopes. The views are incredible too with a beautiful mountain landscape surrounding the area.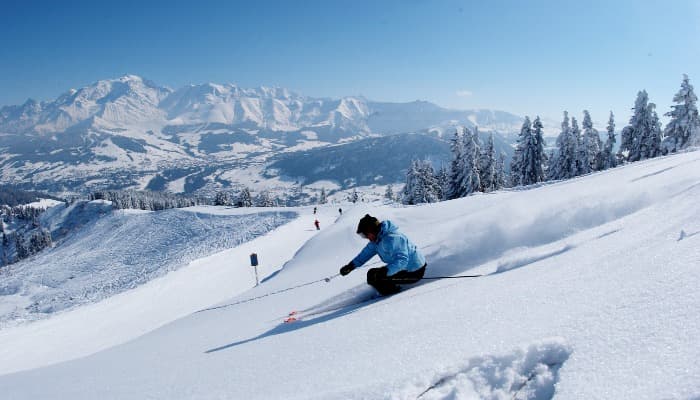 5. Villars, Switzerland (Approx. 2 hours 40 mins)
Villars makes it into the closest ski resorts to the UK, due to its transfer time from Geneva airport being just over an hour. The Swiss ski resort is ideal for a weekend getaway and has some fantastic skiing on offer. Villars is located above the Rhone Valley looking towards the beautiful Portes du Soleil. There's an impressive selection of shops, accommodation and restaurants to visit in the village after being on the slopes. If you are an intermediate skier the ski area is perfect for you with cruisy blues leading up to slightly more challenging red runs.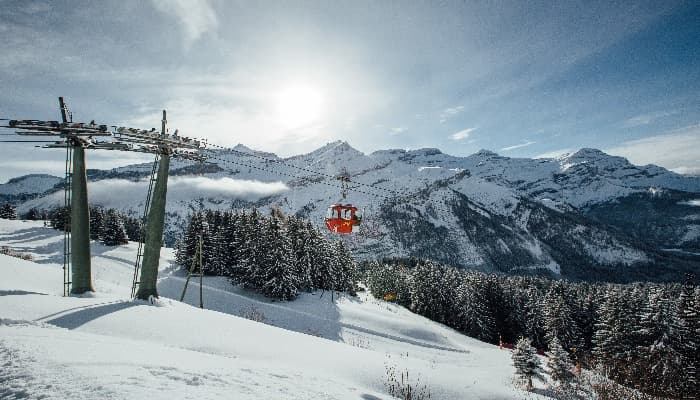 6. St. Anton, Austria (Approx. 2 hours 55 mins)
St. Anton is part of the biggest ski area in Austria. There's 305km of pistes available in the Arlberg ski area. On top of that, it's one of the closest ski resorts and has a transfer time just over an hour from Innsbruck Airport. The ski resort is linked to the luxurious Lech too if you want to pick somewhere with a touch of class. The piste map has something for all levels of skier and plenty of restaurants to choose from too. Something for everyone!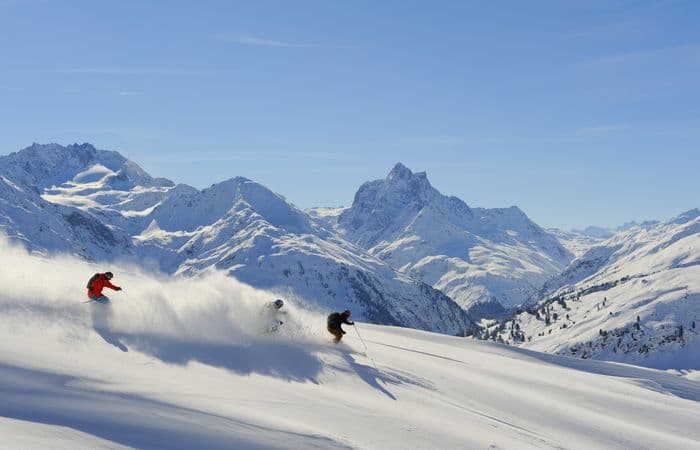 7. Mayrhofen, Austria (Approx. 2 hours 55mins)
Another Austrian skiing destination that makes the closest ski resort to the UK list, is Mayrhofen. The transfer time is over one hour to get to Mayrhofen from Innsbruck Airport. You will enjoy plenty of skiing with 204km of slopes to explore. Beginner slopes are close to the village and there are many great options for advanced skiers. It's also home to Austria's steepest groomed slope, The Black Harakiri, with a gradient of up to 78%.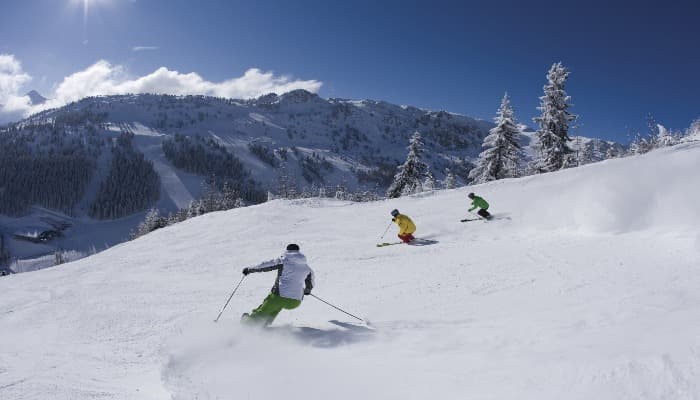 8. Courmayeur, Italy (Approx. 3 hours 10 mins)
One of our favourite skiing destinations near to the UK. There is something for everyone in Courmayeur which is a good choice for families and mixed ability groups. The ski resort is easy to access from Geneva Airport with a 90-minute transfer. The Italian ski resort is connected to the Aosta Valley ski area. Courmayeur itself has 41.5km of pistes to explore, but you can explore more at the neighbouring ski resorts with the right lift pass. The village was originally a medieval town and has a real charm to it.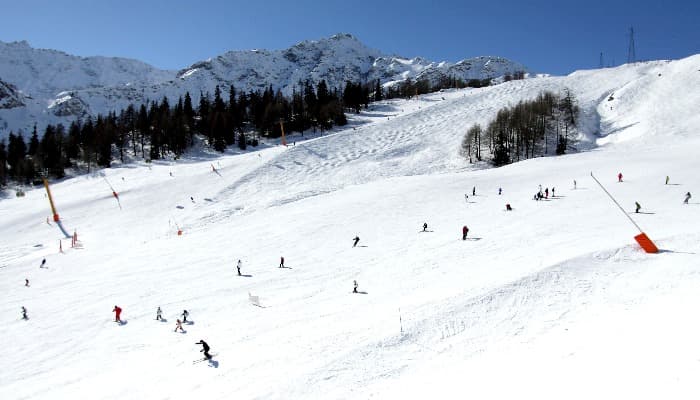 9. Sauze d'Oulx, Italy (Approx. 3 hours 30mins)
Sauze d'Oulx is one of the more popular ski resorts in the Milky Way ski area. It has a lively après scene and great intermediate skiing. The Italian ski resort has a 90-minute transfer from Turin Airport. Explore an amazing 400km of piste in the Milky Way ski area, one of the largest in Europe. The village is a car-free zone, so there's no traffic to battle with when you're heading to the slopes. Sauze d'Oulx is excellent for families and those wanting a party off the slopes.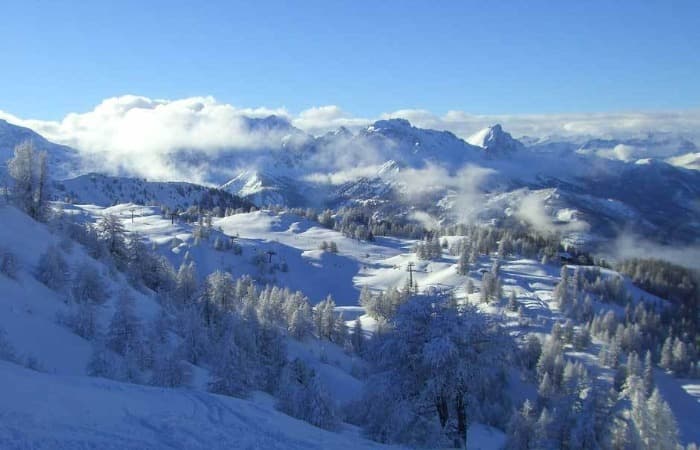 10. Morzine, France (Approx. 3 hours 30 mins)
The Portes du Soleil ski area, has brilliant links to Geneva airport. It is one of the most diverse ski areas in France. Morzine is a fantastic ski town with some great ski accommodation options. If you buy a full lift pass you can explore an impressive 600km of slopes. There are brilliant après opportunities too on and off the slopes, or in the nearby resorts of Avoriaz and Les Gets.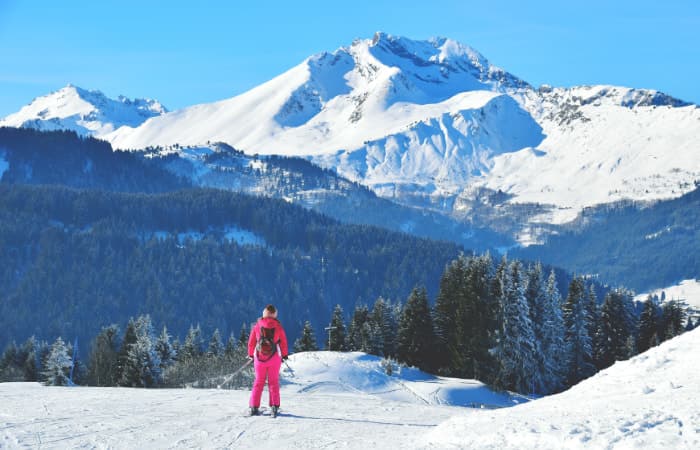 That concludes our list of the nearest skiing to the UK. Speak to our experts on 0207 471 7700 for more information on the closest ski resorts to the UK.