There are so many reasons why Switzerland is one of Europe's best ski destinations. This pristine ski region is filled with broad pistes, consistent snowfall and amazing hospitality. Swiss dominance in skiing and accommodation is not surprising as the sport has been going strong here for almost 150 years. We've picked our favourite luxury ski chalets in Switzerland. In short, think roaring fires, indoor cinemas, outdoor pools and incredible mountain views.
The Lodge, Verbier
Verbier is a resort that has long been heavy on both exclusive chalets and upmarket hotels. Richard Branson's personal chalet The Lodge is no exception to this, available for hire throughout the winter season. You'll find The Lodge in a secluded corner of Verbier looking out over the Martigny Valley. All 18 bedrooms within the chalet enjoy views across the valley. For more advanced skiers, The Lodge offers ski-in ski-out possibilities via a shortcut on the adjoining blue run. The ideal get-away for families, The Lodge perfectly balances luxury and comfort. There are nine double and twin bedrooms sleeping 18. Additionally, there is a fun bunk room for kids that sleeps six. Two master suites with centrepiece fireplaces, large balconies, huge bathtubs and rain showers take up the top floor.
Stay At:
The Lodge is Sir Richard Branson's own stunning nine bedroom chalet in Verbier.
Verbier ski holidays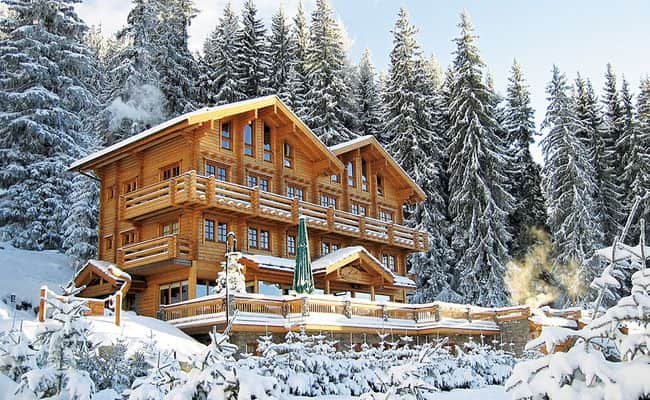 Chalet Kalibu, Nendaz
Located in the heart of the massive Four Vallées ski area, the largest in Switzerland, Nendaz ski resort sits between Verbier and Veysonnaz. Chalet Kalibu is located on the beautiful mountainside and offers the most picturesque views overlooking the Rhone Valley, providing easy access to more than 400km of pisted slopes. Sleeping up to 12 guests, this exclusive chalet is the ultimate getaway for a group of friends or family. Chalet Kalibu boasts a large open-plan lounge area perfect for hosting friends and family. Similarly, the living area leads onto a large terrace and balcony, the ultimate spot for unwinding. The most unique facility of the chalet is the indoor swimming pool with a feature fireplace. This is one of Ski Solutions favourite luxury ski chalets in Switzerland.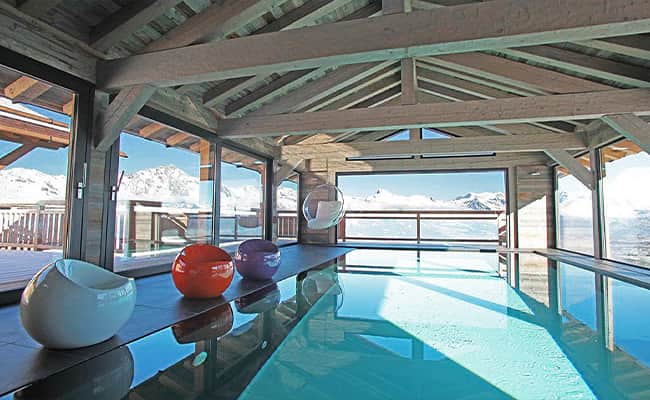 Chalet Peak, Zermatt
Chalet Peak is another stunning luxury ski chalet in Switzerland's top resort, Zermatt. Perched centrally above the charming village, just a few moments walk from the heart of the resort. This privately-run ski chalet is laid out across six floors and has five deluxe double bedrooms, floor-to-ceiling windows, jacuzzis, a wellness centre, and more. Moreover, the design and layout of the property allows guests to enjoy breathtaking views of the Matterhorn and beyond. If a private, intimate ski chalet is more suited to your taste, consider this Swiss property as your ski destination.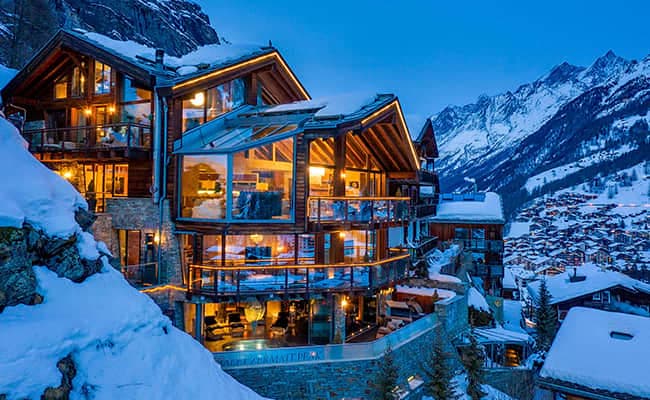 Chalet Pierrepointe, Verbier
Chalet Pierrepointe in Verbier is a beautiful five-star chalet. The chalet is located on the stunning hillside of Route de Verbier and as a result, guests can enjoy panoramic views. Access to Verbier's extensive ski area is easy, with the Medran lift station just a 10-minute walk away. Alternatively, guests staying at Pierrepointe will have the opportunity to make the most of the chalet's daily driver service. The chalet has five bedrooms in total, across three floors. One of the most enjoyable parts of a catered chalet holiday is undoubtedly the food; the private chef and host will create the perfect dinner every night. In addition, Chalet Pierrepointe is complete with a sauna, hot tub and southwest facing balconies.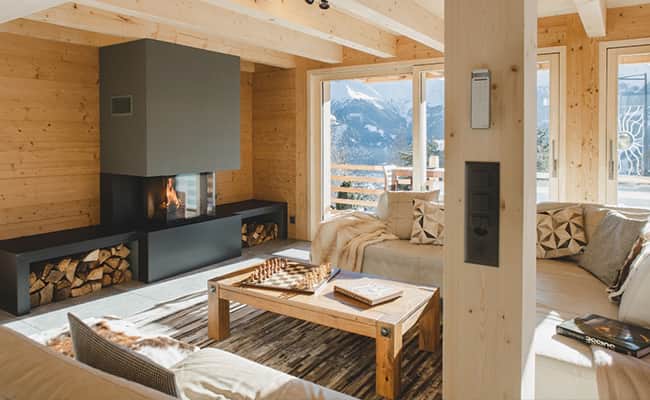 Bella Coola Estate, Verbier
The Bella Coola in Verbier estate combines two luxury ski chalets Bella Coola and Le Ti creating a unique property, perfect for large families or groups. Located in the heart of Verbier, the estate offers private grounds. This gives guests a real sense of escape whilst remaining close to the bustling resort centre. Chalet Bella Coola acts as the main property and has been tastefully designed, combining a traditional chalet with a hint of Mediterranean villa. However, Chalet Le Ti offers a different experience with a feeling of cosy alpine chic. Sprawling over 850 square metres, the property sleeps 18 guests in eight individually designed bedrooms. In addition, the estate offers a wide variety of facilities, including a large indoor swimming pool, spa and wellness area.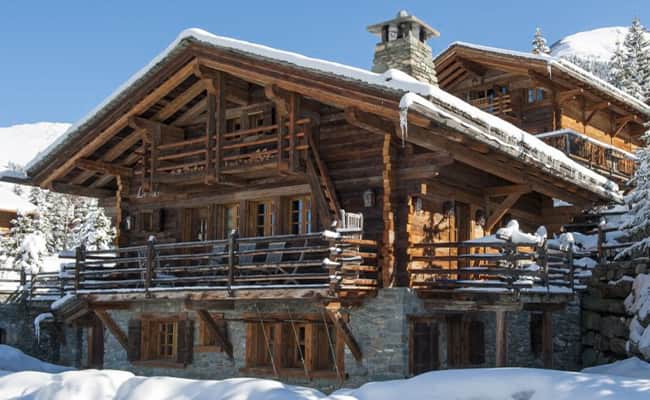 Chalet High 7 Penthouse, Zermatt
Chalet High 7 Penthouse is a beautiful property in Zermatt, located in the resort's only ski-in ski-out district, Winkelmatten. From here, guests can ski down to the Klein Matterhorn Express Lift. Guests also have the opportunity to ski back to the chalet door via the Moosweg ski run. This penthouse is the perfect base for exploring all the beautiful region has to offer. Additionally, this property can be booked with full service with a chef and chalet host, who will be on hand to provide you with a chilled glass of Champagne, organise a massage and prepare meals.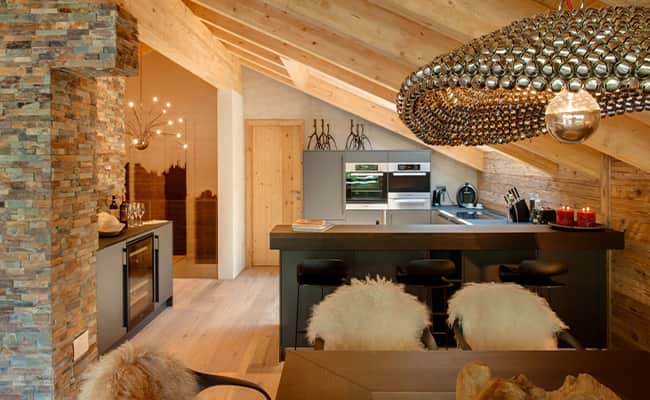 Chalet Marmottière, Verbier
Chalet Marmottière is situated in Switzerland's largest ski area, the Four Valleys. Verbier enjoys the combination of a sunny location, exciting terrain and lively nightlife. Nestled in the exclusive enclave of Les Esserts, Chalet Marmottière is only 100m from both the Le Rouge piste and the beginner nursery slopes. Perfect for families and large groups, the property combines two beautiful chalets sleeping up to 18 people, across nine bedrooms. The chalet features an array of deluxe facilities, including a 17m indoor swimming pool, bowling alley, 3D cinema and gym. Similarly, the striking split-level open plan living and dining area on the first floor has been furnished with a warm, elegant style.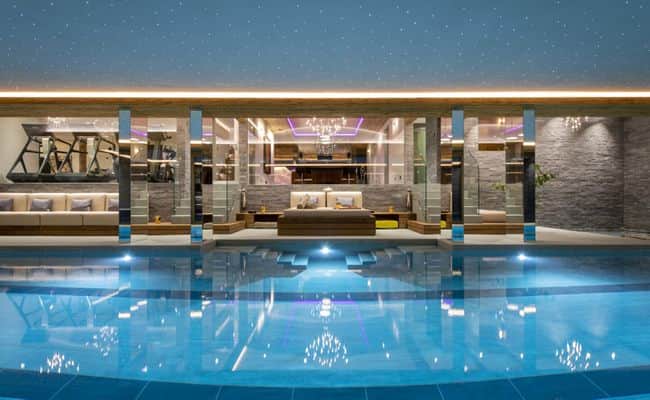 Chalet Bisse-Bleu, Nendaz
Chalet Bisse-Bleu is a luxurious free-standing chalet that has been beautifully built and boasts spectacular views across the Rhone Valley. Firstly, it is located approximately 1km from the main lifts and resort centre. There is also a driver service available for skiers looking for a morning drop off or afternoon pick up. Being generously spread over three floors and offering four bedrooms, this chalet is ideal for a large group or families. On entering the main open-plan living space on the first floor, you certainly get the wow factor with the vast floor-to-ceiling windows with stunning views. In addition, there are comfy sofas to relax on in front of the open fire.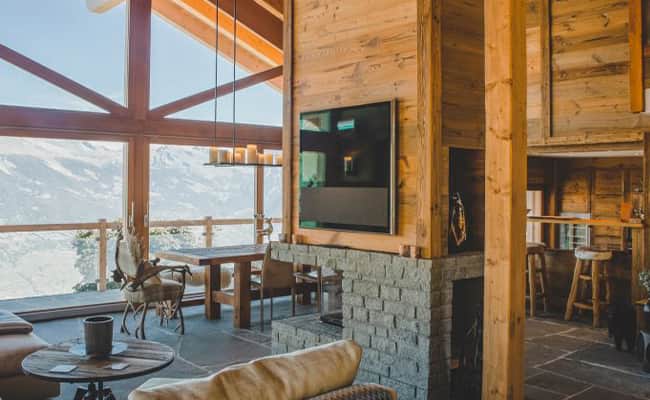 Chalet Tuftra Findelbach, Zermatt
Chalet Tuftra Findelbach is a beautiful chalet that's perfect for large groups, with space to sleep up to twenty guests. The property is located in the Winkelmatten area of Zermatt, which is known for being the ski-in ski-out district, and home to very popular restaurants and bars. As a result, this is a fantastic choice for skiers looking to get straight onto the slopes each morning. It has an outdoor Jacuzzi, a steam room, sauna, massage room and also an Onsen.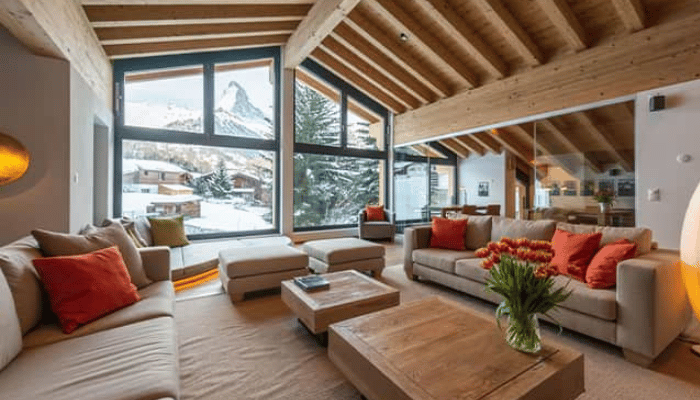 Chalet Cimerose, Verbier
Chalet Cimerose will make you feel right at home with a spacious open-plan design. It is an ideal location as it's only walking distance from the main town of Verbier and the Medran lift station. In addition, there's the tasteful decor, big sofas, chunky tables and a sophisticated kitchen which are perfect for socialising after a day on the slopes. On top of that, there's champagne and canapés six nights a week.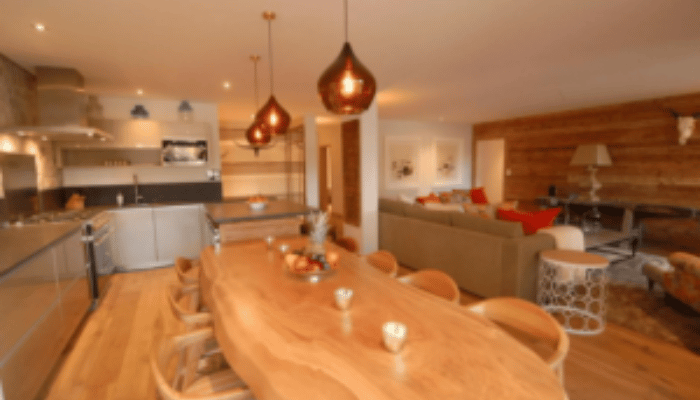 To find out more about our best luxury ski chalets in Switzerland, please call our ski experts on 0207 471 7700.