Are you looking for help deciding on the best places to ski for beginners in the world? We know it can be difficult to decide where to make your first snowplough into the world of skiing. If someone in your skiing group is new to the sport, you might need to spend a little more time choosing your ski area. We've hand-picked the best ski resorts for beginners in Europe for your first ski holiday. All complete with excellent après-ski, a fantastic atmosphere and a variety of nice easy beginners' and intermediate slopes. Read on for the best European ski resorts for beginners.
1. Cortina, Italy
Cortina is home to some of the best beginners' slopes in the Dolomites. This ski resort is ideal for slightly longer stays, as there are also progression slopes for when you've built up some confidence. You can choose from a selection of ski schools with supportive instructors who can teach in a variety of languages. There are plenty of slopes for intermediates in your group too. Cortina has ideal skiing for beginners.
The Dolomites ski area is a UNESCO world heritage site, guaranteeing spectacular views on your way down. Many of the slopes are also floodlit for atmospheric night skiing. Other activities available to enjoy include go-karting, snowshoeing and sledging.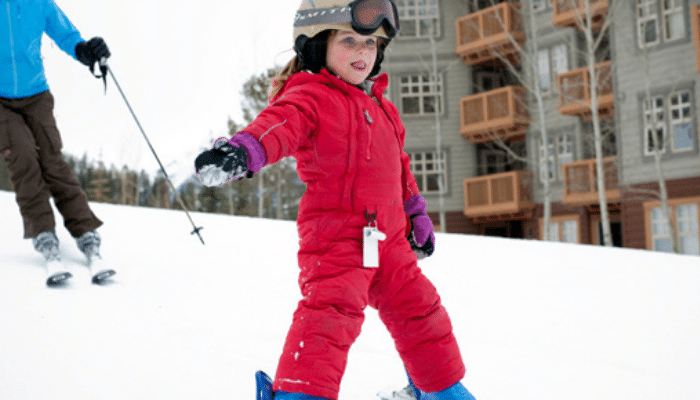 2. Les Arcs, France
Les Arcs makes our list of the best ski resorts for beginners and intermediates in Europe. A popular destination for skiers and snowboarders of all abilities, Les Arcs has a free beginners' lift. It also has nursery slopes above every main village throughout the ski resort, making it an ideal option for first-timers.
Located in the Savoie region, you can also expect delicious regional specialities, such as raclette cheese or Tarte aux Myrtilles – sweet blueberry tart. Other après ski options include Restaurant L'Arpette, where you can expect traditional tartiflette along with breath-taking views over the snow-shielded valley. If you have time, stay to watch the sunset from their outdoor deck. This is one of the best European ski resorts for beginners with a good selection of easy slopes.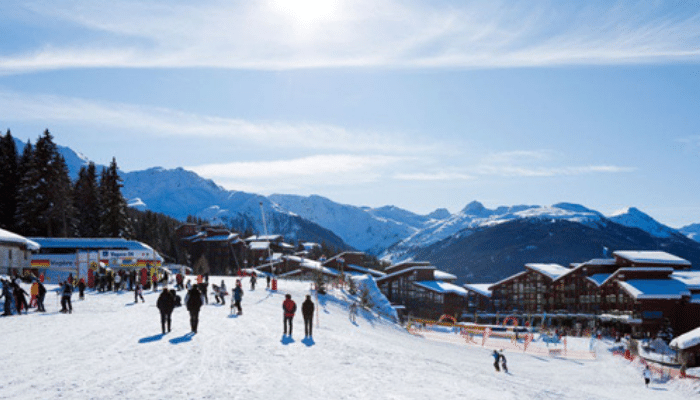 3. Tignes, France
We highly recommend Tignes as one of the best ski resorts for beginners in the world. This popular ski resort has something for everyone so is well suited to groups. A varied selection of easy, nursery slopes mean you can easily perfect your glide here. As soon as you've gained some confidence, choose from a selection of long, cruisey blue runs that will build your stamina and technique. Tignes is a particularly high resort, so it has a longer ski season than most ski resorts and great powder conditions into early spring. It also has an excellent selection of ski schools for all abilities.
Part of the Espace Killy ski area, the skiing here is superb with easy access to Val d'Isère ski resort. It's one of the best ski resorts for beginners and intermediates and has something for everyone.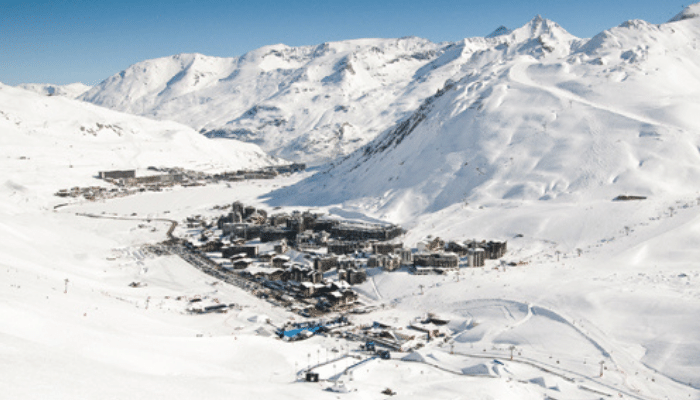 4. Saas-Fee, Switzerland
Saas-Fee in Europe is a picturesque ski village and one of the best ski resorts for beginners in the world. An excellent, snow-sure nursery slope hugs the edge of this bustling village, nicknamed "the pearl of the Alps". It's almost traffic-free, with charming chalets surrounded by glinting, snowy peaks. There are also plenty of activities for children and supervised easy slopes where they can perfect their turns.
Saas-Fee has three T-bars serving up the beginner practice area at its base, and skiing lessons are always readily available. For those looking to push themselves a bit further, the Mittaghorn lift can be taken up for slightly more challenging runs and a spectacular view of Saas-Fee's gorgeous surroundings. The ski resort is perfect for a short ski weekend. There's plenty of après ski to be found in the quaint town centre, as well as other winter activities such as tobogganing and sledding.
Finish your activity-filled day with a meal at the Michelin-starred Fletschhorn. The restaurant serves a seasonal menu and offers a selection of 1,200 wines, in cosy yet elegant surroundings. Alternatively, taste some mouth-watering wines at VINarium in the four-star Hotel Schweizerhof.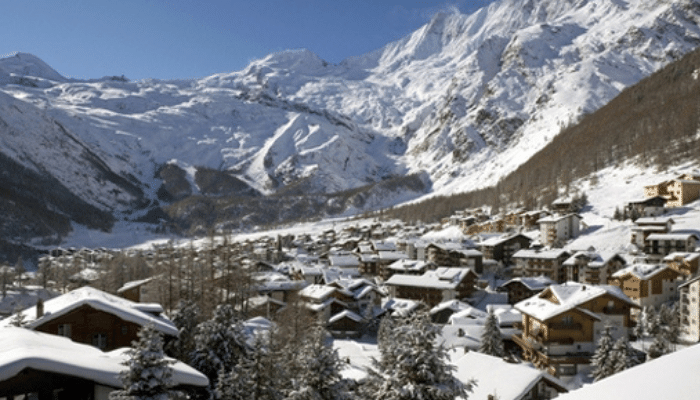 5. Lech, Austria
Lech is one of the best ski resorts for beginners and intermediates in Europe. A quick glance at Lech's map might look intimidating for beginners. But don't let that put you off. Less confident skiers can access almost all parts of the mountain, safe in the knowledge that there will be a safe and gentle route down. The exclusivity of this ski resort is also a bonus for beginners. Runs are unlikely to be swamped at any point in the season. Lech has a strict policy of only issuing 14,000 lift passes in a single day, keeping the slopes free from large, obstructive crowds.
There are also kindergarten slopes for children to practice on, making this a ski resort capable of catering to families of skiers with differing abilities. The best way to navigate the resort is via the infamous 'circuit', which takes you from one side of the mountain to the other. The skiing for beginners in Lech is fantastic.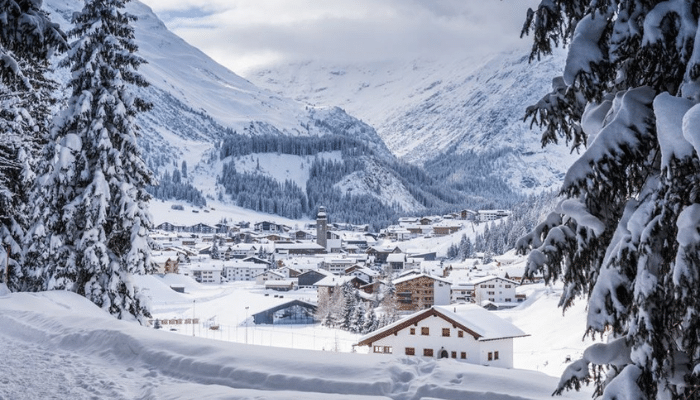 6. Cervinia, Italy
Cervinia is the highest altitude ski resort in Italy with the most reliable snowfall and guaranteeing conditions. For those strapping on their ski boots for the first time, there is a nursery slope accessible directly from the village. There's also a good number of ski schools to choose from.
What makes Cervinia perfect for beginners, is the extent of easy runs available for those looking to take a step up. Cervinia has over 40 kilometres of easy runs that often have long, wide slopes making it one of the best beginner ski resorts in the world. It's also part of the Aosta Valley skiing area with access to Courmayeur and La Thuile.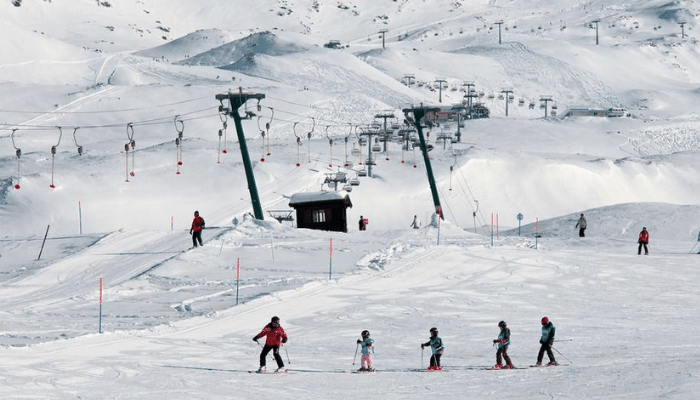 7. La Rosière, France
This laid-back ski resort is one of the best ski resorts for beginners in the world. It's relatively quiet here and sees lots of sunshine on its south-facing slopes. Beginner skiers can make use of two free ski lifts that access easy, nursery slopes. This means you can spend the first couple of days finding your ski legs and learning the basics. There are excellent ski schools on offer in resort. They'll have you progressing to the wide, gentle blues in no time.
Another plus for La Rosière is its wide variety of ski-in ski-out accommodation. Being near the slopes saves walking in your boots with your skis which is a big help when you're starting out. La Rosière is high on our list of the best places to ski for beginners.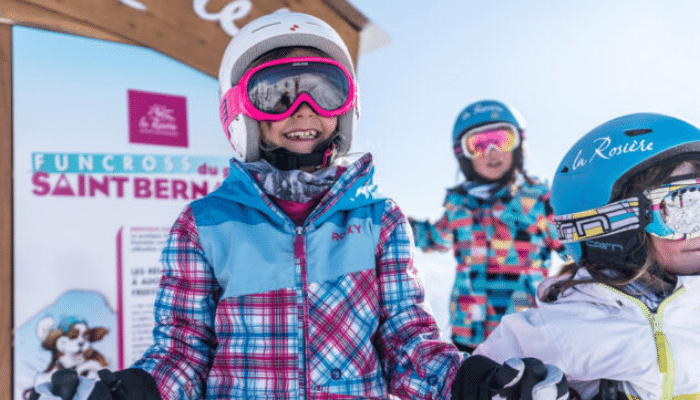 8. La Thuile, Italy
Linked to La Rosière in France, La Thuile is part of the Aosta Valley ski area. It's a sweet village that tends to have quiet slopes and is one of the best places to ski for beginners. No busy crowds or queues means you will have plenty of space to perfect your skiing technique. The ski resort has gentle nursery slopes for adults and children in the centre of the village, all served by a magic carpet.
Popular with families due to its free childcare, easy beginner slopes and purpose-built accommodation, this European ski resort has fantastic facilities and is great for beginners. In the town, there is a large indoor swimming pool and a great selection of authentic restaurants serving Italian cuisine.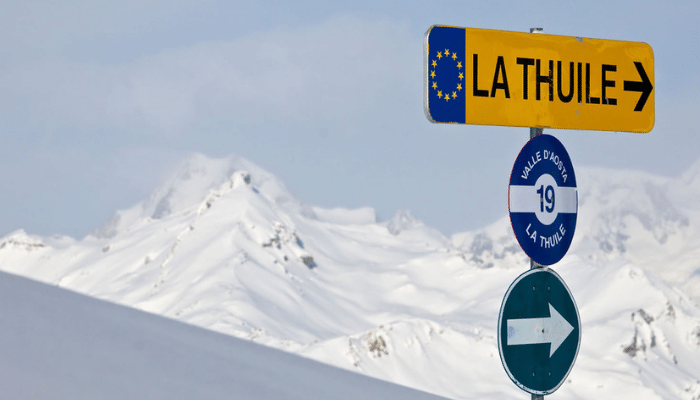 9. Avoriaz, France
Avoriaz is ideal for beginner skiers or snowboarders because there's easy access to wide-open blues around the area. It's one of the best ski resorts for beginners in the world due to the nursery slopes next to the main car-free village. There's plenty of choice of ski school options too. We've partnered with SkiBro, New Generation and Oxygène and highly recommend their lessons. The ski resort is perfect for all abilities so if you have mixed levels in the group everyone will be satisfied.
Perched on the mountaintop, Avoriaz is part of the Portes du Soleil ski area. It may be largely purpose built but this car-free town has a certain charm. The best way to get around is by skis, foot or horse-drawn carriages. Above all, the views are sensational across the rugged Dents du Midi and Dents Blanche. And, it's one of our sustainable ski resorts too.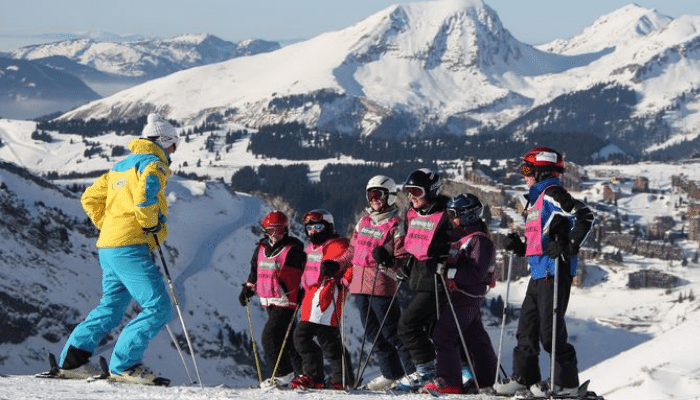 10. Alpbach, Austria
Alpbach is one of the best places to ski for beginners because of its small nature and plenty of blue runs. There is a dedicated nursery slope right by the main village and gentle slopes up the mountain near Hornboden.
The welcoming locals and stunning mountain views makes Alpbach ski resort perfect for those trying skiing for the first time. The ski schools and childcare are of a high standard, so you're in good hands on the mountain. There's also the opportunity to try cross-country skiing too if you're feeling adventurous. For the small ski resort, skiing in Alpbach for beginners is ideal.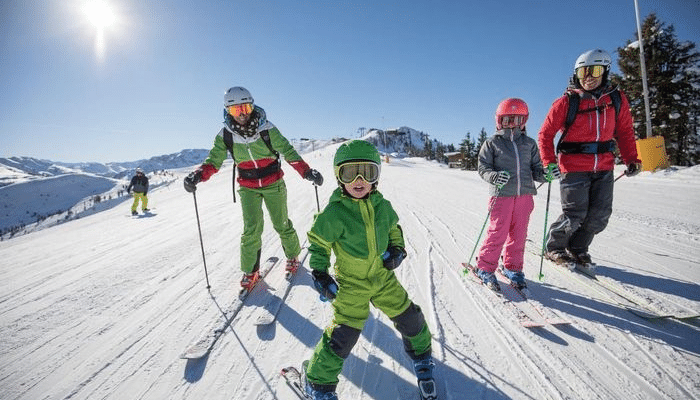 Beginner Ski Holidays
Club Med Ski Holidays
All-inclusive ski holidays like Club Med takes away the stress of arranging every aspect of your holiday. Everything is at your doorstep from access to the slopes to spa facilities. Club Med ski holidays include premium accommodation, return flights and transfers, 6-day lift passes, 5 full days of ski and snowboard lessons, full board international gourmet food, unlimited drinks and refreshments, evening entertainment and children's clubs.
View our Club Med Ski Holidays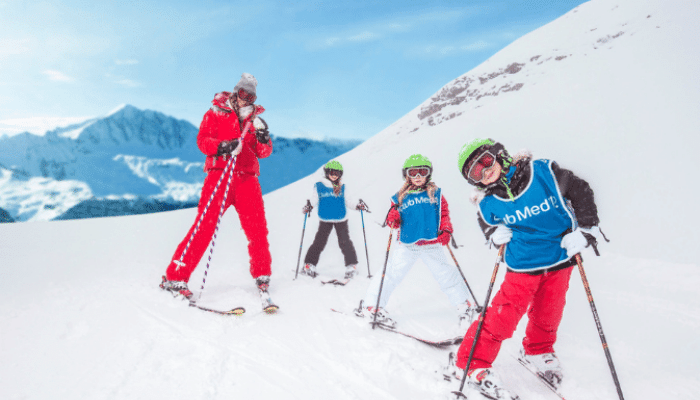 Le Cristal de l'Alpe, Alpe d'Huez, France
Alpe d'Huez has brilliant skiing for beginners with gentle terrain and slow zones called 'ski tranquille'. The Le Cristal de l'Alpe is a great apartment which is in an ideal location to get to the town and slopes. In addition, it has top-class facilities such as a swimming pool, hot tub, sauna and gym. An ideal place to unwind after learning on the slopes.
Stay At:
Opened in December 2012, Le Cristal de l'Alpe beautifully mixes the alpine with the contemporary and is now Alpe D'huez's most luxurious residence.
Alpe d'Huez ski holidays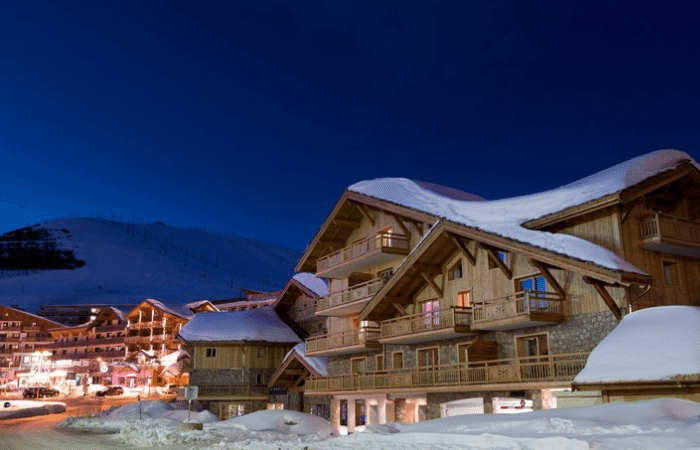 Alpen Wellness Resort Hochfirst, Obergurgl, Austria
Located directly near the main ski school and a ski lift, Alpen Wellness Resort Hochfirst is an ideal base for skiing for beginners. Having a ski-in ski-out hotel takes away the stress of taking your kit across the village as a beginner. On top of this, the facilities are superb with a heated outdoor pool, sauna, hot tubs, steam rooms, and a gym.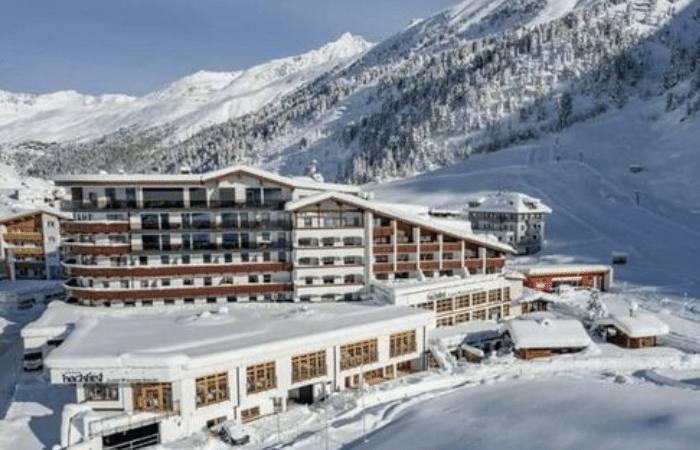 Chalet Roselin, Les Arcs, France
This state-of-the-art chalet will maximise any skiing for beginners. After a day of learning on the slopes, you will come back to a five-star premium facility. You can take a dip in the indoor and outdoor heated swimming pools, unwind in the sauna or chill in the hot tub. On top of that, there's an excellent gym area too. In the evening you can have a drink by the log fire and enjoy the winter views from the windows.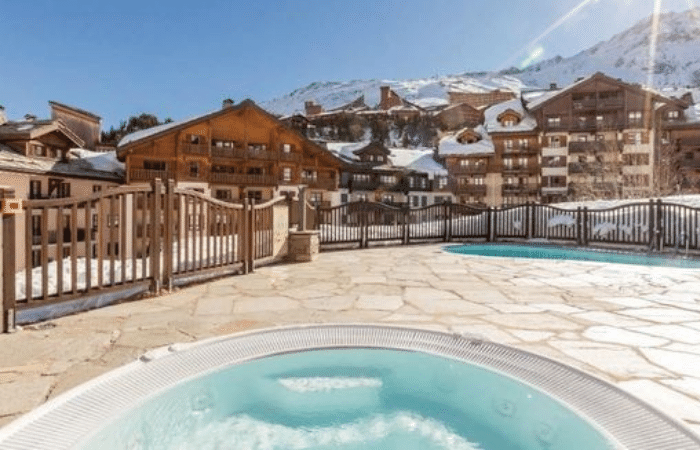 That concludes our list of the best places to ski for beginners. To find out more about the best ski resorts for beginners and intermediates in Europe, please call our ski experts.