We've hand-selected some of the prettiest ski resorts in Europe for you to enjoy. Imagine stunning mountain scenery, cosy log cabins, picturesque views and chocolate box ski resorts that they have retained their history, charm and character. Our ski experts have chosen a few of the most beautiful ski resorts in the France, Austria, Switzerland and Italy.
1. Adelboden, Switzerland
The small village of Adelboden in the Bernese Oberland has a rustic charm and is centred around the 15th-century church. The chalet-styled village sits in a long valley, with panoramic views of its surroundings and is one of the prettiest ski resorts in Europe. More than 210 kilometres of pistes are easily accessible from the village, as well as a selection of cross-country skiing trails, a snow park and winter hiking routes.
Adelboden was the first Swiss ski destination to be awarded the Alpine Wellness holiday resort certificate. You can also learn about dairy production from local herdsmen or dine on cheese fondue from the local dairy in an igloo during the winter months. This really is one of the most picturesque ski resorts.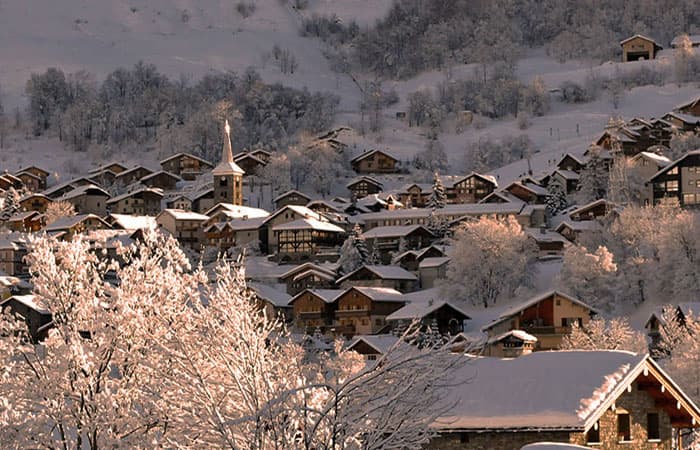 2. St. Martin de Belleville, France
Encompassed in the vast Three Valleys ski area, St. Martin de Belleville was an old farming village until the 1980s. With access to its neighbouring resorts of Val Thorens, Méribel and Courchevel, there are a vast 600 kilometres of skiable pistes. One of the prettiest French ski resorts, St Martin de Belleville is made up of traditional wooden chalets and a 16th-century Baroque-style church. Runs into the village are long and intermediate level in this picturesque ski resort, and during months with little snow there is extensive snowmaking.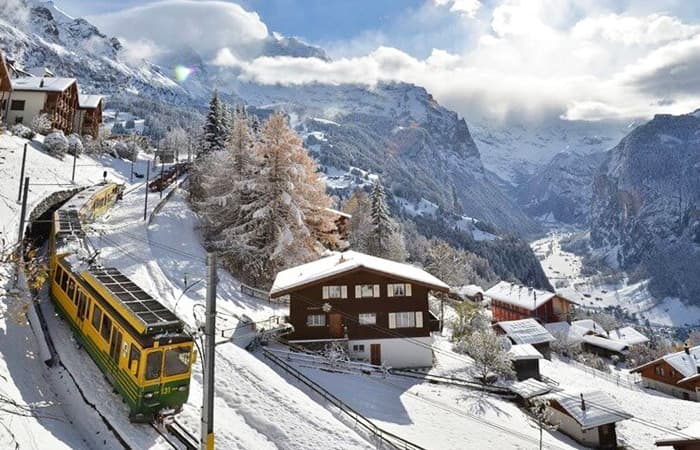 3. Wengen, Switzerland
If you're looking for the most beautiful ski resorts in Europe, we recommend Wengen. This traditional village is located on a wind-protected terrace with above average sunshine hours. Enjoy incredible views of the Bernese Alps, particularly the peaks of the Eiger, Mönch and Jungfrau. From here you can easily access the family-friendly slopes of Kleine Scheidegg-Männlichen, as well as the World Cup runs on Lauberhorn. Wengen is car-free and is only reached by the mountain railway. The line also calls at Grindelwald, another of our favourite chocolate box ski resorts.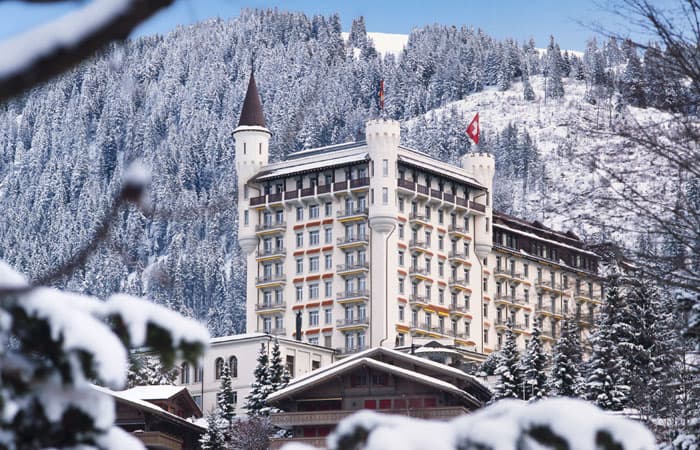 4. Gstaad, Switzerland
Set in the heart of the Bernese Oberland, the attractive Swiss village of Gstaad defines chocolate box ski resorts. The village is car-free and made up of beautifully-designed chalets and opulent hotels. Gstaad has a selection of stylish shops and gourmet restaurants; perfect for those looking for off-the-mountain activities. The ski area is as pristine as the resort; with modern chairlifts and 200 kilometres of tree-lined slopes. A stand-out feature of the village is the renowned and castle-like Gstaad Palace.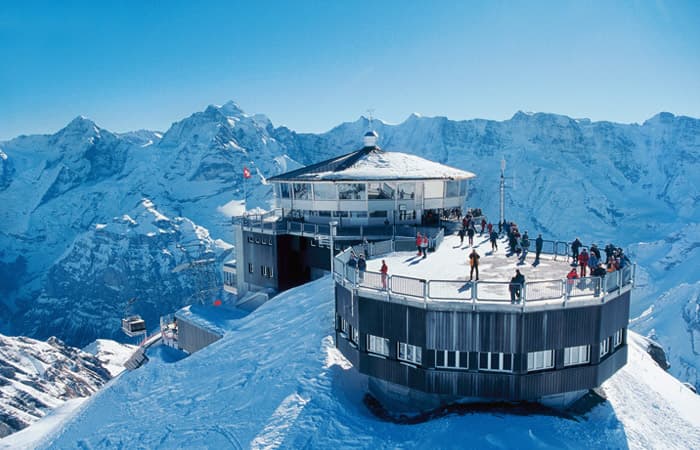 5. Mürren, Switzerland
With pistes at 1,500m and 3,000m above sea level, Mürren is the highest resort in the Bernese Oberland. The village is part of the Jungfrau ski area, which has 206 kilometres of pistes. Mürren is a tiny, charming and virtually car-free. There are panoramic views of the Bernese Alps, especially when tackling the Schilthorn black run – a 1,300m vertical piste with breath-taking terrain. James Bond fans should visit the 360 degrees rotating Piz Gloria restaurant. The 1969 film On Her Majesty's Secret Service made this restaurant famous. There is also an interactive exhibition where you can get a glimpse behind the scenes of the film.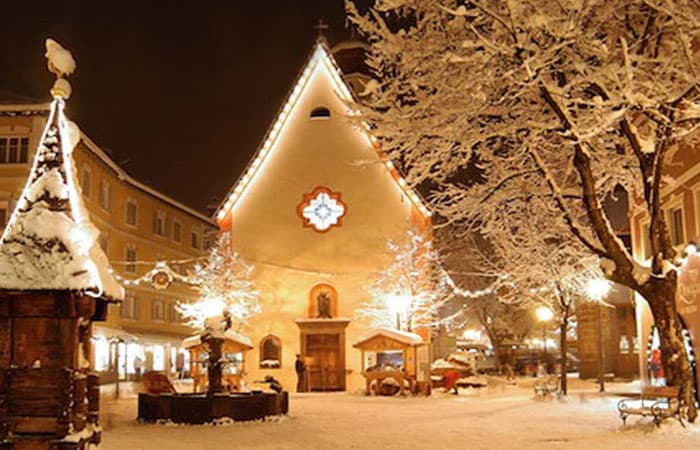 6. Ortisei, Italy
Ortisei is a charming Italian village in South Tyrol and one of the prettiest ski resorts in Europe, with access to the Dolomites ski area. This comprises 12 ski areas and covers a total of 1,200 kilometres of piste. Many of the slopes are long and wide, making it a perfect destination for leisurely skiing. The pastel-coloured architecture is a result of its Tyrolean roots. The yellow, turreted Adler Spa Resort dates back to 1810 and is one of the most beautiful properties in the Dolomites. Ortisei really is one of the prettiest Italian ski resorts.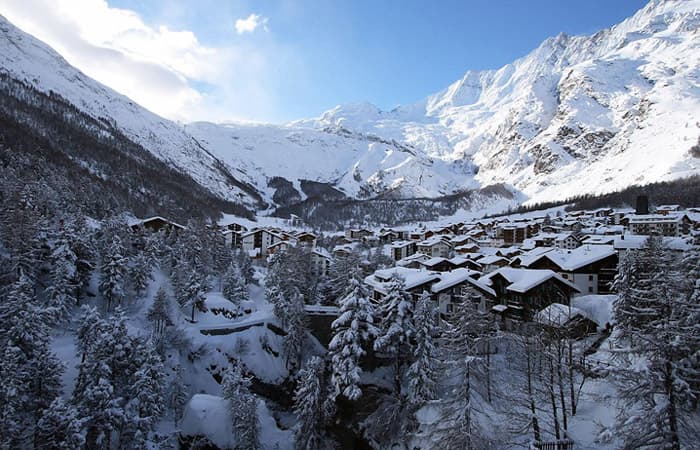 7. Saas-Fee, Switzerland
Dubbed the 'Pearl of the Alps', Saas-Fee is surrounded by 13 mountain peaks reaching 4,000m or higher. This picturesque ski resort has 100 kilometres of slopes and is ideal for near beginners and intermediates. Due to its altitude, you can even ski during the summer months on the glaciers. Another of our top car-free, chocolate box ski resorts, there are electric buses that shuttle visitors around. There is an authentic and traditional feel of the village with narrow streets and cowsheds still in operation.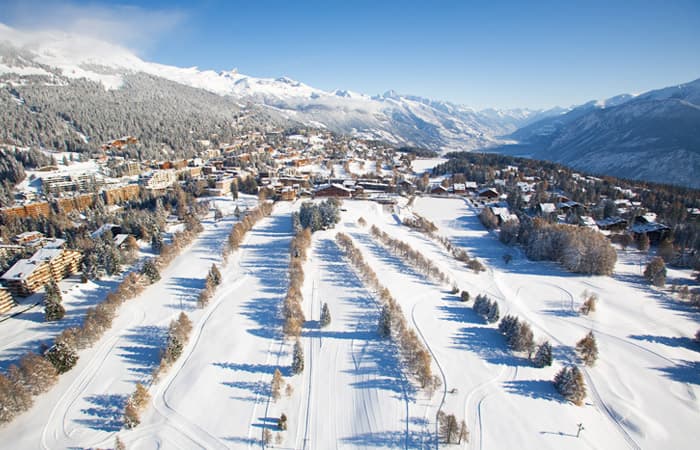 8. Crans Montana, Switzerland
One of Switzerland's largest (and sunniest) ski resorts, Crans Montana is separated into two distinct areas. Modern Crans has upmarket designer shops, including Louis Vuitton, Gucci and Hermès, and older Montana with its traditional atmosphere. Crans Montana has a lively après, which you don't tend to find in chocolate box ski resorts. The village has a laid-back, uncrowded feel, despite the lively bars.
9. Megève, France
The charming town of Megève is only a short journey from Geneva and is one of the prettiest French ski resorts due to it's stunning location beneath Mont Blanc. Enjoy the beautiful traditional style town to the stunning tree lined runs and the spectacular views of Mont Blanc. There's also a wide variety of mountain restaurants for you to enjoy and some superb accommodation options.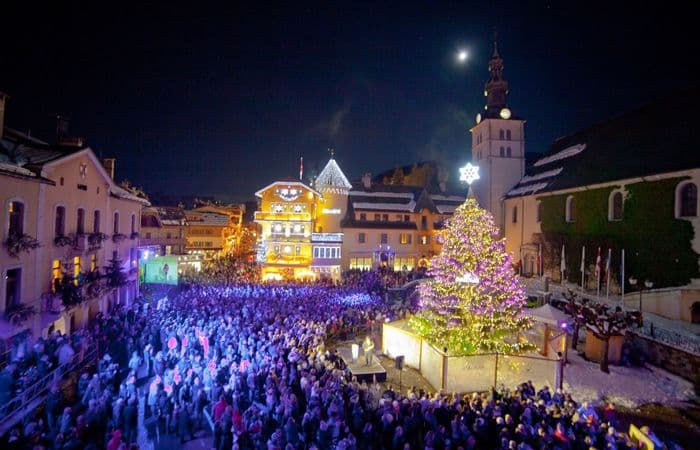 10. Courchevel, France
It's easy to build up an appetite on Courchevel's vast ski area (one of the largest in the world). With more Michelin stars than any other resort in the Alps, this is the ideal spot if you want to splash out on a special meal at the end of the day. The world-class restaurant at Le Chabichou Hotel serves Savoyard and Asian inspired cuisine. The dining room is extremely elegant, or try the terrace surrounded by scenic Alpine views. Courchevel is known for being a fashionable resort, but those who want to avoid the spotlight can head for the more peaceful Courchevel 1650. We highly recommend the Hotel le Portetta, which even has its own cosy converted barn.
11. Méribel, France
Known for being one of the prettiest French ski resorts, Méribel has more wooden chalets than anywhere else in the world. There is a good selection of bars for après ski. Chic bar, Le Poste de Secours, located in the town centre, mixes the best champagne cocktails in town. At the nearby spa town, Brides-les-Bains, enjoy a selection of treatments and thermal waters. Guaranteed to soothe away any lingering ski strain.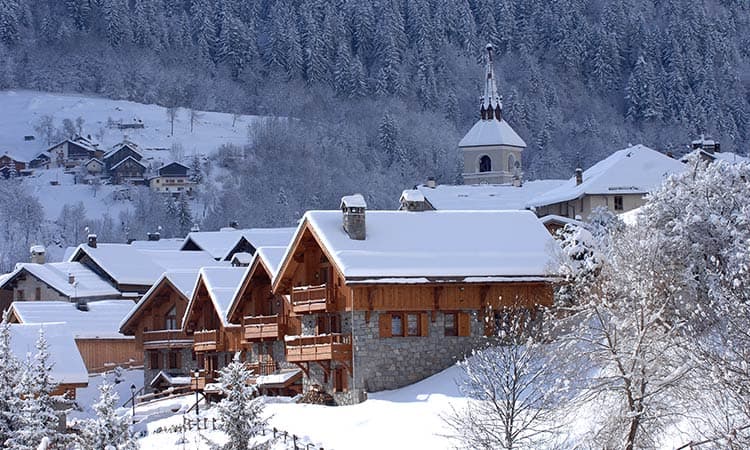 12. Alpe d'Huez, France
Alpe d'Huez is one of the prettiest French ski resorts. It's a good choice for couples who want a little rustic village atmosphere. Restaurants such as La Fondue en Folie serve up traditional (and not so traditional) fondues for two, along with a charming pully system for the breadbasket. The range of activities includes swimming pools to frozen waterfall climbing, with plenty of fun both on and off the slopes.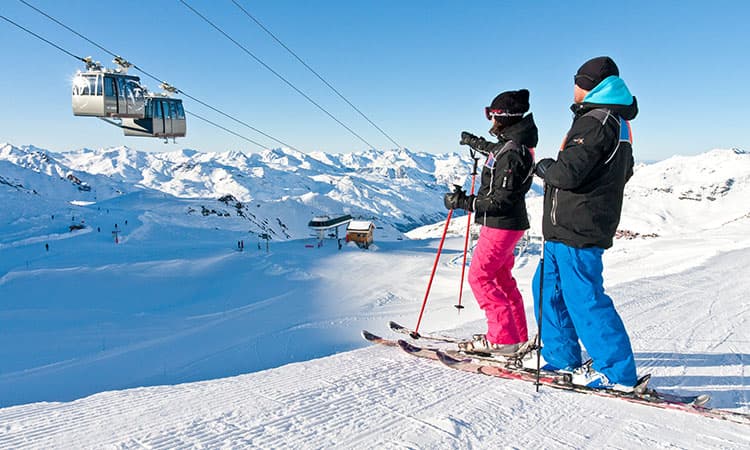 13. Zell am See, Austria
Zell am See is one of the prettiest Austrian ski resorts because of its unique lakeside location. The town is on the shore of the beautiful Lake Zell which is surrounded by a stunning mountain landscape. If you're looking for views whilst you are skiing this is a must-visit destination. Whether you're looking for a family getaway or lively nightlife the Austrian ski resort has something for everyone. There's an abundance of varied terrain for all levels of skier and snowboarders. It's an Instagram ready resort for sure, no filters needed!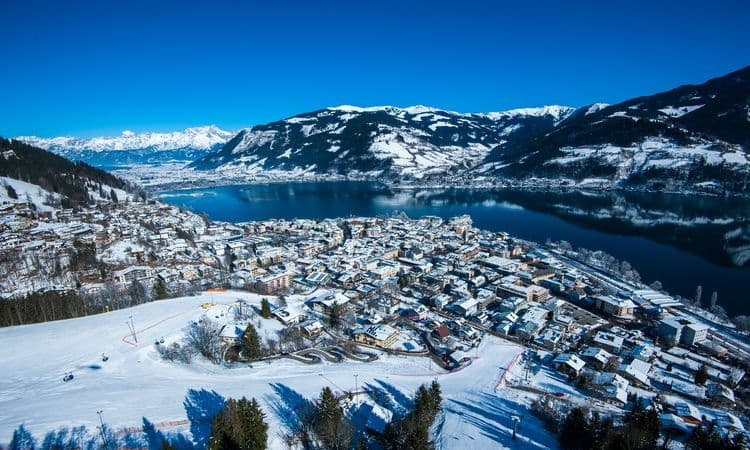 14. Kitzbühel, Austria
Kitzbühel is an iconic ski resort because of the Streif black run, one of the most challenging ski race runs in the world. It is also one of the prettiest Austrian ski resorts because of the incredible mountain landscape surrounding the area. Wherever you are skiing the mountain, you can admire the beauty of the Tyrolean Alps. Despite its racing reputation, there's something for all levels of skiers or snowboarders. It's a perfect ski destination if you're heading out as a mixed ability group. It's steeped in history and is one of the most picturesque ski resorts around, what more could you want!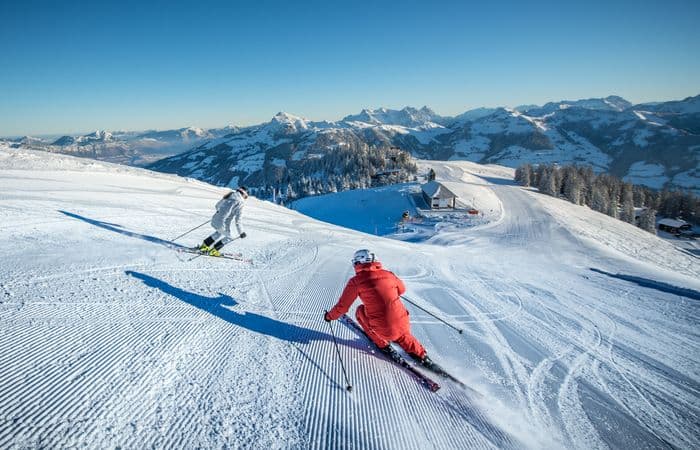 15. Arabba, Italy
Absorb the beauty of the Dolomites by visiting one of the prettiest Italian ski resorts. Arabba is located in the Veneto region of Italy in the southeast region of the Sella Ronda ski area. The village itself has a real charm to it and has a traditional alpine feel. If you're looking for a peaceful ski trip, Arabba is perfect. The atmosphere is laidback and doesn't have a party reputation. Just enjoy your skiing and admire one of the prettiest ski resorts in Europe.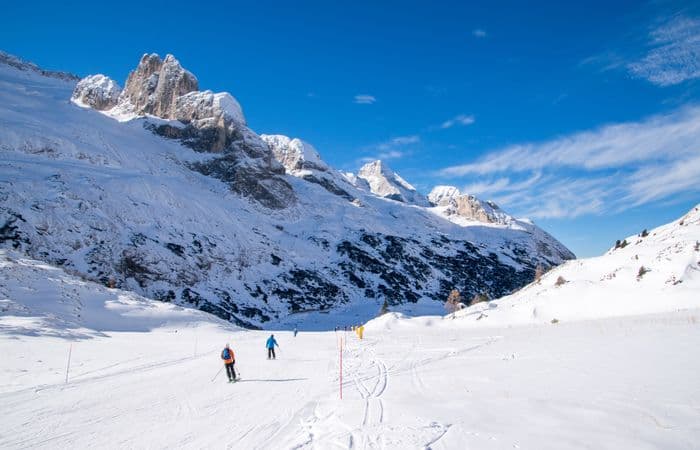 If you would like to find out more about where to find the prettiest ski resorts in Europe, our experts would be happy to help. Speak to our team on 0207 471 7700 to book your ski holiday.