Do you have a taste for the finer things? There is nothing more exciting than enjoying incredible hospitality in a fantastic mountain setting. Whether your needs are fulfilled with exceptional spa facilities, delicious a la carte menus or convenient access to the slopes, there's something for everyone. Take a read over our list of the best luxury ski hotels in Europe and find the best suited hotel for you.
Tschuggen Grand Hotel – Arosa, Switzerland
Sitting at the top of our list of the best luxury ski hotels in Europe is the Tschuggen Grand Hotel in Arosa, Switzerland. This impressively suave hotel is the ideal place for a luxurious getaway, perfect for families and couples looking for that superior experience. The uniqueness of the Tschuggen Grand Hotel is unmatched, with its own 'Tschuggen Express' railway. This allows guests ski-in ski-out access from 1800m where the hotel sits.
The Tschuggen Grand Hotel is a member of the 'Swiss Deluxe Hotels' and 'Leading Hotels of the World'. The hotel boasts the La Brezza restaurant run by two-Michelin star chef Marco Campanella. As well as the spa and wellness centre set across four floors and built into the mountain.
The Tschuggen Grand Hotel is truly a rare gem and should be included in your next year's booking.
Stay At:
Tschuggen Grand Hotel takes relaxation to a new level, creating a wonderful setting that effortlessly connects guests with the surrounding environment.
Arosa ski holidays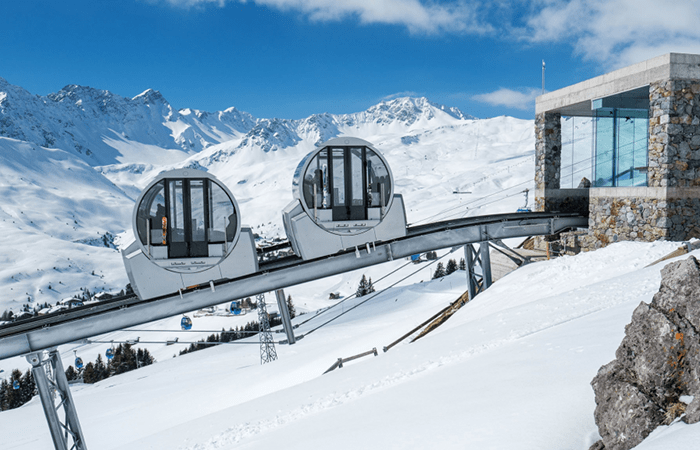 Hotel Weisses Rössl – Kitzbühel, Austria
Part of the Greiff group of hotels and a member of the 'Leading Hotels of the World' the Hotel Weisses Rössl is Kitzbühel's most luxurious 5-star hotel. Centrally located in the medieval old town and minutes away from the nearest lift, the hotel has fantastic access to the amenities of the area.
The hotel is home to an exceptional spa which offers a full range of treatments for guests to relax after a busy day. The spa features an indoor pool, whirlpool, sauna, steam bath, aroma bath and a Laconicum.
Despite being situated in the traditional town of Kitzbühel, Hotel Weisses Rössl showcases Zuma, an authentic top-class Japanese restaurant. Zuma has gained much popularity in the world's most cosmopolitan cities.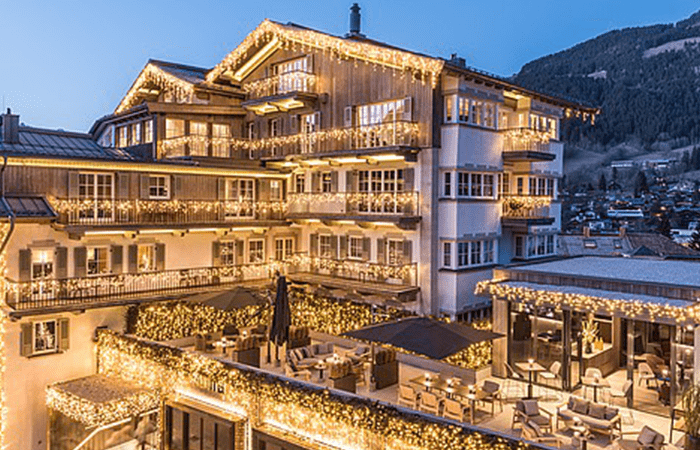 Hotel St. Hubertus – Cervinia, Italy
Hotel St. Hubertus in Cervinia, Italy is a hotel not to be overlooked when considering the best luxury hotels in Europe. Set in the magnificent pine forest with breathtaking views of the Matterhorn. Hotel St. Hubertus is still only a short walk to the centre, allowing for an easy stroll to the local restaurants and bars nearby.
The hotel is designed in a traditional alpine style, with cosy fireplaces and décor, a restaurant, champagne bar, and swimming pool for guests to relax in.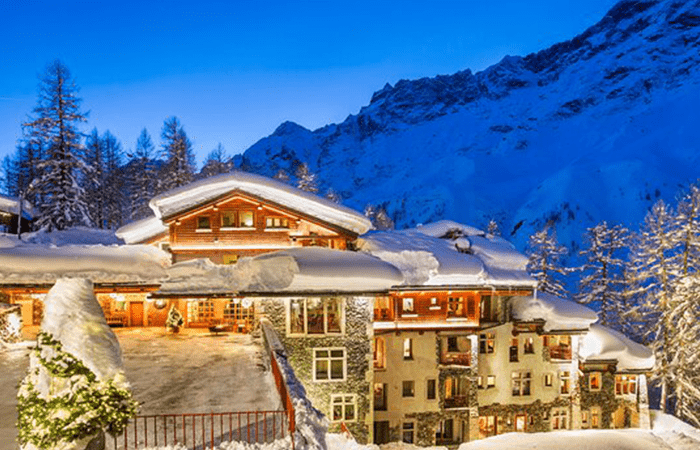 Le Refuge de Solaise – Val d'Isère, France
Le Refuge de Solaise is located in one of the most sought-after areas in Val d'Isère. Set at an astonishing 2551m, the intimate and luxurious 16-room ski-in- ski-out hotel is a unique addition to the region.
The hotel provides fabulous views of the mountains, with an exterior jacuzzi, sauna and 25m swimming pool it is the perfect place to relax after a long day skiing. You can enjoy the stylish and cosy retreat. You can access this exclusively by the Solaise gondola allowing the ultimate convenience.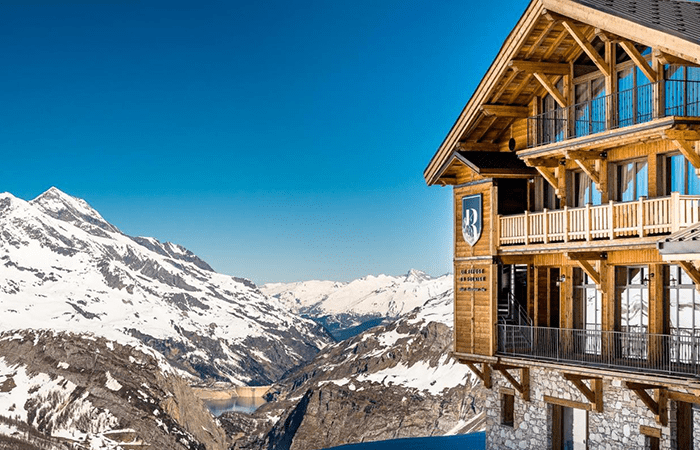 Hotel Le Massif – Courmayeur, Italy
Hotel Le Massif is a fabulous five-star hotel set at the foot of Mont Blanc and is a member of the Italian Hospitality Collection. This exceptional Italian ski hotel is synonymous with top-class service and hospitality. Located in Courmayeur, Hotel Le Massif boasts three restaurants, three 360-degree terraces and an in-house ski concierge for the ultimate convenience.
The popular thermal spa and wellbeing area offers a range of treatments. Guests also have access to the steam bath, sauna, emotional showers, and whirlpool adding to the luxurious experience Hotel Le Massif offers.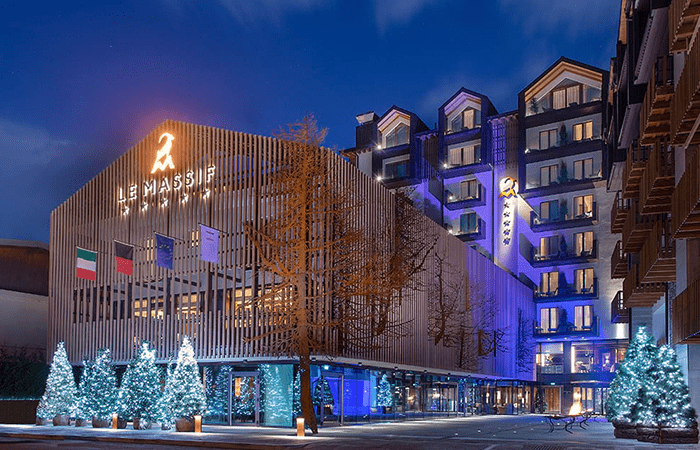 Hotel Chabichou- Courchevel, France
Set in the fashionable ski resort of Courchevel, Hotel Chabichou deserves a mention in our best luxury ski hotels in Europe list. Located in the incredible setting in the heart of the Three Valleys the legendary white chalet hotel cannot be mistaken.
Undeniably lavish, the Hotel Chabichou features a two Michelin star restaurant, creating an exceptional gourmet experience for the guests. The hotel features a comprehensive wellness centre, with an indoor pool, steam room, sauna, ice fountain, sensory pools, ice bath, and fitness room.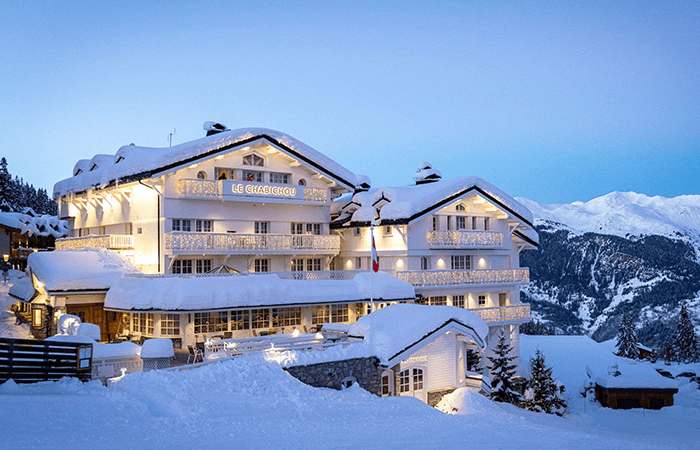 The Chedi Andermatt – Andermatt, Switzerland
Regarded as the top five-star hotel in Switzerland, The Chedi Andermatt in Andermatt combines the authenticity of a typical alpine hotel with Asian elements. The hotel sits at almost 1500m and is home to five restaurants and bars. Including a 6,000 bottle wine cellar, cheese room and two gourmet restaurants offering a unique blend of European and Asian cuisine.
Elegance and sophistication go hand in hand within the entire hotel, with the finest detail in mind. In each room, there are modern amenities for the guests' convenience. With on-demand movies and shows, a private wine cabinet and a built-in fireplace.
For further indulgence, guests can take advantage of the full range of spa treatments. As well as extensive spa facilities for individuals to unwind after a long day enjoying the beautiful ski area.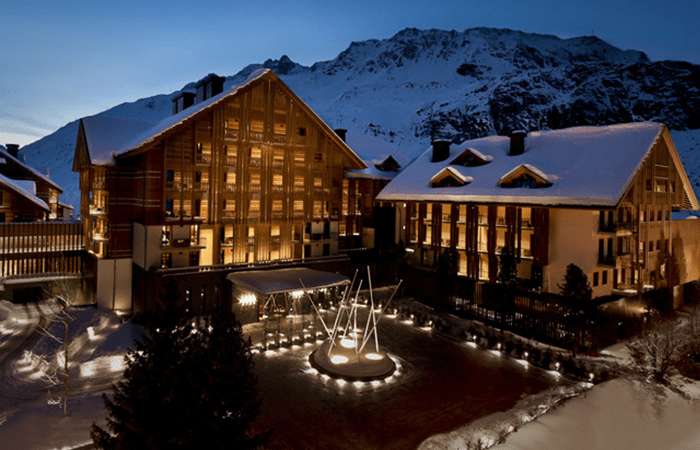 Hotel Cervo – Zermatt, Switzerland
Hotel Cervo in Zermatt offers a unique take on the traditional hotel, comprised of chalets, suites and rooms it offers five-star service and is well located with ski-in ski-out access.
Après ski is paramount for guests' stay at Hotel Cervo. With its own bar located directly at the end of the slope and starting from 3pm it is the perfect place to let loose after an exhilarating day of skiing.
If you want to rest and relax, you need to head to the Mountain Ashram Flow Spa. Admire the inspired design by Japanese, Bhutanese and European influences in the ideal setting.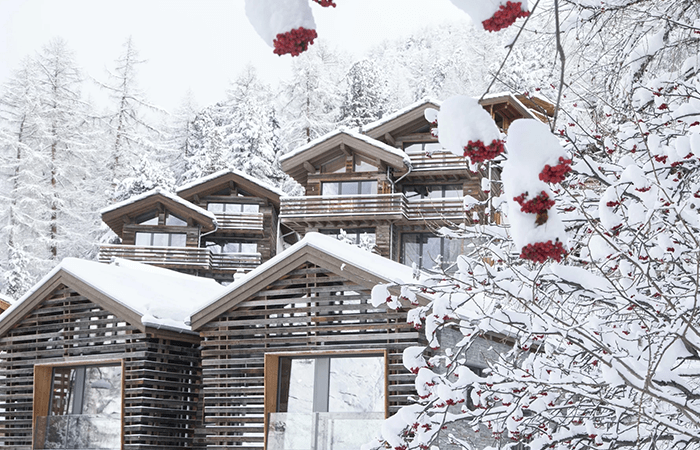 Hotel La Sivoliere – Courchevel, France
Hotel La Sivoliere is a stylish and cosy hotel located in the popular Courchevel. A well-kept secret with loyal regulars and extremely hard to book before its expansion. With its grand transformation, it now offers a combination of rooms, suites and apartments showcasing its rustic charm.
Exclusively organic, the restaurant 'La Table De Madame Signed By L'Ami Jean' is an authentic and indulgent alpine experience. Hotel La Sivoliere is home to exceptional spa facilities, with a relaxing pool, sauna and jacuzzi. You can book a full range of treatment with entirely organic products.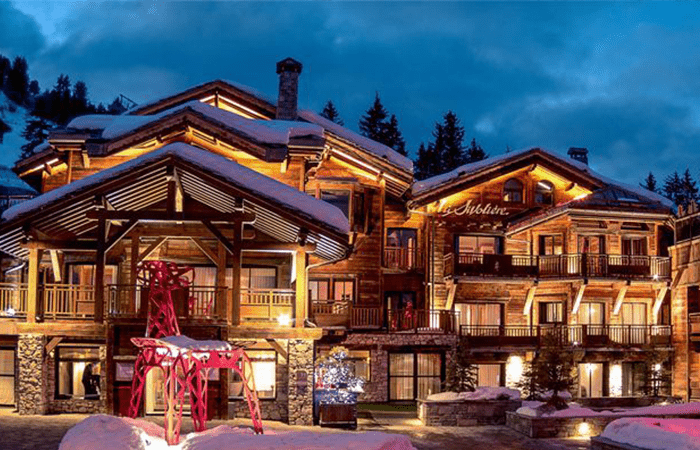 Severin's – The Alpine Retreat – Lech, Austria
Located in Lech, Severin's The Alpine Retreat is a luxury five-star hotel with modern and authentic interior design. Severin's is an intimate accommodation comprising of nine suites and a two-storey residence. Guests can take advantage of the first-class personal service in the a la carte restaurant, bar and wine cellar.
The residence is the ultimate indulgent escape. You can enjoy its well equipped elegantly designed rooms, private cinema and whirlpool.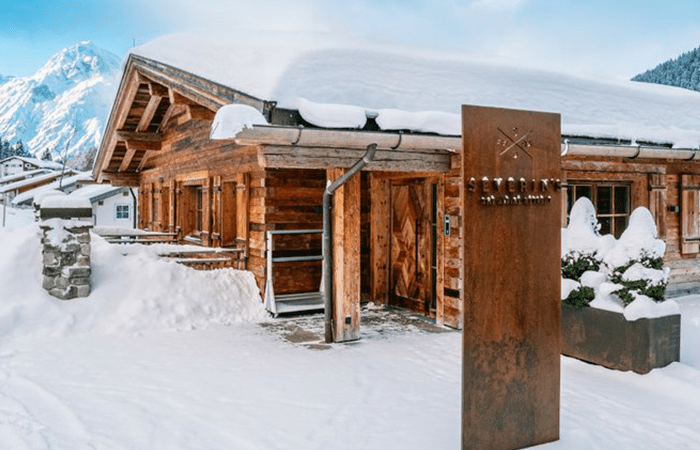 To find out more about the best luxury ski hotels in Europe contact our ski experts on 0207 471 7700.