Home
wellness ski holidays
Wellness Ski Holidays
Find the perfect indulgent escape with our selection of fantastic wellness hotels across Europe and North America.
Relax & Recharge
Your ski holiday is about you time; spend the day skiing to your heart's content, followed by a warming sauna, a soak in a bubbling Jacuzzi or treating your aching muscles to a soothing massage. As health and wellbeing have become such a popular trend on holiday, spa hotels are dotted across Europe and North America. In many hotels, you won't have to travel far to indulge in a couple of hours of you time. If you're travelling with family, choose a hotel with kids' groups and childcare, so you don't have to worry while you're relaxing.
Skiing has been proven to improve your mental wellbeing, thanks to the fresh mountain air and exercise. Whether you want to eat healthy evening meals, use the gym facilities, join a yoga class or enjoy a well-deserved rest, our ski experts can help tailor-make your holiday to suit you in one of our fabulous ski spa resorts.
Wellbeing on Your Ski Holiday
Healthy evening meals
Hotel gym facilities
Après ski yoga class
Natural spas
Hot springs
Relaxing spa treatments
Ski Resorts With Fantastic Spas
Luxurious Spa Hotels
If recharging and resetting is one of the main focuses of your ski holiday, we have a fantastic selection of wellness ski hotels for you. After a day on the slopes, return to the tranquil surroundings you crave and immerse yourself in to the ultimate relaxing environment.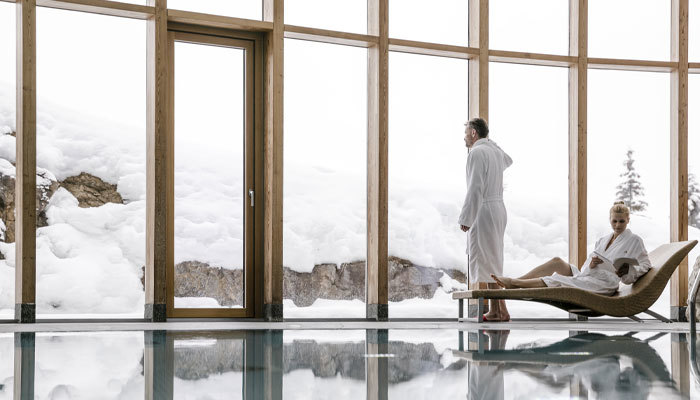 What our experts say
We all know skiing is great for releasing the mind and letting your soul soar. Combining fun on the pistes with wellness therapies and yoga allows you to slow down, take stock, and relax.

James E
Key Account Manager
Inspiration for Wellness Ski Holidays
We Can Tailor-Make a Holiday to Suit You...
We have a team of experts on hand to help you choose the perfect holiday. From a luxury ski weekend in Val d'Isère to a big adventure in the Rockies, we're whatever you want your holiday to be.
A Family of Six Expert Travel Companies