Skiing in Canada is on many people's bucket lists. The terrain and atmosphere are different from the European Alps. In addition, there are great snow records in many of the Canadian ski resorts, which means there are fantastic off-piste opportunities. Our ski experts have created a guide to the biggest ski resorts in Canada.
Whistler
One of the most famous ski resorts in Canada is Whistler. In addition, it is one of the biggest ski resorts in Canada with 200km of pistes to explore in the area. If you're searching for fantastic freeride terrain there are also great powder pockets to drop into. Whether you're a first-time skier or looking for a challenge as an advanced skier, you're in for a treat.
Off the slopes, Whistler also delivers. The village itself has a mixture of accommodation options with chalets, apartments and hotels on offer. If you're a foodie, Whistler has some great restaurants in the area. We highly recommend Araxi which serves specialities such as seafood and Pacific Rim dishes. There is also a good mix of nightlife to enjoy after hitting the slopes. There are some great bars to enjoy. A must-visit is Merlin's bar to watch the legendary local ban The Hairfarmers.
Stay At:
Pan Pacific Village Centre is one of the finest condominium hotels in town in Whistler.
Whistler ski holidays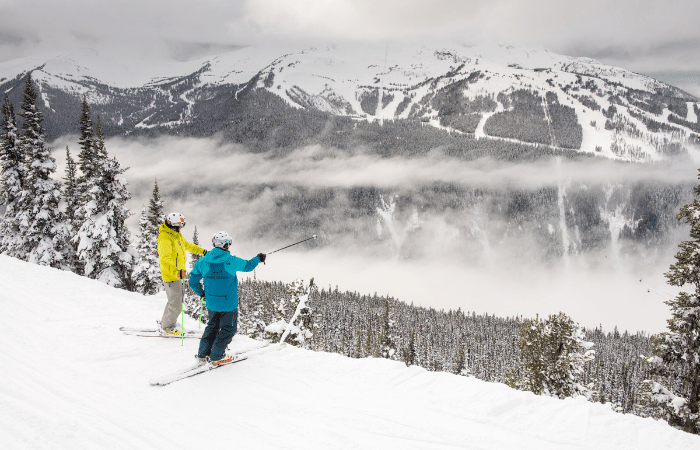 Sun Peaks
Sun Peaks is set up for ski convenience. There are plenty of ski-in ski-out accommodation options and you can even ski through the main village too. In addition, there are plenty of luxury choices when it comes to booking somewhere to stay. All this is surrounded by a beautiful mountain backdrop.
It is the second biggest ski resort in Canada (after Whistler), with 135km of pistes to ski in the area. On top of this, there are many off-piste opportunities if you're searching for powder turns. During the week the resort is mainly quiet which make you feel you have the mountain to yourself. Off the slopes, Sun Peaks has a relaxed atmosphere, with some great bars and restaurants to enjoy.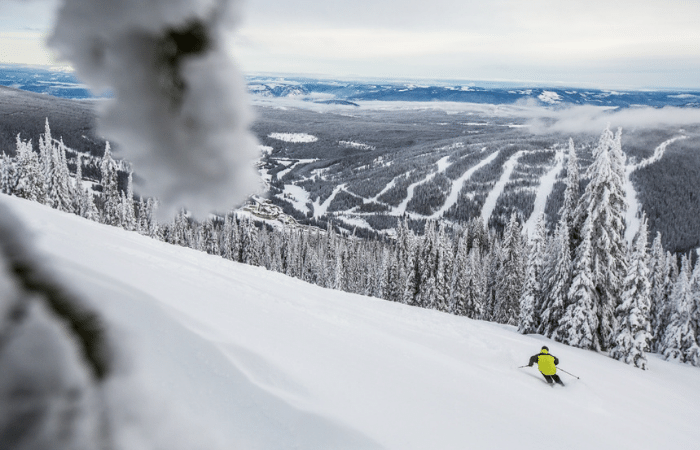 Lake Louise
Part of the Banff ski area, Lake Louise is one of the biggest ski resorts in Canada. Lake Louise itself has 100km of slopes to enjoy but with a full Banff lift pass, you can ski 264km of slopes. Each Banff resort Sunshine Village, Mt. Norquay and Lake Louise are a drive away, however. Lake Louise is often described as the most beautiful in the world because of its National Park and stunning mountain views.
Off the mountain, there is a variety of bars and restaurants to enjoy. There's a mixture of cuisine choices you can have with Italian, Swiss, Canadian and many more. The Fairmont's Lakeview Lounge is a great spot to grab a drink and overlook the view of Lake Louise. In addition, Lake Louise has a state-of-the-art ice rink that is a must-visit for families.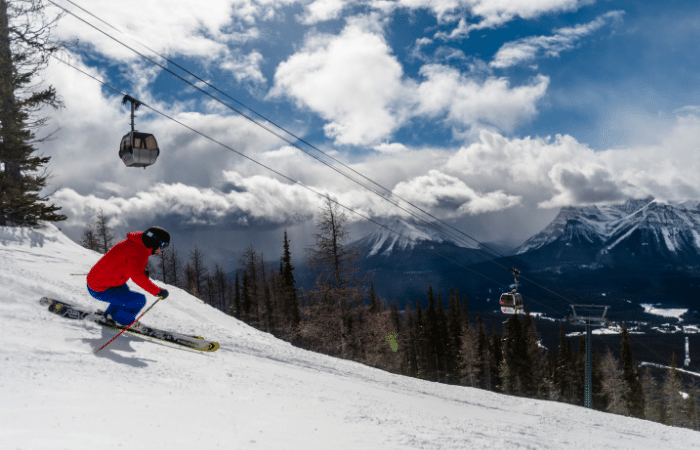 Fernie
Powder hounds around the world flock to Fernie because of its incredible snow record and off-piste opportunities. In addition, there is also 142km of slopes to enjoy too. The atmosphere is relaxed and peaceful because of the distance from a major city. This means there are no queues and you get around the five different alpine bowls in the area with ease.
In the ski resort and the town of Fernie a couple of miles away, there is plenty to see and do. There are great accommodation options as well as bars and restaurants to visit. We recommend heading to the Yamagoya for incredible Japanese cuisine, something not common in the mountains. If you're looking for an evening drink Griz Bar is the most convenient place to have a relaxed sociable night.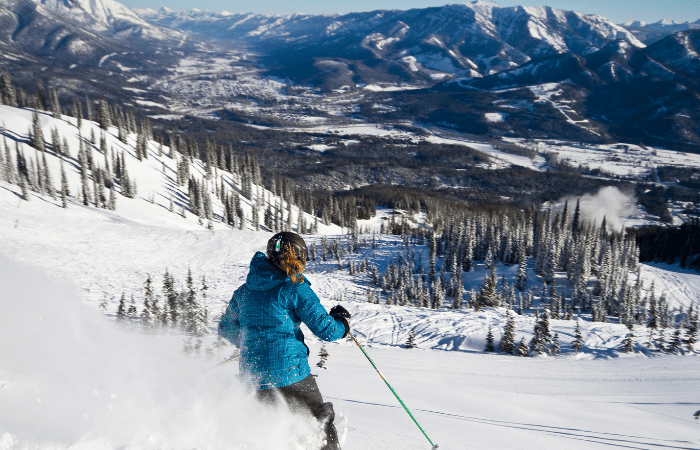 Jasper
Located in the Alberta Rockies, Jasper is a stunning ski destination. You can ski 100km of pistes and there is fantastic off pistes to enjoy. The views are breathtaking wherever you look in the area. Admire beautiful natural beauty such as dense forests, frozen lakes and the deep valley of the Jasper National Park. On top of this, on the slopes, there's great diverse terrain with tree skiing, chutes and powder bowls to explore.
Off the mountain, Jasper is a relaxed Northern Canada town. The nightlife is pretty quiet but the Caribou Grill is a great spot for cocktails or beer. There are more options for places to eat with pizzerias and fine-dining options. Fairmont Jasper Park Lodge has various restaurants for different tastes. The Moose's Nook Northern Grill has a great menu to chose from after a day on the slopes.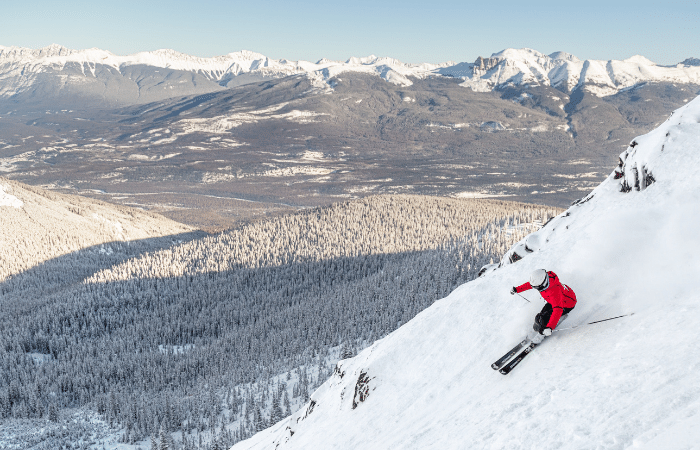 Kicking Horse
If you like a challenge and you're an advanced skier, Kicking Horse is perfect for you. There is 100km of pistes in the area, 60km of those are graded black. It is also highly regarded as one of the best off-piste ski areas in the world. Kicking Horse is a regular part of the Freeride World Tour where the best off-piste skiers compete against each other. It is one of the biggest ski resorts in Canada for off-piste skiing.
A must-visit restaurant when you're in Kicking Horse is the Eagle Eye restaurant at over 2,300m. Not only does it have delicious gourmet food, but it has incredible panoramic views of the surrounding mountains. In town, Copperhorse Steakhouse is a delightful dining experience. The nightlife is pretty relaxed in Kicking Hose but the Local Hero Pub has music, a great selection of drinks and a fire on the patio.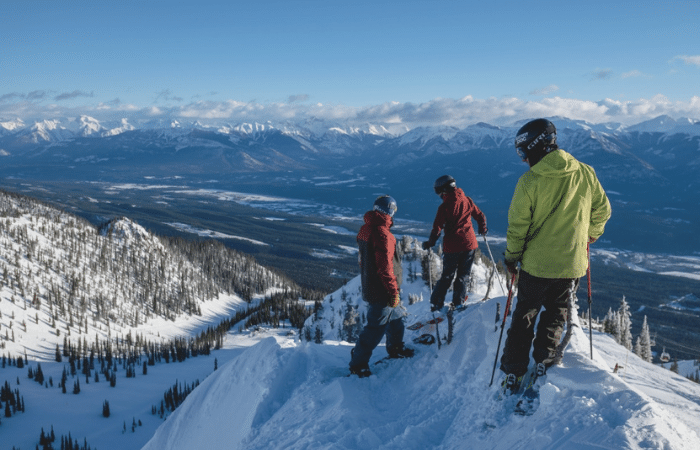 Panorama
Panorama is perfect for family ski holidays with its gentle terrain and many childcare facilities. You can ski 100km of pistes that are mainly suited to beginner or intermediate level skiers. There's a good mixture of wide-open slopes and wooded trails on the mountain. Advanced skiers can go heli-skiing if they're looking for an off-piste challenge. Beginners will enjoy the dedicated Discovery Zone where the slopes are wide and the lifts are slow.
The village itself is basically car-free and has a welcoming atmosphere. It has a beautiful mountain backdrop you can admire on and off the slopes. There are some superb restaurants to visit within the town. Earl Gret Lodge is an award-winning fine dining experience, with some of the best food in Canada. If you're looking for a drink after a day on the slopes Crazy Horse Saloon is a popular spot.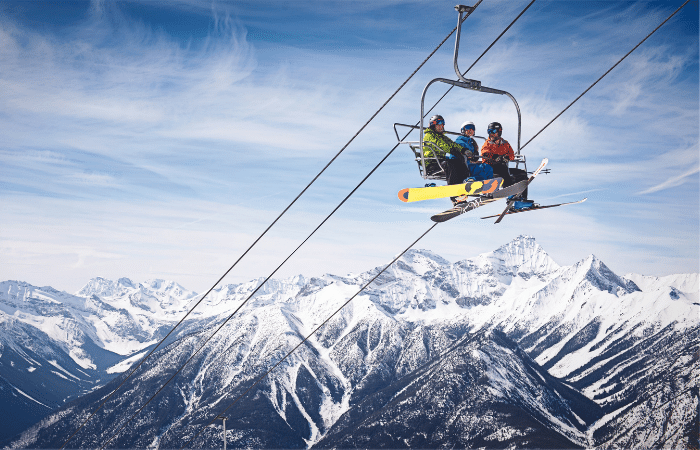 To find out more about the biggest ski resorts in Canada, please call our ski experts on 0207 471 7700.