If you're learning to ski for the first time you want a ski resort with the right terrain, ski schools and facilities. Gentle slopes and good access to beginner areas are important for those heading on their first ski holiday. Canada has a great selection of ski resorts that cater to beginner skier needs. Our ski experts have created a guide to the best ski resorts in Canada for beginners.
Whistler
Whistler is a top destination for any level of skier. Beginners will start off skiing on the excellent local nursery slopes near the main town. The ski resort itself has a ski school that has some of the best ski instructors in the world and offer different lesson packages for your needs. There's also 40km of blue runs to progress on in the ski area.
Off the slopes, there are plenty of options for accommodation from the heigh of luxury to prime location near the slopes. There are some excellent restaurants and bars to enjoy after a day on the slopes too. We recommend heading to Merlin's Bar to see the local rock band The Hairfarmers. The band are legendary in the area and a must-see.
Stay At:
Pan Pacific Village Centre is one of the finest condominium hotels in town in Whistler.
Whistler ski holidays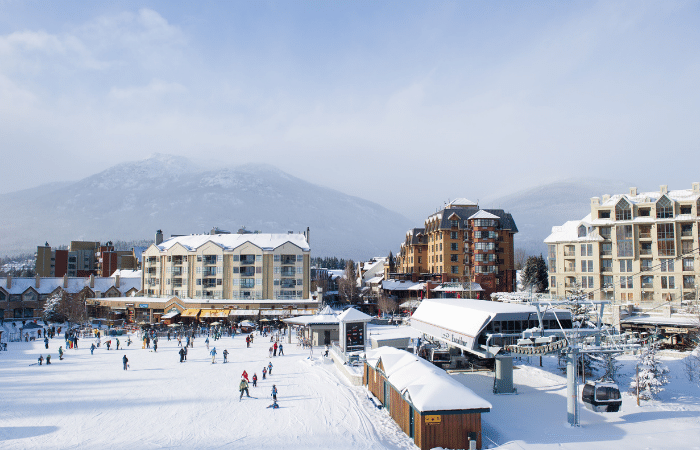 Lake Louise
One of the most stunning ski destinations in the world is Lake Louise. Surrounded by an incredible mountain backdrop and the Banff National Park, the scenery is breathtaking. It is also one of the best ski resorts in Canada for beginners. There are fantastic beginner slopes near the village and always a gentle alternative piste at the top of each lift. There is 25km of blue runs to cruise down in the area.
The Lake Louise Snow School has a brilliant reputation and it offers both private and group lessons. After a day on the slopes, you can enjoy several bars and restaurants in the area. The Fairmont Lakeview Lounge is an ideal spot for a drink looking out over Lake Louise. If you fancy a break from skiing you can enjoy ice skating. dog-sledging or do the beautiful Johnston Canyon Ice Walk.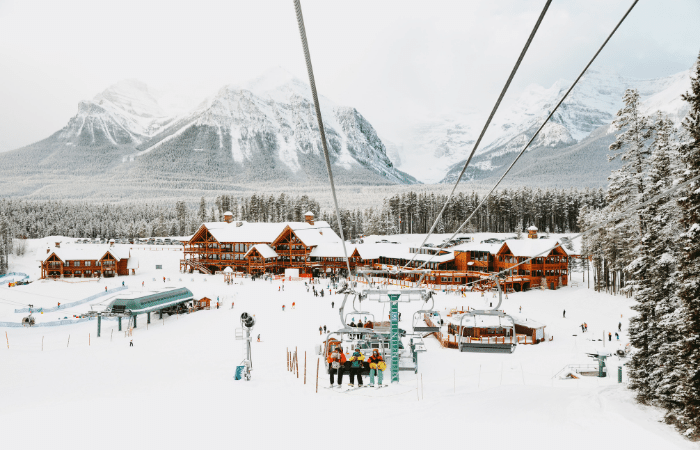 Jasper
If you want to get a real sense of mountain living, Jasper is an excellent destination to experience it first-hand. Part of the Jasper National Park, the ski resort is a frontier town with incredible scenery of the iconic Rockies. Its friendly and relaxed atmosphere is ideal for first-time skiers. You can easily access beginner slopes with 30km of blue slopes to progress on.
The Marmot Basin Ski & Snowboard School offers a private, group and children's lesson for beginners. In the village itself, there are brilliant bars and restaurants to visit. For something different in the mountains Oka Sushi has a delightful menu. After a day on the slopes, Caribou Grill is a great spot to enjoy a beer or a cocktail.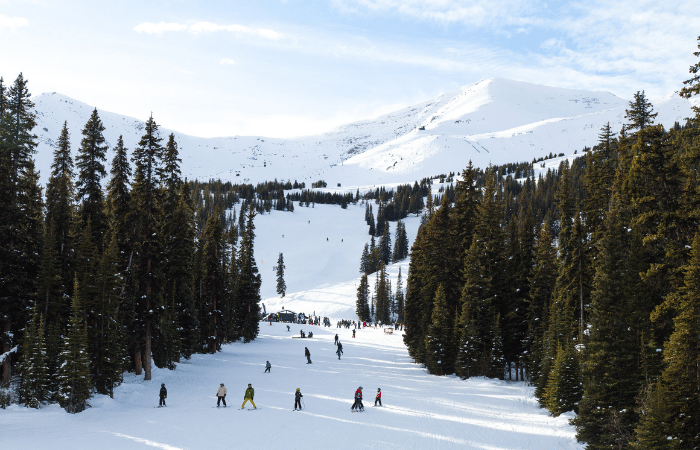 Tremblant
Quebec's skiing capital is Tremblant and has a unique Franco-Canadian atmosphere. It is also one of the best ski resorts in Canada for beginners. There is a practise slope with moving carpets at the base station near the village. From there you can progress onto the 17km blue slopes in the ski area. There's one main ski school run by the ski resort which offers excellent tuition for beginner skiers of all ages.
Tremblant is a lively mountain ski resort with plenty of bars and restaurants to enjoy. You can eat local Canadian cuisine, pizza or even sushi during your stay. Le Diable bar brews its own beer and has a great atmosphere. If you want excellent food and a beautiful view, Altitude Seafood and Grill is a great place to eat. The superb Aquaclub La Source pool complex is a fantastic place to unwind and loosen your muscles.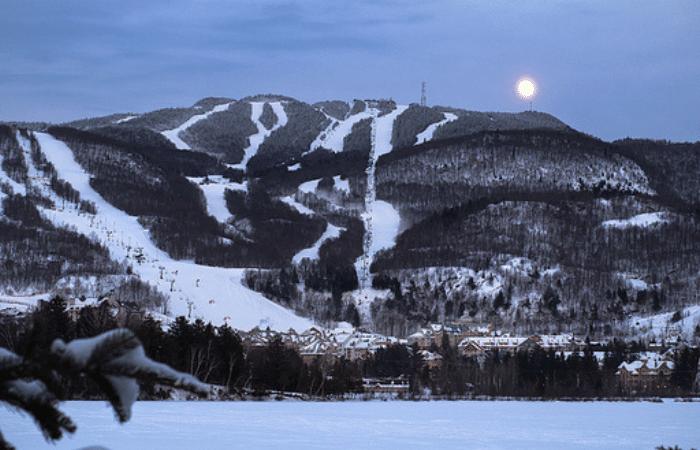 Sun Peaks
Beginner skiers will have a fantastic experience in Sun Peaks. There's a dedicated learner area at the foot of the Sundance area. In addition, there are plenty of gentle slopes to progress on with 12km of blue runs in the area. All the accommodation has ski-in ski-out locations which are ideal for first-time skiers to get around the ski resort.
The Sun Peaks Sports School is the main place to learn how to ski with private and group lessons on offer. The town itself has a relaxed atmosphere but it does have brilliant bars and restaurants to enjoy. Food in the area varies from BBQ to Italian cuisine. Bottoms Bar & Grill is the best place to grab a drink after skiing.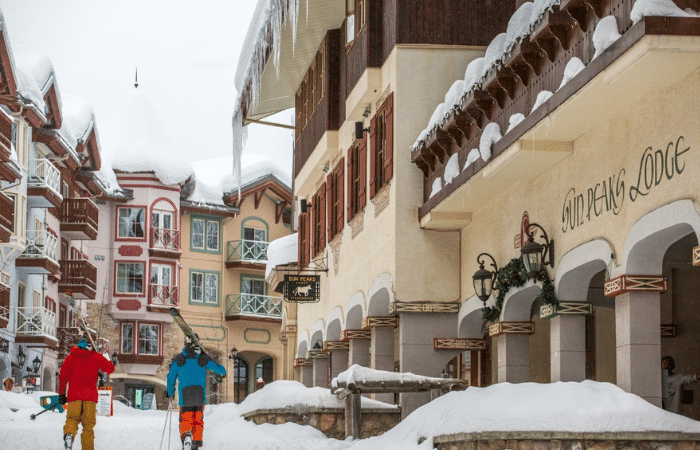 Panorama
Panorama may be renowned for deep powder heli-skiing but it's also a great destination for first-time skiers. There are great slopes for beginners at the base of the mountain which is easy to access. In addition, you can ski 20km of green runs and 55km of blue runs. Plenty to progress from after you've mastered the nursery slopes. A dedicated Discovery Zone has slow lifts and wide gentles slopes designed for beginners.
The Panorama Snow School has a great team of top qualified instructors, who take private and group lessons for all ages. There are incredible mountain views to enjoy on and off the slopes. The town itself has a variety of excellent restaurants to enjoy. Whether you want delightful fine dining or an easy takeaway, there's something for different tastes.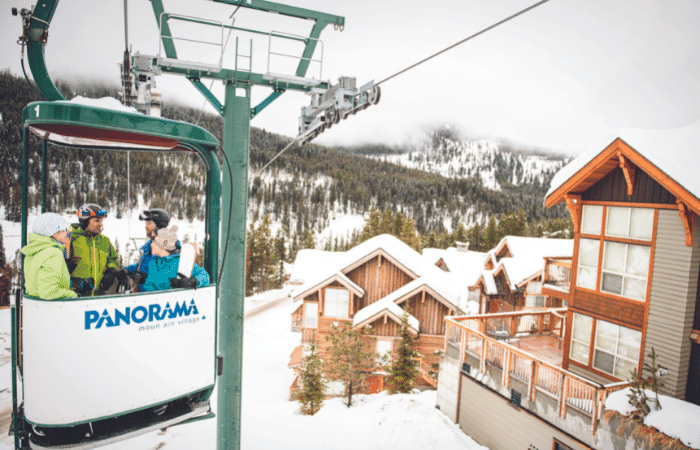 Fernie
Known as the mecca of powder skiing, Fernie is also brilliant for beginner skiers. The combination of a fantastic nursery area with smooth wide slopes and an excellent ski school makes it ideal for first-time skiers. Once you've mastered the beginner slopes there are 42km blue gentle blue slopes to explore in the ski area.
When you're not skiing there's plenty to do in Fernie. There are a lot of places to absorb in the area with art exhibitions, a theatre, a craft studio and other historic excursions in the town. Trips to the ice hockey arena and the aquatic centre are also must-visits too. Yamagoya is a delicious Japanese restaurant with a fantastic menu.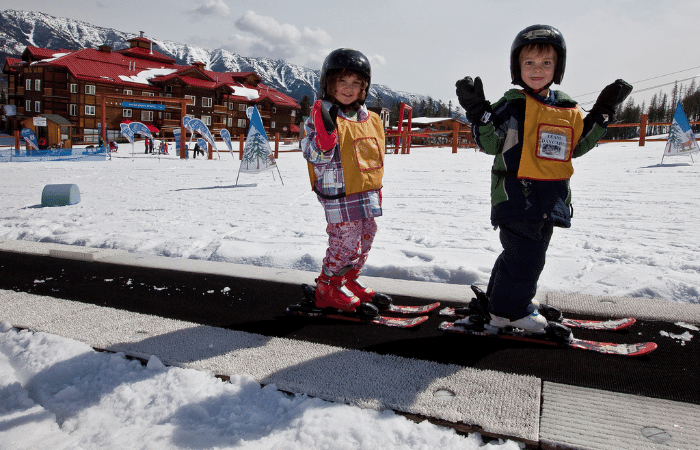 SilverStar
SilverStar is one of the best ski resorts in Canada for beginners. There is 115km of slopes to enjoy with 55% being easy green and blue runs. The snow record is excellent too so you're guaranteed good snow throughout the season. SilverStar offers an excellent 'Just For Kids' ski school service, with adult groups or private lessons available.
The pedestrian-only village and a great choice of ski-in ski-out accommodation are brilliant for beginners to get around the area. In addition, there's a welcoming relaxed atmosphere with some great bars and restaurants. Most of which are located in the hotels. SilverStar's bright building gives it a unique charm and adds to the character of the ski resort.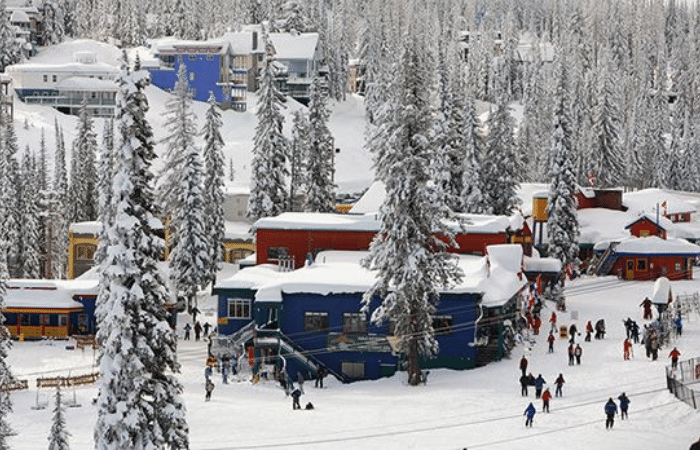 To find out more about the best beginners ski resorts in Canada, please call our ski experts on 0207 471 7700.