Are you starting to think about your ski holiday packing list? There is nothing worse than arriving at your hotel excited for the first day on the slopes and discovering that you have forgotten your ski goggles or a similar piece of essential ski gear. You soon find yourself traipsing down to the local in-resort ski shop choosing from a limited range, wondering how you got into this situation.
To help you remember all the kit that you need, we've worked with our partner Ellis Brigham Mountain Sports to make a simple and easy-to-use ski holiday packing list that takes all the stress out of preparing your ski holiday suitcase. Read on to find our handy tips on what to pack for a ski holiday, ranging from what clothes to take on a ski holiday to what footwear to take on a ski holiday. We know that après is often just as important as days on the mountain, which is why we have also included tips on what to wear at night on a ski holiday.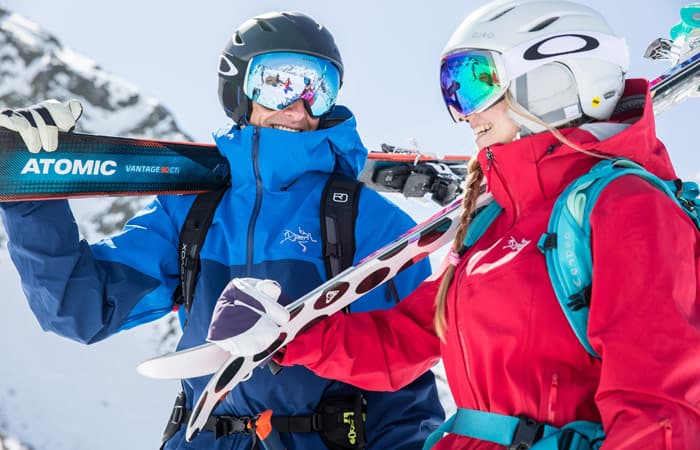 Ski Holiday Packing List
Essentials
Passport, tickets and currency
Flight/train/ferry/transfer details
Holiday/accommodation/ski hire/lessons details
Insurance details
Driving licence/GPS navigation device/directions if you're driving
Travel adaptors
Snowchains: These are essential to your ski holiday packing list if you're driving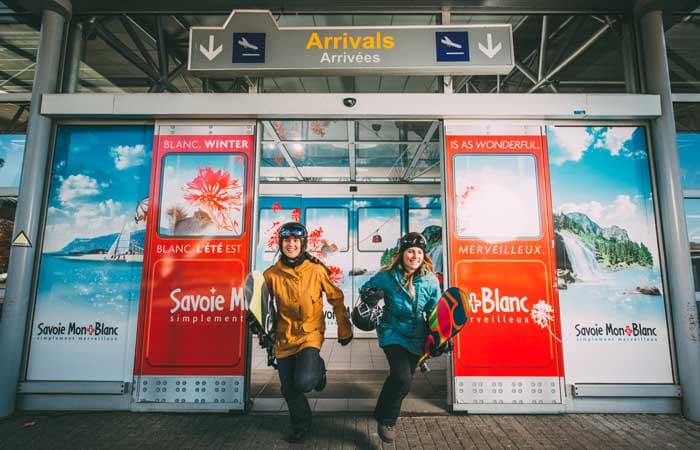 On the hill
Your on-the-mountain ski holiday packing list covers all of the essentials for a good day's skiing. Find out what clothes to take on a ski holiday to ensure you stay warm and dry all day long, as well as the important safety items such as a helmet and goggles.
Helmet: a well-fitting helmet protects your head and keeps you warm
Beanie: can be worn under your helmet if the weather is very cold
Goggles: protect your eyes from UV rays and adverse weather conditions
Gloves or Mittens: a pair of waterproof and breathable gloves ensure your hands stay warm and comfortable. Gloves allow for intricate movements while mittens provide greater warmth
Glove liners: if you get cold hands, a quality pair of glove liners makes all the difference
Ski Socks (merino wool): stops your feet from getting sweaty – wicking away moisture and minimising smell
Base Layer Top (merino): helps to regulate your temperature keeping you warm when it's cold and cool when it's hot
Base Layer Pants (merino): trapping air between the coil-like fibres merino wool keeps you warm on frosty mornings
Mid-layer or Fleece: this extra layer traps air between your outer jacket and base layer providing more insulation
Neck Warmer: protects your face and neck from windburn, the sun, and snow. Wear it in the morning when it's chilly – once it's lunchtime, fold it up and put it in your pocket until the late afternoon when it starts to get cold again
Ski Jacket: whether you get a lightweight shell or an insulated down jacket – it should keep you dry and comfortable
Ski Pants: a solid pair of waterproof and breathable ski pants is worth investing in
Sports Bra
Supports: Whether that's wrist, knee, back support – many of us need them!
Suncream and lip salve: Wear a high SPF suitable for all-day wear, as the sun is very strong in the mountains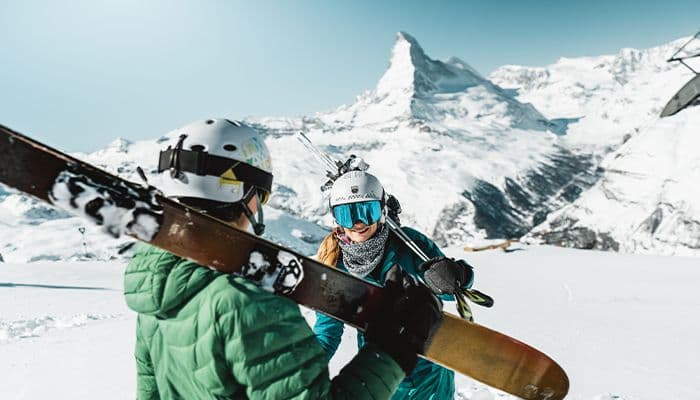 Ski equipment
Many skiers choose to bring their own equipment rather than hiring in resort. If you're bringing your own skis or snowboard, make sure it's well-packed in an appropriate bag to avoid any risk of damage on the journey – particularly if it's going into the flight hold.
Ski/snowboard boots: Make sure you use the extra room in your boot bag and stuff with socks, gloves, hats etc.
Skis/snowboard: Make sure you use a good quality bag to protect in hold.
Ski poles: These can be slipped in your ski bag.
Rucksack: Bring a water bottle to keep hydrated on the slopes. Pack a few snacks in too – nuts, chocolate bars etc – you'll be glad for them when you're up the mountain!
Transceiver, shovel and probe If you're planning to head off-piste, make sure you check your kit in advance of your trip to ensure it's working as it should.
GoPro/Camera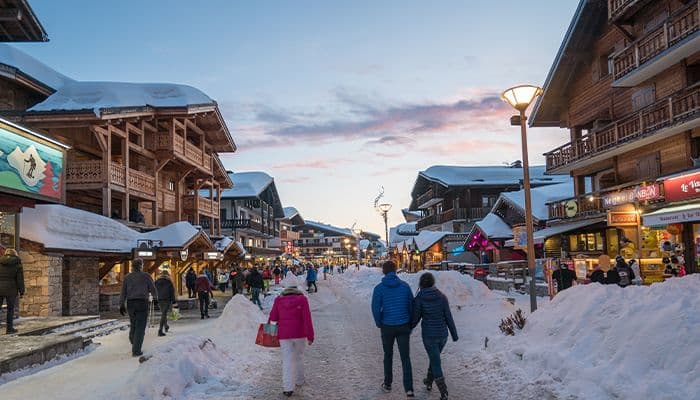 Off the hill
Our handy ski holiday packing list covers what clothes to take on a trip that will be suitable for exploring the resort and relaxing in the evenings. This also covers what to wear at night on a ski holiday. When you are out in the town enjoying the local bars, it is important to remember the essentials such as sturdy snow boots and warm layers.
T-shirt: lightweight and long-sleeved options to wear as layers in the evenings
Snow boots: stop you sliding on ice and keep your feet warm
Everyday gloves: thin gloves for walking around the resort in
Jogging bottoms: or something comfortable to lounge around in your apartment or hotel
Sunglasses: The sun reflecting off the snow can be extremely bright so it's important to protect your eyes.
Swimwear: If your accommodation has access to a pool or spa.
Jumpers and Jeans
Underwear & Socks
Pyjamas
Toiletries – Including a good face moisturiser, after sun, contact lenses etc
First aid kit – Medication, blister plasters, deep heat, pain killers etc
If you would like help with your ski holiday packing list, visit Ellis Brigham.