Heading to France's ski resorts by train may seem like a 'new' way to travel on your ski holiday. But in fact, this was how most British skiers used to head to the Alps before the advent of easy and affordable air travel in the 1970s. Read on to find out more about our green ski resorts accessible by train and the best ski resorts with train stations.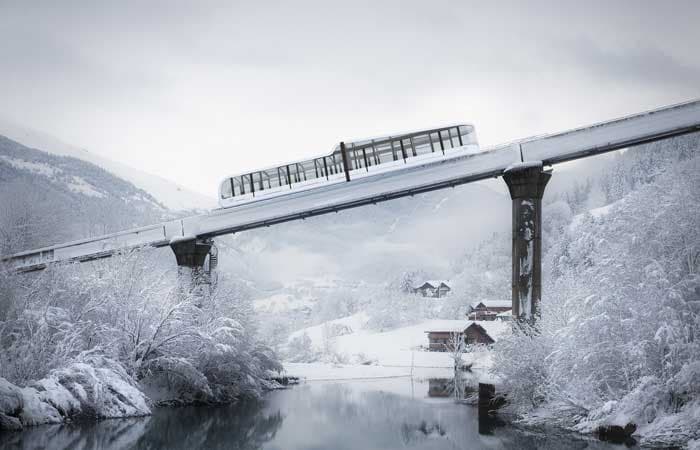 Air travel hasn't changed much in the past 50 years – there's much more choice of flights and routes and it's got much cheaper – but jet engines aren't moving the planes much faster than they did in the 1970s. It's a different story with rail, which has been completely transformed in Europe. The high-speed rail network makes domestic flights under 500 miles make little sense, on both time and cost.
Skiers looking to do more than offsetting and actually cut their CO2 emissions will find travelling to ski resorts by train the best way. The Eurostar route to the Alps has exceptionally low emissions per passenger as it's largely fuelled by very low CO2 French nuclear energy. It comes in at less than half the 'per passenger' rate of a family driving down to the Alps in an electric car. This is why it's important to pick ski resorts with train stations. See our table below.
Approximate CO2 emissions per person from London to the French Alps
| | | | |
| --- | --- | --- | --- |
| Mode of transport | KG CO2 | Compared to air | Based on |
| Petrol car (just you) | 398 | 20% more than air travel | Travelling alone in a petrol car |
| Economy Class Flight | 317 | – | |
| Petrol car (full of people) | 80 | 33% of air travel | Being 1 of 5 in an average petrol car |
| Electric car (just you) | 66 | 21% of air travel | Travelling alone in an electric car |
| Electric car (full of people) | 13 | 4% of air travel | Being 1 of 5 in an average electric car |
| Eurostar | 6 | 2% of air travel | |
(source: Research by Dr Piers Foster, Director Priestley International Centre for Climate, University of Leeds, UK; climate.leeds.ac.uk)
Ski resorts accessible by train
Even without the environmental credentials, many skiers argue that train travel is less hassle than flying in 2020 and depending on the ski resort, you can get from London to the slopes in under 10 hours.
With comfortable seats, spacious legroom and beautiful views, it's a surprise we're not all train converts. A flight may be shorter, but have you accounted for the journey to the airport, baggage check-in and security, waiting in the departure lounge and at the gate? Followed by passport control, baggage reclaim and following that, transfers to your ski resorts, this can often clock up to ten hours. Trains also reduce the lugging around of suitcases and ski gear off belts and out of cars. Additionally, you don't have to pay extra for heavy ski bags, and once you're on the train you can just settle in and relax.
Choose between daytime or overnight Eurostar ski trains – the latter don't provide beds, just reclining seats, so is better suited to those who can sleep at any angle. If you're able to leave London or the south east after dinner on a Friday night, arriving into resort at 7am the next morning, you will be ready for breakfast and a day on the slopes. Compared to a 4am alarm to get to the airport on time, then spending the day in transit, overnight train travellers are already on the empty slopes.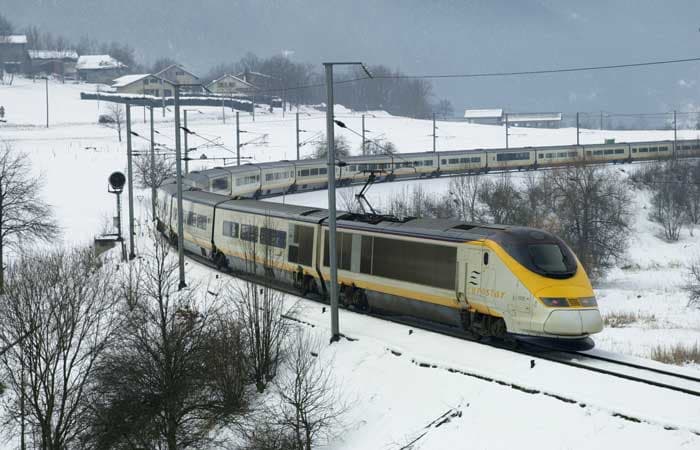 Six green ski resorts by train
Ski Train to Les Arcs
Take the train from Paris to Bourg-St-Maurice, which lies below Les Arcs making travelling to this ski resort by train easy. The newly-renovated funicular climbs the mountain from Bourg-St-Maurice train station to Arc 1600. A glass-walled space-aged wonder, the funicular alone is worth taking the train from London. Les Arcs and La Plagne are in the extensive Paradiski area, which is 100% green energy powered by local hydro, making it a progressively green ski resort.
Once you have arrived at this ski resort by train you can enjoy 425km of pistes with a full lift pass. All of which are connected by a state-of-the-art network of 160 lifts. Explore the vast and diverse terrain of the Paradiski ski area and neighbouring ski resort La Plagne. If you're a beginner nursery slopes are easy to access from the main town. The Grand Col is an off-piste playground, which is perfect for powder hounds. There's something for all levels of skier or snowboarder.
The village itself is purpose-built as a ski resort and has great access to the slopes. There is plenty of choice of restaurants and bars. Les Arcs 1600, 1950 and 2000 have a relaxed atmosphere but if you're looking for lively nightlife Les Arcs 1800 is the place to be. This resort is ideal for mixed ability groups or families because of the varied choice on and off the slopes.
To find out more about getting the ski train to Les Arcs, call our ski experts today.
Ski Train to Méribel
Are you looking to get the ski train to Méribel? Eurostar trains that arrive at Moûtiers are great for accessing the world's largest ski region, the Three Valleys. Méribel is one of the closest ski resorts to the station at 11 miles and just a 25-minute drive. The Three Valleys Lift Company operates transfers to Courchevel, Méribel, Les Menuires and Val Thorens and has been using 100% green electricity for more than 10 years. This is why the ski train to Méribel is a popular alternative to travel to the Alps.
After your ski train to Méribel, you can explore an impressive 600km of pistes with a full three valleys ski pass. The skiing is superb and there's plenty of choice for all levels of skier or snowboarder. The freeride opportunities are fantastic too. In Méribel head from Loze Express to Dent du Burgin for the best off-piste terrain. On top of this, the access to Courchevel and Val Thorens is super quick and easy. Both of which are also easy to get a transfer from the train station near the ski resort.
Despite it being a purpose-built ski resort, Méribel still has an alpine charm with its chalet-style architecture. There are many places to eat at different price points. Whether you want a quick bite or a gourmet experience there's something for everyone. There's also a lively nightlife scene in the ski resort with a great selection of bars and clubs to visit. You can also enjoy the village market or winter walks in the surrounding forest areas too. All of which is amazing that you access this ski area via the ski train to Méribel.
To find out more about getting the ski train to Méribel, call our ski experts today.
Ski Train to Sainte-Foy
This relatively unspoilt resort is remarkably close to the end of the Eurostar ski train at Bourg-St-Maurice. It's only a 12km (7 miles) and 15 minutes hop from the station. Tignes and Val d'Isère are a little further along the Tarentaise Valley, but easily accessible and well worth the journey.
Sainte-Foy is a hidden gem of a ski resort in the Alps. Not only is it a plus to ski by train, but you can enjoy 42km of quiet pistes. Almost like your own personal ski resort at times. The slopes are mostly suited to beginner or intermediate skiers. If you're looking for fantastic off-piste terrain, it has incredible freeride opportunities. There's plenty of powder bowls, tree line runs and a brilliant snow record. For a small resort, there's actually a lot of choices on the mountain.
Despite it being a small resort, it has a surprising amount of restaurants to enjoy. If you want the full mountain experience enjoy the local cuisine. The village itself has a relaxing atmosphere but there are a few bars to enjoy a drink. Unlike some French resorts, the village has kept its alpine charm and the roads are very quiet.
To find out more about getting the ski train to Sainte-Foy, call our ski experts today.
Ski Train to La Plagne
Aime La Plagne is one of the higher resorts in the huge La Plagne ski area, which is part of the Paradiski area. Gare d'Aime-La Plagne was built in 1893 and has been there longer than the ski lifts. As previously mentioned, the lifts in the Paradiski area and snowmaking facilities are run on 100% green energy.
The skiing in La Plagne is fantastic. You have access to 425km of pistes and is part of the Paradiski ski area. The slopes are diverse which means the ski area is suited to different levels of skier. You can also easily head over to Les Arcs with the great lift system. If you love an off-piste adventure, there's excellent freeride skiing on the north face of Bellecôte. A truly exciting ski destination.
There are 12 different areas to stay, all of which cater for different needs. La Plagne Centre and Belle Plagne are the liveliest villages whereas the other towns are more suited for families. You can enjoy a mixture of local traditional alpine cuisine and delicious typical French dishes too. Something for different budgets. There are lively bars and also quiet spots to enjoy a drink in peace.
To find out more about getting the ski train to La Plagne, call our ski experts today.
Ski Train to La Rosière
On the French side of the mountain, you can easily ski across to La Thuile from La Rosière. Despite its faint praise as a "family ski resort", it has recently opened a whole new mountain face with exciting freeriding terrain. Across the valley from Les Arcs it is a short transfer up the hill from the Bourg-St-Maurice station.
Part of the Espace San Bernardo ski area, you can ski 160km of piste with a full lift pass. The skiing is mainly suited to intermediates but there are some runs to keep advanced skiers entertained. You can admire the beautiful mountain backdrop of the Isère Valley when you're enjoying the slopes. More well-know ski resorts La Plagne, Les Arcs, Val d'Isère and Tignes are only a bus ride away.
The village has a relaxed and peaceful atmosphere. La Rosière is a typical mountain town charm due to its traditional alpine architecture. There are plenty of restaurants that serve both traditional French and Italian cuisine, due to be being near the Italian border. The nightlife is quiet in the resort but there are still bars to enjoy a peaceful drink in the evening. A great way to relax after a day on the slopes.
To find out more about getting the ski train to La Rosière, call our ski experts today.
Ski Train to Peisey-Vallandry
Another area sharing the green-energy powered Paradiski region, Peisey is beautifully positioned in the vast area between Les Arcs and La Plagne. It's less than 10 miles from Bourg-St-Maurice station too, so an easy transfer. Another ski resort with a train station that has a small transfer.
Peisey-Vallandry is unique in location. This French ski resort is a collection of small villages that are part of the Les Arcs ski area. It has an old mountain village charm and is perfect for a quiet ski getaway or family holidays. It is an ideal affordable option to ski in the Paradiski ski area. It's a hidden gem within a vast ski area.
If you buy a full lift pass you can have access to 425km of slopes. The extensive lift system makes it easy to head to different parts of the mountain. Enjoy delicious local alpine cuisine at the cosy restaurants on and off the mountain. The bars have a quiet atmosphere but you can enjoy a late-night drink at a few bars. For a livelier night out you can head to neighbouring ski resort Les Arcs.
To find out more about getting the ski train to Peisey-Vallandry, call our ski experts today.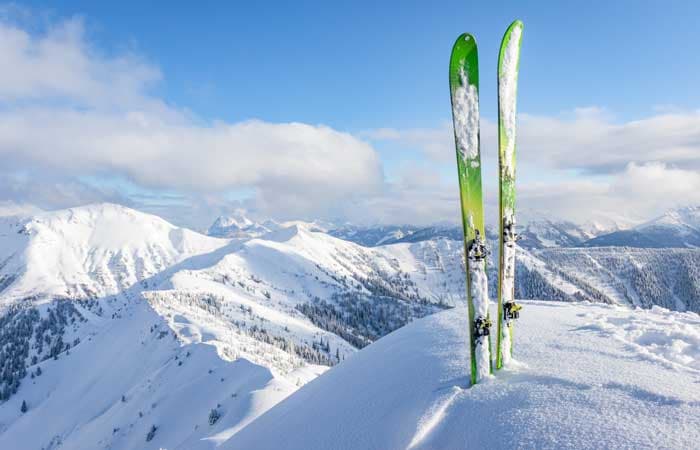 Speak to our experts on 0207 471 7700 to discuss the best ski resorts accessible by train.
Resources
SaveOurSnow gives advice on the ski industry's efforts on climate change, SkiFlightFree provides advice on ski resorts accessible by train and SnowCarbon give advice on travelling to ski resorts with train stations.