Communities in ski resorts have been witnessing climate change for decades and taking measures long before climate change hit the headlines. Local power sources are often hydroelectric, ski resorts are accessible by rail and they are as energy efficient as possible in terms of heating. Most ski resorts are far more concerned about the planet, being environmentally friendly and are more likely to be carbon neutral than the towns and cities we live in.
For skiers concerned about climate change, the main issue is not how green the ski resort is, but how much CO2 our transport to get there is likely to emit? Some resorts do more than others and have come up with particularly innovative ideas beyond wind, solar, ground source and hydro-electric generation. Here are some of the different and more unusual approaches they take to cut their C02 emissions…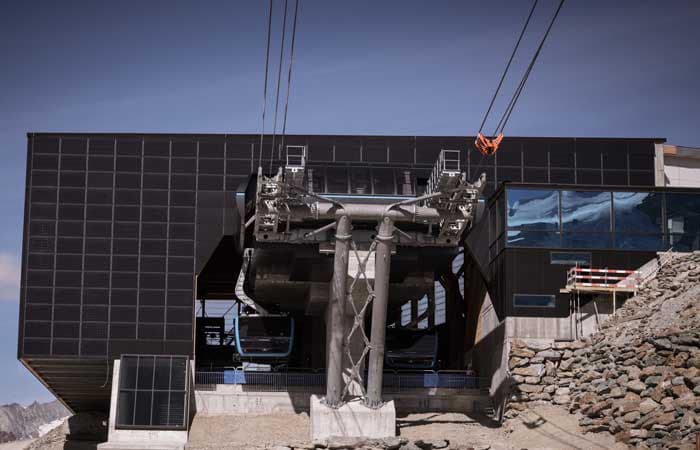 Kinetic Energy in Les Gets, France
Energy is needed to make anything go uphill. Whether it's our own energy ski touring with skins, electricity or diesel powering ski lifts that drag or carry us up a slope. On the reverse, things going downhill can generate energy – and several ski resorts generate more energy from the motion of the lift itself! Les Gets in the French Alps is one, recuperating kinetic energy from the rotation of pulleys on pylons on their Les Planeys chairlift.
Snow-farming in Livigno, Italy
Snow-farming is essentially storing stockpiled snow undercover from the end of the season so it can be reused. The snow helps build a base at the start of the following season, rather than using energy for snowmaking in marginal conditions. Despite the jury being out on whether collecting and re-purposing the snow is more eco-friendly, it clearly shows innovation.
Livigno now stores a total of 50,000 cubic metres of snow in this way every year and the resort's managers have reported that snow farming saves a lot of energy compared to artificial snowmaking.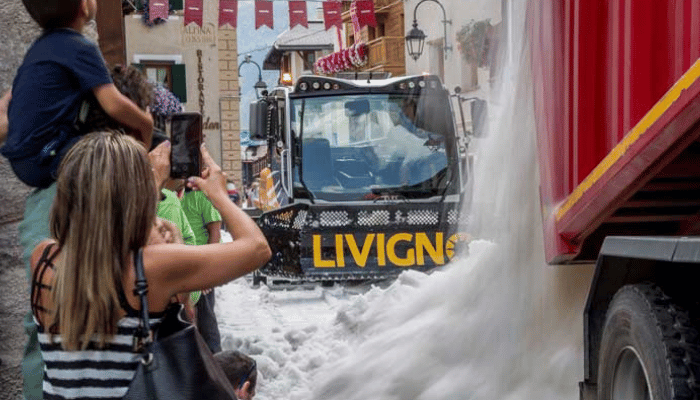 Renewable Electric Shuttle Buses in Saas-Fee, Switzerland
Numerous ski resorts have introduced hybrid or bio-diesel powered transport, but several now have all-electric minibuses circulating their resorts. In winter 2016/17, Saas-Fee introduced zero-emission electric buses that use renewable energy to recharge the batteries. Following suit, this winter Val Thorens in France has introduced a self-driving electric shuttle bus service that is free of charge for skiers.
Cheese Power in St Moritz, Switzerland
St. Moritz and the surrounding Engadin valley has a very long-standing reputation as innovators in terms of renewable energy. Switzerland's first electric light bulb was illuminated in St. Moritz's Kulm Hotel more than 150 years ago, which now uses local hydropower. Today it has its own clean energy supply that it exports to the wider area.
One of the more novel ideas is employed by the highest-altitude dairy in the Alps, the Lataria Engiadinaisa (LESA). They send whey leftovers from the cheese-making process to generate 280,000 kWh of electricity a year. That's enough for over 1,200 households. In addition, the 4,000 tons of waste involved each year is no longer transported to the lowlands for disposal but used locally.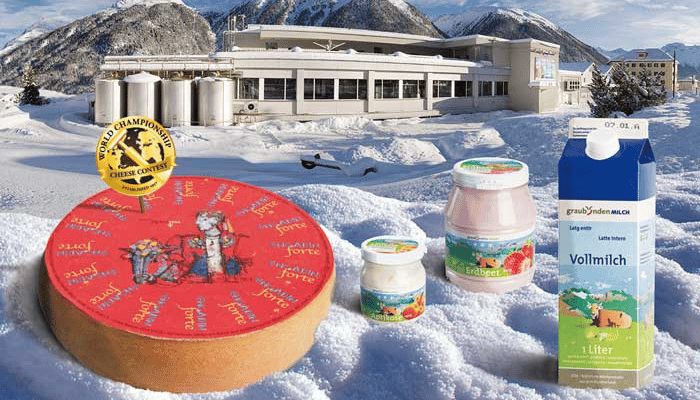 Heat Recovery in Skiwelt, Austria
The motors that power ski lifts and snowmaking machinery generate a lot of heat and buildings need heat to keep warm inside. Matching these ideas together is called 'heat recovery'. This is done by piping excess engine heat underground to heat nearby buildings.
In 2007, a heat recovery system with concrete core activation was incorporated. This was placed in the new section of the Alpenrosenbahn lift station that was built in Austria's Skiwelt area.
In winter, the administration building is heated using recovered waste heat from the pumping station of the snowmaking system and transformer station. Thanks to this system, 27.88 tonnes of carbon dioxide emissions are saved every year.
Variable-frequency Drives in Breckenridge, USA
One way to cut CO2 emissions is to use less power, which is what variable-frequency drive motors (VFDs) do. They allow a higher percentage of electricity from the grid to be used effectively to drive the lift. And, use approximately 30% less electricity to run a lift than a traditional motor. Breckenridge has variable-frequency drive motors on several of its main lifts, significantly reducing electricity use.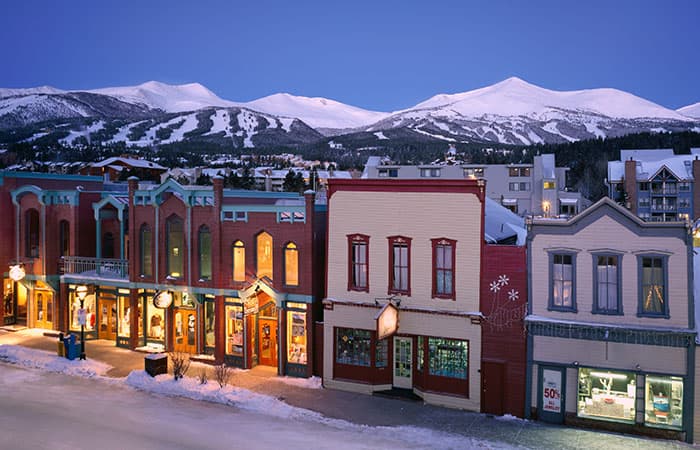 Solar Power in Zermatt, Switzerland
Solar power systems work much more efficiently at higher altitudes than at ground level, which is good news for ski resorts. However, solar panels covered in snow don't work so well, not such good news. The intuitive solution is to place the panels at steep angles, so the snow slides off. In Zermatt the photovoltaic panels at 3,800m (12,500 feet) produce 80% more electricity than panels at sea level. This is thanks to the clear air and extra light reflection from the snowy mountains.
Energy from human waste in Davos, Switzerland
And, last but not least… treating sewage sludge leads to the production of gas that can be converted into energy: biogas. The gas is derived from the biological decomposition of organic matter – sludge – in a place where there is little air. Through anaerobic digestion, the energy is recovered, allowing the treatment plant to be autonomous energy. Recovering biogas also stops odours and cuts emissions of methane, which are far more harmful than CO2. Davos is one of several resorts operating a bio-gas plant and heating buildings in town.