Rail travel to the Alps can reduce your journey's carbon emissions 90% compared to flying. Journalist Daniel Elkan started taking the snow train on his ski holidays, and hasn't looked back. Find out why he loves snow train ski holidays below.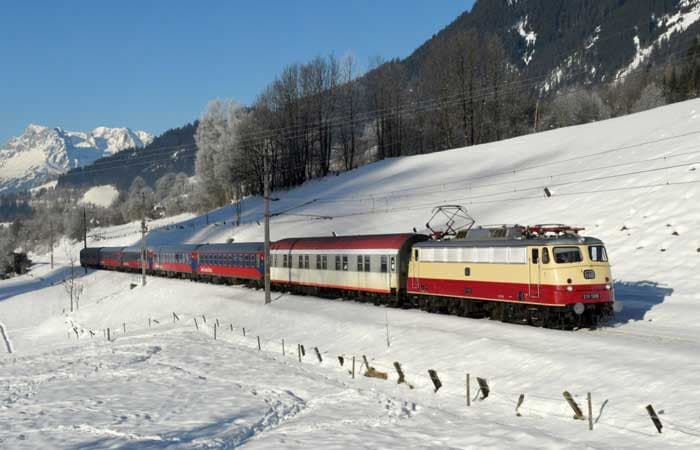 When I first started skiing, I didn't think it would take long to reach the slopes. That myth was quickly dispelled. Despite a quick, on-average 90-minute flight, the journey from door to door takes the best part of a day. There's plenty of stop-start, boarding and disembarking cars, planes and transfers.
On my second ski trip, as our airport transfer climbed the hill to resort, I spotted a railway track in the valley below. I began researching, and discovering, how many ski resorts you can reach relatively easily by train…
That was over 20 years ago. Like many of the skiers who take the train to the Alps, I've never returned to flying. Nor do I have trouble persuading my friends to hit the rails with me. I find the experience so much better, and we have plenty of fun on the way too. Having travelled to over 50 ski resorts by train, here are my experiences.
What's quicker?
It sounds mad but reaching some destinations by train can be about as fast as flying. When compared door-to-door, the direct Eurostar ski train from St Pancras or Ashford to the Tarentaise region in France is often faster. Approximately eight hours by train, if you consider your transport to the airport, checking in your bags, boarding, flying and your transfer – with so many participating factors, it can easily take longer.
Don't believe me? Race a friend who is flying, and you'll likely be sipping champagne in the hot tub while they're cooped up in a traffic-choked airport transfer.
It's not just the direct Eurostar that is a quick journey. More destinations in France – and Switzerland – are easily reachable by taking the Eurostar to Paris Gare du Nord, taking a taxi to Gare du Lyon and a TGV onwards. In just a few hours, you can be in Geneva, Zurich, Annecy, Grenoble or Oulx.
The social aspect
One of the brilliant things about rail travel to the Alps is how social it is. Every year I organise a big group holiday with friends. Not everyone knows each other, but we meet up at St Pancras and travel by train together. It's a lovely way for people to spend quality time together before we've even reached resort.
We pop the bubbles before we've hit the Channel Tunnel and looking around the carriage there's conversations flourishing. Card games, board games, plenty of giggling and new friendships are formed. Bring food on board or head to the café/bar for drinks and snacks; in Switzerland many of the trains even have restaurant carriages. The journey certainly becomes part of the holiday.
Stopover on the way
If you've got time, consider stopping en route too. I've done this several times with friends, giving us a night out in Paris before we speed towards the Alps the next morning and getting into resort earlier on arrival day. I'd recommend getting the Rail Map of Europe, which is an inspiring and useful companion for planning journeys by train.
For families
I have huge admiration for parents that take their little ones in tow. I've seen first-hand how well ski holidays by train works for families. There's something about trains that engages children – hours fly by with them happily absorbed. My advice is to book a table seat, which gives them space to play games, draw or have a picnic. It's lovely to see the whole family spending time together.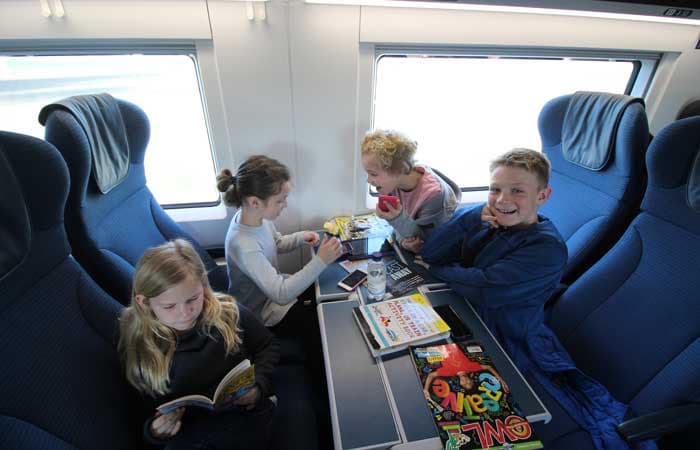 Beautiful scenery
Ski train holidays have beautiful scenery. I used to enjoy the view from 30,000 feet, but the view from two metres – as you speed towards the Alps by the snow train – is far better. The journeys to Swiss and Austrian ski resorts offer some of the most sublime views. Travelling to St Anton via Paris, for example, and you get a ringside seat of the vast Lake Zurich and Lake Walensee before plunging through the magnificent Arlberg Valley. The snow train gives such a varied perspective, from snow-covered mountain peaks to people's back gardens. It's an ever-changing view of life and landscape in the countries that you are travelling through.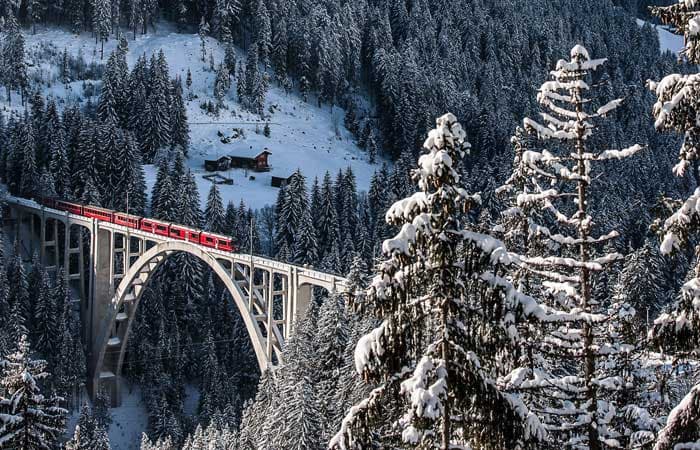 Overnight travel
Overnight train travel is making a comeback in Europe and Austrian rail operator OBB are extending its network of NightJet sleeper trains. From the UK you can travel to Austria overnight, by taking a Eurostar and then the ICE train to Cologne, catching the Alpen Express or NightJet train from there.
Eurostar run an overnight direct train to the Tarentaise Valley. However, there aren't flat beds as they have the same sit-up seats as an ordinary Eurostar. For some, that's fine. For others, it's a night of shuffling to find a comfortable position. The overnight Eurostar Ski Train is like Marmite, you either love it or you try it once! I'd recommend travelling by day first, which you will definitely enjoy.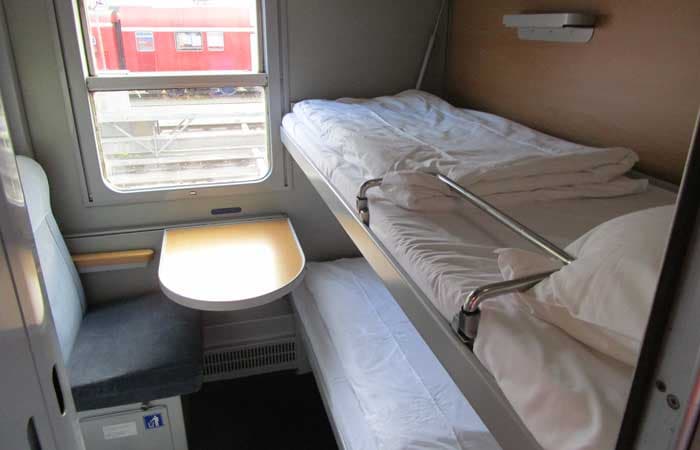 One-way train, one-way plane?
People usually only think of return flights or taking the train both ways. You could take the snow train to the slopes and fly home, or vice versa. Especially if travelling by rail isn't going to work for you both ways. If you've got someone in your party who can't – or won't – try the train, then challenge them to a door-to-door race to the hot tub. Whoever wins, you'll still know you've had the better journey – for you and the planet.
Daniel Elkan is a freelance ski journalist and founder of snowcarbon.co.uk, an independent guide to ski holidays by train. To find out more about the snow train ski holidays call the Ski Solutions experts today. View all our ski holidays.