Top tips for skiing with kids
Here's our top tips on how to ski with kids and make your first ski holiday a success. While it's easy to spot the benefits of taking your kids skiing (fresh air, plenty of exercise, and a safe environment), ensuring a family skiing holiday runs smoothly is not always an easy thing to do. Thankfully, there are plenty of services available to help you take the stress out of skiing with kids, helping you to relax and enjoy the family ski holiday of a lifetime. Read on for our top tips on skiing with infants.
Don't start them too young
Most ski resorts offer brilliant crèche and snow play areas that are perfect for younger children who love the snow but aren't quite ready to take their first turns yet. Being in the mountains is a magical experience for the whole family to enjoy. Whether that means everyone whizzing around on skis together, or the whole group joining up at the end of the day to go tobogganing and build snowmen.
Most ski schools offer formal instruction from the age of four or five upwards, which tends to be the age that most children are ready to try a gentle introduction to the world of skiing.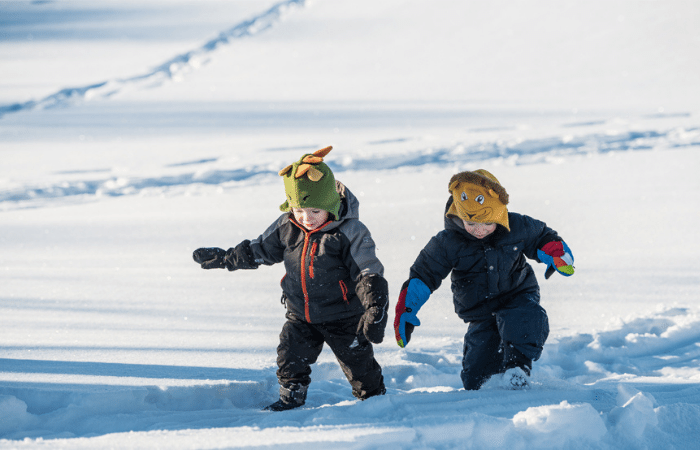 Book ski lessons in advance
Before you book, it's important to investigate the ski schools on offer near your accommodation – most ski resorts have more than one school available. Instruction in English will help kids to learn great technique early on and there are plenty of English-language ski schools in the Alps, such as New Generation in Courchevel, Méribel and Tignes.
Half-day and full-day ski lessons give you the flexibility to hire childcare, look into after-ski clubs or meet back for lunch. As a handy tip, it's a good idea to pack some snacks in your children's coat pockets to keep energy levels high throughout the day. If you're skiing with teenagers, consider hiring a specialist ski guide; they may benefit from some focused one-on-one attention or just a helping hand to discover the most exciting runs the resort has to offer.
If your family are all a similar standard and your children older, it can work out as better value to hire a private guide for you all, rather than join another ski lesson.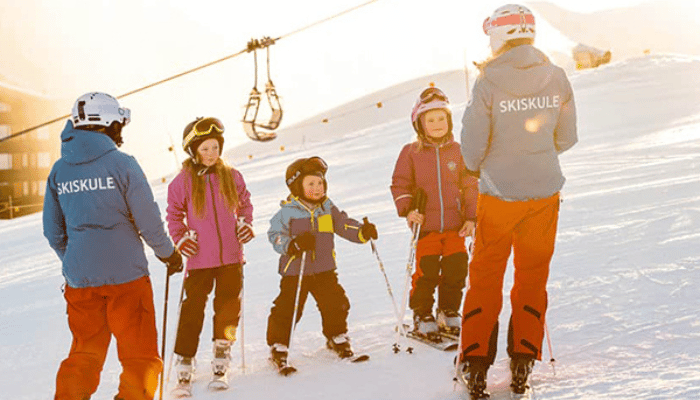 Holiday in multi-family groups
If you have friends or family with children of a similar age, why not all join up together and hit the mountains en masse? Take over an entire catered chalet and enjoy the luxury of having your own private chef to cook up delicious feasts. Alternatively, you could try the flexibility of self catered ski chalets or self catered ski apartments and take it in turns to cook.
When it comes to ski school, the children will be pleased to be enrolled in the same classes as their friends and family, whilst the adults could group together and hire a private instructor or guide to explore the mountain.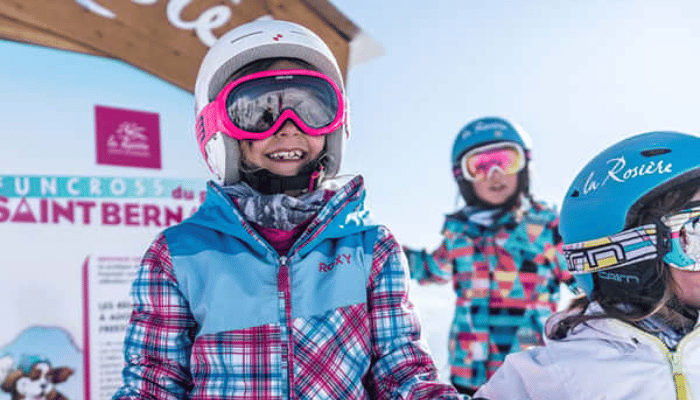 Choose a ski resort
It is important to make an informed decision when it comes to choosing the right ski resort. Whilst some families might not mind a livelier town, those with younger children will often prefer somewhere with a more relaxed atmosphere and a range of off-slope activities such as tobogganing and swimming.
If you are skiing with kids who are brand new to the snow then it is also important to check that there are plenty of gentle, beginner-friendly pistes, and a good choice of English-speaking ski schools.

Choose a property with childcare
If you're thinking of taking very young children away on a skiing holiday, then you'll need to arrange some sort of childcare. Whilst it's always possible to find a 'designated carer' (perhaps a grandparent or teenage child of a family friend), trusting your little one with a professional who is trained in how to ski with kids is still the best course of action.
Putting your child in a local crèche or club, like those available with our all inclusive ski packages, is always a good option. Experienced carers will take care of your child's every whim, leaving you free to enjoy the slopes in the day, or sample the après ski in the afternoon.
Here is a list of our top family ski accommodation options: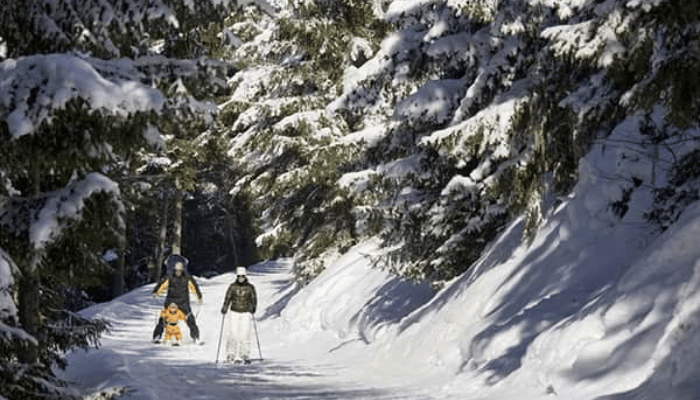 When to go
Think carefully about what time of year you go when skiing with children. Whilst Half -Term might seem like the obvious choice, it's worth bearing in mind that the runs can get crowded during this holiday week. January is generally a quieter month, with good snow conditions. If you opt to travel later in the year then you're likely to enjoy longer, sunnier days, but with more unpredictable snowfall.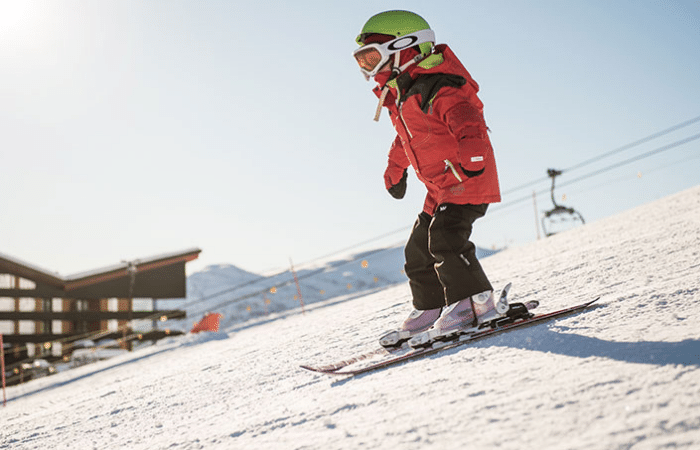 Where to go
When skiing with infants, it's important to tailor your resort to your family's skiing ability. If you have very young children or beginners in the group, then head to a resort such as Alpe d'Huez, which has plenty of gentle nursery slopes ideally located next to the village.
Lots of Norwegian ski resorts such as Myrkdalen are extremely family friendly, boasting designated child ski areas. There are also lots of fun activities off the slopes such as dog-sledding trips through the forests. If you're a family of experienced skiers then Courchevel is an excellent choice. It's part of the Trois Vallées ski area, which offers some of the finest skiing in the Alps for intermediates.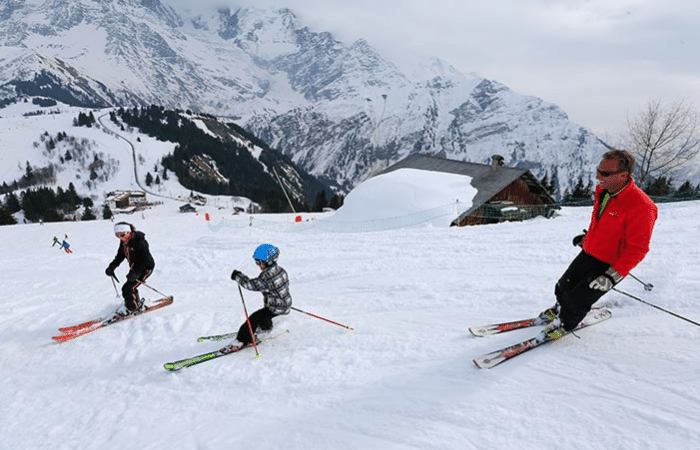 Look for all-inclusive ski packages
Needless to say, skiing with kids will inevitably result in higher spends than your last break for two in the Alps. You can expect everything from additional air tickets and lift passes to ski clothing to have an impact on your budget. Happily, many of these costs can be mitigated by taking advantage of deals available at family-friendly resorts.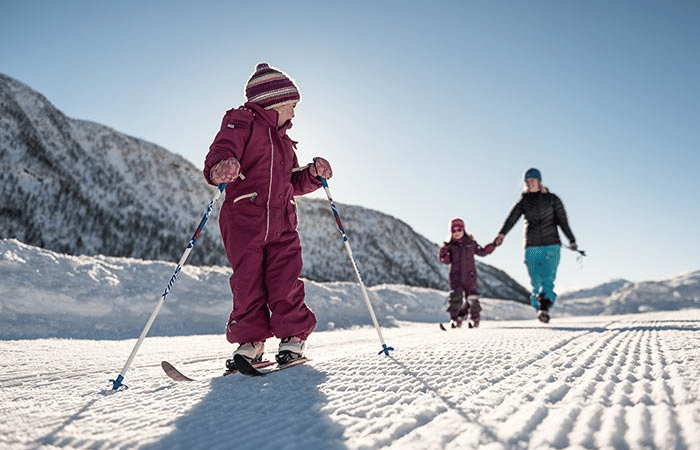 Remember the clothing essentials
Dressing for comfort is essential out on the mountains so be sure to pack enough thermals, ski jackets and salopettes to keep everyone warm and dry. Extra pairs of socks and gloves are always a good idea when skiing with infants, along with a few spare hats – just in case someone leaves theirs on the chair lift.
Safety items such as helmets need to be the correct size, whilst goggles are a must to protect eyes from the wind and cold, as well as reducing the chance of snow glare impairing your vision.
Hiring snow gear is a great alternative to buying it outright, especially given how every year your kids are likely to have grown out of last season's kit. If the size isn't quite right then you can easily change an item. If you've already got everything you need, teaching your children how to put on their ski gear in advance means they'll be more comfortable and confident when you drop them off for their first ski lesson.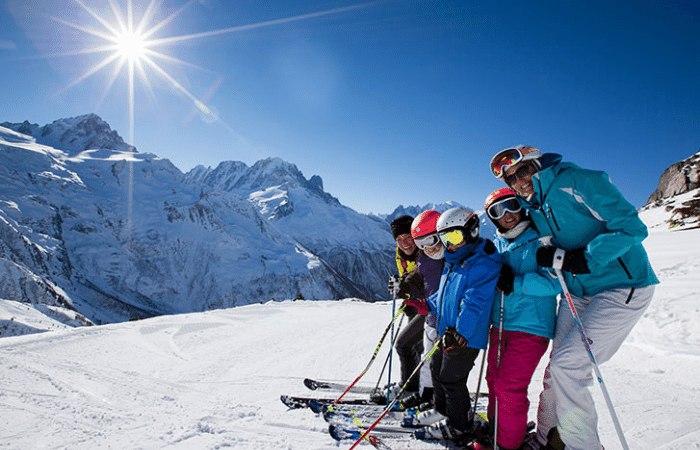 Book your equipment hire
Avoid the hassle of making arrangements in resort by reserving your skis and ski boots before you travel. This saves you time at the start of your holiday, and there are often advance discounts available.
If you're bringing your own kit then be sure to book your skis in to be tuned as early as possible during your stay, so they are in peak condition before you hit the slopes.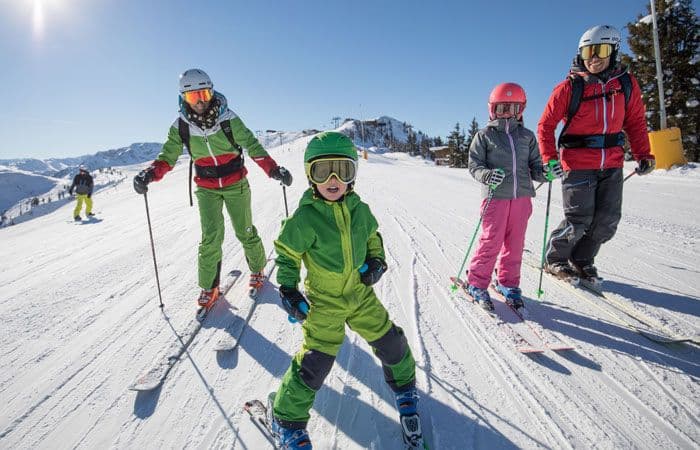 Childcare
If you have children younger than three, look into the childcare or crèche options on offer at your resort so they can be entertained whilst you're out on the slopes. There are plenty of child-friendly activities available if you have a full day of skiing planned, or would like some time out to explore the resort's evening entertainment. Many ski resorts offer fun family activities such as ice skating and bowling too.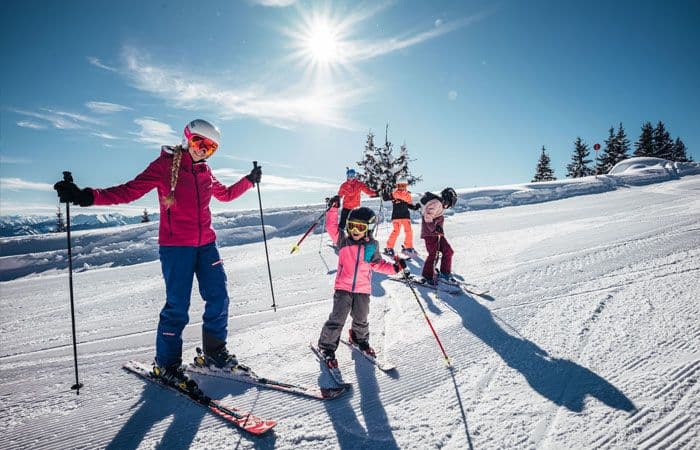 Children go free
You might think that taking your family skiing would result in a far more expensive trip. Fortunately, though, there are often great offers on family ski holidays, such as free places for children, free children's ski hire and free childcare; so there's no need to compromise on the quality of your holiday. Get in touch with our ski experts to find out more about the best offers when skiing with children.
Our ski experts would be delighted to help plan your family ski holiday; they can look after everything from finding you the right resort and accommodation to organising ski hire, lessons and lift passes.
Call us today on 0207 7471 7700 if you would like further advice on how to ski with kids in tow.