We all remember our first time on the slopes. The thrill of holding your balance, gaining control and eventually gliding down those powdery slopes. If you're planning a trip with a novice skier, then you'll want to make sure that they have an encouraging, experience too. It's also important to keep things challenging for you and any other seasoned skiers in your group too.
Here at Ski Solutions we have over 35 years' experience when it comes to planning group ski holidays for both the advanced and the inexperienced. We can make planning a trip simple and stress free. This means you can focus on enjoying the snow, slopes, and après ski with your friends and family.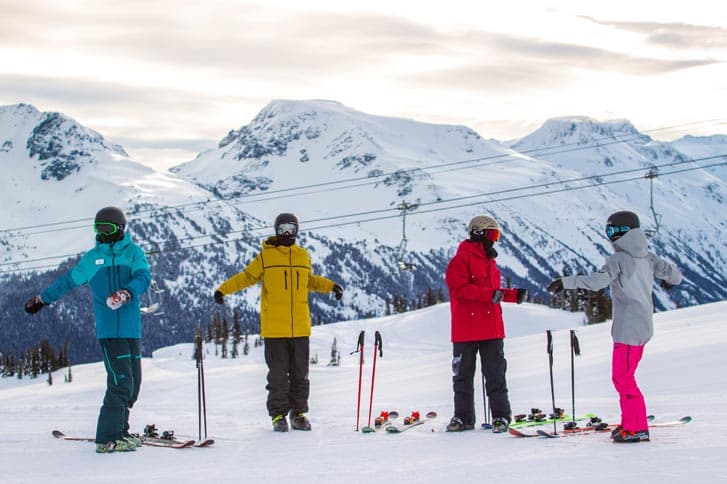 Beginner basics
While you might possess your own ski gear, beginners will find it much easier to stay in a ski resort where they can get discounted or complimentary equipment. Even better if this comes included with instruction from professionals. The Whistler Blackcomb Ski and Snowboard School in Canada, which offers coaching from top teachers, is a good example of what to look for. There are also some other exciting activities here, including winter ziplining and an impressive peak-to-peak gondola tour.
Once the novice skiers in your group have the basics, they'll be able to really make the most of the trip. This is especially true for the kids' first-time skiing experience. We offer a variety of packages that include children's clubs, as well as ski lessons.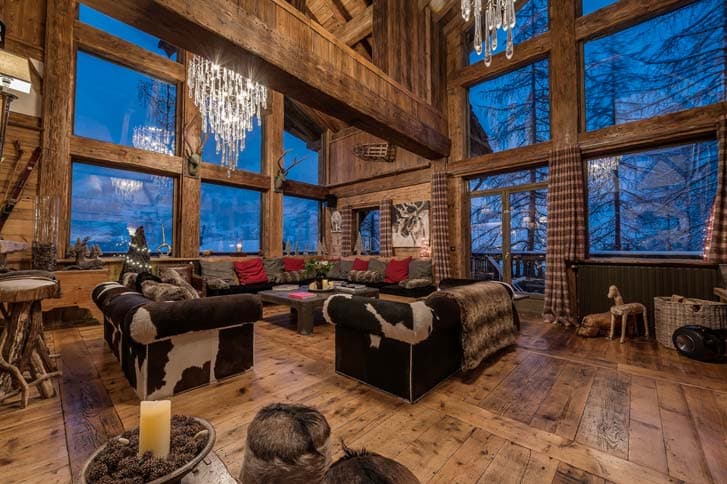 Accommodation
Feeding a large group can be part of the fun, and taking turns cooking up a storm in a self-catering ski resort, rather than relying on hotel food, can be a rewarding experience. In fact, going self-catering with ski-in ski-out availability can really free up your break. This type of accommodation, where the ski slope starts literally outside your front door, is perfect if you've got a few experienced skiers in your midst, as it allows them to take the beginners out and get them started. It also means both beginner and expert terrain is within easy reach and everyone is happy.
Val Thorens in France, has an excellent selection of ski-in ski-out self-catering apartments for groups of all sizes. You can also make the most of activities like limitless off-piste skiing and thrilling toboggan rides there.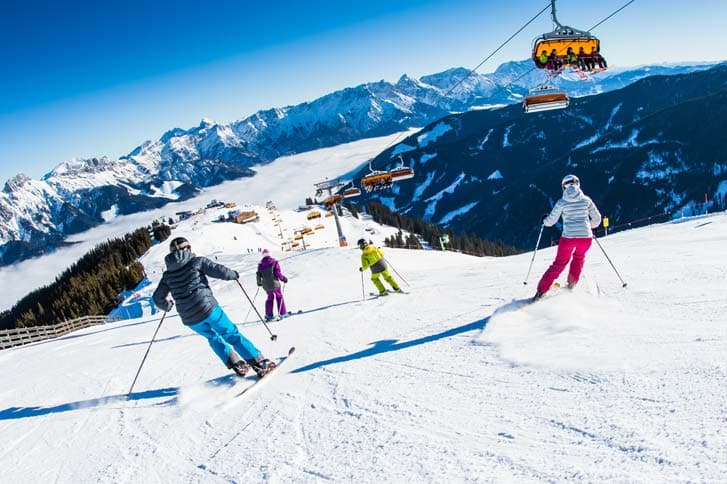 Fun-packed ski holiday
Our team will do all the hard work when it comes to ironing out the details. However, having a good idea of what to look for if you've got a novice skier in your group can be useful. Keep an eye out for ski resorts that have a mix of slopes and activities. If some members of your party have never been skiing before, then it's perfectly feasible that they might not like it. It's a good idea to have alternatives for those non-skiing days.
A well-chosen location means everyone has a trip they remember fondly. Aspen Snowmass in Colorado makes for a good reference of what to look for. It's a year-round ski resort offering everything from high-speed tubing runs to ski and snowboard parks. Park City in Utah is also a great choice for a mixed-level group. There's plenty of easy to access slopes, and lots to see and do. Children are bound to love the Alpine Slide and sleigh rides in particular.
Call to speak to our ski experts for top tips on skiing with a novice skier.