City & Ski: 48 Hours in Vancouver
Vancouver is a vibrant, colourful and gloriously 'foodie' place. It's a patchwork city, with districts sewn together by art, design and explosive tastes. Its hallmark is its laid-back and friendly atmosphere. Spending 48 hours in Vancouver is incredible. Read on to find out why.
Day 1
Morning:
Start your day like a local with a walk (cycle, or jog) around glorious Stanley Park. At 1,000 acres, it's the largest of more than 230 green spaces in the city. The Vancouver seawall rightly stakes a claim to fame, drawing plenty of visitors daily to the 22km walk wrapping around the park. To one side of the path, the lush greenery rises, sometimes as great golden cliffs, while the sea forms the opposite horizon. Depending on how far you walk, you'll pass Granville Island, Stamps Landing and the Olympic Village neighbourhood before eventually reaching English Bay.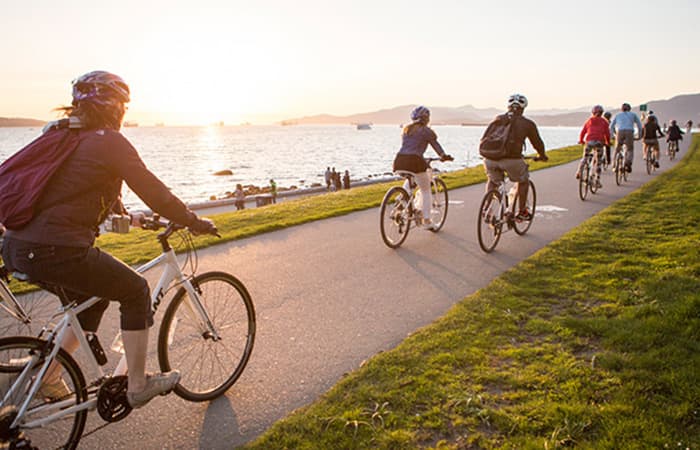 If you're visiting between January 18th and February 3rd, fuel up at the renowned 'Dine Out Vancouver' food festival after your walk. The 17-day festival schedule is jam-packed with delicious events from cocktail masterclasses and wine brunches to street food markets and global guest-chef collaboration dinners.
Afternoon:
After lunch, head to the north of the peninsula where, from Richards east to Main Street, Gastown is waiting. Vancouver's oldest neighbourhood is made of intriguing Victorian streets, overflowing with independent galleries, quirky clothes stores and décor boutiques. Alone or with a guide, wander Water Street, lined with vintage lampposts, past the fairy tale steam clock and on to the statue of the district's founder.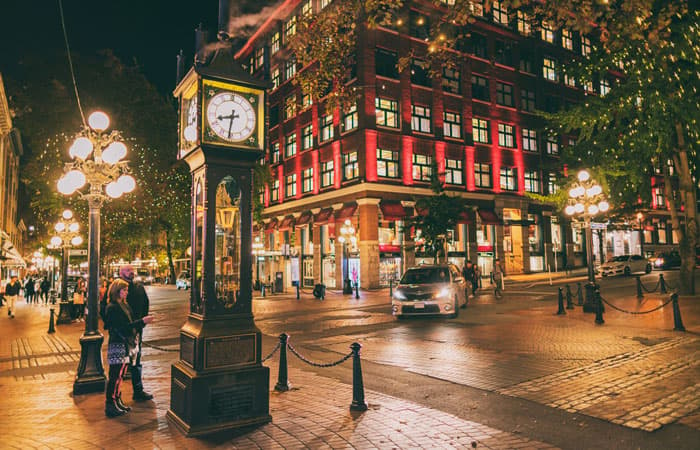 While in Gastown, make sure you take a trip up the Vancouver Lookout; one of the best viewpoints in the city. The glass elevator whisks you up in 40 seconds to take in the 360° panoramic views over this incredible city; keep your eyes peeled, on a good day you can even spot Vancouver Island, just off the Pacific Coast.
Evening:
What would a trip away be without indulging in the local culture? The NHL (National Hockey League) is an institution here, so see if you can squeeze in a game. The Vancouver Canucks host home games on weekends and weeknights throughout the season. There's nothing like watching professional ice hockey; as the atmosphere in the stadium soars to support the locals, you'll find yourself hooked. Enjoy traditional game grub at the Rogers Arena, with ice-cream, burgers, poutine (fries, cheese curds and gravy) and hot dogs.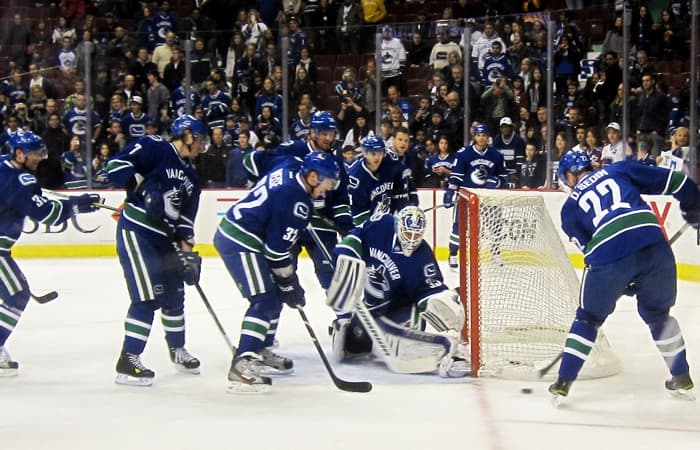 Day 2
Morning:
Start the morning on Denman Street, one end of which drops right onto English Bay. It's lined with galleries and restaurants. Try Delany's Coffee House, a place that people have "come home to" since 1993, to indulge in some of the city's best coffee. Right around the corner, Hook Seabar do a good brunch, with classics such as blueberry pancakes and omelettes alongside West Coast lobster and crab cakes.
Once you've refuelled, visit some of the museums close by. The Roedde House Museum features the restored interior of a charming red-brick in the Queen Anne revival style. Down the road on Hornby Street stands the grand Vancouver Art Gallery, celebrating creatives from around the world. Almost next door, the Bill Reid Gallery of Northwest Coast Art is dedicated to contemporary indigenous work.
For those looking for something a little more active, strap on some skates and visit the nearby Robson Square ice rink for some good old-fashioned fun. The outdoor rink provides a fabulous way to celebrate winter in downtown Vancouver.
Afternoon:
Escape the city for the afternoon and head to North Vancouver, to the Capilano Suspension Bridge Park for a walk across the famous bridge, suspended 70m up above the forest below. If you're visiting between November 22nd and January 27th, make sure not to miss the Canyon Lights festival, where hundreds of thousands of winter lights transform the park; stay into dusk to experience the beauty of these winter lights as they come to life when the sun sets.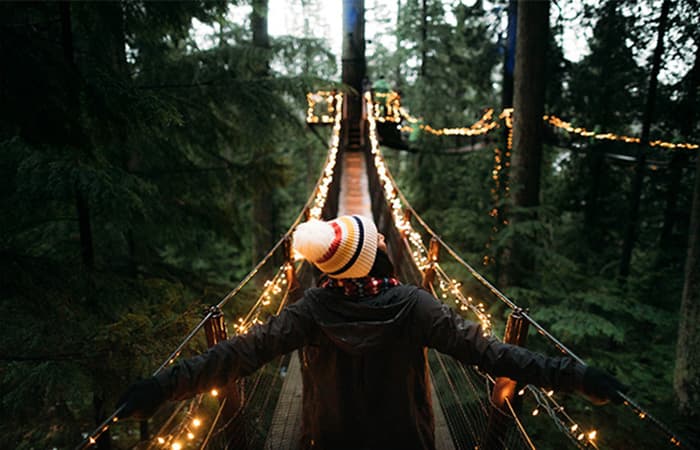 Evening:
Enjoy a last wander around the city and dinner with a view to celebrate your stay. Bask in the city's riotously colourful sunsets with a window seat in Seasons in the Park, at Vancouver's highest point in Queen Elizabeth Park. Perched up in the greenery, sample West Coast cuisine: marinated sablefish, whole lobster, crab cake, fried artichoke and a slice of pecan pie. If Stanley Park stole your heart, head back up to The Teahouse. With a terrace just a stone's throw from the water, it's a romantic note to end on. The mouth-watering menu includes bison carpaccio, baked feta and grilled octopus.
To find out more about how to send 48 hours in Vancouver, call our ski experts about Vancouver ski holidays on 0207 471 7700.