If you're on your way to the snowy Norwegian ski resort of Myrkdalen, why not stop by the fabulous Bergen? Situated on the country's western coast, Norway's second-largest city has plenty to offer whistle-stop visitors. Bergen has a rich cultural history that goes all the way back to the year 1070. Here's our guide to 48 hours in Bergen.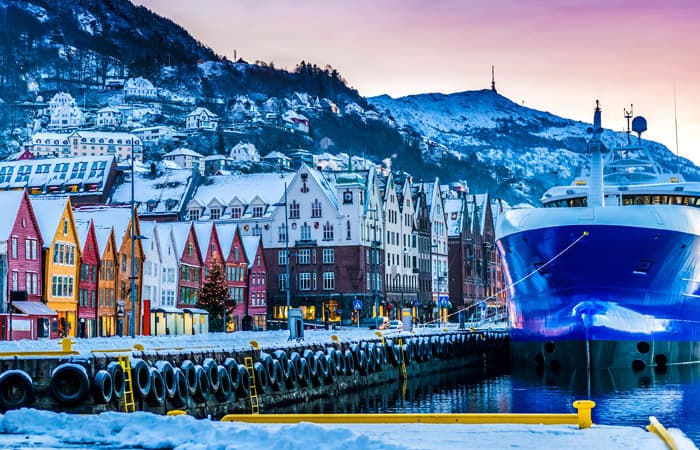 Day One:
Morning
Start your first day with a self-guided walking tour around the city's downtown area. Begin on Lille Ovregaten, with its flower-strewn squares, and wander to Bergen cathedral, which is well worth a visit. Recorded as far back as 1181, it's dedicated to Saint Olave and today is an acoustically ideal venue for concerts. Look out for Tanks School, the renowned composer Edvard Grieg's alma mater, as you stroll towards the harbour. At the far end, you'll spot the prominent Rosenkrantz Tower and Håkon's Hall of the 13th century Bergenhus fortress.
Following this, visit the city's outdoor fish market, Fisketorget, where you'll find impressive displays of fish in the covered hall and plenty of places to stop for a bite or two.
Afternoon
The city is flanked by mountains, fjords and glaciers from every angle. In the afternoon, take the Fløibanen funicular up Mount Fløyen for the best of the views. Wander down one of the many hiking trails will take you back to the city centre, winding along cobbled streets lined with quaint wooden houses.
Continue your hike through Bryggen, an area of the city recognised by the UNESCO World Heritage List. Home to the famous wooden houses on the harbour, this is generally what most people associate with Bergen. Stop by the Bryggens Museum to learn about the mid-20th century archaeological excavations and the wharf's role as part of the Hanseatic League's trading empire for 400 years before a devastating fire in 1702. Pick up a few postcards and all manner of crafts, from pottery to jewellery, in the tiny stores along the alleyways.
Evening
Darkness descends early in winter, so there's plenty of time to enjoy the city's nightlife. With a burgeoning music scene, there are plenty of venues downtown. You'll find both classical and rock music at Grieghallen, a 1,500-seat concert hall. For contemporary sounds, there's the old meat factory Bergen Kjøtt, a favourite with local artists. Visit Wessel Bar on Øvre Ole Bulls plass and enjoy the live jazz and folk performances, washed down with a tipple of Norway's potato liquor aquavit. Afterwards, take a seat at Enhjørningen for spectacular fish, the traditional Norwegian delicacy lutefisk and old-world service.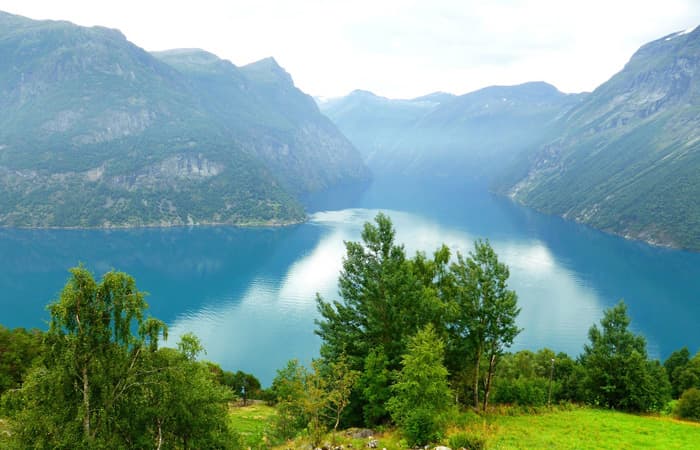 Day Two:
Morning
On the second day, head for the fjords. Mostraumen makes up the innermost part of the Osterfjord, just outside Bergen. Cruises set off from Zachariasbryggen all year round. You'll head towards Nordhordaland Bridge and sail between steep cliffs, spotting waterfalls, seals and eagles en route. Even if it's just half a day, you'll experience spectacular western Norwegian natural beauty.
Afternoon
Back in town, pick up a skillingsbolle, or cinnamon roll, from one of the bakeries to fill you up. If it's a rainy afternoon – which, as the one of the wettest cities in Europe, it might well be – stop by KODE for a showcase of Scandinavian artwork. Four galleries cover everything from fine silver crafts to Munch, perched at the edge of Lille Lungegård lake.
Later, head northwest to the Nordnes peninsula for the Akvariet Aquarium, with one of the greatest collections of marine fauna in Europe. Seals and penguins live alongside carp, reptiles and a shoal of herring.
Evening
Drinking is integral to the country's culture. Join in with a bar hop around the city centre. Pub Henrik Øl og Vinstove is the destination for beer, with over 50 Scandinavian brews on tap. We also recommend a visit to restaurant/bar Lysverket which is considered the most sophisticated cocktail spot in town.
When it comes to dinner, Bergen's fine dining scene is encapsulated by Potetkjelleren. Enjoy an elegant seven-course tasting menu displaying the tastes of Norway and an unusual wine list. Alternatively, head up the Ulriken Cable Car to the top of Bergen's highest mountain and enjoy panoramic views over the city lights during dinner at Sky Skraperen. Or, if you'd like to trial the seafood for which Norway is famous, take a 20-minute boat ride to Cornelius Seafood Restaurant. It's one of Norway's best seafood restaurants, idyllically located right by the ocean front.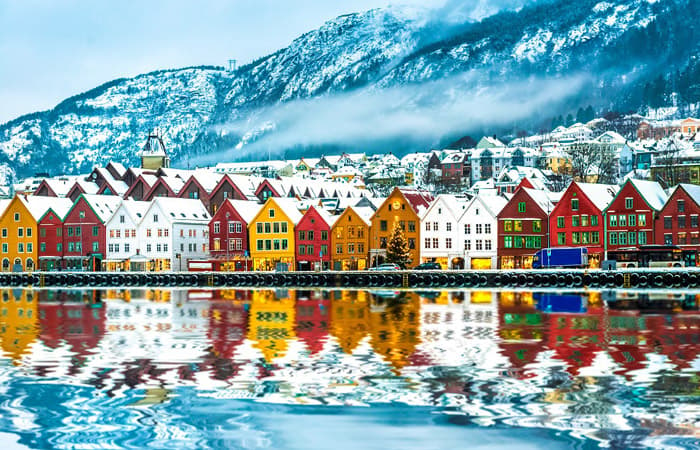 Top tip – If you're spending 48 hours in Bergen or longer, we suggest getting a Bergen Card. This is a great value way to explore the city. It gives you free entry or discounts for museums, attractions, sightseeing tours and even local restaurants, as well as free use of buses.
To find out more about how to spend 48 hours in Bergen, call our ski experts.