If your flight plan includes a layover in a dream destination, it's a shame not to make the most of it. Park City is one of the ski resorts near Las Vegas. Why not take up the challenge and cram the most possible into 48 hours, in the city where life is one long party… Las Vegas.
Day 1
Morning
Hop off the plane and start your morning by delving into the past in true Vegas style. Try the Mob Museum if you fancy a bit of gritty true crime and to learn the history of the underground criminal world. Alternatively, the Neon Museum a few blocks away for something a little more upbeat. This eye-wateringly bright establishment has salvaged some of the most iconic neon masterpieces that once adorned the strip.
Afternoon
Your morning perusal of the museums has left you right in Vegas' downtown district, the historic centre of the city, which has been transformed into an open-air art gallery. Since 2013 when the Life is Beautiful Festival began, the downtown area has been muraled by Vegas' renowned street artists with some phenomenal and colourful art which is well worth a look in the sunshine. Starting to flag after your long flight? Vegas has a characteristically flamboyant solution – a five-block zipline down Fremont Street should provide you with enough of an adrenaline rush to get pumped up for a night in Sin City.
Evening
Las Vegas is the home of Cirque du Soleil, who have a number of resident shows on the Strip. What better way to spend the early evening than by marvelling at their acrobatic spectacles? Afterwards, step into another world at the deluxe Caesars Palace hotel and casino, just a short taxi ride along the Boulevard. The lavish interior and flashy clientele make it fun simply to people watch, if nothing else. Looking for higher stakes? Head to the Bellagio instead to see some of the world's top poker players in action. If you fancy a flutter, it's not just for high rollers – get stuck in and place a bet, although stick to the penny slots if you don't want to blow your après-ski budget.
Day 1 Active alternative
Although everyone knows Vegas for its glitzy party and gambling scene, it's also surrounded by some of the most dramatic scenery you can imagine. For a full-day trip, go to Red Rock Canyon and experience the Mars-like cliffs and valleys that form the landscape. Slightly further away from Vegas but still only a few hours away by car is the lesser-known sibling of the Grand Canyon, Zion National Park. Zion is a riot of colour, with sunset reds and oranges running through the rocks, as well as waterfalls, streams, caves and dreamy views.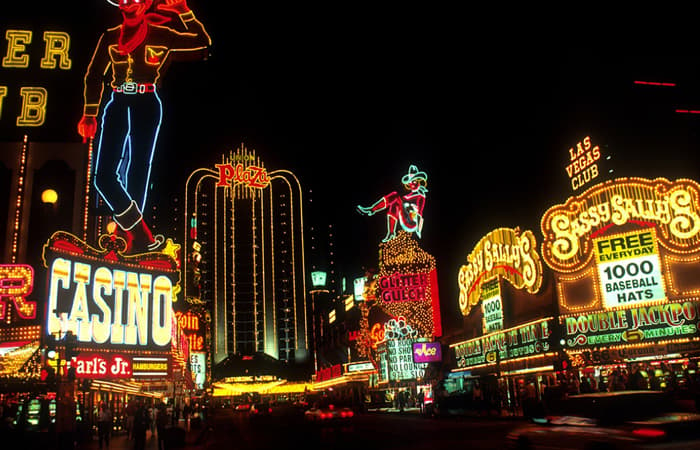 Day 2
Morning
Start the day back in downtown, the hippest district in Vegas, to explore the outdoor Container Park shopping centre. It's packed with quirky boutiques and interesting independent stores, as well as some of Vegas' most mouth-watering food spots for lunch. Our top tip: if you happen to land on the first Friday of the month, the whole area gets even cooler, with local artists and artisans gathering in the streets to share their visual and edible masterpieces—and there's free live music, too.
Afternoon
Why not take a snap with some of the world's rich and famous by visiting Madame Tussauds Las Vegas? If this is a little too tame, replicate yesterday's thrill seeking by trying out indoor skydiving. SkyJump at Stratosphere lets you do a controlled free fall towards the ground. Las Vegas has no end of wild rides to get your heart rate racing. For a more relaxed experience, Stratosphere also has an Observation Deck, which gives phenomenal views of the city.
Evening
If your remaining time in the city is short-lived, take a late-afternoon gondola ride at The Venetian. Here, gondolas float right through the centre of the hotel on a private river. If you have more time before your flight, head to The Strip for a show. Find a cabaret, or see if you can catch stars like Celine Dion, Elton John or Britney Spears. All of whom have been known to play residencies in Vegas.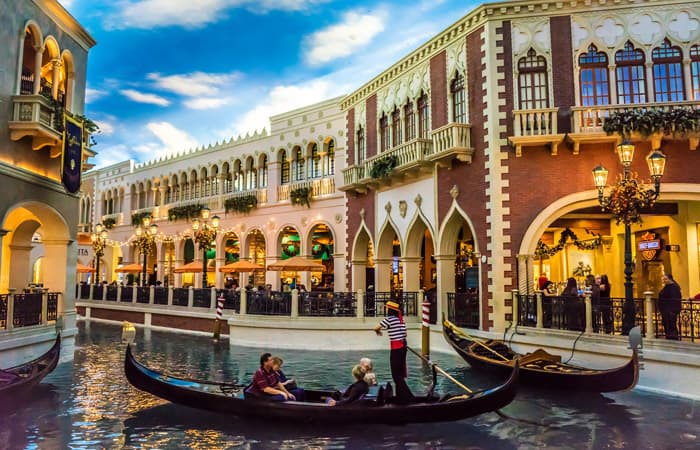 Day 2 Alternative
If you have time on your hands during your second day in Vegas, you can book a day trip to the Hoover Dam. One of America's greatest feats of engineering, the dam is truly something to behold. You can experience it in as much style as you like, with everything from bus tours to helicopter tours and fully-catered river cruises.