Our ski experts have hand-picked the best French ski resorts for families. Finding the right family skiing resort that everyone will enjoy is important. It's likely you'll be in need of a great ski school to keep the kids busy. Family skiing in France will require a variety of pistes to challenge the adults, as well as plenty of activities that you can enjoy together. A newcomer to the French Alps won't take long to see why the country's skiing culture is as celebrated as it is. France boasts some of the finest skiing in Europe, with stunning scenery and slopes that cater for all abilities. So, if you're considering a ski holiday with the little ones, here are the best family ski resorts in France.
Les Gets, France
Britons have been coming to Les Gets with their families since the middle of the last century. The ski resort not only boasts a diverse selection of slopes appropriate for all abilities, but it is also a true Alpine spirit when it comes to cuisine. To recharge after a day on the slopes, try the warming staple of the Savoy region, the tartiflette. This dish of potatoes roasted with lardons and reblochon is a first-class choice for ravenous skiers of all ages.
Les Gets has a reputation for being one of the best French ski resorts for families proven by the 'Famille Plus Montagne' label it has been awarded. This accolade recognises its impressive facilities and services for children. A great example of its child-friendly facilities is the Le Grand Cry area. This themed section of the mountain is dedicated to children, with gentle runs offering a safe place to learn away from the main pistes. We highly recommend Les Gets for family skiing in France.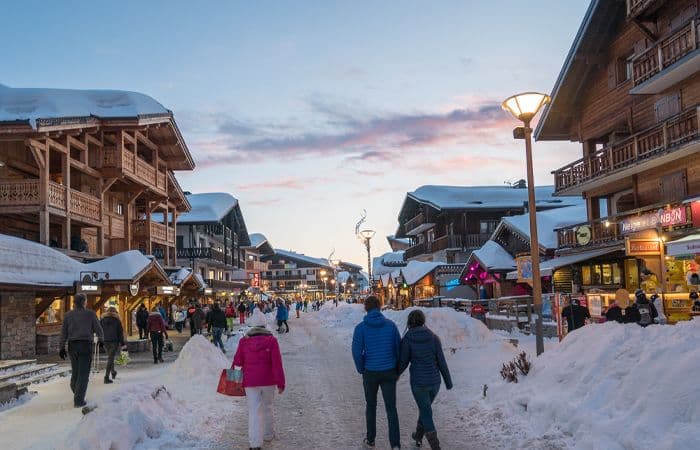 Avoriaz, France
Avoriaz is a peaceful family skiing resort located on the main lift circuit of the Portes du Soleil. The whole village is pedestrianised, so expect to see charming old fashioned sleighs pulled by shire horses. Children will love taking a ride on one of these unique taxis through the snowy streets.
Over 100 instructors and supervisors work in the excellent children's village, teaching small skiers and baby boarders of all abilities. There's also a separate village restaurant serving lunch and tea for children. In addition to the cinema and bowling alley in Avoriaz, there are numerous family-friendly activities available nearby such as hot air ballooning and donkey trekking. Adults will enjoy empty slopes and spectacular views, safe in the knowledge that their kids are being well looked after.
Avoriaz is one of the best family ski resorts in France if you have snowboarders in the group. This was the original European snowboarding resort, thanks in part to the blessing of Jake Burton, the sport's 'godfather', who helped to create the Stash snow park. If you're hoping to get the little ones 'on board', Avoriaz also has the Lil' Stash park to provide an introduction to the sport.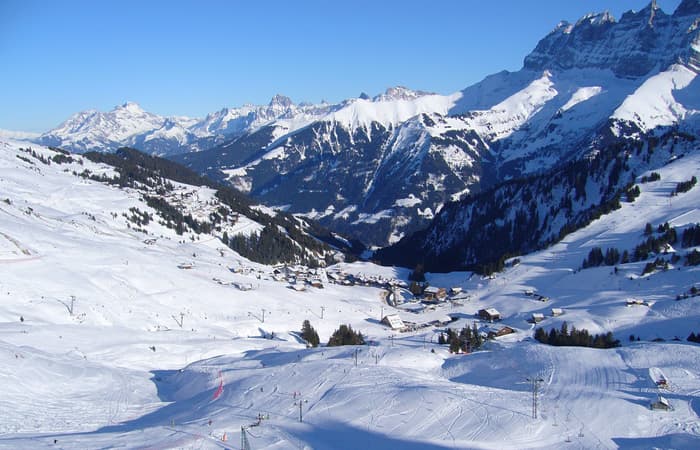 La Plagne, France
Forming one half of the famous Paradiski ski area, La Plagne is widely regarded as one of the best family ski resorts in France. The resort has ten villages. We can help you choose the right one to suit your family. The higher-altitude villages are Belle Plagne, Plagne Bellecote and Plagne Centre; you'll find a great variety of ski-in ski-out, family-friendly accommodation here. Montchavin is also a great base for families. It has the Famille Plus accreditation for the quality of its services. The Baby Club Montchavin organises snowman-building and art activities. In the attractive, woodland village of Les Coches there's an ice rink and two nursery slopes for children finding their snow legs. La Plagne is great for beginners and intermediates. The long cruising blues are perfect for practicing turns and the resort's high altitude means the nursery slopes enjoy good snow cover.
Christmas is a major event in resort with markets and parades taking over the villages and even a visit from Santa. Those coming later in the season for the Easter holidays can look forward to the Subli'Cimes festival. This free family festival sees the five peaks of resort taken over with different themes. From tropical paradises to wintery ice-grottos, there's a range of fun activities to enjoy together.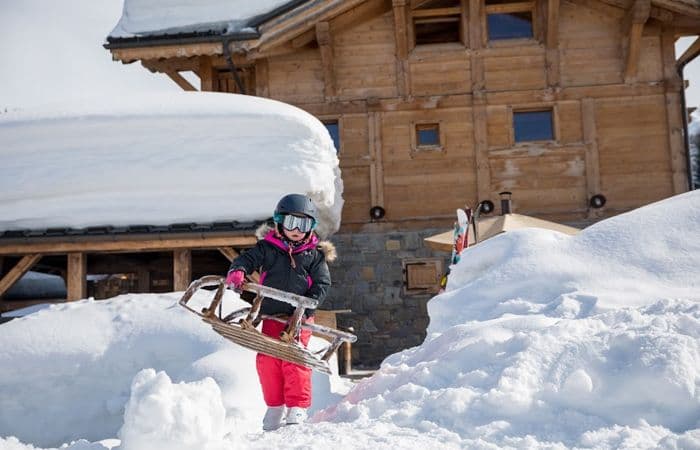 Méribel, France
Located in the centre of the vast Three Valleys ski area, Méribel is another of our best family ski resorts in France, with plenty of runs and open boulevards to suit all abilities. The Moon Wild area of the slopes is always popular with children and features wildlife spotting and giant animal sculptures. Another family favourite is the Inuit Village, with its Arctic-themed games and emperor penguin slalom. There's an entertainer here throughout the season, who organises activities like igloo building and snowball fights. The Inuit Village has continued to expand with the creation of two discovery paths through the Altiport Forest. Ideal for families to explore together whilst learning more, this is a great option for family skiing in France.
At the end of a long day on the slopes head to one of Méribel's great selection of restaurants. Traditional Savoyard dishes like rich cheese fondue and tartiflette are readily available. Many restaurants offer child-friendly options, such as the Petit Kiki menus at Chez Kiki.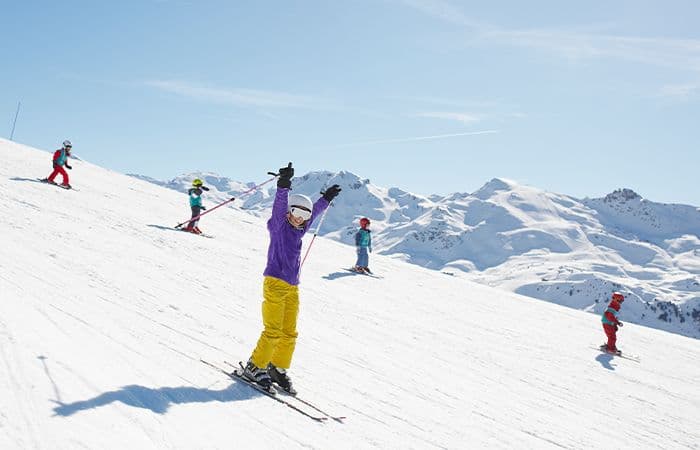 La Rosière
The relaxed atmosphere coupled with a great choice of childcare and ski schools makes La Rosière one of the best French ski resorts for families. Part of the Espace San Bernardo ski area, the ski resort is a bit of a hidden gem compared to other big resorts. This makes the resort a bit quieter and easy for families to enjoy their stay.
The nursery slopes and children's areas are easy to access near the village. Each ski school has top quality ski instructors who can teach lessons for different levels of skier. As for the ski area as a whole, there's a lot of diverse pistes. There's something for everybody. Whether you're a first-time skier or advanced, you'll enjoy your stay in La Rosière.
In the evening there isn't much of a party scene in the village, which is ideal for families. There's a fantastic selection of child-friendly restaurants and bars to visit. Most of which have kids' menus to choose from. In the main village, there's still a traditional alpine vibe that adds to the winter experience. There's a great selection of accommodation for different price points too.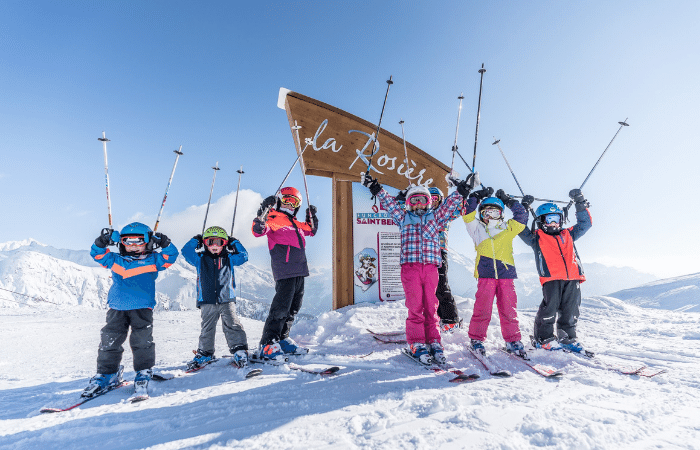 Flaine
Part of the incredible Grand Massif ski area, Flaine has a lot to offer for families. The purpose-built ski resort has a fantastic choice of ski-in-ski-out accommodation. Ideal for getting the kids to ski school and heading off to the massive ski area. The nursery slopes and kids areas are located near the main village. Ski schools in the area all have top quality instructors who aim to make the ski experience fun and educational.
It's a quiet ski resort with little nightlife. This is ideal for families who want to relax in the evening after a long day on the slopes. There's a good variety of child-friendly restaurants and bars, with kids menus. The locals are very welcoming and the town isn't too big to explore either. Accommodation is mainly apartment and hotel based. There are some chalets too to book.
Flaine is ideal for families because it offers something for everyone. If you're an advanced skier with kids the ski resort caters for both of you. There's so much terrain to explore and the lifts are well linked. It's easy to get back to the kids for pick-up time at ski school. A great destination for family skiing in France!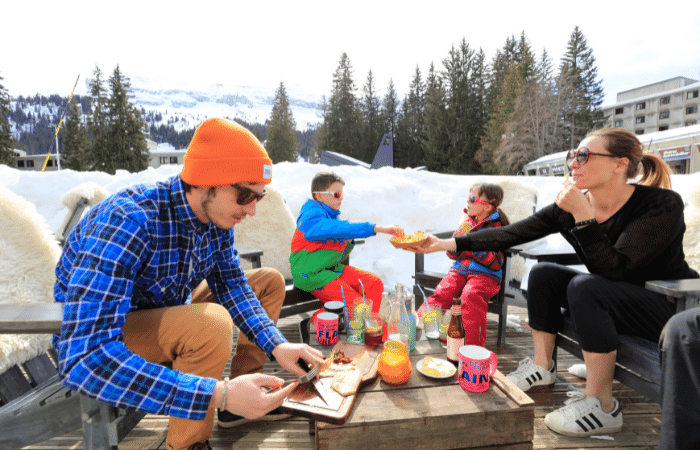 Courchevel, France
Situated in the amazing Three Valleys ski area, Courchevel is a must-visit for families. There is so much top-qulaity choice from 5-star hotels, Michelin Star restaurants and amazing after ski activities. In addition, the childcare options are brilliant. There a top-class private nanny services and highly reputable ski schools in the area.
You can access an impressive 600km of slopes in the area with a full lift pass. The slopes are suitable for any level of skier. We highly recommend staying at the wonderful Hotel L'Ecrin Blanc because of the dedicated childcare and the links to the amazing Aquamotion Water Centre.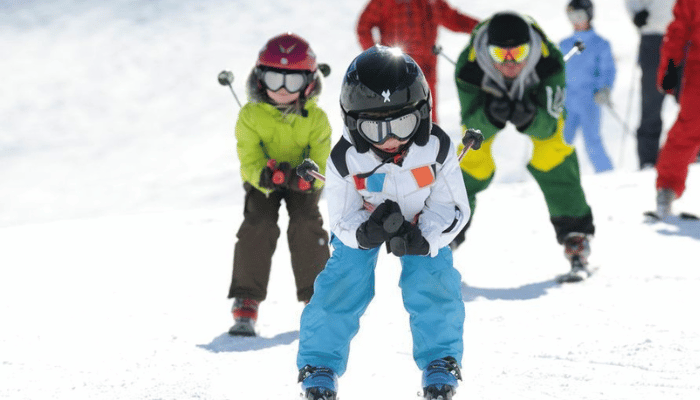 To find out more about the best French ski resorts for families, give us a call.
Speak to our experts on 0207 471 7700 for more information on family skiing in France.