Family ski trips are the most memorable holidays you can have, that's why we have listed the best ski resorts in Colorado for families. There is a reason why so many flock over the pond in search of a truly exciting adventure. Many keen skiers often dream of the North American ski slopes, whether it is the fantastic ski terrain, natural beauty, or endless outdoor activities. Colorado is an excellent choice for the entire family. No matter what your proficiency level is, there will be a ski resort in the state that all your household can enjoy
Winter Park
Winter Park is Colorado's fourth-largest ski resort and one of the easiest to travel to from Denver Airport. A short transfer of 1 hour and 45 minutes is music to the ears of any parent. The ski resort sits at an impressive 2,734m and reaches a mammoth 3,676m ski altitude. The majority of runs favour intermediate skiers, with plenty of red and black runs to get stuck into. We recommend this ski resort for families with teenagers. With 140km of ski terrain, it is a fantastic space to let them roam free but small enough not to lose them!
For those travelling with smaller children, there is a designated 'Discovery Park' with a 25-acre beginners' area. This is complete with an adventure trail, weaving through a winding forest. The runs are wide, perfect for those who need a larger space to learn their turns.
Stay At:
The Zephyr Mountain Lodge offers a convenient ski-in ski-out location at the base of Winter Park.
Winter Park ski holidays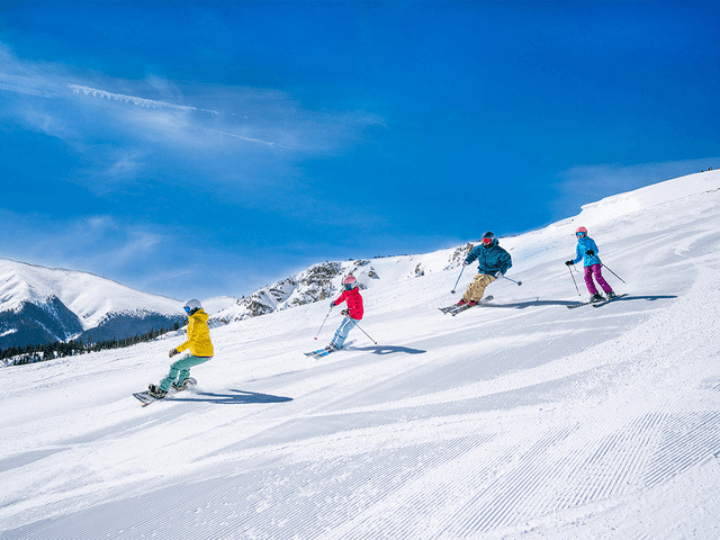 Vail
Another great choice in our best ski resorts in Colorado for families list is Vail. Slightly further away from Denver Airport (still only 2.5 hours), it is a perfect base for a family group. Vail is one of America's most famous and best-loved ski resorts. The slopes are always immaculately groomed and kept in pristine condition during the winter season.
For beginners, there are a number of wide-open slopes, while advanced skiers have the famous back bowls of light deep powder to explore. Take the kids up to Adventure Ridge and experience something outside of the norm. Up here, there are plenty of non-skiing activities to entertain the kids and enjoy snow tubing, snowmobiling, and snow biking.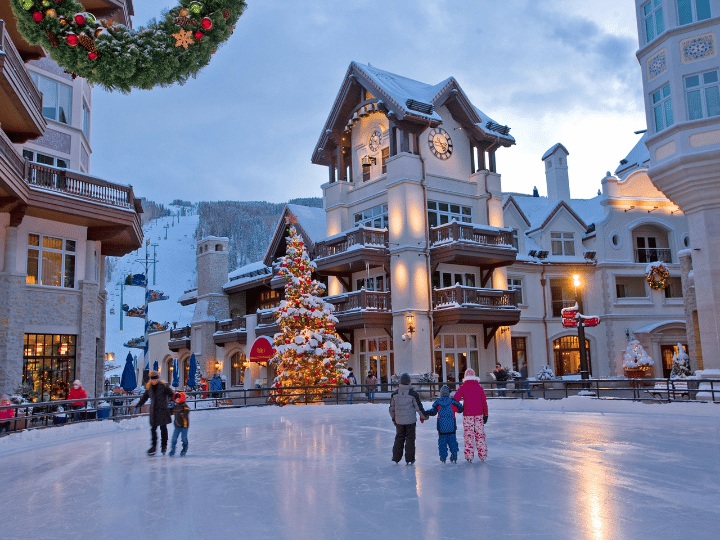 Beaver Creek
Beaver Creek is much like its neighbour, however, it is smaller and even more exclusive. It is ten miles from nearby Vail and is accessed on the same ski pass. Allowing access to both ski resorts will give you ample terrain to cover. The ski slopes vary equally, with winding greens, long groomed blues, challenging moguls, and steep glades. There is something for all the family. The nursery slopes are a great spot to progress. Children will love the Ski School Learning Area where they will build their confidence. The Tombstone Territory is a favourite with the little ones. As they wind through this ski area, they will pass fun cartoon characters through a western town to a gold mine.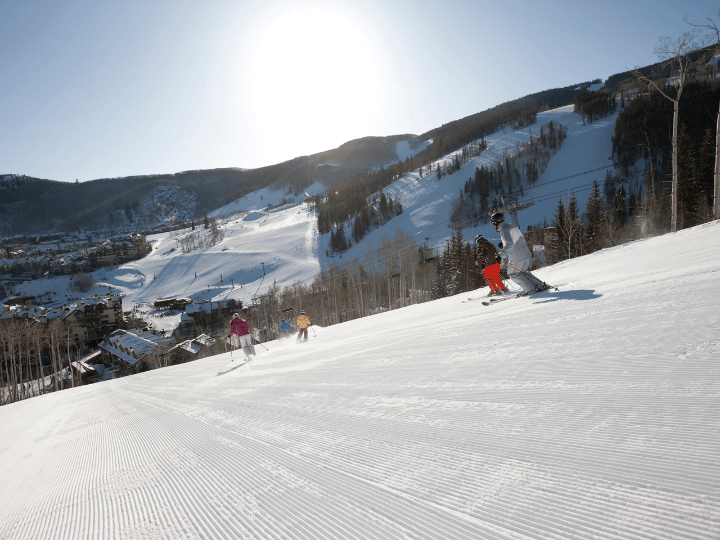 Breckenridge
Breckenridge is the third-highest ski resort in the world, sitting proudly at an astonishing 3,914m. The ski area is known for its spectacular snow, dubbed 'champagne powder'. Situated a short 2-hour drive from Denver Airport, it is a ski resort worth the journey. As Breckenridge is so high you can almost guarantee great snow throughout the season.
Breckenridge is a historic mining town, with plenty of character. There are lots to do on and off the piste, in town, you will find great shopping, restaurants, and coffee shops to keep you occupied. There is a fantastic recreation centre, with climbing walls, an indoor waterpark, and a fitness suite. Other family fun activities include snow tubing, sleigh rides, ice skating, and snowmobiling.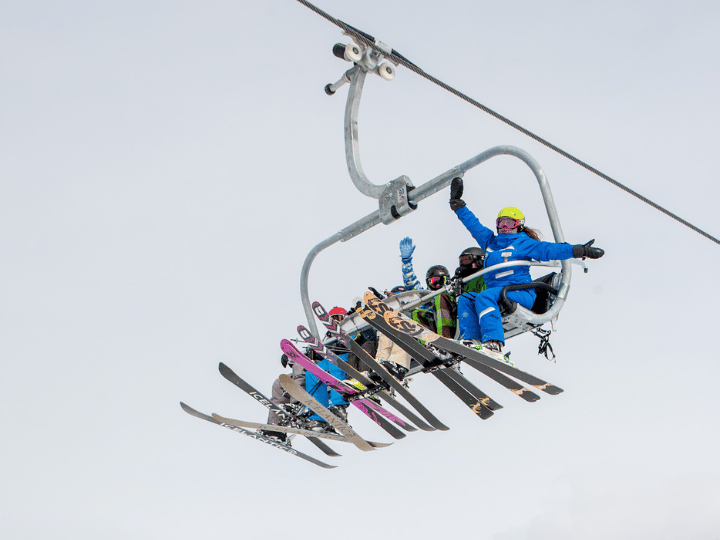 Steamboat
Steamboat is known for its tree-lined slopes, reliable snowfall, and great family activities on and off the slopes. Considered one of the best ski resorts in Colorado for families, it lives up to its name. For over five decades, Steamboat has built a reputation for being the go-to ski resort for families. Set at a comfortable height (1,118m), and with a total ski area of 119km it is a great all-rounder ski resort for families of all abilities.
In Steamboat town, nip from shop to restaurant to bar and have no fear of falling on black ice, as heated pavements are the norm in North America. The ski resort is a great holiday for all ages from children to grandparents. Off the piste explore Steamboat's bowling alley, climbing walls, hot springs (which feature waterslides for the kids, and massages for the adults!), and several museums.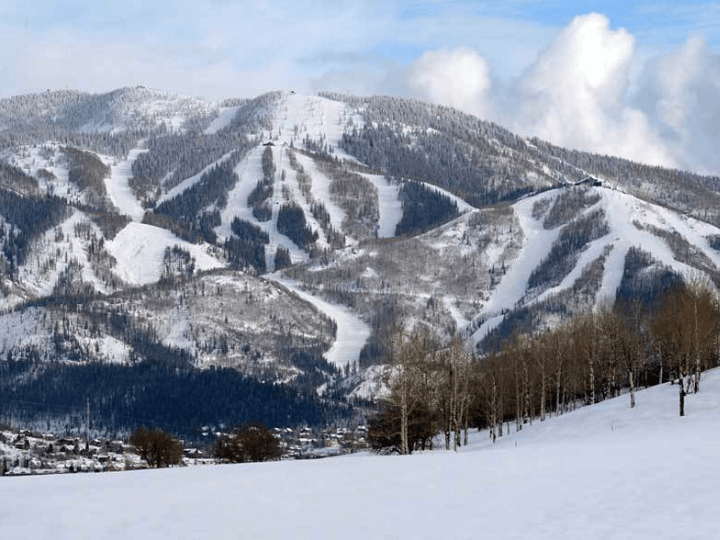 Aspen
Aspen is made up of four ski locations, Snowmass, Aspen Mountain, Aspen Highlands, and Buttermilk. Each ski resort is unique and offers something different from the next. Fortunately, the ski pass for this area encompasses all four, giving your family the opportunity to visit them all. Buttermilk is a great ski area for beginners. One of the best in fact. At the bottom of the nursery slope, there is a 'Hideout' which is a facility that offers the best introduction to skiing for the ages 2 1/2 up to 6 years old. The hideout facility is a unique childcare option, with multipurpose play and lunchrooms children can easily take a break from skiing during the day.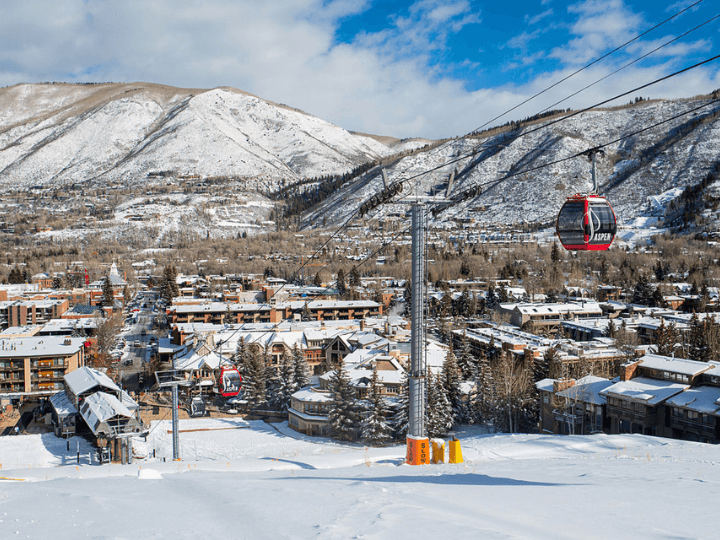 If you want to know more about the best ski resorts in Colorado for families call our ski experts today on 020 7471 7700.