North American mountain towns each have their individual charm. They have a different culture and atmosphere to European ski towns. Whether you're in the iconic ski town of Whistler, Canada or the luxury town of Aspen, USA there's something for everyone. Our ski experts have created a guide about the best ski towns in North America.
Aspen, USA
If you enjoy the luxurious side of life then Aspen is your ideal ski town. Within the town, there are many top designer boutiques to browse through such as Ralph Lauren, Fendi, Gucci, Prada and Louis Vuitton. In addition, there are 50 galleries to visit with different art and culture to admire. If you're a foodie you are in for a treat with a booming culinary scene in Aspen. Top chefs from around the US come to work in the wide variety of restaurants in the area.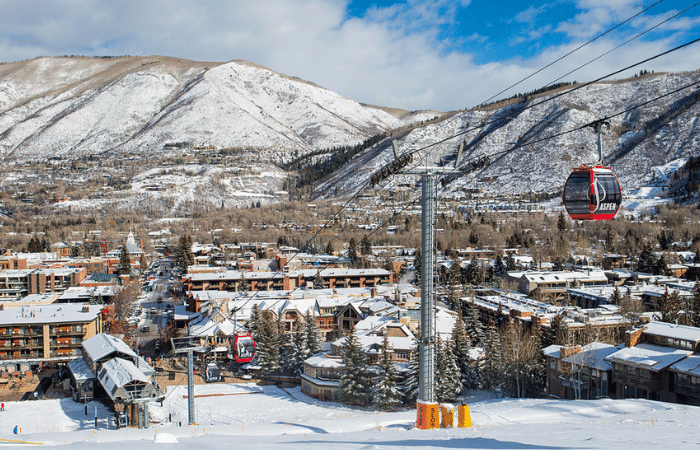 Banff, Canada
Banff is made up of the 'Big3' ski resorts Sunshine Village, Mt. Norquay and Lake Louise. It is considered one of the best ski towns in North America. The village itself has a combination of an old-school mountain town and modern bars and restaurants. Depending on where you go there are relaxed and lively nightlife spots. There is plenty to do off the slopes too, you can go ice skating, ice canyon and nature walks, snowmobiling, snowshoeing, dog sledding and visit the world-famous Hot Springs.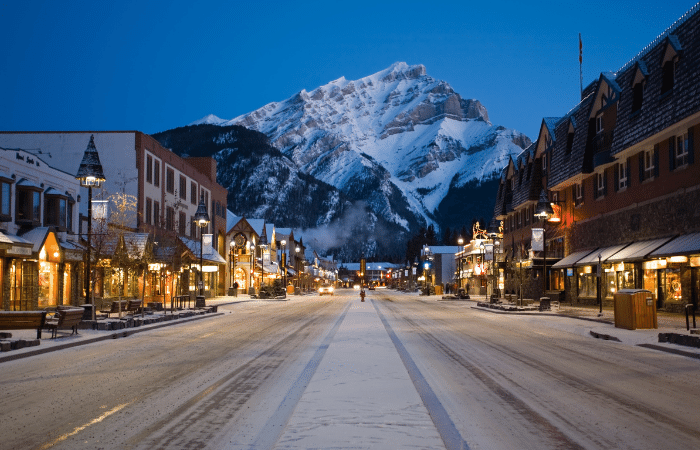 Breckenridge, USA
Breckenridge is the highest ski resort in North America and also a fantastic ski town. There are over 140 bars and restaurants in the area, with different cuisines and atmospheres. Whether you're looking for a classic American burger or a fine-dining experience, there's something for everyone. The nightlife is lively in certain bars, but you can also grab a relaxed drink elsewhere. In addition, there are brilliant spas to unwind in after a day on the slopes.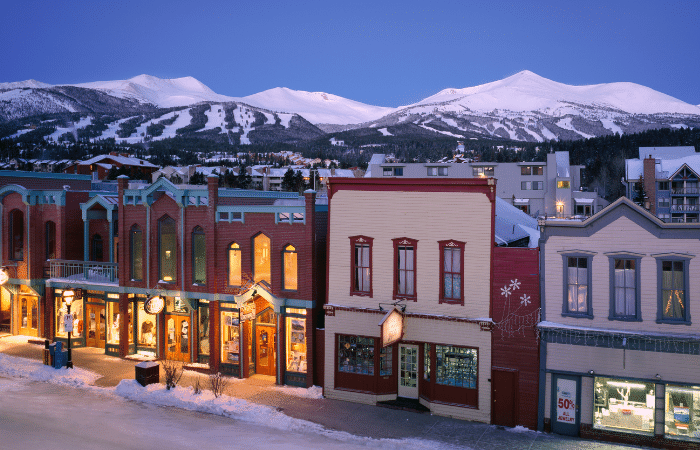 Heavenly, USA
Overlooking the beautiful South Lake Tahoe, Heavenly is a lovely ski town. For the views alone, Heavenly is worth a visit. It has a unique location of straddling the California-Nevada border, which means it gets influenced by each state's culture. There's a great range of bars and restaurants offering fantastic food and drinks menus. It has a big 25,000-square-foot casino too in the Hard Rock, which also hosts live entertainment too. Children will love the Ridge Rider Mountain Coaster, which is a gravity-powered Alpine coaster that whizzes through the forest and natural rock formations.

Kicking Horse, Canada
If you're looking for a peaceful ski experience, Kicking Horse is one of the best ski towns in North America. The village itself is a classic quiet mountain town with stunning mountain views. For a place out to eat we recommend Copperhorse Steakhouse in the village for a lovely dining experience. The Local Hero Pub is one of the best bars in town and also has music, beers and a blazing outdoor fire. Off the slopes, you can also enjoy snowmobiling, snowshoeing and ice skating.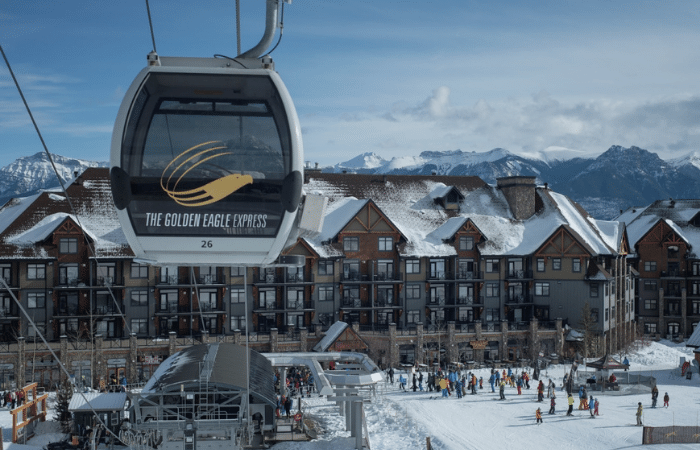 Mammoth, USA
Mammoth is located in California and is one of the best-known ski resorts in the US. The town is based below the single mountain that covers all the ski runs in the area. This ski resort provides entertainment on and off the slopes. We recommend cheesesteak sandwiches at The Lunchbox or fine dining at the Lakefront Restaurant. Great bars such as 53 Kitchen & Cocktails, Sushi Rei and Campo Mammoth are firm favourites. In addition, there's a bowling alley and indoor golf when you have some downtime from skiing on the slopes.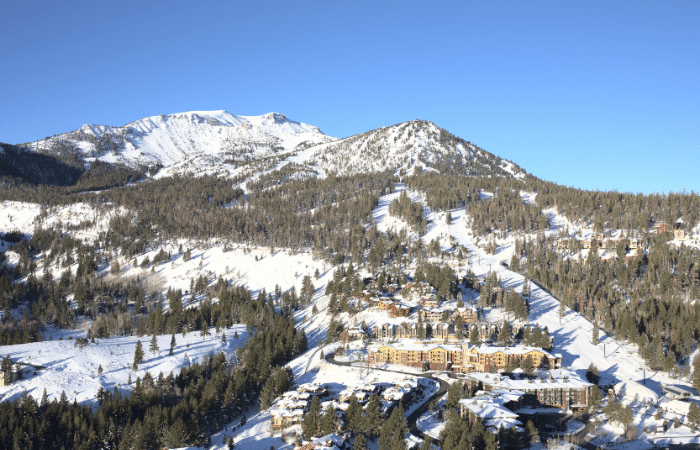 Panorama, Canada
Located in British Columbia, Panorama is one of the best ski towns in North America. It is home to the largest on-mountain hot pools in Canada, which are a perfect way to relax after skiing all day. There's a brilliant variety of restaurants to suit any tastes. The award-winning Earl Grey Lodge is a great fine-dining experience in particular. Crazy Horse Saloon and Glacier Night Club are the main après spots in town.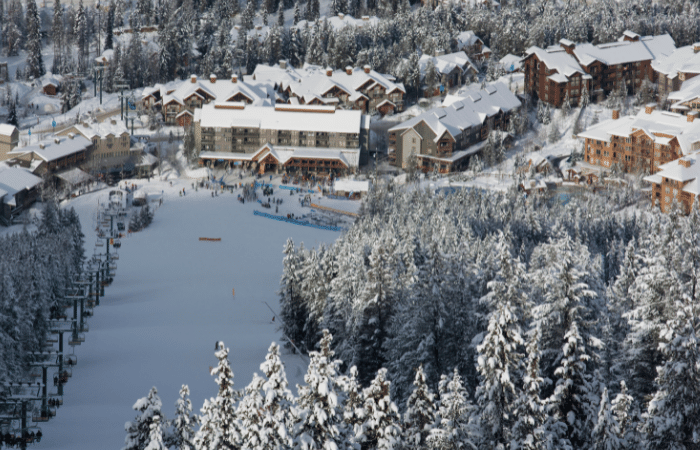 Palisades Tahoe, USA
Previously known as Squaw Valley, Palisades Tahoe was featured in the legendary G.N.A.R ski movie as a tribute to the late great Shane McConkey. The area is truly beautiful with a stunning mountain backdrop to admire on and off the slopes. If you're looking for a bite to eat Bistro 22 is a firm favourite with quick food and fine dining options. KT-Base Bar is a popular place to have a drink after a day's skiing.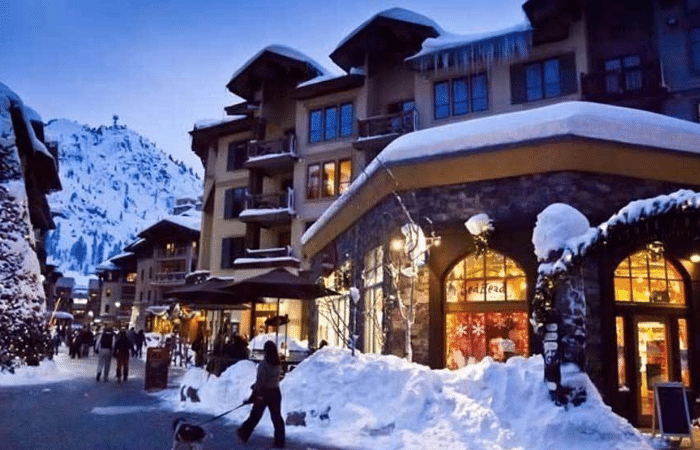 Park City, USA
Park City is certainly one of the best ski towns in North America with so much to offer. The resort has a style of a colonial American village with quaint wooden buildings and wide streets. If you're a foodie you're in for a treat because the main high street has many eateries to visit. The main bars in town are No Name Saloon, Red Tail Grill and the EBS Lounge for a lively night out. Off the slopes, you can also try the bobsleigh ride in the Utah Olympic Park or ride the Alpine Coaster, which journeys through over a kilometre of scenery.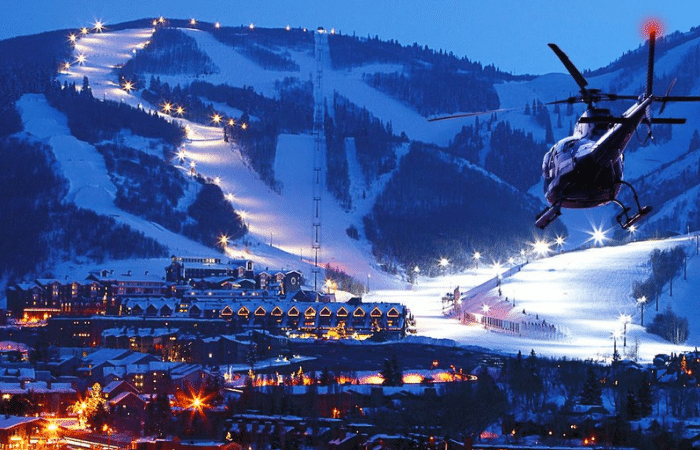 Vail, USA
Vail is another luxurious option when it comes to North American ski towns. There are great luxury accommodation options, lovely restaurants and bars and shops in the area. For the best pizza in town head to Pazzo's pizzeria. If you're looking for some good après ski and nightlife in Vail, the Red Lion is one of the resort's original bars and it still has a great ambience today. There's plenty of chance to have some retail therapy too with many shops sprawling across Vail's main town.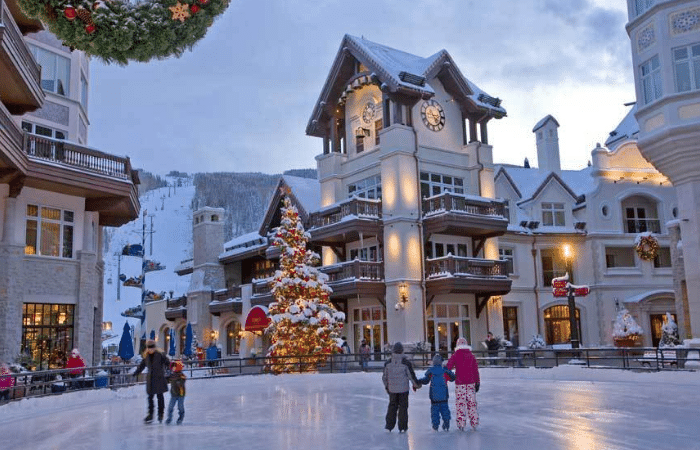 Whistler, Canada
Arguably one of the most iconic ski destinations in the world, Whistler is one of the best ski towns in North America. Its superb ski terrain combined with a fantastic local atmosphere is a winning formula. There are excellent bars and restaurants to visit during your stay. The Roundhouse Lodge is the main hub for eating out, it accommodates 1,750 guests and offers dishes for all to enjoy. Merlin's Bar is the home to local folk-rock band The Hairfarmers who are known to put on amazing performances throughout the season.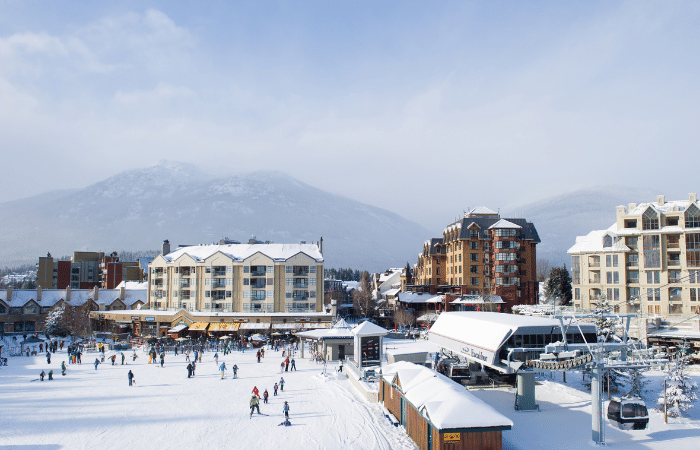 Winter Park, USA
Based in Colorado, Winter Park has a town and village to explore, each offering great places to drink and eat. The recent purchase by Intrawest has seen more investment in shops, eateries and hotels in recent years. You can enjoy a variety of restaurants in the area with fine dining and quick food options that serve different tastes and budgets. In addition, you can enjoy the Grand Park recreation centre which has a hot tub, swimming pool, gym and climbing wall. A great off-slope experience.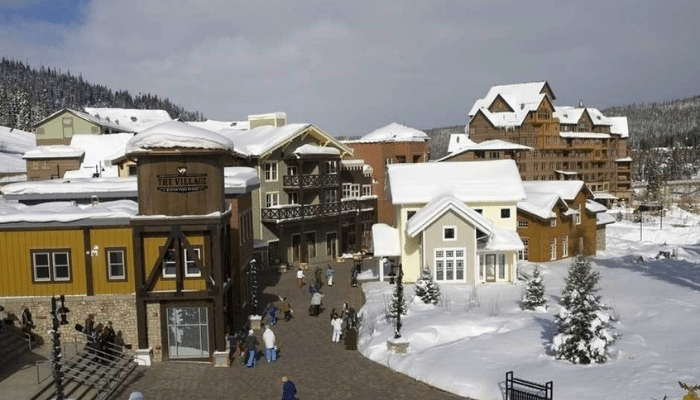 To find out more about the best ski towns in North America, please call our ski experts on 0207 471 7700.