La Plagne is a firm favourite with British tourists and has been for many decades. Families and groups swarm to the French ski resort for its excellent intermediate skiing, glacier views, and fantastic restaurants. La Plagne ski area is home to 12 ski resorts and base villages, making it a superb choice for beginners and keen skiers alike. With a total ski area totalling more than 425km of slopes, exploring this terrain will no doubt work up an appetite. We've listed some of the best restaurants in La Plagne, which will meet everyone's needs.
La Table du Carlina
Located in one of our most popular ski hotels in La Plagne, Hotel Carlina, La Table du Carlina is an exceptional restaurant to spend your evening in. The head chef, Thibault Schach has put his creative signature on the Carlina menu with many refined specialties. Thibault ensures local and seasonal produce is used where available, showcasing the incredible delicacies the region has to offer. The terrace is the ideal spot to enjoy a nutritious break after your morning ski, especially with its wonderful views. The ambience in the evening is equally as delightful, unwind in the warm setting with a glass of local wine.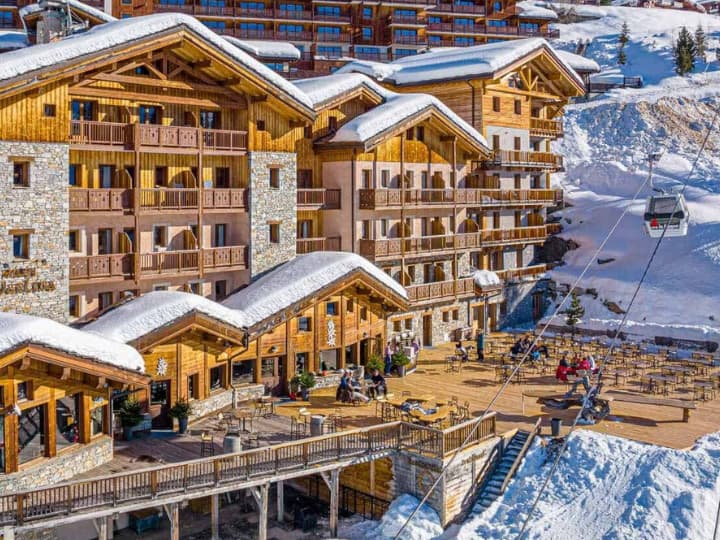 Photo credit: Hotel Carlina
Stay At:
Hotel Carlina is friendly four-star ski-in ski-out hotel located slopeside with excellent views of the piste.
La Plagne ski holidays
Le Refuge
Visit Le Refuge for all your hearty French meal needs. The restaurant is in a typical refuge, oozing Alpine charm. The restaurant serves French and particularly Savoyard dishes, from fondue to omelettes, so you won't be leaving hungry! It is the perfect place to fuel up when on the mountain. Visitors can arrive by skis or by foot, making Le Refuge excellent for groups with non-skiers to meet for a bite to eat.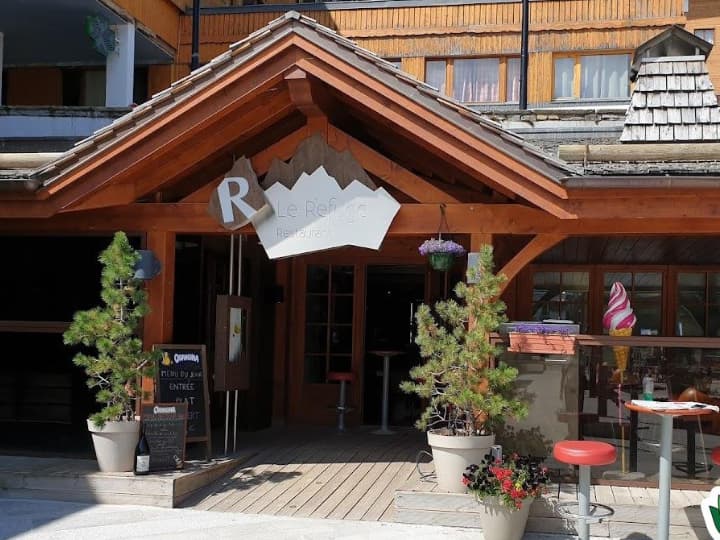 Photo Credit: Le Refuge
Le ChairLift Restaurant
Le ChairLift Restaurant is a great lunchtime spot to stop at during your day on the slopes. The menu is extensive and covers all tastes, including pizzas, tartiflette, burgers, and other typical mountain dishes. The interior is spacious and trendy, perfect for larger groups to snag a table during busy periods. Takeaway is available if you are maximising your time on the slopes, pick up a sandwich and get straight back out there.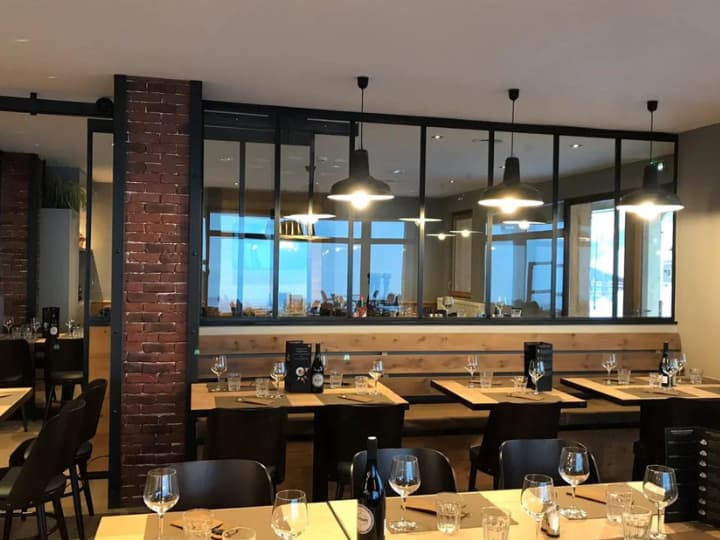 Photo Credit: See La Plagne
The Cheyenne Café
Operating since 1993, the Cheyenne Café is the go-to place for a great hearty meal. The cafe opens from as early as 8 am until the early hours, the Cheyenne is an atmospheric bar throughout the day. The café has a relaxed feel, with pizzas, chicken wings, and burgers available. There's a selection of French and international beers to sample in the laid-back venue.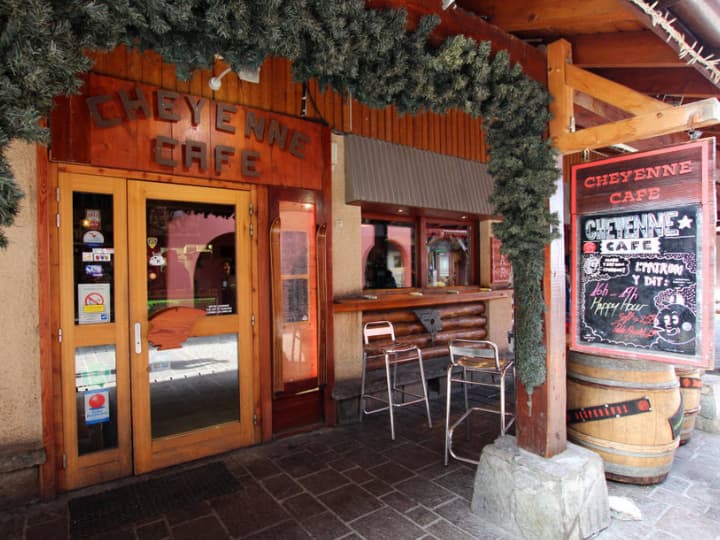 Photo Credit: La Plagne Paradiski
Restaurant Le Hors Piste
The perfect pit stop on your journey around the huge La Plagne ski area. The restaurant is perched on the piste with far-reaching views of the slopes below and above. Restaurant Le Hors Piste serves dishes that will suit every taste. Rest here and choose one of the excellent pizzas, soups, or salads they have to offer. Recharge with a well-earned beer before you head off again for the remainder of the afternoon.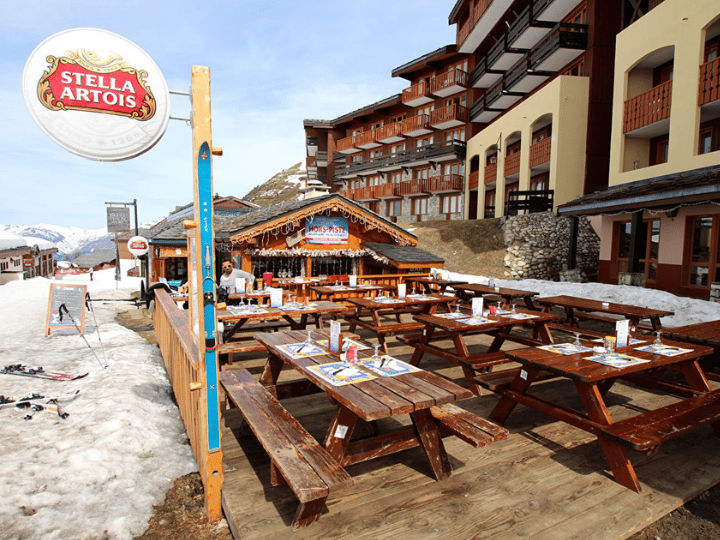 Photo Credit: Savoie Mont Blanc
Les 2 Zebres
Les 2 Zebres is a popular choice, it is found slope-side in the Montalbert area of La Plagne. The menu serves typical mountain dishes, pizzas, burgers, traditional French dishes, and delicious crêpes. The restaurant has a laid-back atmosphere where you can enjoy the afternoon sun on the terrace with a well-earned drink. In the evening we recommend making a reservation as they can only serve up to 40 guests.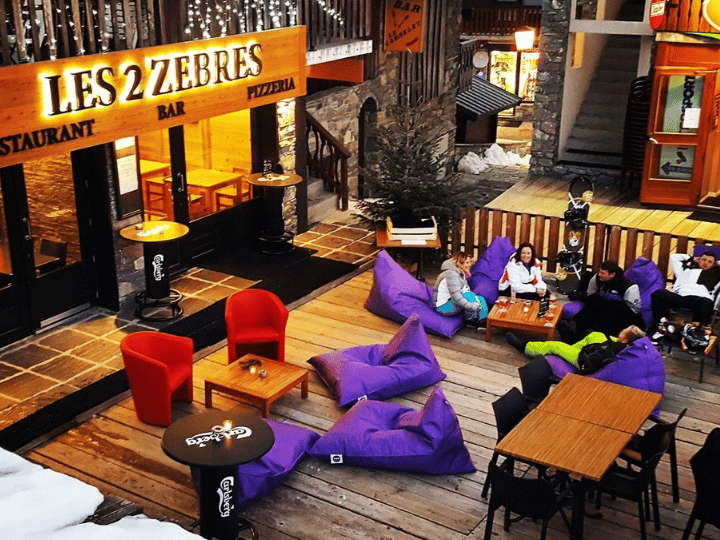 Photo Credit: Les 2 Zebres
Chez Pat Du Sauget
Visit Chez Pat Du Sauget for a truly authentic French meal. The restaurant is in a traditional Alpine chalet just a few ski turns from the Vanoise Express bubble lift. Owners Patricia and Gérard Rochet, have been welcoming skiers since 1973, serving delicious French meals. You can book rooms at the pleasant (and rustic!) chalet, giving guests a wonderful 'refuge' experience. Guests of Chez Pat Du Sauget also have access to a spa, a sauna, and even a billiards room!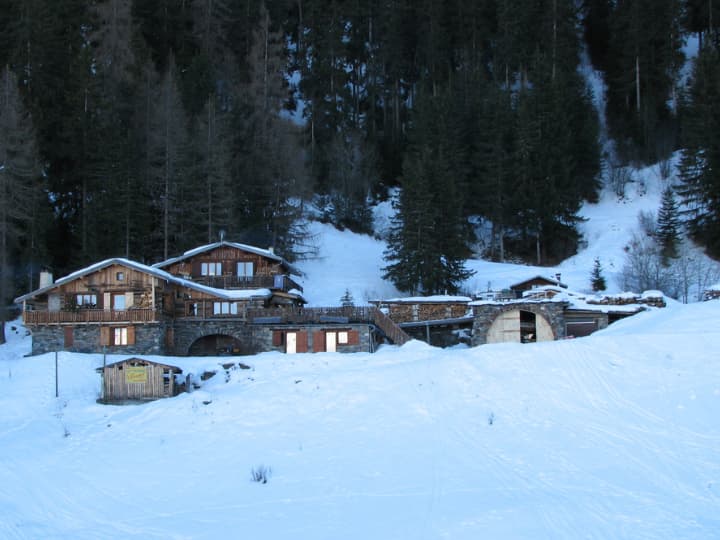 Photo Credit: Chez Pat Du Sauget
Le Dou du Praz
Located at 2,100m Le Dou du Praz is the place to visit for an excellent on-piste meal. Daily specials are selected by the head chef, with 18-day matured steaks and traditional French cheeses like Beaufort, Reblochon, and Tomme de Savoie available. In the afternoon, the restaurant transforms into a lively après bar, with its south-facing terrace turning into a dancefloor. On Thursday evenings, it's possible to book the restaurant for groups of up to 20. Arrive by piste-basher for the ultimate unique experience!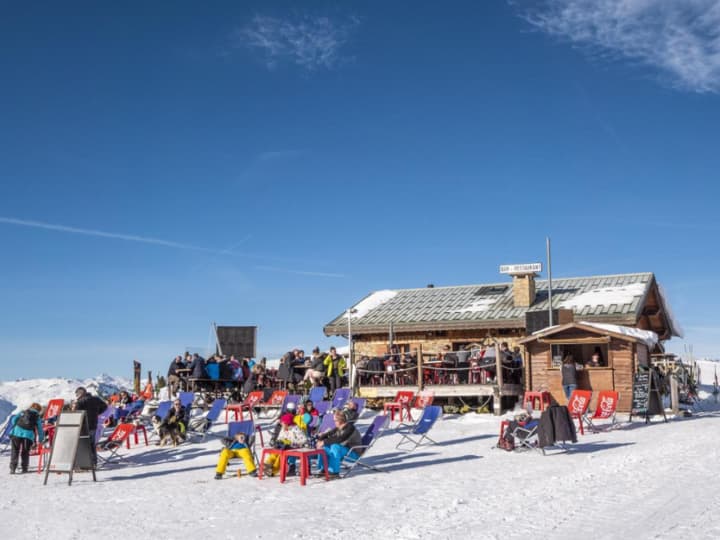 Photo Credit: Le Dou du Praz
To find out more about the best restaurants in La Plagne, call our ski experts on 020 7471 7700.