For many skiers, the cuisine and dining experience can be as important as the skiing itself; here is our list of the best ski resorts for foodies.
Courchevel, France
Courchevel is a French ski resort that is part of the expansive Three Valleys ski area. The resort is blanketed in luxury five-star hotels and has more Michelin-starred restaurants than you will find anywhere else in the Alps. It's rustic and atmospheric, with cosy eateries to match and one of our best ski resorts for foodies.
For fine dining delicacies like escargot in a butternut and chestnut velouté and foie gras with caramel, head to the creative Azimut, helmed by chef François Moureaux. Alternatively, reserve a table at the two Michelin-starred Le Chabichou for an unrivalled gastronomic experience. La Cabane des Bûcherons offers up an immersive experience where you can enjoy a superb Savoyard themed dinner in a cosy refuge setting before returning to the resort by tobogganing down the tree-lined slopes.
Stay At:
The Hotel Portetta in Courchevel 1650 is a friendly four-star hotel with easy access to the superb ski area.
Courchevel ski holidays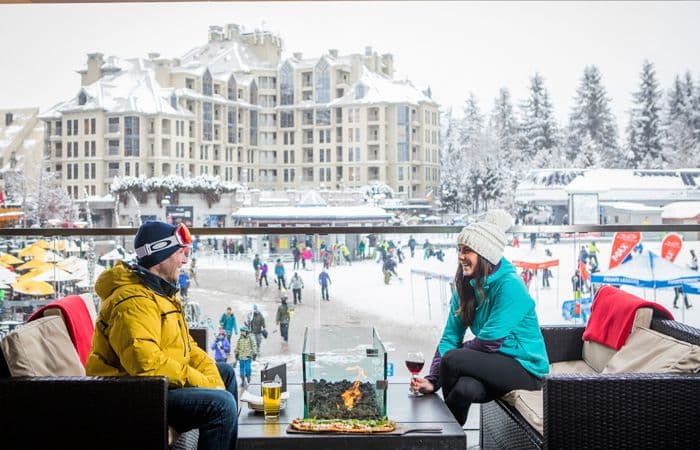 Whistler, Canada
Moving away from European resorts, Whistler is a prime example of a North American ski resort that has a great variety of cuisine. This makes for a refreshing change from some other ski resorts where you find yourself overwhelmed by the amount of traditional Alpine dishes on the menu. Here, you can find a perfect balance of restaurants from all over the world. It really is one of the best ski resorts for foodies.
For fine diners, try the Red Door Bistro. This Canadian restaurant's style of cuisine is influenced by its French roots with brilliantly elegant dishes. Another fine-dining gem is The Grill Room; don't expect to find a better steakhouse anywhere else in the resort.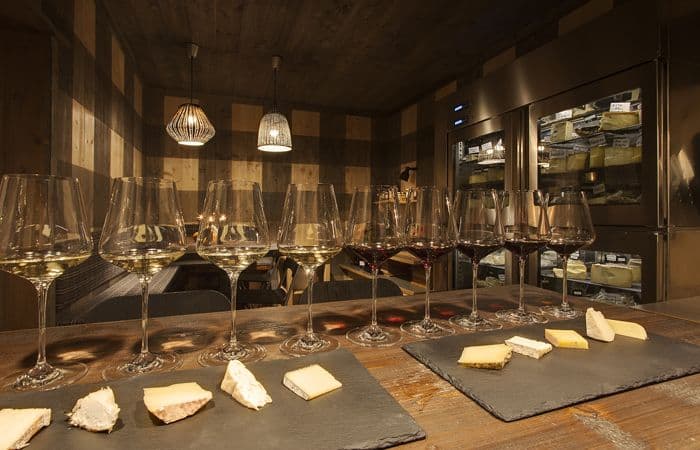 San Cassiano, Italy
Nestled in the magnificent Dolomites ski area and surrounded by the majestic Dolomite mountains, San Cassiano delivers on great cuisine with a focus on traditional Italian food. The area also has plenty of other restaurants that have Austrian and German influences in the dishes they serve.
For the perfect Italian experience, try the Hotel Ciasa Salares where the dining experience starts from the word go at breakfast. There are five brilliant restaurants to choose from, including both a Chocolate room and a Cheese room.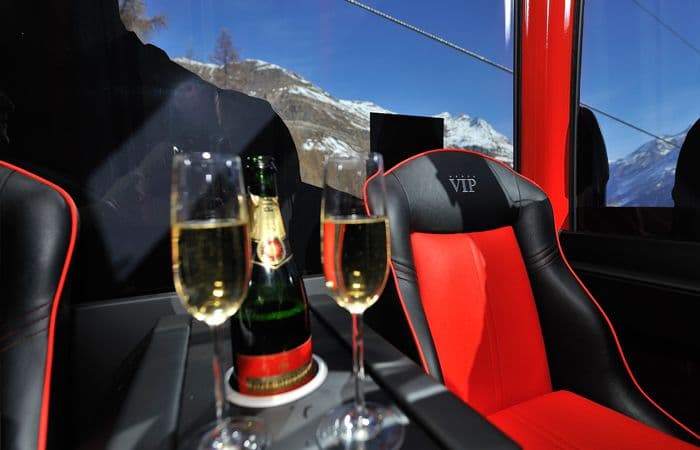 Zermatt, Switzerland
Zermatt is another Alpine cuisine mecca with well over 100 restaurants in the ski resort serving gastronomic delights from all over the world. The resort offers plenty of variety in choice. The hardest part of dining in this resort is simply picking where to go.
The Backstage After Seven is undoubtedly one of the best restaurants in Zermatt with two Michelin-stars and Master Chef Ivo Adam at the helm. For more delicacies, the Findlerhof serves beautiful European dishes with a fantastic view of the iconic Matterhorn. For something a little different, try the Cuckoo Sushi Club. It's a stylish Japanese restaurant that serves some of the most creative and unique dishes on the mountain. If you want a luxury experience, try the VIP Gondola, a custom-made gondola with a twist offering fantastic views of the Matterhorn. What's more, you'll get a bottle of champagne to enjoy on the ride.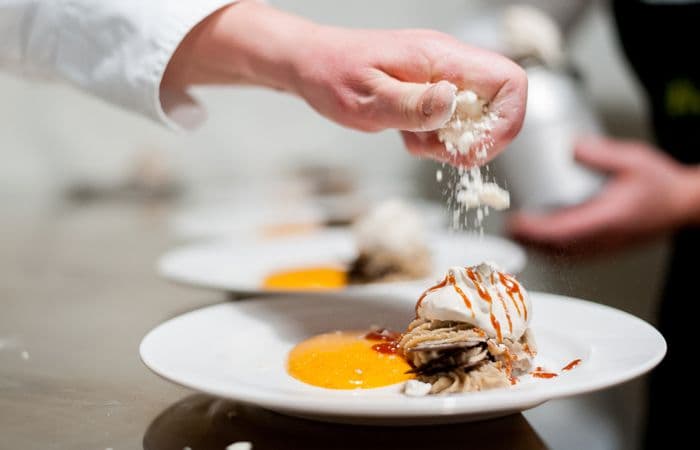 Courmayeur, Italy
Italy has always been known for its blend of intricate history, wonderful culture and mouth-watering cuisine. Throw skiing into the mix and you have a recipe for one of the best ski resorts in the world. Courmayeur brings great Italian home-made cooking to the mountains. With a short transfer time from Geneva, it is a perfect weekend ski destination. In our eyes, this is one of the best ski resorts for foodies in the Alps.
For those looking for pizza, pasta and all things Italian, Courmayeur delivers in abundance. Try the Ristorante Chalet Plan Gorret where you can dine on fantastic fresh ravioli and Mediterranean-influenced dishes. Alternatively, sit by the bar and enjoy wonderful antipasti with an espresso macchiato. A host of foodie events take place all year round such as the annual Chef in Commune which attracts famous chefs worldwide.
For more information on the best ski resorts for foodies, speak to our experts on 0207 471 7700.