If you are a fine dining fan, a food connoisseur or just a foodie who wants to expand their palette, explore our blog on the best Michelin-starred restaurants in the Alps! The Michelin Guides are known worldwide and create immense prestige and fame. Those considered worthy of one, two or three Michelin stars are acknowledged as some of the best in a given city or even the best in the whole world.
So for those of you who love to eat well alongside your time on the slopes, we have put together a guide to some of the best Michelin-starred restaurants in the Alps. Why not take yourself to the dizzying heights of culinary excellence?
Le Sarkara, Courchevel
Located in Le K2 Palace in Courchevel, this magical two-starred Michelin restaurant will leave you astonished. Le Sarkara makes desserts an artistic expression, imaginatively created by the talented pastry chef Sébastien Vauxion. His unique combinations using fruit and vegetables take you on a sweet-toothed discovery. Taste mildly spicy citrus pickled fruit, caramelised chervil ravioli or a celeriac sorbet with Bourbon vanilla. An artist at work on his canvas, Le Sarkara is truly avant-garde!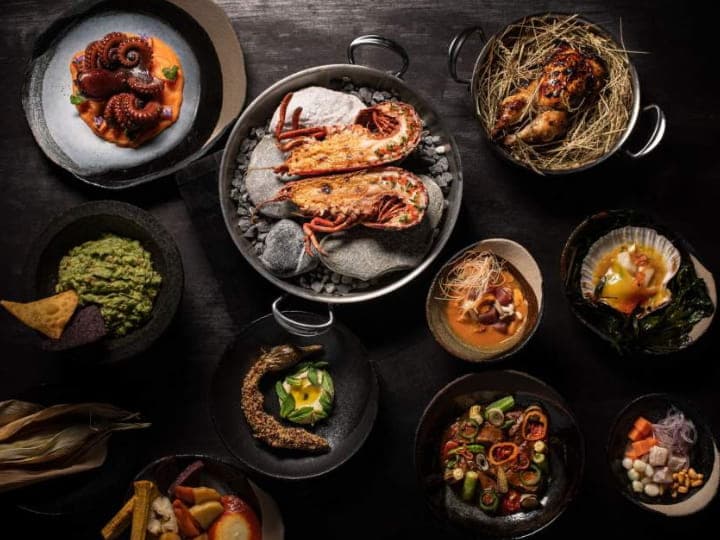 Stay At:
Hotel Le K2 Palace is a fantastic ski-in ski-out hotel in an enviable location in Courchevel. The hotel has exceptional facilities including a cinema room, wellness centre and games room.
Courchevel ski holidays
L'Atelier d'Edmond, Val d'Isère
Located at the foot of the pistes in Val d'Isère, this rustic, two-starred restaurant serves lunch and dinner menus in a beautifully restored chalet. In the daytime you can enjoy a hearty, traditional lunch in a setting, which feels like you've been transported into a cosy carpenter's workshop or a mountain refuge. Whereas in the evening the restaurant magically transformed into a rendezvous for lovers of fine cuisine and culinary skill. The chef, Benoît Vidal, creates a fun contrast by mixing typical regional dishes with Mediterranean flavours. It will most likely be your first time trying some of these combinations! Take, for example, oyster ravioli with bacon, semi-smoked pigeon or even shredded citrus fruits meringue with ginger. The interior feels comfortable and familiar with a friendly atmosphere and a roaring fire. Why not treat yourself to a refreshing drink by the fire before your meal begins?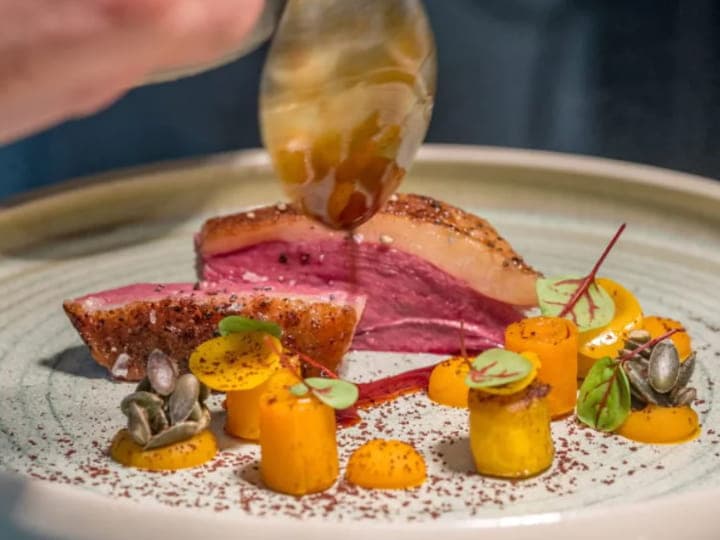 René et Maxime Meilleur, Val Thorens
Father and son chefs, René and Maxime, demonstrate a powerful synergy in the kitchen that goes beyond limitation. This restaurant in Val Thorens is not to be missed with three shining Michelin stars. René brings fine-tuned expertise while Maxime's energy and enthusiasm injects life into the food. Their special relationship translates into closely complementing elements and finely balanced dishes. It's no surprise that their surname, Meilleur, means the 'best' in French!
Their menu displays a delicate balance between traditional and contemporary cuisine. They use local produce such as Arctic char fish and ancient varieties of carrots, ceps and chanterelles (fancy types of mushroom!). Similarly, tasty cheeses and aromatic herbs, like wild garlic and gentian, are carefully selected. Some of their most popular dishes are the baked fondue with reblochon, a cheese typical to the Haute-Savoie region, served with bacon-wrapped potatoes. Another favourite also being their brown trout à la meunière, meaning lightly dusted in flour and sautéed in butter. Lastly, and not to be forgotten, the duck foie gras with honey and balsamic vinegar.
Flocons de Sel, Megève
In a luxury Relais and Châteaux five-star establishment in Megève, Flocons de Sel is at the very peak of Alpine fine dining with three, well-deserved, Michelin stars. Emmanuel Renaut's love of Alpine ingredients results in tantalising combinations of pike, char, fish, mushrooms, wild herbs and mountain cheeses. He produces dishes illustrating the different seasons, influenced by nature and made to provoke emotion. You will feel the passion and endearment towards his Alpine home in every taste as he brings his plates to life with the vast flavours, aromas and textures of the Haute-Savoie region. A meal here wouldn't be complete without a dessert from the gifted Aurélie Collomb-Clerc. Her dreamy mixtures of Swiss Meringue, Alpine milk ice cream and mirabelle compote will melt in your mouth.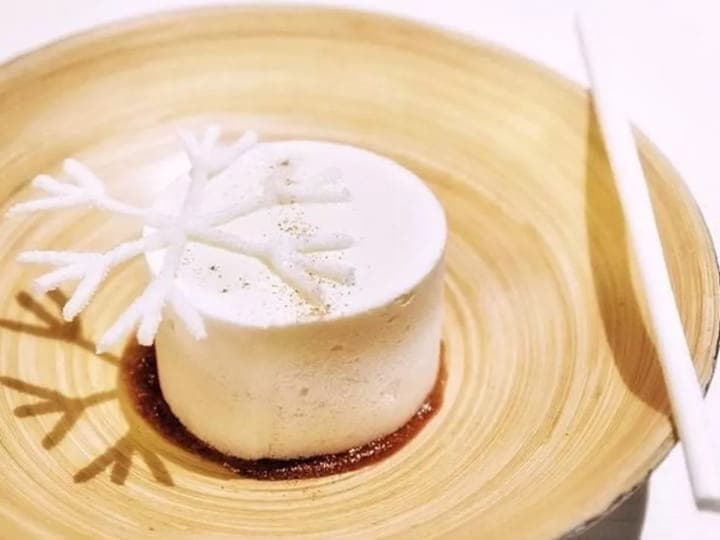 Ursus, Tignes
This one-starred Michelin restaurant in Tignes pays homage to the last species of brown bear in Savoie, the Ursus Arctos. Renowned for the harmonious relationship between its food and the environment, Ursus is a leader in sustainable culinary practise. Chef Clément Bouvier reveals the wealth of potential held by the surrounding Savoie region. He creates meals inspired by long hikes and picking wild herbs and plants from the forest. With 80% of ingredients coming from local producers, he is also a well-deserving owner of the sparsely awarded Michelin Green Star.
Full of rich flavour and representing the seasons, his contemporary-style Alpine cuisine will leave you speechless. Experience eating in the middle of the forest with each table separated by slim tree trunks and sitting under a ceiling of leaves.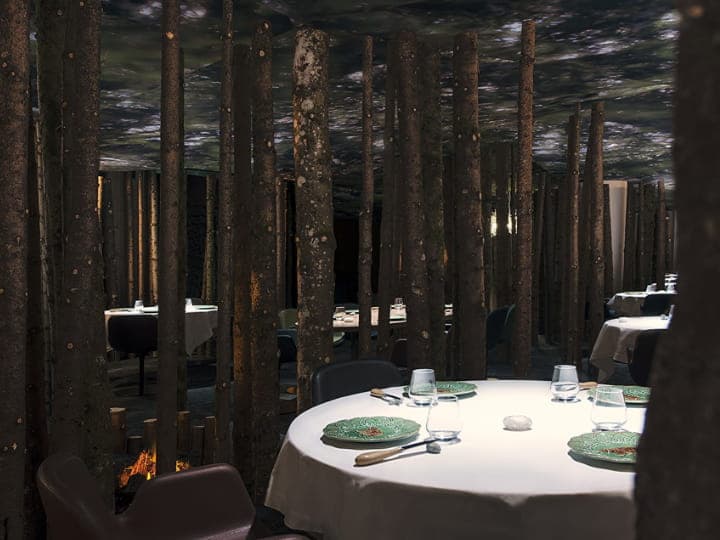 Albert 1er, Chamonix
Founded in 1903, this one-starred, family-run restaurant has been paving a culinary path in Chamonix for over one hundred and twenty years. Four generations of the Carrier family – Pierre, Marcel, Joseph, Clothilde and now Perrine, succeeded the acclaimed Joseph and Lydie Carrier. Lydie was the renowned "Lyonnaise mother" whose exceptional cooking honoured traditional French cuisine. It is still very much a family affair now run by father and daughter, Pierre and Perrine.
Head chef Damien Leveau takes inspiration from the culinary traditions of the Savoie and Piedmont area. His elegant dishes are modern, instinctive and daring. He enhances produce from the region (Arctic char and whitefish, snails, pork and lamb) with aromatic mixes of oxalis, lovage, citrus thyme, savory, lemon balm or sage. With a creative presentation and perfectly paired wine, every bite is worth savouring!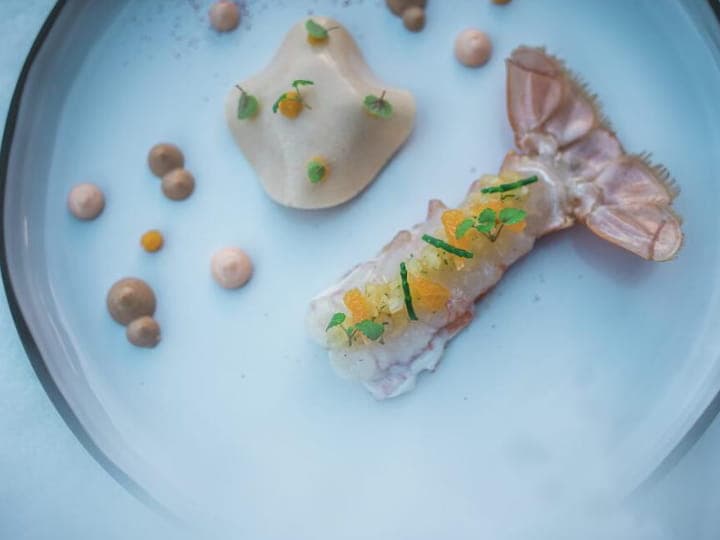 L'Ekrin, Méribel
The first and only Michelin-starred restaurant in Méribel, L'Ekrin with one star offers elegance, luxury and innovation. The descendant of restaurateurs, Chef Laurent Azoulay, playfully combines different traditions from different regions. His dishes take you on a sensory journey through his beloved homeland of Provence and adopted home of Savoie. Azoulay's inventions are colourful, light and instinctive with variations in texture. The menu ranges from some of the best Mediterranean fish, scallops seared with truffle, and Bresse smoked chicken alongside other ingredients such as pine honey, saffron and snails from Savoie.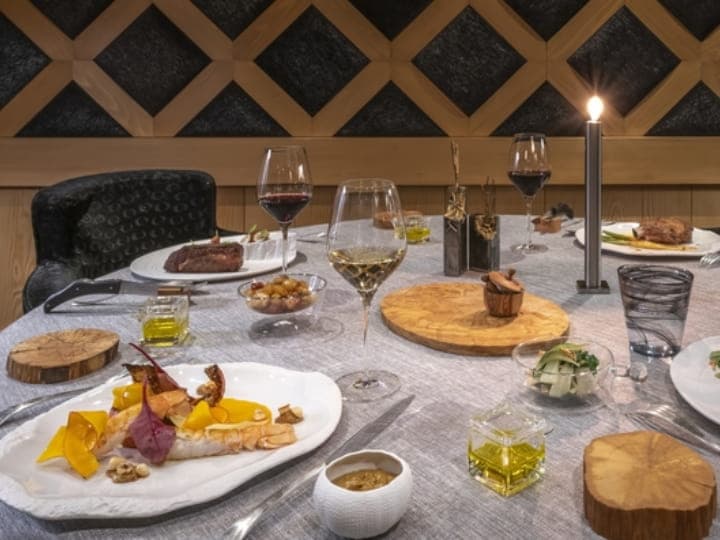 Hopefully this blog hasn't made you feel too hungry. To find out more about the best Michelin-starred restaurants in the Alps, speak to one of our ski experts on 020 7471 7700.