Understanding the difference between each board basis can be slightly confusing and it's important to know what works for your group. With so many fantastic options it is ideal to know beforehand what preferences you are looking for.
We have delved further into the meaning of chalet board and what the benefits are. Read below to find out more.
What is 'Chalet Board'?
Chalet board or 'catered chalet' is one of the most popular types of ski holiday for British holidaymakers in Europe. It essentially means that all fof your meals are included in the price at booking.*
Chalet board basis generally includes breakfast, afternoon tea, and a multi-course dinner. Some operators include unlimited wine too. A chalet chef will prepare and cook your delicious homemade meals and a chalet host will ensure the smooth running of the chalet, which includes the cleaning and serving of said meals.
The chalet staff will have at least one night off during your week's stay. Giving guests the opportunity to explore the nearby town and cuisine. We recommend guests pre-book their dinner reservations beforehand as sometimes restaurants can get booked up for larger groups. For resort restaurant recommendations, contact our ski experts who will be able to advise the best place for you.
Chalet board options are typically European and more often found in the French Alps. It combines the cosiness of a home-away-from-home and the service of a small intimate hotel. The best of both worlds. A catered ski chalet is the ultimate convenience after a busy day skiing, with your dinner being prepared right in front of you as you unwind by the warm log fire.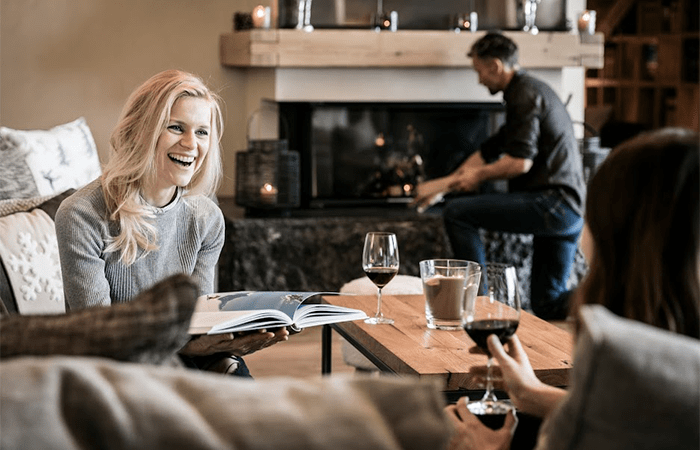 Benefits of Chalet Board
The benefits of choosing chalet board are huge. Not only contributing to a hassle-free part of the trip, choosing chalet board for your group can ensure dietary requirements are understood. Generally, chalet board menus will serve hearty delicious meals. With the tastes of the region in mind and no clean-up needed – an added bonus!
Upon arrival, the chalet hosts will agree on a breakfast time and evening dinner time. Depending on the operator these can be flexible to suit the guests. Having a pre-set schedule allows you to unwind and freshen up after returning from a busy day on the slopes.
Another great benefit of choosing chalet board for your holiday is gaining expert advice from the chalet staff themselves. There's no one better for restaurant and bar suggestions, as well as any other area of the resort. Perfect for knowing the best areas to ski, where to avoid, and up-to-date snow conditions.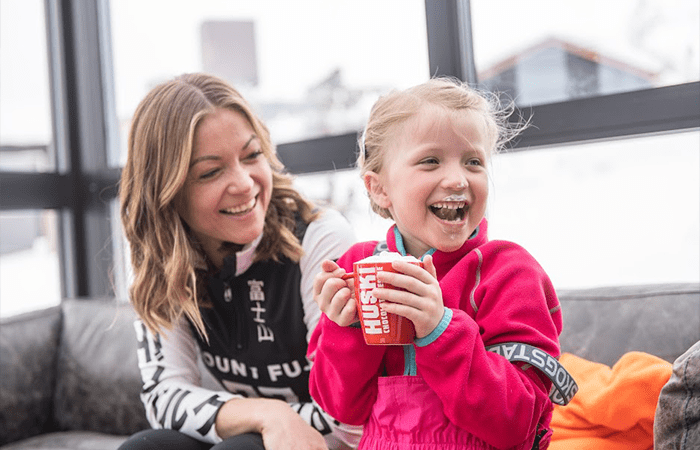 Discover More
Check out our fantastic range of chalet board properties below.
Bear Lodge – Les Arcs, France
Exclusively in Ski Solutions' property offering, Bear Lodge is a fantastically convenient hotel in Les Arcs, France. Just moments away from the piste and with all the facilities you would expect from a four-star hotel. Being a winner of the best new ski hotel 2022 at the World Ski Awards it is an accommodation option not to be overlooked.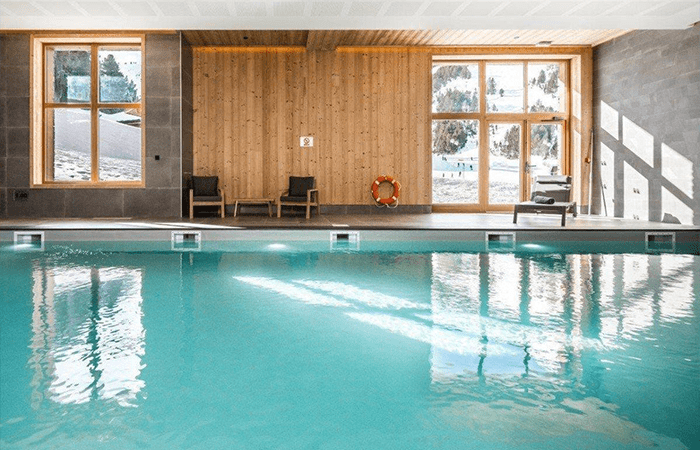 Chalet Raven – Tignes, France
Located in the Black Diamond residence in Tignes, France, Chalet Raven is a fun, slightly eccentric chalet. Perfect for groups. The chalet has a large open-plan living area and kitchen. A great space to relax in while dinner is being prepared for you. Guests of the residence have access to the private wellness suite, with a yoga studio, sauna, and swimming pool.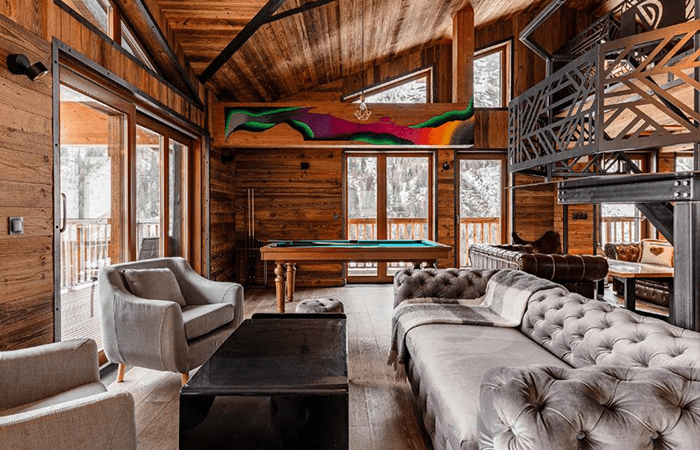 Chalet Ossetra – Avoriaz, France
For the ultimate convenience, Chalet Ossetra is nestled on the slope of Avoriaz's ski piste with fantastic views of the resort. Ski schools are just 100m away and as Avoriaz is a car-less resort, luggage is transported by snowcat, pretty unique!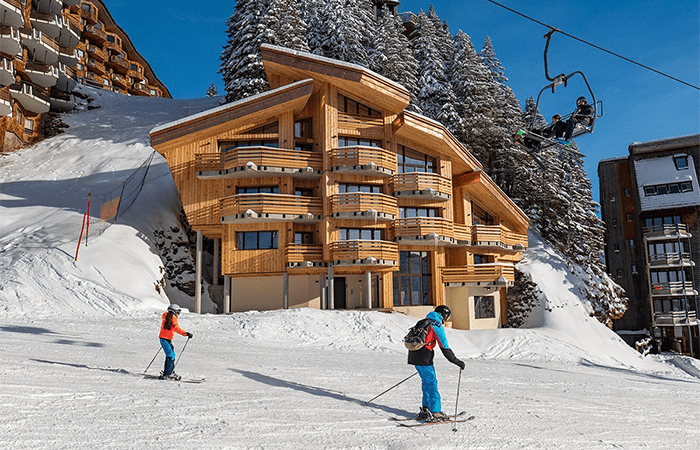 Bella Coola Estate – Verbier, Switzerland
Another great chalet board option is the Bella Coola Estate in Verbier. It is combined by two chalets sleeping up to 20 people. The Bella Coola Estate is a regal answer to a thoroughly convenient accommodation option. It has a fantastic indoor swimming pool, sauna, and outdoor hot tub for guests' use.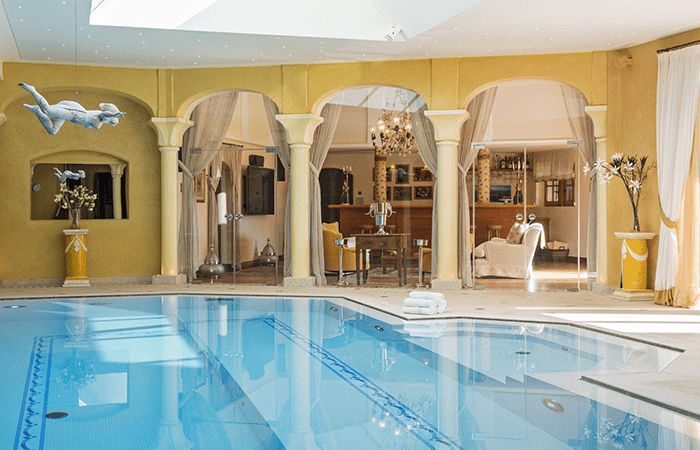 Chalet Farmhouse – Val d'Isère, France
This is a truly authentic accommodation in the very heart of Val d'Isère. Chalet Farmhouse bursts character and is a brilliant choice when considering chalet board properties. Uniquely, while the chalet retains all its historical charm, it still boasts a fabulous indoor spa area, with a pool and hammam.
Chalet Le Corbeau – Les Menuires, France
Chalet Le Corbeau in Les Menuires is a wonderful chalet board property exclusively for families with children. The chalet sleeps between 15-17 people and has brilliant facilities that will keep the entire group entertained. From a private cinema room to children's playroom, it has something for everyone.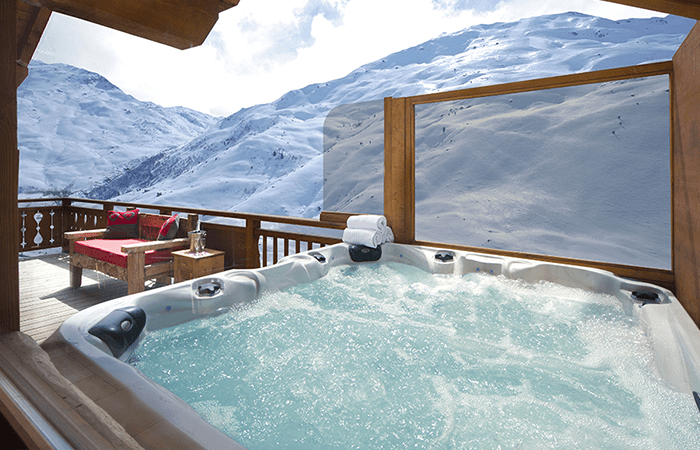 Sweet Little Home – St. Anton, Austria
Sweet Little Home in St. Anton really is a home away from home. The décor is cosy and welcoming, almost like you're in your own living room, but there's no need to clean up! It sleeps up to 14 guests and has great access to the slopes, restaurants and bars in the resort.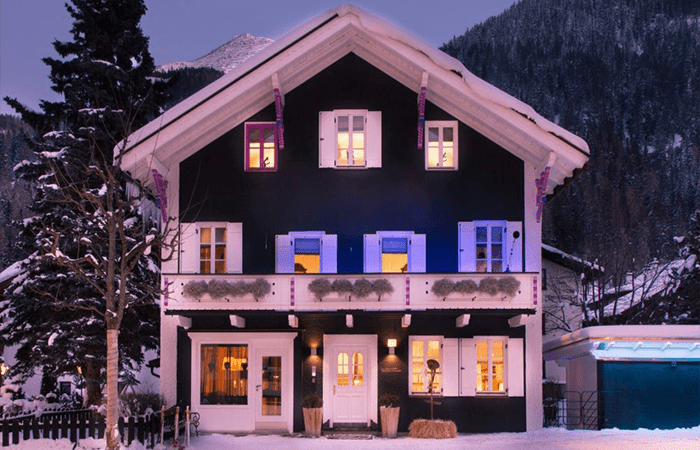 Chalet Alta – Chamonix, France
Chalet Alta is a spectacular and stylish chalet in Chamonix, France. It uniquely features a fabulous covered outdoor pool, cinema room, and sauna. With the complete addition of chalet board catering, this will make you not want to leave the chalet!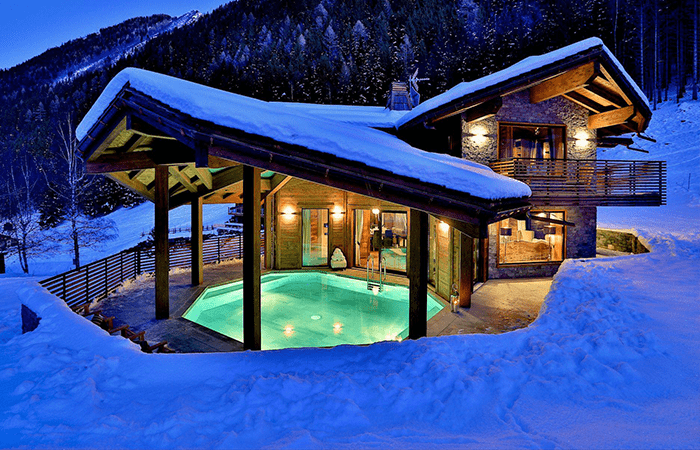 Call our ski experts today to find out more on 0207 471 7700.
*All meals within the chalet will be included in the price. Meals in the resort will be paid by the guests separately.