Self-catered ski holidays are becoming more popular among groups and families. Your own apartment offers flexibility, and moreover, a cost-effective trip to the mountains. Most importantly, you'll receive all the benefits of a hotel paired with your own space. So, what are the benefits of choosing self-catering ski holidays?
Flexibility
Whatever your motivations are during your ski holiday, there's no mealtimes to stick to. Treat yourself to a lie in, without the worry of missing breakfast, or similarly stay at après without being late for your evening meal. In short, the beauty of an apartment is that you can do what you want, when you want.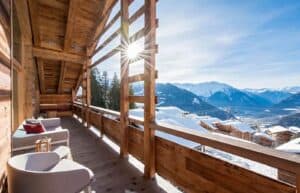 Privacy
Enjoy complete privacy for the week; with no communal dining and dedicated social areas for your friends and family to share, you can do things your way. Whatever your group size, our experts can help choose an apartment with the right living space and bedroom configuration to suit everyone's needs.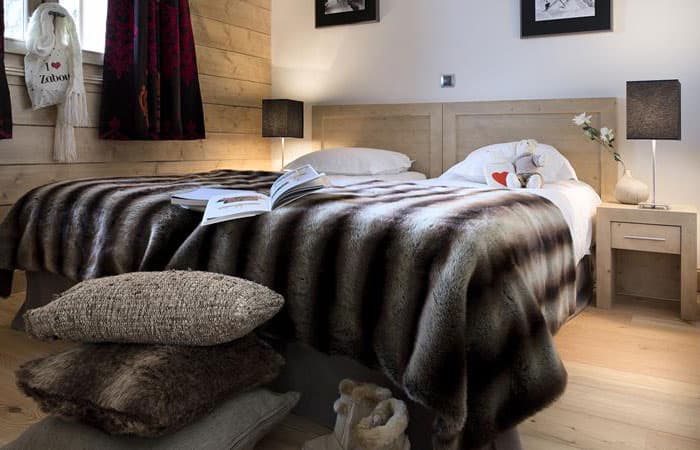 Wellness
Many luxurious apartments across the Alps have superb facilities, including indoor heated pools with hot tubs and saunas, gyms and treatment rooms. Le Ruitor in Sainte-Foy has a fantastic indoor pool, sauna, spa and bar. Alternatively, enjoy a massage or dip in the pool at the Spa Ô des Cimes at Le Cristal de l'Alpe in Alpe d'Huez.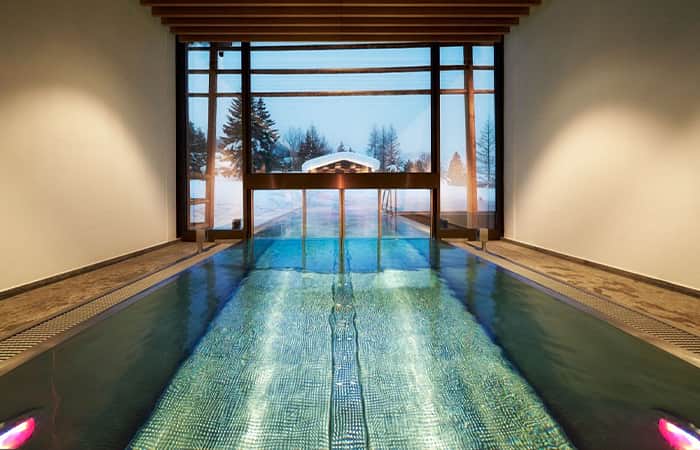 Service
Apartments with concierges are common across the Alps, expect hotel-standard service without the price tag. Order a bakery delivery with your newspapers in the morning, have your room cleaned and even have premium meals delivered for dinner. Le Centaure in Flaine has a welcoming reception with space to relax on sofas by the fire, plus daily newspapers and billiards.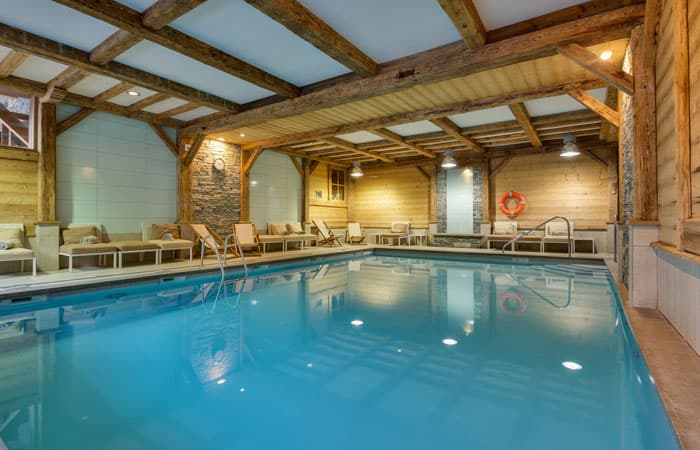 Where To Stay
With fantastic facilities – many residences have a pool and spa – these luxury apartments sleep between two and twelve. We've chosen a couple superb options for a relaxing self-catering ski holiday.
Les Granges du Soleil, La Plagne
Opposite Mont Blanc in the Paradiski area, Les Granges du Soleil has a central location in Plagne Soleil. Book your skis and pass in advance, picking them up in the residence when you arrive. From your self-catered apartment it's just a short walk to the slopes. Complete with pool, spa and an on-site restaurant, you're well looked after.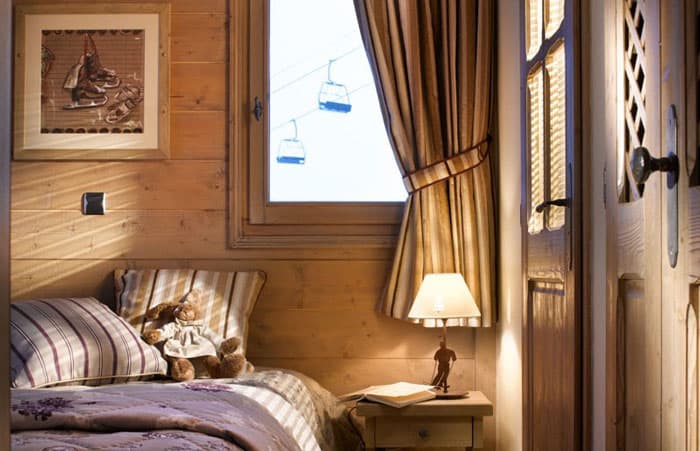 Les Cimes Blanches, La Rosière
At the foot of the slopes in La Rosière, Les Cimes Blanches is a short walk from the Eucherts Express and the ESF meeting point. Within the San Bernardo ski area, you can cross the border La Thuile in Italy. A shuttle bus stops outside the residence connecting Les Eucherts to La Rosière.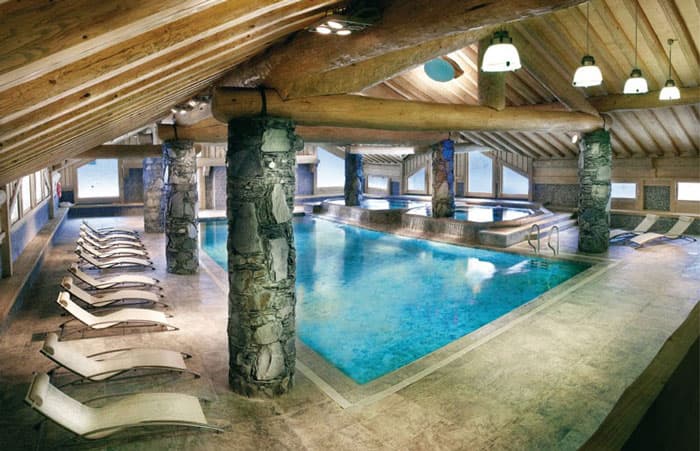 Le Lodge des Neiges, Tignes
These luxurious apartments are well located in Tignes 1800. You can easily ski down to Tignes-les-Brevières, or take the lift up to Tignes Le Lac. After a day's skiing, unwind in the Boutique Residence le Lodge des Neige's wellness centre, warming up in the hot tub or indulging in a massage.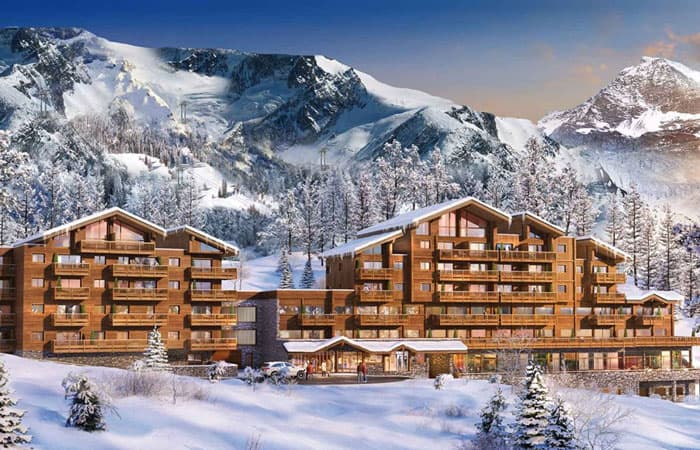 Self-Drive Holidays
Have you considered driving to the Alps? Our self-drive ski apartment packages are increasingly popular. Forget about luggage allowances and busy airport queues; pack up the car and hit the road. We love how the scenery changes as you make the climb up the mountain at the end of the drive. This is a fantastic way for families and groups to reach resort and offers great value compared to the cost per person of booking a flight. Having your car also opens up the opportunity to visit a big supermarket down the mountain to stock up on supplies at a lower cost than in resort. Find out more about our self-drive ski holidays.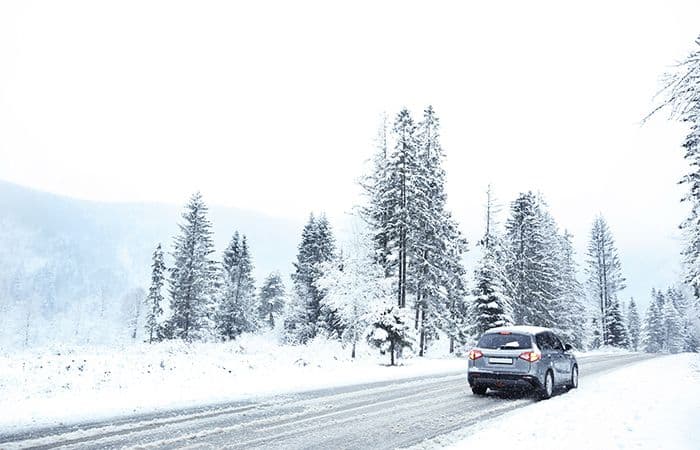 For more information about self-catering ski holidays, please speak to one of our ski experts on 0207 471 7700.