If you thought the only fun to be had once the sun sets on the slopes was après-ski bar-hopping, then think again – there are plenty of things to do in Zermatt.  We've selected our pick of the top five unique mountain experiences and winter activities.
Stay At:
One of the leading hotels in the Alps, Zermatt's Mont Cervin Palace is located near the Gornergrat station in the centre of town.
Zermatt ski holidays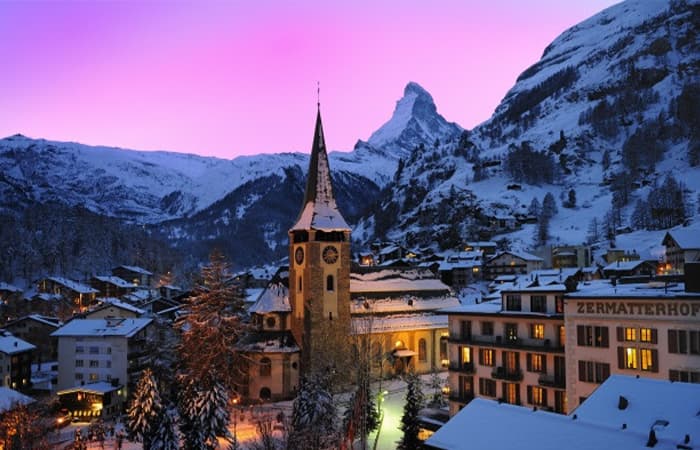 Moonlight Descents
Gliding down the Rothorn when it's bathed in soft moonlight is a wholly unique experience. The evening begins with a meal at cosy Restaurant Rothorn, where you can tuck into a traditional Swiss fondue while enjoying magnificent views of the Matterhorn. Once your energy levels are sufficiently replenished, wrap up tight for your moonlit run, where you'll be safely accompanied by members of the Zermatt Bergbahen AG Piste and rescue service.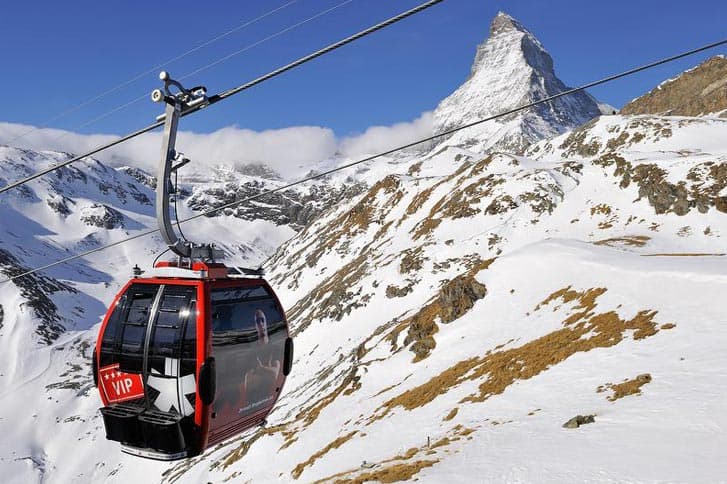 VIP Gondola
Relax and unwind amidst the snow-capped mountains on a VIP gondola ride. Nestled into a leather armchair with your arm around that special someone, sipping a glass of champagne, it's an unforgettable way to experience the Swiss Alps. Choose a return trip from Zermatt to Trockener Steg, or hop off at the top and enjoy the breathtaking view of the Matterhorn from the station – just 4km away as the crow flies. Grab a bite to eat by a roaring fire at the Ice Pizzeria, then head off down a freshly groomed piste.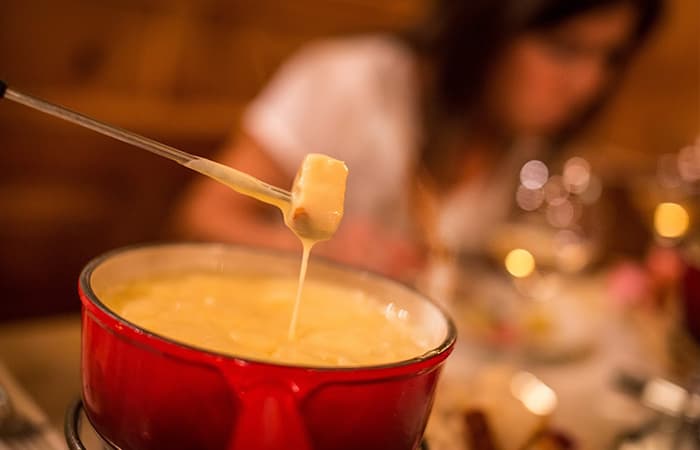 Gondola Fondue
For another one-of-a-kind way to amp up your gondola ride, try our gondola fondue experience. As the sun starts to set against the glistening snowy backdrop, you and up to three guests can tuck into a warming fondue washed down with a drop of Valais wine. Finish off with a selection of desserts and, of course, a glass of toe-tingling local schnapps.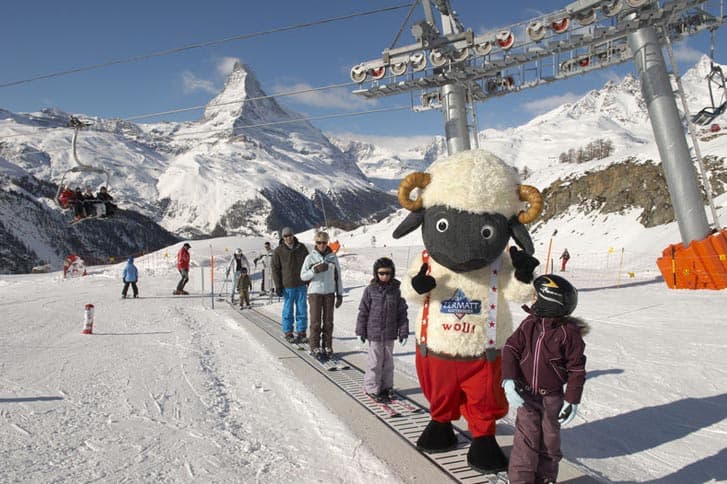 Piste Preparation
Get stuck into the heart of the Zermatt ski slopes. Find out what work goes into making those freshly prepared pistes look so tempting in the morning. You'll get to spend four hours with an experienced snowcat driver for a taster of their evening work. Trips run from a range of areas: Matterhorn glacier paradise, Rothorn and Gornergrat. This is a solo trip, not one for the kids, as you have to be 16 or over to climb aboard.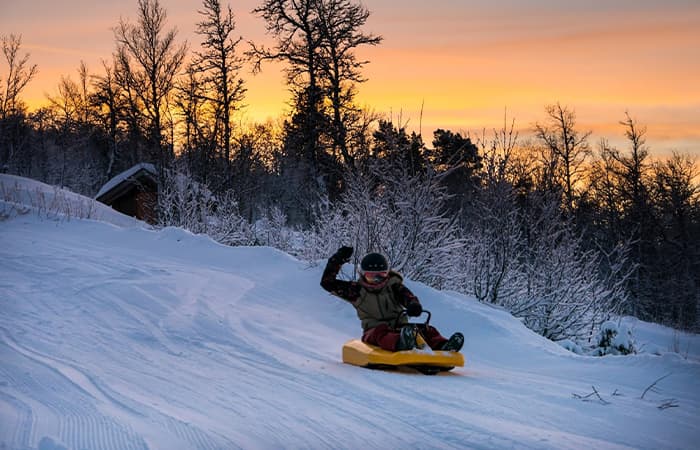 Tobogganing at Furi
Keep the fun going after a sunny day on the slopes with an early evening visit to Furi from Zermatt. Departing at 7:30, you'll arrive in time for a traditional Swiss meal in this sleepy hamlet. For down-to-earth food, try Restaurant Furri (located at the junction where the red 52 and black 62 pistes merge). It's a rustic chalet-style building serving up homemade potato rösti dishes, melted cheese on bread, grandmother's vegetable casserole, and fruitcakes. Next on the agenda is the high-speed toboggan ride down to Zermatt. This is heaps of fun for both the young and the young at heart.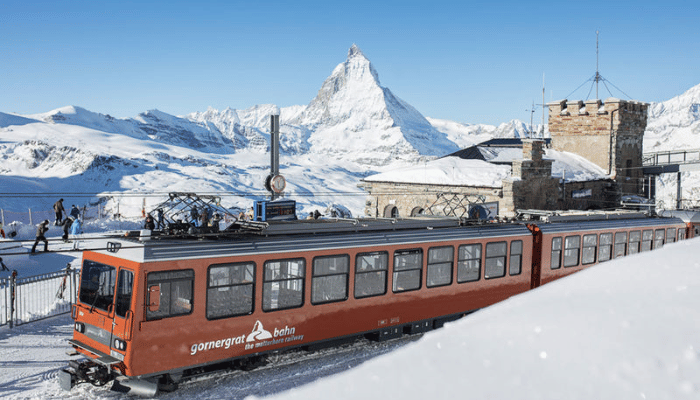 Ride the Gornergrat Railway
Swiss railway rides make any commute a dream. Relax and admire some of the most iconic views from the comfort of a train seat. On the Gornergrat Railway, you can have beautiful views of Dufourspitze (Switzerland's highest peak at 4,634 m), the Gorner Glacier and the iconic Matterhorn. It's a great alternative way to appreciate the natural wonder of the Swiss alps.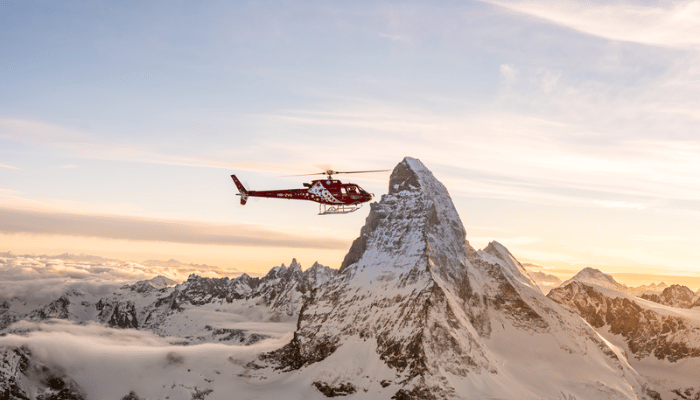 Helicopter Tour Around The Matterhorn
View the Matterhorn from a unique perspective. The Matterhorn in all its glory is a sight to see from ground level, let alone from the sky. Sightseeing helicopter trips are available with Air Zermatt. Make your ski holiday one to remember with an amazing view of one of the world's most iconic mountains.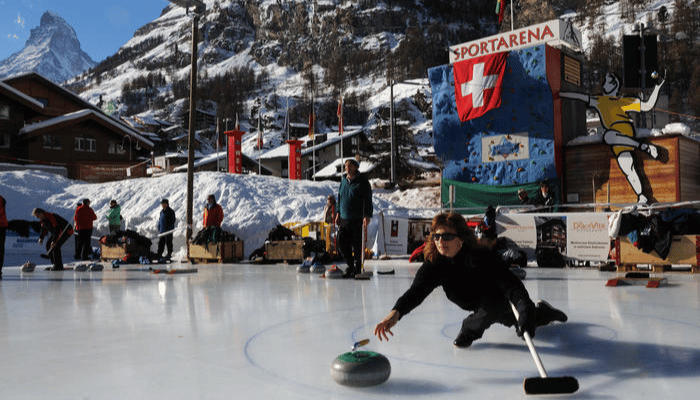 Ice Skating and Curling
The Obere Matten ice rink is a combination of natural and artificial ice. It is located in the middle of the village and is a great activity for families. You can also watch the local ice hockey team, EHC Zermatt, train on certain days. There are also 6 outdoor curling rinks where you can try your hand at the sport. The Zermatt Curling Club is one of the most successful in Switzerland.
Find out more about the best things to do during your ski holiday in Zermatt ski resort by calling our ski experts on 0207 471 7700.