One of the most recognisable faces on British television and Ski Solutions client. We hear all about his relaxed family ski holidays in the Alps, perfecting his ski technique, and racing Kirstie Allsopp.
Do you ski, board or both?
Ski! Never had a go at boarding, and don't think I ever will – I'm too old for that.
Tell us about skiing with your family.
My children are now 10 and 12 and I guess having not learnt to ski as a child (and my skiing reflects this!), I thought it would be a wonderful thing to enable my children to ski as small boys.
I think teaching small children to ski can be expensive, a little painful and not very rewarding, but the payoff I always believe is that once they've learnt it will be an activity that we are all able to enjoy together forever.
However, at the end of last season it dawned on me that they are now much better skiers than I am! On the last run of our holiday I was thoroughly enjoying skiing behind my ten year-old and watching him as he was looking so elegant and graceful but there was a little flicker across my mind thinking 'ahh, you little devil'.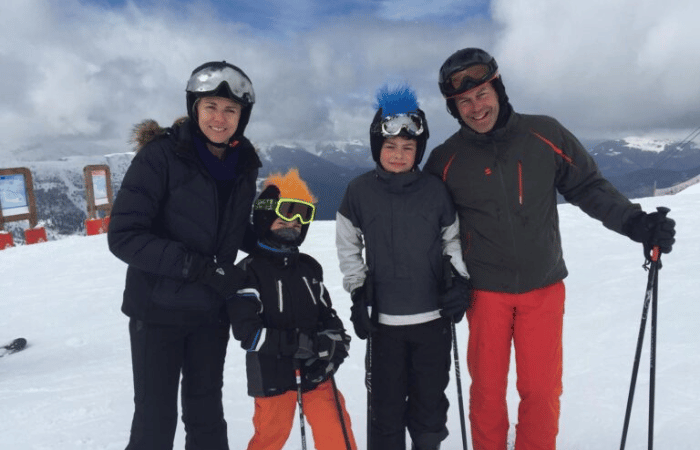 Do you have a favourite ski resort?
Well we've been to Méribel for the last three years and really loved it. It's right in the centre of the Three Valleys so you can get anywhere. There are wonderful lunch spots and the skiing is sensational.
For you and your family what are the ingredients that make up the perfect ski holiday?
Obviously good snow and blue skies. Friends to play with and long lunches. We normally go with a large group of four or five families, the kids all ski well together, the adults all ski well together and it's all a very happy time.
Have you ever worked in the Alps?
Kirstie Allsopp and I did a show called Vacation Vacation Vacation a few years ago where we went off to the Alps.
One of the most fun things about making that whole series was doing the toboggan ride in St. Moritz which was just superb! I mean it seems strange to say that we were working at the time… I think someone at Channel 4 must have watched it and thought I'm not paying you to do that! It looks like far too much fun, and it was.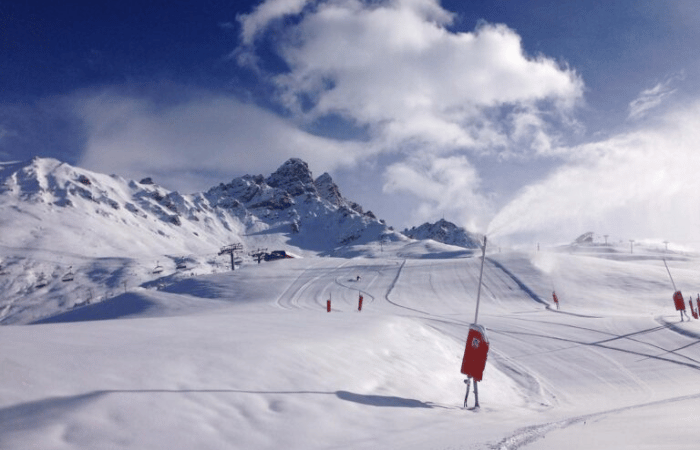 What is left on your ski bucket list that is still yet to tick off?
Well I don't so much have a bucket list but I'd love to ski more elegantly. I'm a typical bloke on skis I guess, quick but without much style.
Ideal après ski – beers and dancing in your boots, or hot chocolate and cake?
Beers and dancing in my boots! I think skiing actually suits my natural sleep pattern, early to bed and early up. So ski early and ski hard, take a long late lunch, don't ski much after lunch, have a bit of après ski, and then get to bed nice and early.
Your wife is Australian, have you ever skied down under?
No, I've never skied down under. My wife used to live in Melbourne and she'd go off skiing for the weekend. I guess people don't really think of Australia for skiing, but it's where you'll find the Snowy Mountains and the clues in the name…
What do you get most excited about when planning your ski holidays?
I think just being able to spend your days being active but also having nice long lunches, bottles of rosé and hopefully some beautiful weather. On any skiing holiday you are going to have some relaxing time away from the pressures of the day to day grind with good old friends and family; it's a wonderfully social sport that everybody enjoys together, kids and adults combined.
Downhill ski race, you and Kirstie Allsopp, who'll win?
I think it would probably be quite competitive… We skied together in St. Moritz and I was quicker than she was, but I mean girls tend to be technically better. I was there just hooning down the mountain. She was being rather more delicate. But yes, I would win.
Can we expect a special ski edition of Location, Location, Location? Perhaps Resort, Resort, Resort?
Well wouldn't that be fun! We did a series called Relocation, Relocation in which a couple were looking for a house in Northumberland and also a ski apartment so off we went to Morzine and it was a great opportunity for me to scope out the market.
I would love to buy somewhere in the Alps. Emotionally I think it would be a wonderful thing to have, but I also think I might feel restricted to one resort and not able to explore other mountains.