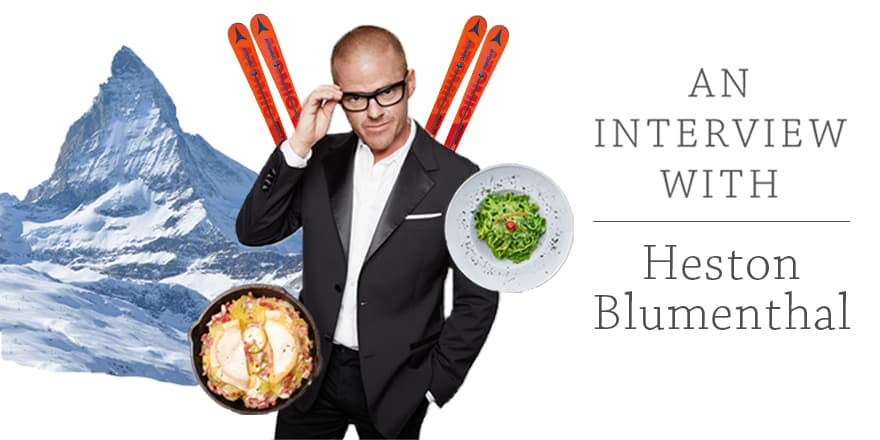 I first met and skied with Heston Blumenthal more than 10 years ago in the Tyrolean ski resort of Ischgl. His famous restaurant The Fat Duck had just been named the best in the world. But Heston himself wasn't yet quite as famous as he is now. In fact, I must be honest – I'd scarcely heard of him!
Having exhausted himself building up his repertoire and reputation as a chef he'd almost abandoned the mountains – but here he was, re-kindling his passion for the sport he'd last tried almost two decades earlier when he was in his 20's.
Yet when he finally took to the slopes again he picked it up like a "fat duck" to water.
"I'd almost forgotten how thrilling skiing is," he said. "I couldn't believe it had been so long since I had experienced that wonderful adrenalin rush and joie de vivre. It's so much removed from being a chef that I find it hugely relaxing – and exciting!"
And even when a snowboarder hurtled into him, breaking a pair of those trademark Blumenthal glasses, he soldiered on with a spare pair of mine I happened to have with me.
Since then Blumenthal has skied as often as his busy lifestyle permits – most recently in my favourite resort of Jackson Hole, Wyoming – with me trying to keep up with him!
Do you have a favourite resort?
Completely depends on the season but my current favourites are:
Jackson Hole, Wyoming, USA – Part of the Bridger Teton National Forest, Jackson Hole is made up of 2500 acres of rugged North American terrain – all of it wonderful.
Zermatt, Switzerland – The wild nightlife and towering view of the Matterhorn makes this resort a joy to visit throughout the year.
Courmayeur, Italy – The food is so good I'm campaigning to change the name to 'Gourmayeur'! The slopes are steeped in history and the people are extremely hospitable.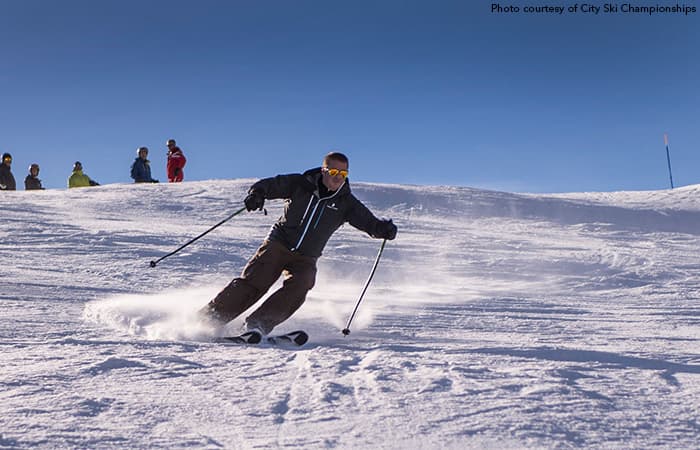 When did you first try skiing?
I must have been about 14 when I went on a school ski trip to Passo Tonale, Italy. The mountains were incredible but the memory that still stays with me was this horrible dish we had each night – pasta with tomato out of a tin. The next time I went was in my late teens, to a tiny village in the Swiss Alps. I remember thinking I was going flying down the slope – but then I looked down at the snow and realised I was crawling slower than a snail. So slowly actually, that I nearly fell over from the lack of momentum!
However, my first proper ski was back in 2005 when a TV producer invited me to a trip to Ischgl, an Austrian ski resort. Within moments of jumping on the first drag lift, my skis crunching on the crisp snow, with the sharpness of the air – I was grinning like a Cheshire cat. I've been hooked pretty much since then.
Are you a fan of the après ski scene?
Absolutely – that's half the fun! When I find myself in a mountain restaurant, I'm not looking for Michelin stars. What I'm after is stripped back, modest food with big flavours and a local wine. I often go to Courmayeur in Italy and the Aosta Valley has one of the best après-ski scenes in the world. Fresh tomato bruschetta, ash potatoes, sausage tagliatelle. The beauty is that these dishes are light enough not to get in the way of afternoon and evening runs.
What do you love most about skiing?
It's difficult to put into words, but for me, it's a form of meditation. My mind is entirely focused on the task at hand and I'm fully aware of each stress and strain in my body, the balance and speed needed on the slope. I'm never thinking about what I did yesterday or worrying about tomorrow – I am absolutely in the moment. It's a type of kinetic release that's rare in everyday life. I love skiing anywhere really. One day I'd love to ski in the Andes, but I love Courmayeur and Zermatt. And Jackson Hole too now I've made my first visit.