Chimene "Chemmy" Alcott, World Cup Alpine ski racer, scarcely needs an introduction. Britain's most famous and successful female skier was named after Sophia Loren's character in the 1961 film El Cid. She started skiing when she was just 18 months old on a family holiday in Flaine, and first raced at the age of three. In 1993 she won the Etoile D'Or French Village Ski Championship, became a member of the British Junior Alpine team in 1994 and won the 1995 Sunday Times Junior Sportswoman of the Year award.
She would later compete in all five disciplines: downhill, super G, giant slalom, slalom, and combined. Chemmy raced in four Winter Olympic Games and seven FIS World Championships, was overall Senior British National Champion seven times and British Ladies Champion eight times. She retired from international competition after the 2014 season but has certainly not eased up on her skiing schedule, despite giving birth to a baby boy, Lochlan – better known as Locki – in January 2017 (guess what – it was snowing at the time).
Here I talk to Chemmy about her last year, next winter season and everything in between.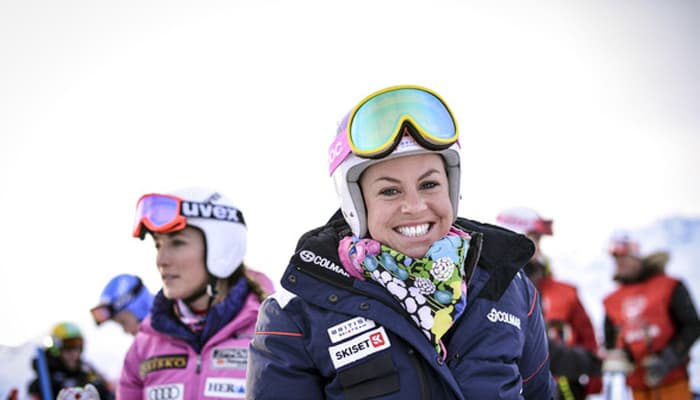 How was last winter for you, Chemmy?
It was a whirlwind. I definitely spent more days on snow than off. Between coaching young whippersnappers for our club, CDC Performance, working on Ski Sunday, being part of the BBC Olympic Team and having the chance to ski on Korean snow – and then all the fun days shredding just for me in between! At CDC we try to change the way the world thinks about sport. It's not just about winning or losing – it's an imperative journey teach you skills to deal with the roller coaster ride of life.
And what about the coming winter?
This winter we plan a little less skiing. We have a home now and our son is needing more input and stimuli from us, so it isn't fair him being carted around from hotel to hotel (well – until he catches the skiing bug that is!). But, for the first time in a long time, I am hosting a heli-ski trip in March to Alagna which is just the best job in the world. I can't wait!
Did you enjoy helping the Ski Sunday team cover the Winter Olympics in South Korea? It looked as if you did!
Yes, I loved being part of the team. I am the ultimate winter sports fan so being able to watch a whole variety of sports and share my knowledge and passion was a dream.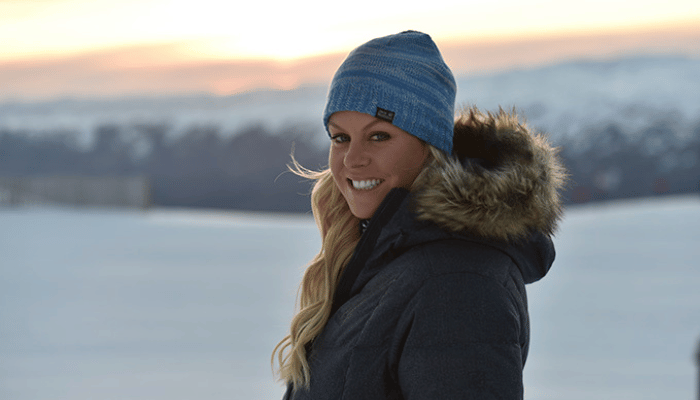 What were the highlights – and funny moments?
Oh gosh, so many highlights – and lots of funny ones. I had the opportunity, sitting next to Olympic and World Champions, to get lessons in their sports. I was dolled up in heels but didn't let it dent my enthusiasm to learn! Valentine's Day was the day of the double luge event at the Korean Winter Olympics and of course, I wanted to try it with someone. Ben Kilner, the Olympic GB snowboarder, was the only one around. We had a skeleton sledge in the studio so, despite the set-up being dramatically different from the luge set-up, we tried. I am heavier than Ben, so I opted to go on the bottom. With Ben's added weight on top of me, the ribs of the skeleton were digging painfully into my back. I was picking up my feet and my core was engaged to the max lifting him up. We were videoed and whilst my face is contorted with pain and effort, Ben is on top smiling. Only then did I realise he was dragging his feet and so I was taking his whole weight!
What do you think GB's success means for the future of winter sports developments in the UK?
I hope we capitalise on the success we achieved and put more development into grass-roots skiing channelling young talent through a clear pathway to the top.
Now that you have a young family, when do you think you'll take your son skiing for the first time – and where?
We already have! Locki 'skied' at 14 months in Tignes and then in Flaine with Dougie and I. When I say skied – he had boots and skies on and we kind of held him up. I know people might say we are pushy, but he has been asking us for weeks and every time we came back from training our team he was in his little ski boots. Just recently we took him to Chel-ski, the dry slopes just off the Kings Road in London, for a lesson which is just perfect for beginners! He loved watching himself in the huge mirror and we could change the gradient and speed to suit him.
Any advice for skiers with young ones in the mountains?
Family ski trips are the best family trips! Sharing new experiences in a healthy, fun environment is not to be missed.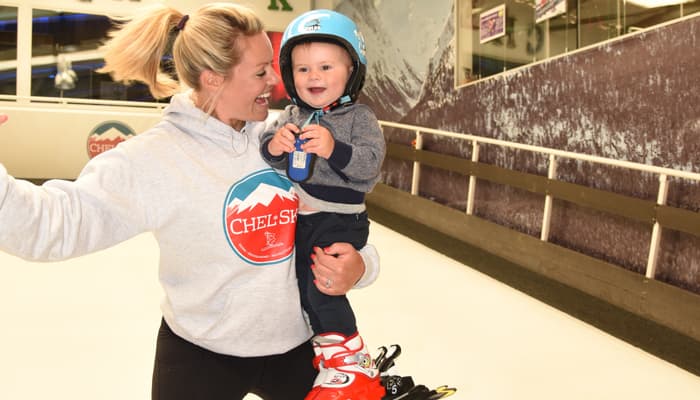 Quick-Fire Questions
Favourite ski resort? No favourite resort really – it's not where you go, it's how the conditions are and who you are with.
Number of resorts skied? Well I did 40 winters back-to-back (Southern and Northern Hemisphere between the ages of 10 and 30, travelling to a different resort every week at least). I've never really thought about making a list and adding them all up…
Best mountain food? A hearty, perfectly cooked steak at La Peau de Vache – halfway down La Face in Val d'Isère. Heavenly and so justifiable.
How do you relax off the slopes? Hot and cold! Hot tub then rolling in the snow!
Must-pack item? Fat powder skis – just in case.
If you weren't a skier what would you be doing? Some kind of sport full-time – I love challenging myself physically. I'd probably try to be a surfer.
Where's left on your ski wish list? To ski Japan, Gulmarg in India and Portillo in Chile. And so much more…
Three of my favourites too! I'm sure they'll be thrilled to welcome you. Thank you Chemmy!
Interview by Arnie Wilson