Even though my boys are now adults, if asked what their favourite holidays were as children, they without fail say, 'our Steamboat ski holidays'.  What's not to love about snowball fights, snow angels, hot chocolate, hearty food, glowing cheeks and nights of sound sleep through pure exhaustion? And of course, there's the skiing itself.  The joy of winding down a slope together. The satisfaction for the youngsters at quickly becoming better at something than their parents.  Before I knew it, I was shouting 'boys, slow down and wait for me'!
Magical memories indeed but behind every good holiday there is good planning.  Bear in mind some of these simple recommendations from the experts at Ellis Brigham Mountain Sports to help you make sure your long-anticipated ski trip leaves you with a warm fuzzy feeling.   It served me well for many years!
Harriet Cavill, the kids clothing buyer at Ellis Brigham explains, 'It's a fallacy that kids don't feel the cold, it's that they just take a bit longer to realise they are cold, and by then a day on the slopes can be ruined.  Here are her tips, many of which are relevant to the grown-ups of the family too.
Choose mitts over gloves – they are easier to wear and being able to curl the fingers into a ball keeps the circulation flowing better.  Barts Mitts come in such cute styles for younger children that even the most reluctant wearer can't resist them.  I particularly love this unicorn style but there's also a fox and a dragon.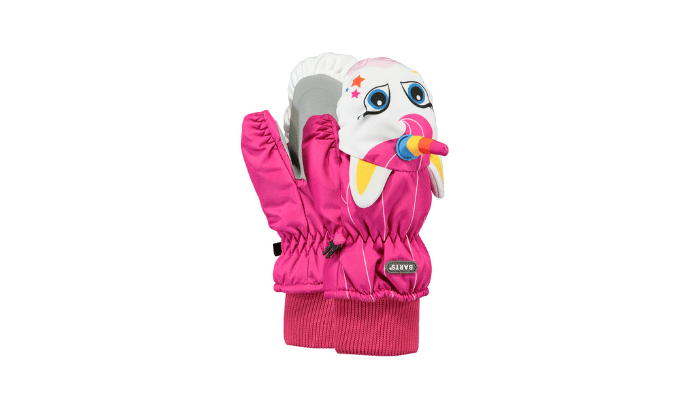 On the way to and from the slopes and during pit stops, keep heat loss through the head to a minimum by making sure you've got a beanie to hand. Stand out from the crowd with the Frient Beanie from Barts.  Warm and fun – simply swipe the sequins to change colour and stand out from the crowd.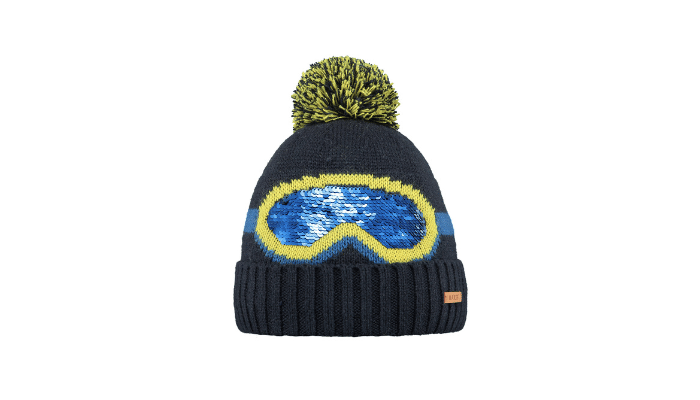 For younger children, an all-in-one is a great choice as their proximity to the ground and the fact that they seem to love throwing themselves down can lead to snow getting inside jackets and pants.   This one has leg loops that secure the leg ends to the boots and elasticated inner cuffs that'll prevent the snow from getting inside.  And the contrast panels will make your child easy to spot in a crowd.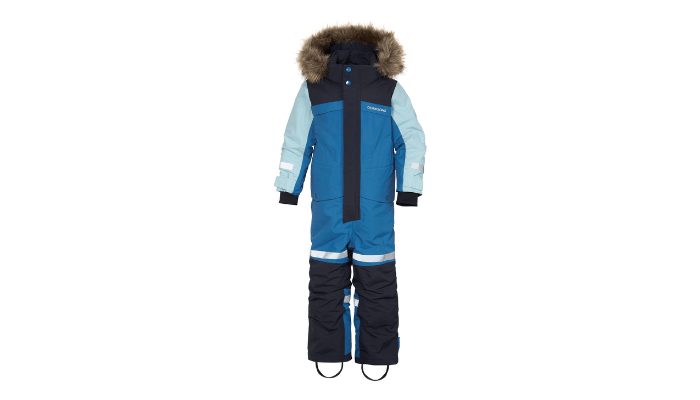 Make your investment work doubly hard by choosing a jacket that your child is happy to wear throughout the winter.  Pullover jackets are on every trendy skier's wish list. With a touch of print, this jacket has the edge on snow, while the chic colours make it a versatile everyday coat.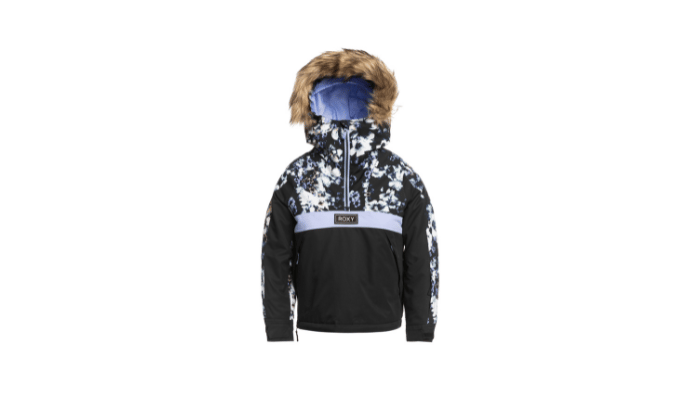 Keep feet dry and warm before you put your ski boots on with a good quality, well-insulated, grippy-soled pair of snowboots. Brands like  Sorel and The North Face do mini-me versions of their popular adult styles.
Skiing is thirsty work so make sure you keep water on hand.  An insulated flask is a must to avoid it becoming an icicle.  This one has a wide mouth and an easy-to-use flip straw lid. The last thing you want is spilt water adding to the cold temperature.
When energy flags or the next slope seems daunting, keep a stash of bribery treats in your pocket.
The sun is stronger at altitude so avoid cracked lips and burnt noses with a good portable sunscreen.  A stick is easy to apply to ears, nose, lips and face and is non-greasy and water-resistant.  Pop one in each jacket pocket so that if your kids are in ski school, they can top themselves up.
We always wear or carry a Buff.  When the temperature tumbles, – you know how it is when it's too cold even to breathe in the air –  it can be pulled up to cover the nose and mouth, to give you that snug as a bug in a Buff feel.  It also stands in as a head warmer if you don't have a beanie on hand for break stops.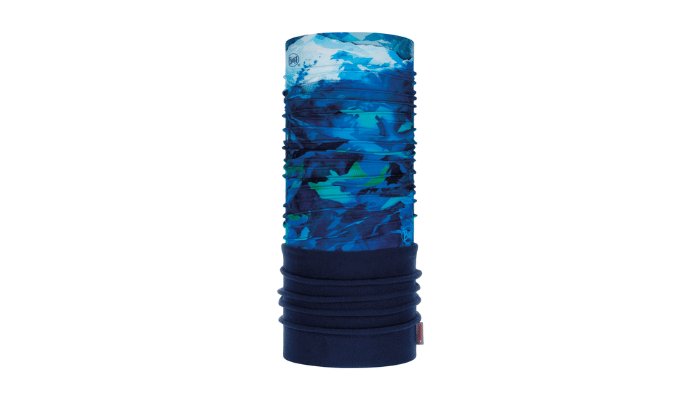 So that's warmth and comfort protected, but now to the most important protection – heads and eyes.  Steve Wells, Ellis Brigham's equipment buyer and dad of two young daughters says: "Most resorts specify that helmets are compulsory for children, especially if they are in ski school. For smaller children, choose an adjustable helmet that they can use season after season. They start around the £50 mark.  While for teenagers, some adult helmets come in a junior version.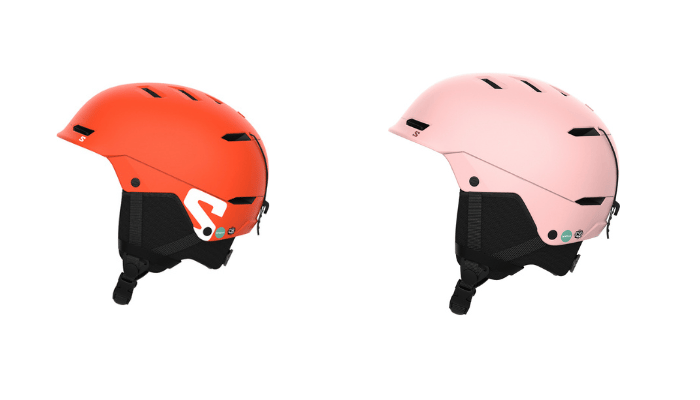 Goggles are easier to keep on the face, and harder to lose than sunglasses, plus most styles now fit over prescription eyewear. This small-fit goggle is ideal for younger children and has a mirrored coating, something not usually found at this price.  Or for older children, this classic Oakley shape is a scaled-down version of their adult goggles.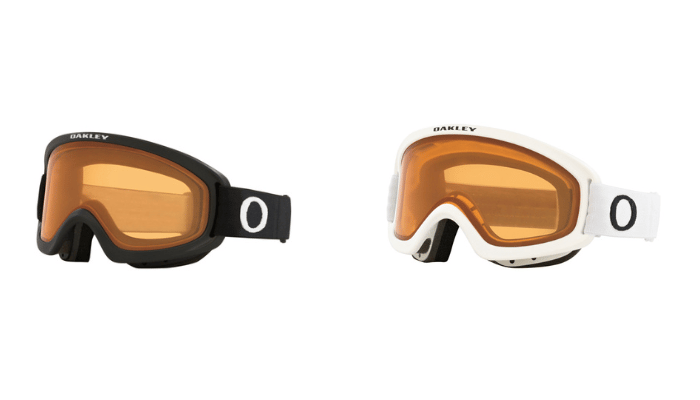 Let's face it, kids don't look after their gear! This great accessory made from recycled plastic bottles fits on the front of the goggles to protect the lens and comes in a wide variety of fun designs including this husky one.
So that's your kids protected, now all you've got to do is chase after them!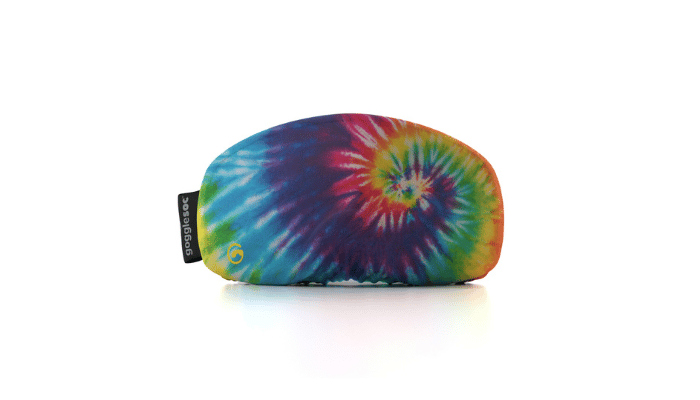 Ellis Brigham is one of the leading winter sport retailers in the UK.
To find out more about family ski holidays please speak to the Ski Solutions experts. Call us on 020 7471 7700.
Other posts you may like:
Best French Ski Resorts for Families