Chalets with Swimming Pools
Here's our pick of the 10 best luxury chalets with swimming pools. Ski chalets are the perfect way to enjoy some quality time together when you're not out on the slopes. Chalet accommodation offers an extra degree of welcome privacy. Leave behind crowded public pools and head for these ski chalets with swimming pools.
Chalet Nimbus, St. Anton
Chalet Nimbus is one of the best chalets with swimming pools in St. Anton in Austria. Boasting wonderful facilities up to 10 guests can enjoy, Chalet Nimbus is one of our favourites. The property was built by an award-winning architect, and its penthouse-style layout is truly luxurious. The outdoor swimming pool boasts underwater lights that illuminate the water in a magical way, inviting you for a dip.
Stay At:
Located just a short stroll away from central St Anton, this chalet has convenient access combined with fantastic views of the Rendl mountain.
St. Anton ski holidays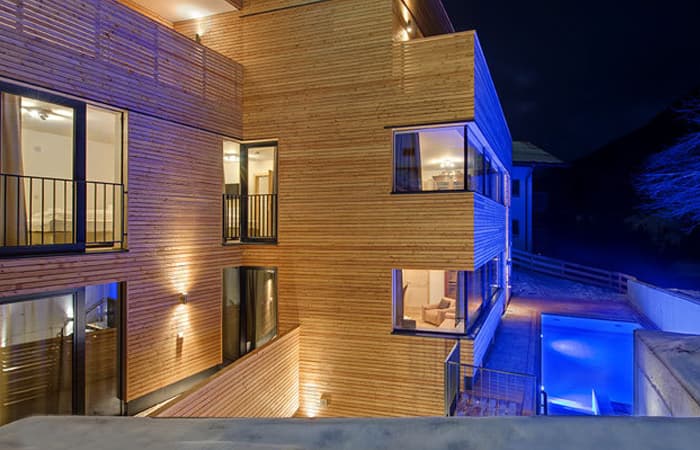 Chalet Merveilles, Tignes
A modern ski chalet with traditional touches, Chalet Merveilles is one of Tignes' finest. You may think it's prime location opposite the slopes is what makes Chalet Merveilles so special, but that's until you've seen the swimming pool. Like an underground spring, relax here in pure bliss as the perfect complement to the sauna and steam room. One of the best chalets with swimming pools, this gem in Tignes should not be missed.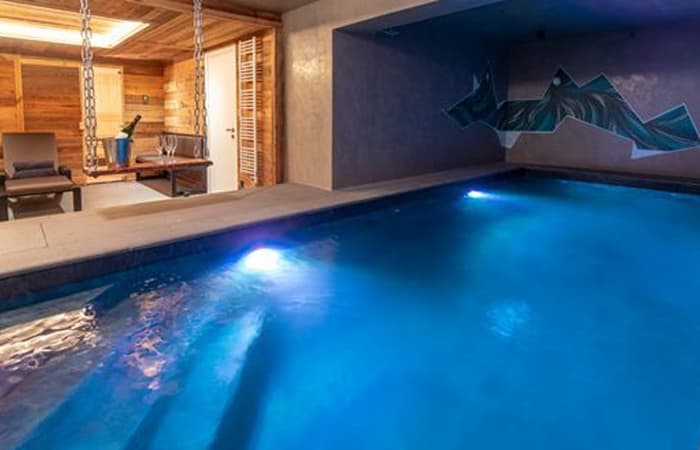 Chalet Ighzer, Nendaz
Chalet Ighzer in Nendaz, Switzerland, is as close to the slopes as you can get, offering unparalleled ski-in ski-out access. However, its wellness area and luxury swimming pool are the real showstoppers here. Stone-lined accent walls and traditional wood panelling around the pool gives this chalet that characteristic Swiss feel of luxurious yet traditional. The large windows by the pool give you all the beauty of the mountain views without feeling any of the alpine cold.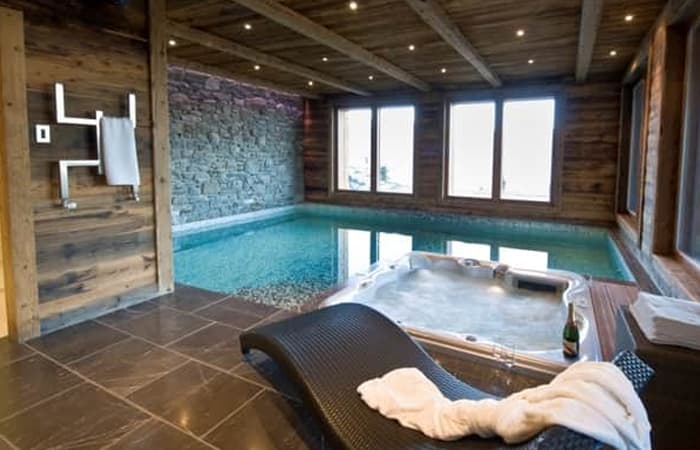 Chalet Machapuchare, Val d'Isère
Magnificent views of the surrounding mountains and exceptional décor are not the only reasons Chalet Machapuchare is luxurious. Its wellness area with its inviting swimming pool is one of the best in Val d'Isère. Boasting a waterfall and lined with vegetation, you'll be transported to an oasis, all whilst staying in the alps. Dipping in the pool after relaxing in the hammam is the best reward to a day's skiing.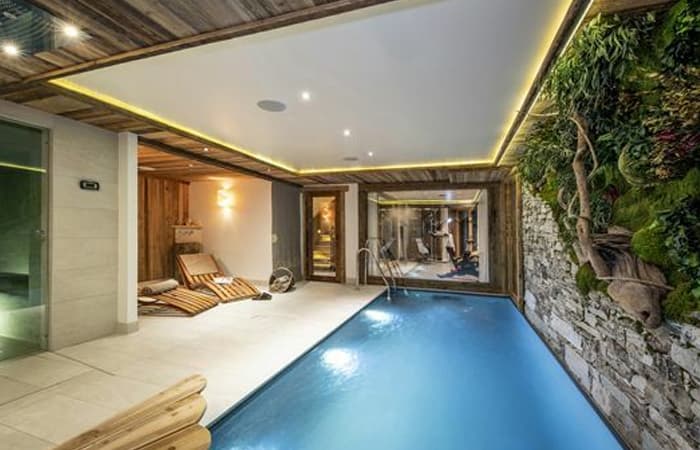 Chalet Tango, Tignes
One of the most unique chalets with swimming pools in Tignes, Chalet Tango is designed with parts from a Nord Noratlas 1950's aircraft. Throughout the property, engines and wings have all been repurposed into play areas, decorations, and more. The swimming pool is no less strange, and very luxurious. The built-in lighting makes it a magical experience, as if you crash landed in a new, glowing world.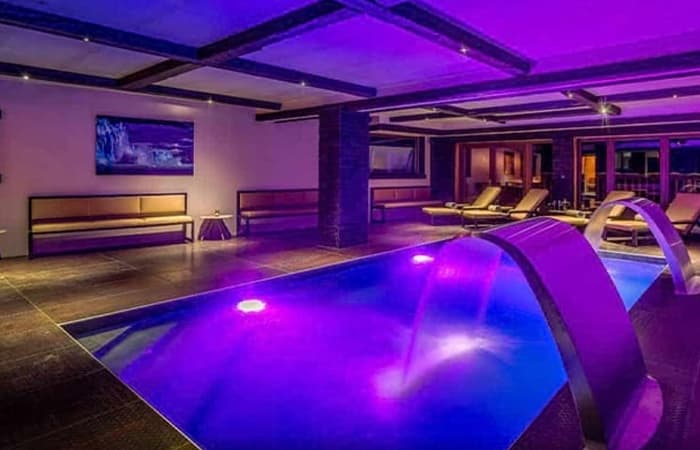 Chalet Mathilda, Val d'Isère
Located just a short walk from the village centre in the popular ski resort of Val d'Isère, Chalet Mathilda is a luxurious mix of reclaimed wood and dark slate tiles. Five bedrooms sleep up to ten guests, and there's plenty of room for everyone to relax together in front of the original stone fireplace. The wellness centre on the ground floor has an indoor swimming pool with jet stream, as well as its own hammam and steam room. You'll find eclectic touches in the decoration of Chalet Mathilda, adding to its charm.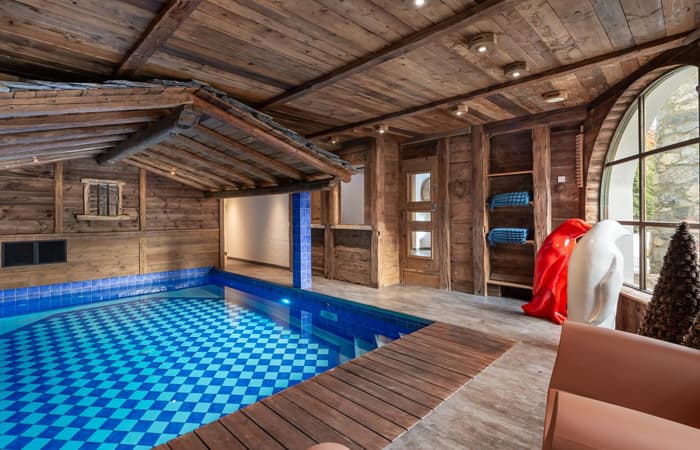 Chalet Marmottière, Verbier
Described as the apex of luxury mountain living, Chalet Marmottière is one of the best chalets with swimming pools in one of the most exclusive of resorts, Verbier. This mammoth of a chalet can house up to 18 guests and still feel spacious. The indoor swimming is 17 metres long, meaning every guest can swim at once without it being crowded. The definition of luxury, this huge chalet is one of a kind.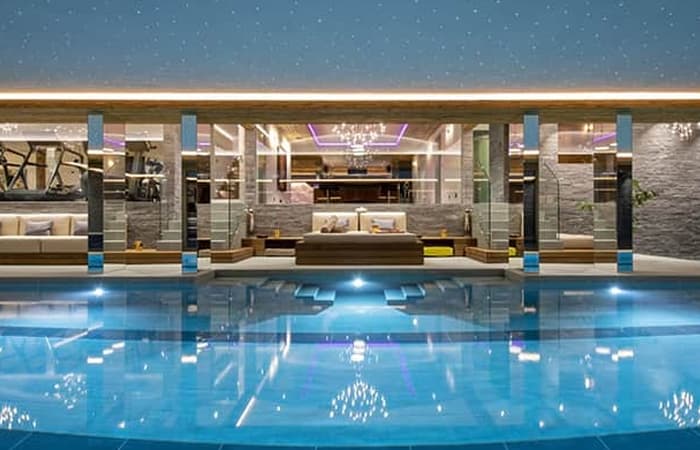 Chalet Bighorn, Revelstoke
Located in Revelstoke, Canada, Chalet Bighorn is one of the top chalets with swimming pools. The pool is perfect for loosening the muscles after hitting the chalet's gym. You can take a dip whenever you please and there is great mood lighting for night swims. In addition, there's also an outdoor hot tub if you want to maximise your relaxation during your ski holiday. Chalet Big Horn certainly has all the top-class facilities you can ask for.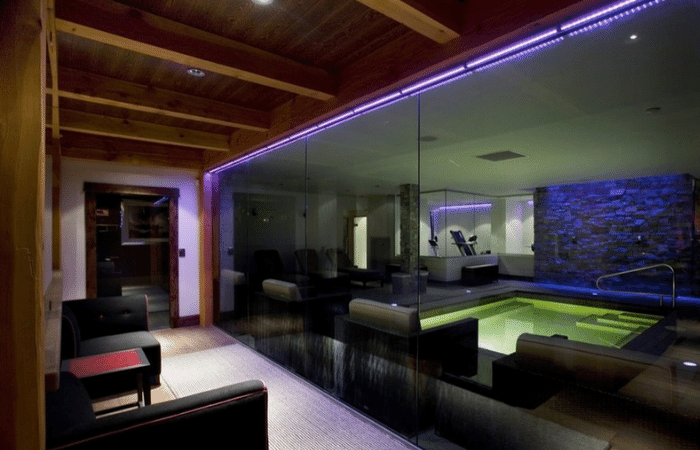 The Lodge, Verbier
The Lodge is one of the best chalets with swimming pools in Verbier. Owned by Sir Richard Branson, this state-of-the-art indoor pool will guarantee relaxation after a day on the mountain. Whether you're taking a swim during the day or night the facility is available when you wish. On top of this, there is a large outdoor hot tub, which could be mistaken for a normal swimming pool it's so big. This is certainly a chalet with brilliant luxury qualities.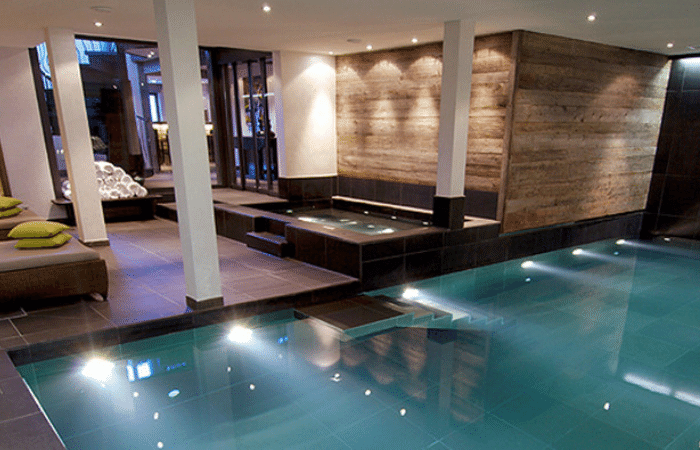 No 5 Club Bellevarde, Val d'Isère
No 5 Club Bellevarde is a stylish stone-and-timber chalet which has all the facilities you could want. This five-star accommodation is one of the best chalets with a swimming pool. The pool is open at any time you please and is a great way to unwind after a day on the slopes. You can relax poolside on the many padded sun loungers or admire the mountains through the panoramic window doors. A true piece of bliss.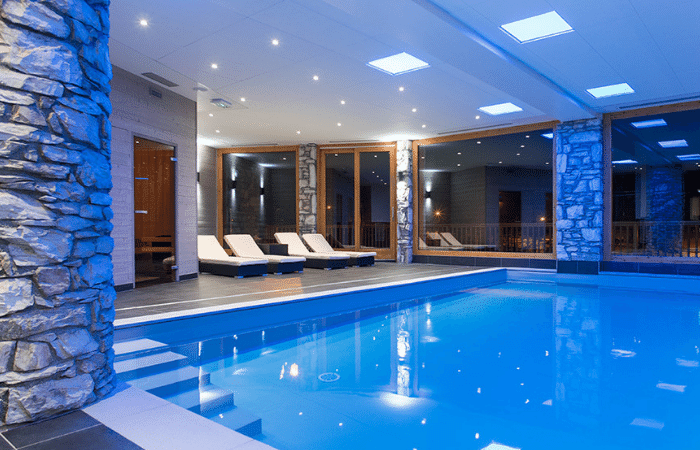 Chalet Banja, Zermatt
Chalet Banja is a state-of-the-art alpine luxury chalet with a swimming pool. This five-star ski accommodation has it all and will complete your ski holiday dreams. The pool itself has soothing mood lighting for evening swimming and a spacious seating area poolside to relax. It is available to use whenever you please during your stay in Zermatt. A great way to loosen up your muscles after a day on the mountain.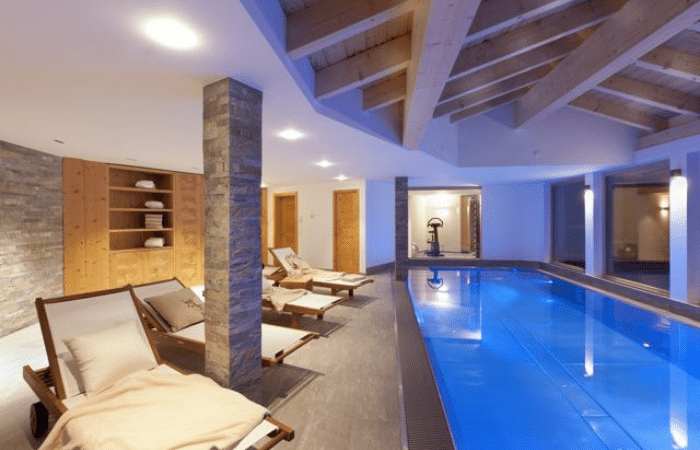 For more information on luxury chalets with swimming pools, call our ski experts on 0207 471 7700.