Where it All Began
Ski Solutions was born in 1986 when two friends, Caroline Blackmore and Amanda Woodbury, cleverly spotted a gap in the market for a specialist ski travel agency as a telephone-based alternative to high street travel agencies, which generally (well, almost always) lacked any specialist knowledge of skiing and the quite particular needs of skiers.
The business was taken over in 1991 by Lizzie Norton, and quickly established itself as the UK's leading ski specialist, fueled by favourable PR within broadsheet newspapers (Lizzie was helpfully married to the renowned late Sunday Times wintersports journalist, Alistair Scott, and counted most of the key travel journalists of the time as personal friends).
Lizzie retired in 2010, with the business taken forward by the management team, many of whom are still with Ski Solutions today, at the very heart of the success story it has become.
A Proper Ski Business, Run by Skiers for Skiers
As we all know, there are many factors that can make or break a holiday, and for 37 years now, we have made it our sole mission to be the undisputed experts at organising brilliant, hassle-free ski holidays to the mountains. We do that by having the very best people in our team who love what they do and know what they are talking about.
We are now a team of more than 50 these days, based in Brixton, London. We're a digital business, but our account managers and client service teams still look after your booking, and are at the heart of our culture and concierge service; Clare, for almost 30 years, and James over 20 years to name just two! Our team stick around for the culture, career opportunities and friendships (eight marriages and counting, a rugby squad-worth of children, and even more dogs). Oh, and one might suspect, the hundreds of days we invest each year in our team experiencing the product first-hand.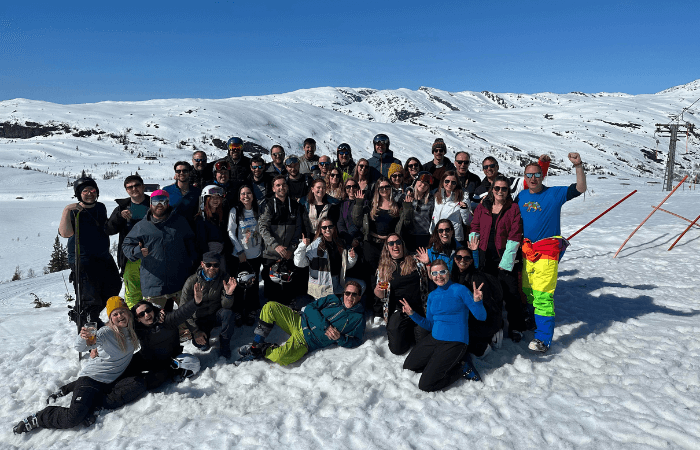 We Know it's the Details That Count
We have spent the last 37 years building a team of passionate skiers and boarders who live and breathe ski holidays. We make it our mission to know the details that make a difference to you. We know which rooms are the best in any particular hotel, we have skied the slopes and know not only where the powder is stashed, days after the last snowfall, but the best run down at the end of the day for tired parents with exhausted children. We know how long it really takes (in ski boots) to get to the lifts, and the secret hacks to save time and money on your ski hire. We'll arrange your ski guides, know where the best tartiflette is for lunch, and where you can find the most indulgent wine list. And yes, we have drunk in the bars, and may occasionally have even danced on the tables. All in the name of research, of course!
Looking Forward, Responsibly
We look after nearly 20,000 skiers each year, most of whom have travelled with us on multiple occasions, or were referred to us by those who have. Word-of-mouth referrals are our greatest honour. Over nearly four decades we have curated more than 2,000 properties in every corner of the Alps, Scandinavia and North America, giving us the widest choice of tailor-made ski holidays in the UK, always protected of course by ATOL or ABTA. We are constantly evolving the programme, discovering hidden gems away from the mass market (yes, you can ski at February Half Term without queues, you just need to know where to go) and paring away hotels that no longer make the grade.
We recognise the impact of climate change and the responsibility we have as a tour operator in supporting initiatives to de-carbonise travel. We are on a mission to raise awareness through measurable action in this area, and not only play our part in protecting the mountains we all love, but lead the discussion.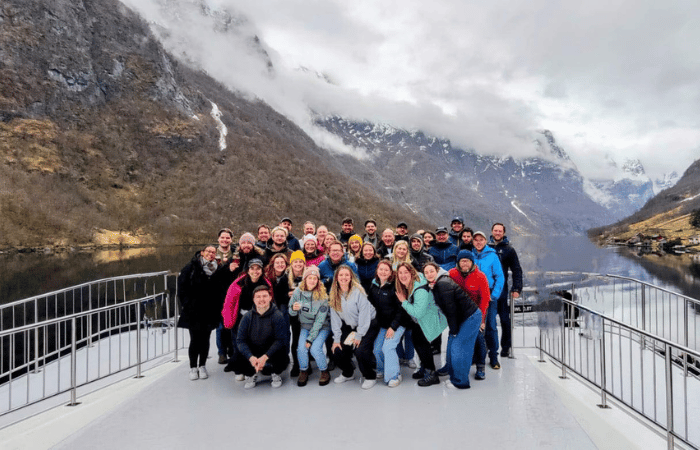 More Than Just Skiing – Our Active Travel Group Family
Today, Ski Solutions is part of the Active Travel Group, which brings together the finest active travel companies in the UK, specialising in tailor-made, human-powered holidays across the globe, from skiing and cycling in Europe and North America, to hiking and sea kayaking in the Scottish Highlands.