When you book a skiing holiday, you want to make sure that the conditions are just right for enjoying those slopes. When looking for snow-sure ski resorts in Switzerland, altitude is key, with many of the lower slopes missing out on the best snow. There's nothing worse than bad weather or a late snowfall preventing you from skiing. With high altitude options like Verbier, Zermatt and others, you can be sure there's plenty of choice for Swiss ski resorts. Read on to discover our picks for the 5 most snow-sure resorts in Switzerland.
Verbier
Sitting at an altitude of 1,500m, the slopes of Verbier can be found at 3,000m, making it one of the most snow-sure resorts in Switzerland. Comprised of hundreds of charming and traditional chalets, this ski resort is one of our favourites for a ski weekend thanks to its close location to Geneva; the airport is only an hour and a half away. You'll find the town sitting proudly upon a sun-drenched plateau offering great views as well as wonderful sunshine.
This high altitude is also a blessing for snowfall; it has an average snow depth of 4m. The skiing opportunities here are world-class as the ski resort boasts over 400km of runs as part of the Four Valleys ski area. Above Verbier is a playground for intermediate skiers. We recommend even beginners to head up the Médran gondola here, as there are some scenic blues too.
Not only is Verbier excellent for skiers, but it has some of the liveliest apres-ski in Switzerland. The many bars and pubs create a unique and vibrant atmosphere that makes skiers return year after year. We highly recommend you read our best Verbier après ski blog for just a taster of what this snow-sure ski resort in Switzerland has to offer.
Stay At:
Situated in the heart of Verbier, the Hotel Vanessa is an ideal spot for an Alpine break.
Verbier ski holidays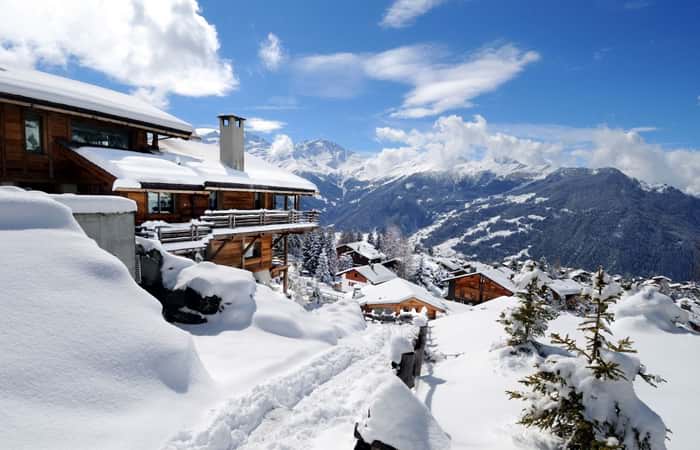 Zermatt
With stunning views of the Matterhorn, it's no wonder Zermatt is known as one of the best resorts in Switzerland. Snow-sure thanks to its high altitude slopes at 3,820m high, you can be sure the conditions for skiing are always prime. This traditional ski resort is one of Switzerland's most popular. This is due to its undeniable alpine charm and traditional buildings. One of the best features of Zermatt is its car-free status, creating a peaceful atmosphere.
The ski resort benefits from being surrounded by glaciers, offering excellent conditions. These also highlight how snow-sure the ski resort is. Zermatt is in fact one of the highest ski resorts in Switzerland and Europe. You'll have unparalleled views of the Matterhorn, an image synonymous with the Swiss Alps.
What Zermatt is most known for, however, is its abundance of delicious restaurants. For a cosy atmosphere, Le Gitan is perfect. They specialise in meats cooked over charcoal grills, just what's needed after an exciting day on the snow-sure slopes. For unmatched views of the surrounding mountains, take a visit to Fluhalp. A lively sun terrace with wonderful service makes this restaurant very popular.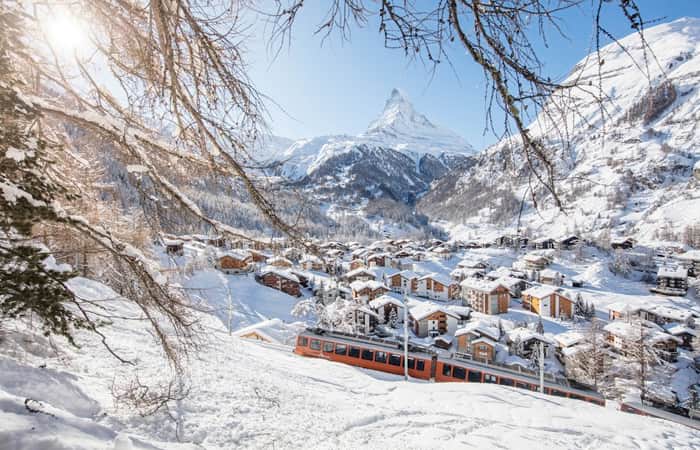 Mürren
Known as one of the most charming villages in the Alps, this ski resort is also one of the most snow-sure in Switzerland. Mürren boasts a wonderful air of tradition and tranquillity. Part of the spectacular Jungfrau ski area, the skiing here is world-class. Races have been held at Mürren for a hundred years, showcasing just how exceptional the skiing traditions here are. With the slopes resting at just under 3,000m high, you can bet that this is one of the most snow-sure ski resorts in Switzerland.
The views of the Eiger, Mönch and Jungfrau mountains are unmatched from this ski resort, as it perches on the mountainside. This ski region is fantastic for skiing, thanks in part to its reliable snow conditions. Even with a less than average snowfall, the snow cannons in Mürren can cover up to 40% of the slopes. This makes it one of the most snow-sure ski resorts in Switzerland.
Like Zermatt, Mürren is also car-free and boasts some excellent cable car links. Beginners, for example, can take the funicular up to Allemendhubel which brings you right to the nursery slopes. The ski resort is perhaps most well known for its connection to 007, as the rotating Piz Gloria restaurant was featured in James Bond's 'On Her Majesty's Secret Service'.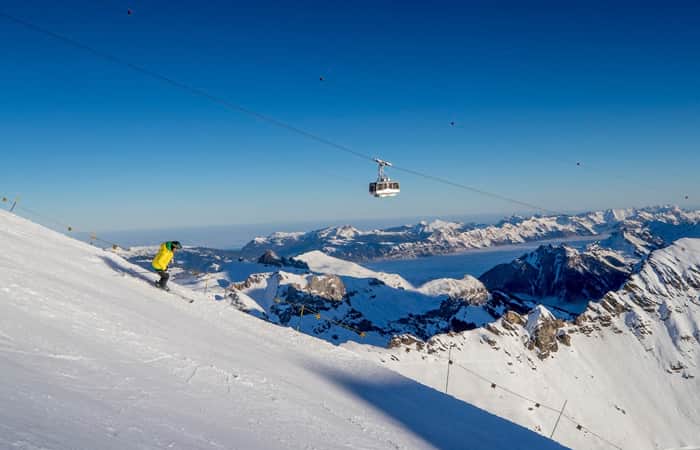 Saas Fee
Commonly known as the 'Pearl of the Alps', Saas Fee is a charming ski resort that sits on a snowy plateau crowned with thirteen peaks. This dramatic scenery is truly breathtaking and accompanies the exciting skiing to be had here perfectly. Most of the slopes are above 2,000m, making it one of the most snow-sure ski resorts in Switzerland.
The upper slopes of Saas Fee typically have a 2-4m snow depth, creating excellent conditions for skiing. The awe-inspiring atmosphere of these mountains is not to be missed. Its excellent position and vast terrain give the ski resort a variety of slopes that can suit all abilities. Thanks to its altitude, you'll find fresh powder here up till April
An old farming community, the alpine charm here is wonderful. You can find a beautiful, traditional wooden chalet everywhere you look. Another car-free resort, you can enjoy the tranquil atmosphere here in peace.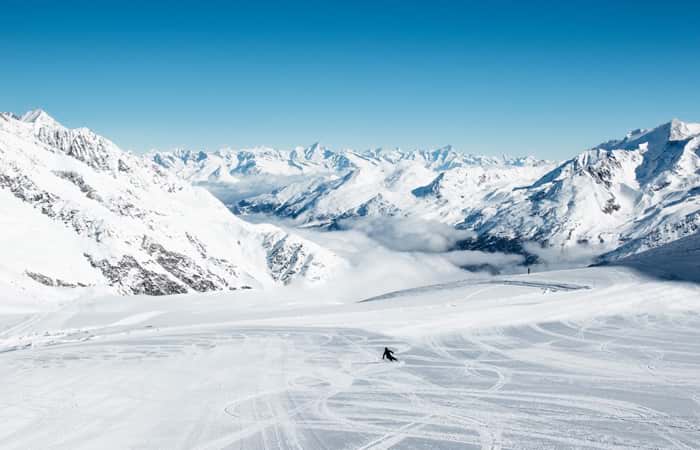 Crans Montana
One of Switzerland's sunniest ski resorts, as well as one of its most snow-sure; Crans Montana is an excellent choice for skiers who want nearly guaranteed snow. South-facing at 1,500m, the ski resort is a sun trap, giving you brilliant sunshine from the first rays of the day to the last. The slopes can be found at 3,000m, an altitude that makes Crans Montana snow-sure. Sitting just west of Verbier, the ski area of the resort is one of the single largest in Switzerland, offering a wealth of skiing opportunities.
A twin town, Crans and Montana came together to create one of the most loved skiing destinations in the alps. Many who visit for a skiing holiday remark on the panoramic views of the Valais Alps that surround the ski resort. Skiing here is a thrilling experience. Because it's one of the most snow-sure ski resorts in Switzerland, you can be sure that skiing is always on the cards.
Crans Montana also has a laid back après scene that many families and couples will enjoy. The terraces and slopeside bars offer wonderful views and even better drinks; the perfect reward to a day's skiing. Both picturesque and friendly, the town makes any visitor feel at home. You can also find a variety of cabaret, piano, and karaoke bars which are the perfect places to visit after an evening meal.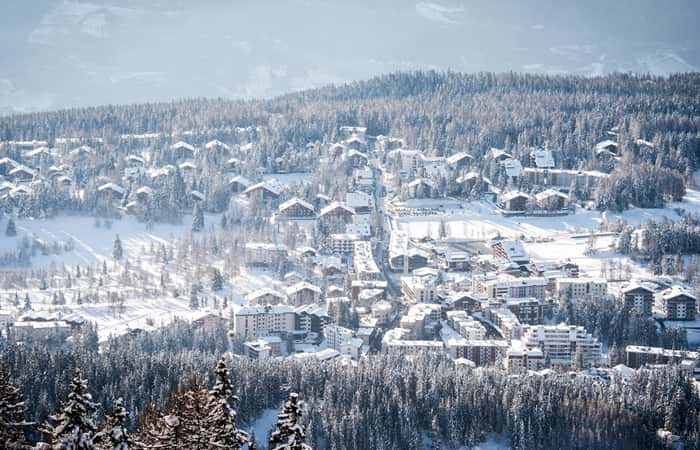 To find out more about snow-sure ski resorts in Switzerland, please call our ski experts on 0207 471 7700.