After a day on the slopes, comfort and luxury can enhance your ski holiday experience. Picking the right chalet is an important step in booking the perfect ski holiday. Switzerland has a fantastic range of chalets and apartments across its superb selection of ski resorts. Our experts have created a guide to the most beautiful chalets in Switzerland.
The Lodge, Verbier
Owned by Sir Richard Branson, The Lodge takes luxury to a new level. It has impeccable service and state-of-the-art facilities. It's in a prime location, just 250m from the main lifts and is on a quiet road in Verbier. It feels like you have your own piece of paradise. The chalet has a soothing spa and a relaxing indoor pool to unwind in. You can easily socialise and chill in the open-plan living spaces. The bedrooms provide maximum comfort so you're ready for the slopes each day too. In addition, the chalet staff are fantastic and serve delicious food.
Stay At:
The Lodge is Sir Richard Branson's own stunning nine bedroom chalet in Verbier.
Verbier ski holidays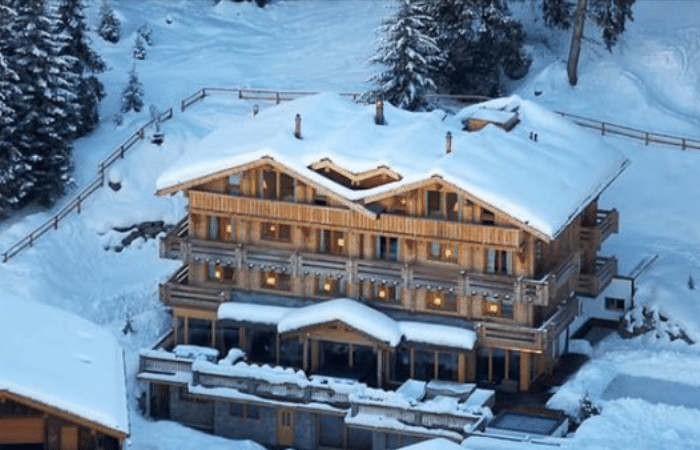 Chalet Kalibu, Nendaz
Located on the quieter side of the Four Valleys, Nendaz, Chalet Kalibu is an excellent ski accommodation choice. It is certainly one of the most beautiful chalets in Switzerland with its traditional alpine exterior and modern style interior. You can relax in the chalet's swimming pool after a day on the slopes. It also has a brilliant home cinema, which is ideal for family and friends to enjoy in the evening. An excellent place to feel at home in the mountains.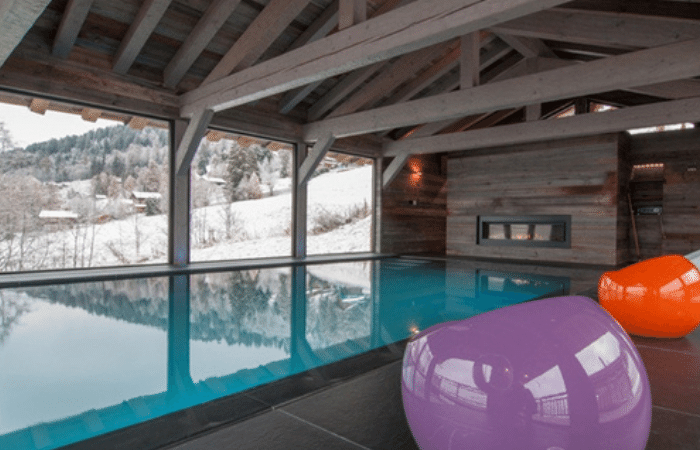 Chalet Binna, Zermatt
Chalet Binna is located in a prime area near the Matterhorn Express gondola in Zermatt. Easy access to the fantastic slopes in the area. You can admire the mountains on the terrace whilst taking a dip in the hot tub. In addition, you can also unwind in the chalet's sauna room to loosen your muscles. The open-plan lounge and dining area is a wonderful hub for social activity in the evenings. It also has a fireplace to make it have a cosy winter feel.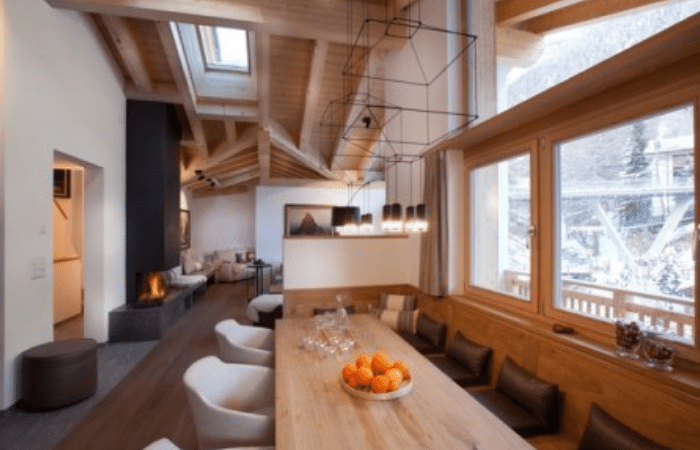 Chalet Valentine, Verbier
Chalet Valentine is a five-star luxury chalet-apartment in the heart of Verbier. The chalet-apartment sleeps up to seven guests across two en-suite bedrooms, a double bedroom and a single bedroom. Guests have access to the excellent facilities, including a fabulous wellness area featuring an indoor swimming pool, sauna and steam room. The lifts are just over five minutes walk away, making this an brilliant choice for those who want to be amongst the hustle and bustle of Verbier village.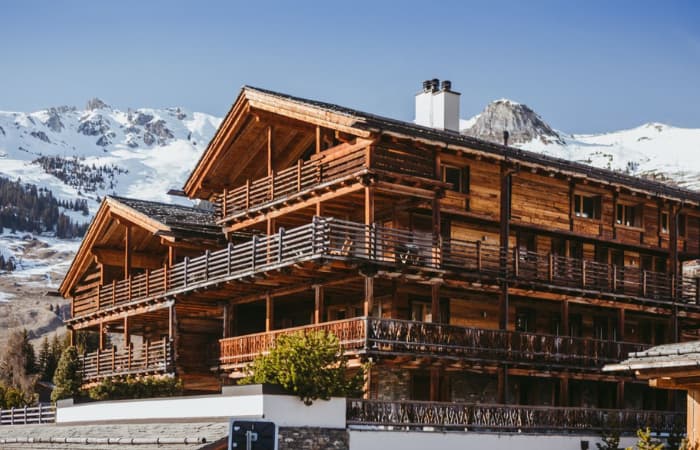 Bella Coola Estate, Verbier
If you want the best spa facilities to unwind in, look no further than the Bella Coola Estate in Verbier. Surrounded by grand pillars is the fabulous indoor heated pool, and through the sweeping drapes and archways is the colonial-style champagne bar. True Swiss bliss. On top of that, there are two sumptuous living areas with large open fireplaces. There's also a game and entertainment room complete with a pool table, dart board, Wii and extensive film and DVD collection.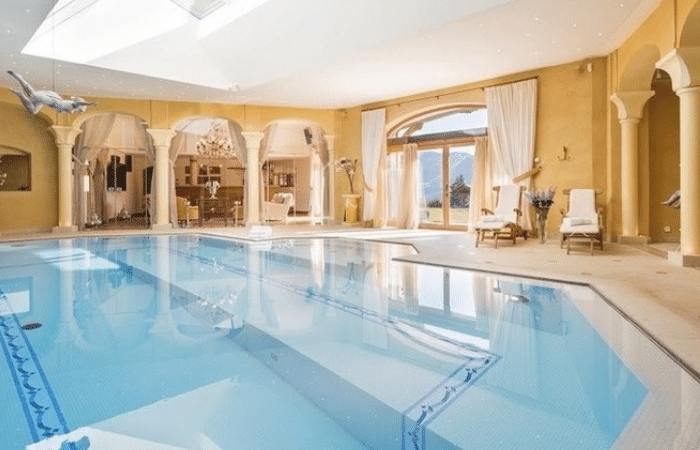 Chalet Cimerose, Verbier
Chalet Cimerose perfectly captures comfort and elegance with its modern interior with a traditional alpine twist. You are in an ideal location because you're within easy walking distance of both the town centre of Verbier and the Medran lift station. It has wonderful spacious living areas and 4 en-suite guestrooms. Included are champagne and canapés six nights a week, which you can enjoy after a day on the mountain.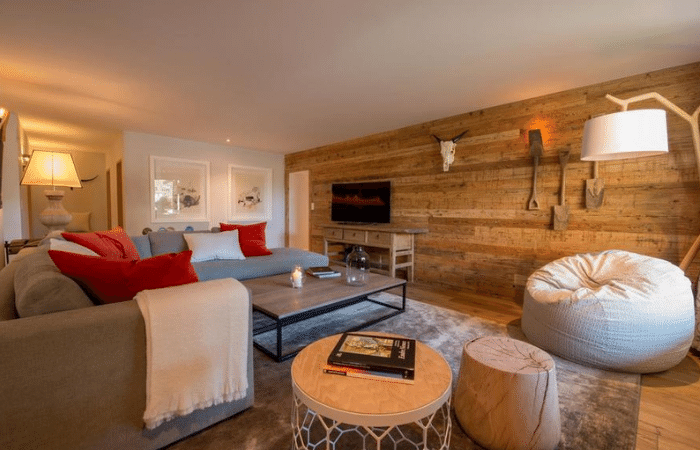 Chalet Marais Rouge, Verbier
In the heart of Verbier, Chalet Marais Rouge is in an ideal location because it is near the Medran lift station and has beautiful views of the main town. The chalet boasts several luxury facilities including day-long sunshine on its balconies, a cinema room, a sauna and a hot tub. Inside it is wonderfully spacious and can easily sleep up to 13 people in six delightful bedrooms. A piece of paradise away from the amazing slopes of Verbier.

Chalet Shalimar, Zermatt
If you want a perfect ski-in-ski-out accommodation, Chalet Shalimar ticks many boxes. Located in the area of Winkelmatten in Zermatt you can easily access nearby lifts and return via the slopes. On the balcony or patio, you can admire striking views of the iconic Matterhorn mountain. In addition, there is a superb wellness centre with a sauna, steam room and spectacular swimming pool. Inside it's spacious but has a warm atmosphere. It can easily sleep 20 people.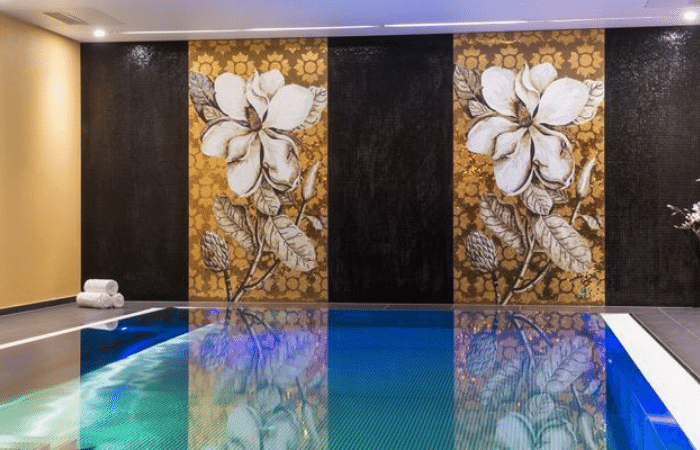 Christiania Penthouse, Zermatt
Christiania Penthouse is regarded as one of the most beautiful chalets in Switzerland because of its modern interior with beautiful traditional touches. It is in a prime location within the centre of Zermatt town and is close to the Matterhorn Glacier Paradise. You can admire beautiful alpine views whilst sitting near the soothing wood fireplace. Guests will also enjoy the private sauna and gym within the chalet. A great place to unwind after a day's skiing.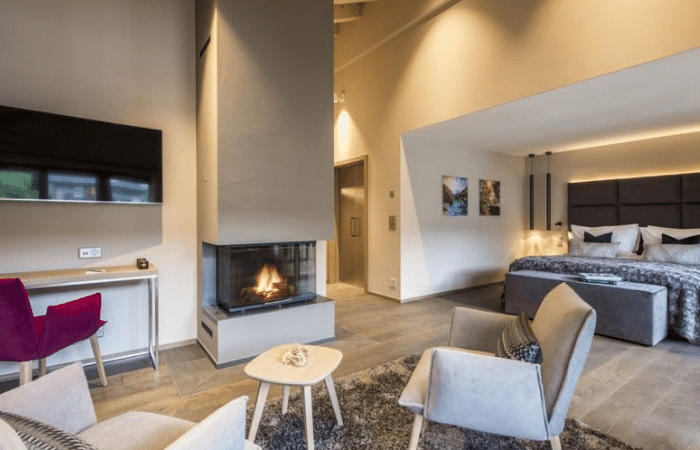 Chalet Banja, Zermatt
Chalet Banja is in a fantastic location just a five-minute walk from the Matterhorn Express gondola. The chalet sleeps up to eight guests in five-star accommodation and has some of the best facilities you will find in a Swiss chalet. The chalet has an impressive and extensive spa area, complete with a 10m heated indoor swimming pool, sauna, shower, exercise area, relaxation area, and terrace (with exceptional views).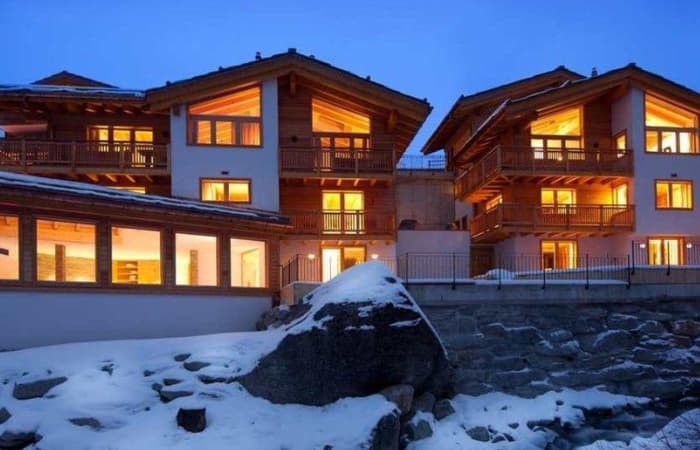 To find out more about the most beautiful chalets in Switzerland, please call our ski experts on 020 3944 7213.