Skiing in the USA is a unique experience that is different from your typical European ski resort. From the après experiences to the way the slopes are mapped out, you will enjoy the way they do things over the pond. We have selected three fantastic ski resorts: Vail, Park City, and Breckenridge, and have curated some top tips on how to maximise your ski holiday in each destination.
Glorious Pistes of Vail
Attention to detail is a fantastic characteristic of Vail and it's no different on the slopes. The pistes are immaculately maintained throughout the season and you can expect crisp corduroy in the mornings. A dream if you love to carve down wide-open pistes. You can explore an impressive 234km of pistes in the area, served by 31 lifts. The nature of the mountains is such that a single lift trip will provide access to a far greater variety of runs than one would usually find in Europe. Fantastic if you want to make the most of your time on the mountain.
Vail's slopes rise from 2,457m to 3,525m so it has great snow reliability throughout the ski season. If you're having a family ski holiday, there is an excellent ski school which has great lessons dedicated to children and adults. Video feedback is incorporated with some lessons, which is different from usual ski school experiences. On a powder day, advanced skiers will love the legendary back bowls of Vail. Skiers around the world have praised the amazing terrain in the area.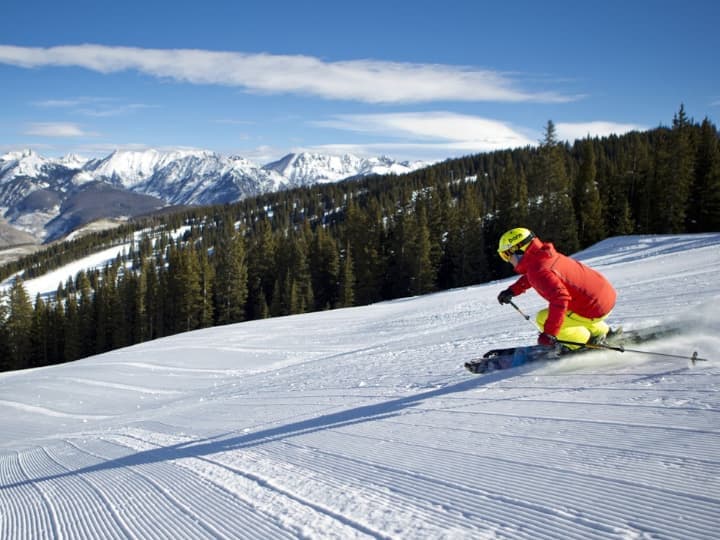 Luxurious Vail
Vail is famous around the world for its top-class accommodation and service throughout the town. So much so, many celebrities choose Vail as their top winter getaway. The choice of four and five-star hotels is vast, each with its own unique atmosphere and comfort. One of our favourite hotels is The Lodge at Vail, because of its location close to the slopes and its state-of-the-art facilities. After a day on the slopes, you can truly relax in the amazing spa facilities that include an indoor swimming pool, sauna, hot tub, and gym. In addition, there's an excellent choice of restaurants within the hotel.
Stay At:
The Lodge at Vail has superb spa facilities and is close to the slopes.
Vail ski holidays
The town itself is pedestrian-only with a free-in-town shuttle system. Perfect for getting around the area with ease. Families will love Lionshead Village for its delightful ice rink surrounded by stunning Bavarian-inspired architecture. You can also visit the many shops, restaurants, and bars in the area too. For foodies, Vail Village has many excellent restaurants to visit, with world-class menus. A popular place to dine out is Sweet Basil. One of the oldest restaurants in Vail, Sweet Basil's ever-changing menu uses seasonal ingredients to create dishes to die for.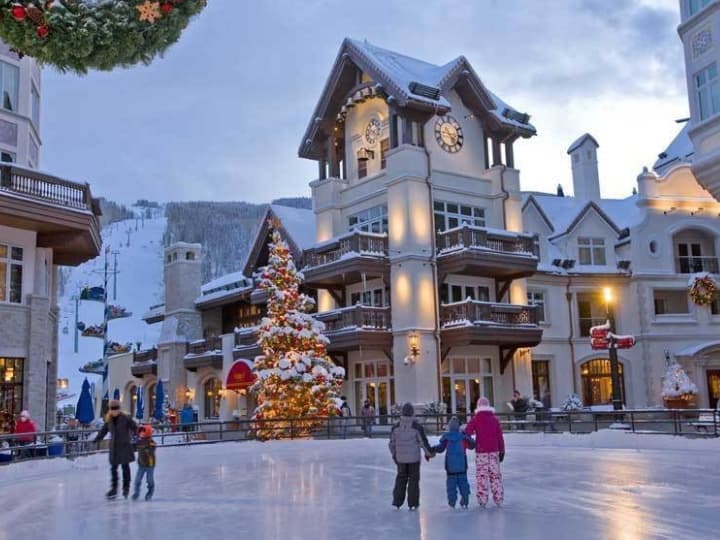 The Vast and Exciting Ski Area of Park City Mountain
Park City has a massive well-connected ski area with a variety of ski runs suitable for different abilities. From large bowls to short easy tracks there's something for everyone. It boasts an impressive 250km of slopes and it has some excellent off-piste too. One of the longest runs, called Homerun, is a whopping 5.6km long but is a very easy slope perfect for intermediates or beginners. If you're seeking a challenge there are some great couloirs, cliffs, and plunges in the cluster of bowls from Jupiter Peak downwards.
There's a skiing elevation of up to 3,050m, which means the snow reliability is brilliant throughout the season. The lift system is fantastic, making it easy to get around the ski area. Take the heated Orange Bubble chairlift or Red Pine gondola from Canyons Village base right into the heart of Park City Mountain ski resort. It's a real winter playground.
Ski-in Ski-out Delight in Park City
There's a great choice of ski-in ski-out accommodation in the area, perfect for maximising your time on the slopes. You can ski right into Main Street and grab the Town Lift back out very easily. After a day on the slopes, you can ski to the High West Distillery and enjoy a well-deserved drink. One of our favourite places to stay is the Grand Summit Hotel which is in an ideal ski-in ski-out location and has brilliant facilities. Relax in a superb spa and enjoy delicious food at the three on-site restaurants.
The town itself has quaint wooden buildings and wide streets, with a bustling atmosphere. We highly recommend Freshies Lobster for some of the best seafood around. A popular spot for an après drink is The Cabin, which serves a great range of cocktails and has live music throughout the season. For thrill-seekers, 'The Comet' bobsleigh ride is a truly unique experience. Take a ride with a professional pilot and experience up to four to five Gs of force through the course.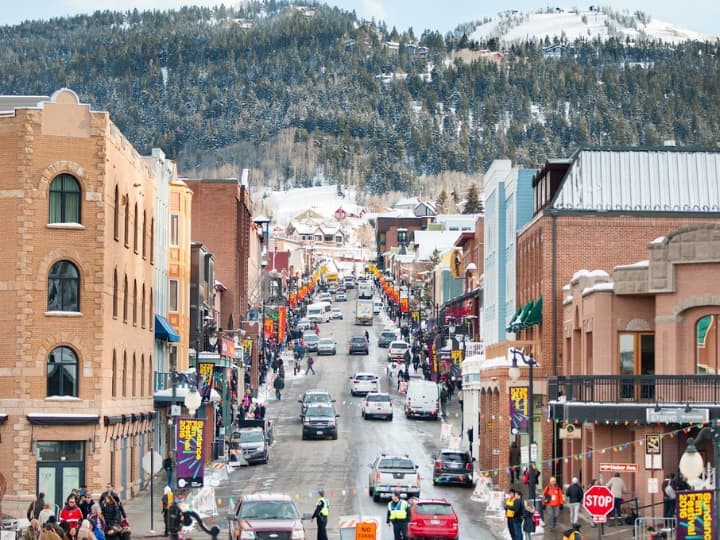 Reach the Heights of Breckenridge
Breckenridge is one of the highest ski resorts in the world with a top ski altitude of 3,915m. Due to this high altitude, the pistes and snow conditions are fantastic throughout the season. There are 139km of slopes in the area, which is broken into 11% beginner, 31% intermediate, and 34% expert.
However, there are plenty of easier pistes for intermediates and beginners. In addition, advanced skiers will love the many steep black runs in the area. Just for the stunning scenery alone, Breckenridge is a pure delight to ski.
The Bliss trail on Peak 6 is ideal for intermediates. You can head up the Kensho Super Chair and immerse yourself in stunning panoramic views at the top of the peak. For those wanting a steeper slope, the Shock trail at Peak 9 is considered a real challenge. It's short but very steep. If you're travelling as a family, Breckenridge Ski & Ride School has an excellent reputation and offers a variety of lessons.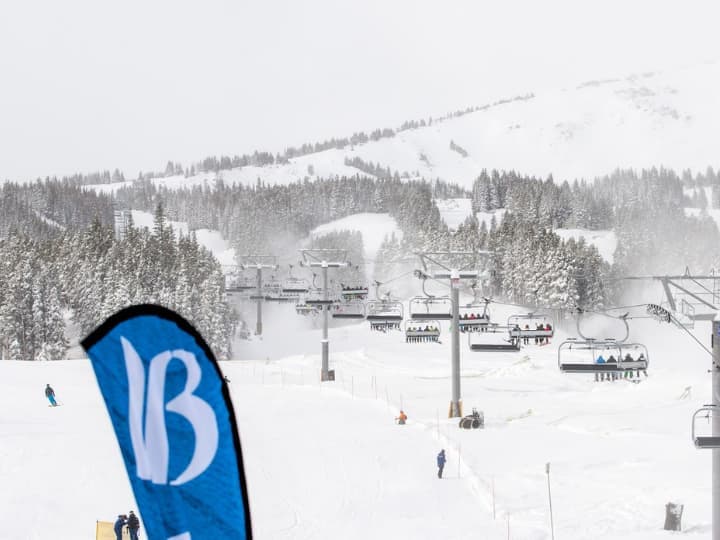 Breckenridge, a True Mountain Town
Breckenridge, or 'Breck' as the locals call it, has a cool mountain charm and a historical aesthetic. Originally established as a base camp during the Gold Rush, it has turned into a vibrant town with outdoor activities at the heart of the community. We recommend staying at One Ski Hill Place for its ski-in ski-out location and high-quality spa facilities. There's even a state-of-the-art bowling alley within the hotel.
There are over 140 bars and restaurants in the area to choose from. From classic American burgers to a fine-dining experience, Breckenridge has a wide variety of places to eat. We recommend Rootstalk for a delightful fine-dining experience. The menu changes with the season but the roasted duck breast with butternut squash is a succulent dish. For outdoor drinks in the sun, The Coppertop Bar has a large patio area with live music. A great place to socialise after a day's skiing.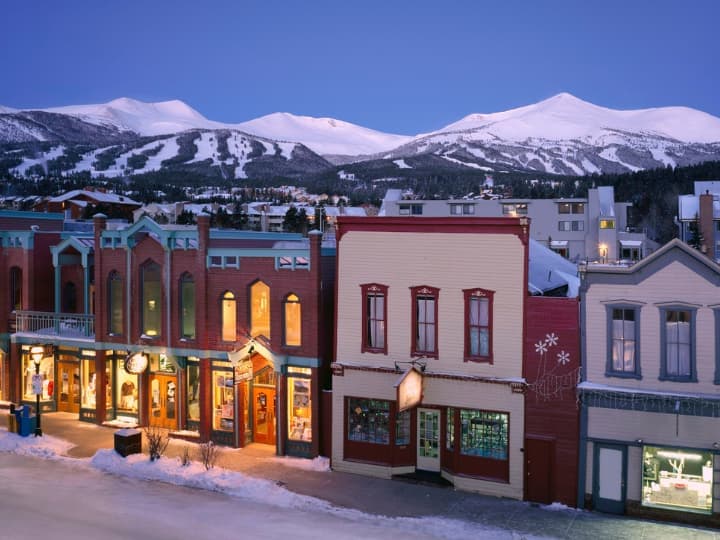 If you want to know more about Vail, Park City and Breckenridge call our ski experts today on 020 3432 8157.