A ski holiday doesn't have to be just about the slopes. There are plenty of activities to do after you've spent the day on the mountain. The best après ski resorts in the USA have lots of activities, bars, clubs and restaurants to enjoy. Our ski experts have created a guide to the best après ski in America.
Aspen Snowmass
Aspen Snowmass is one of the best après ski resorts in the USA because of its vast choice off the slopes. Surrounded by the beautiful Rocky mountains, it has some excellent bars, restaurants and shops to visit in the village. In addition, there are also over 50 galleries if you're searching for some history or culture.
If you love a bit of retail therapy there are some great designer shops including Ralph Lauren, Fendi, Gucci, Prada and Louis Vuitton. Chefs from around the US are lured to the ski resort because of its thriving restaurant scene. If you're a foodie you're in for a treat. For a pleasant evening and a drink, the Belly Up bar has live music in a cosy setting. If you want to dance the night away, Caribou and Cigar bar are the best nightclubs in town.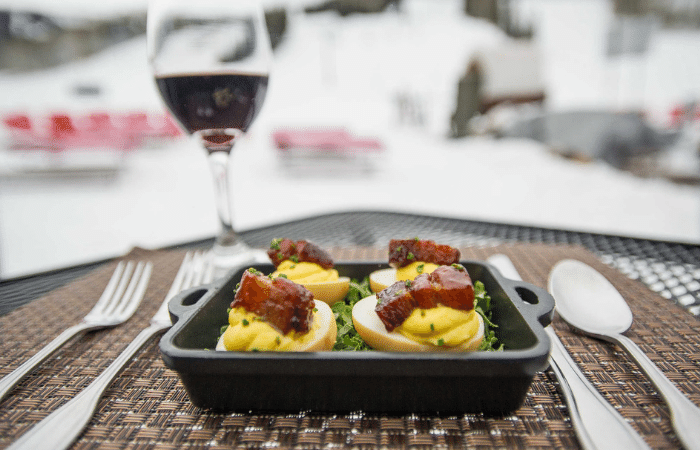 Beaver Creek
It may not be a huge party ski resort but there's plenty to do off the slopes in Beaver Creek. The village itself has lots of award-winning restaurants, designer shops and classy bars. In addition, there's also a performing arts theatre with regular shows throughout the season.
We recommend the Splendido restaurant when you're heading out to eat. Located in the Chateau, it serves superb modern American cuisine in a formal setting. For a well-deserved drink off the slopes, McCoy's bar has a relaxed atmosphere and live music. Families will enjoy the ice rink in town or the Nordic cross-country centre.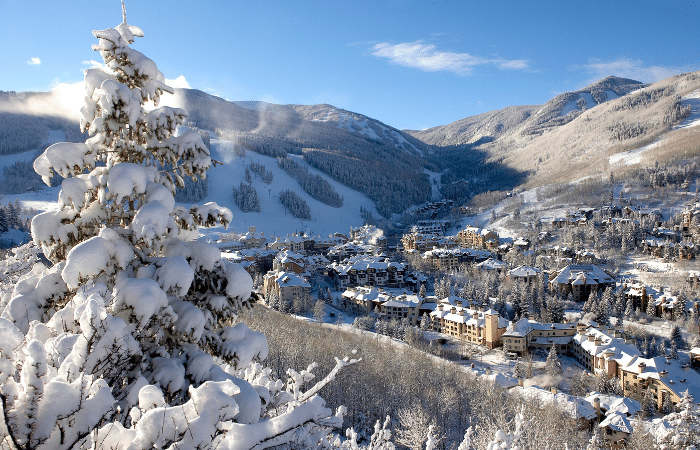 Breckenridge
Breckenridge has some of the best après ski in America, because of the amount of entertainment off the slopes. The popular ski resort is in the Rockies and has beautiful panoramic views. Whether you're enjoying a meal out or viewing a museum, there are a lot of activities to enjoy.
You're spoilt for choice for food and drink with over 140 bars and restaurants in the area. Legends Steaks & Italian is a brilliant fine dining experience. The décor has portraits of Colorado legends around the rooms, Barney Ford to Butch Cassidy. If you're looking for a drink, Base Nine Bar have an excellent extensive martini menu.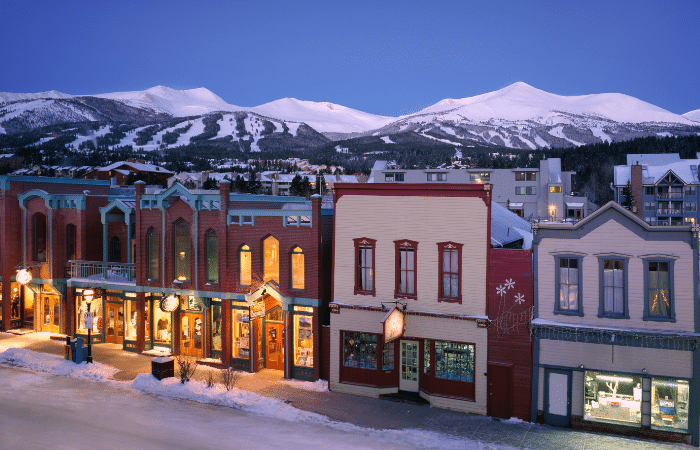 Jackson Hole
One of the best après ski resorts in the USA is Jackson Hole. It has something for everyone. Whether you're looking for top food or you want to dance the night away, it delivers on all fronts. It's mainly renowned for its first-class restaurants and is firmly part of the 'farm-to-table' scene. You can also go bowling or hit arcade games in the village too.
If you want a real local treat head to the Snake River Grill. For over 25 years people have enjoyed the delicious steak tartare pizza and excellent cocktail menu. Talking about cocktails, The Mangy Moose Bar has been open for more than 50 years with delicious drinks. The Handle Bar or The Spur are also great bars with a friendly atmosphere.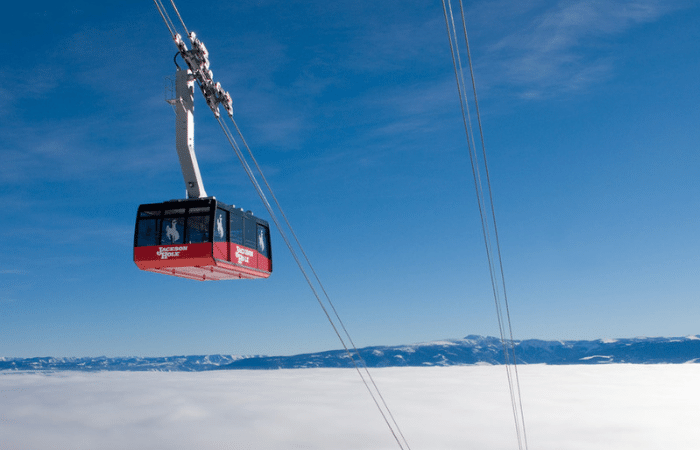 Mammoth
Mammoth has a variety of unique activities to enjoy off the slopes, with some of the best après ski in America. You can enjoy snowmobile adventures or do a round of indoor golf during your stay in the ski resort. In addition, there are some great bars and restaurants to visit too.
You are surprised to see European style slopeside bars sitting high on the mountain. 53 Kitchen and Cocktails are popular spots for when lifts close. As are Sushi Rei and Campo Mammoth bars. There's something for everyone when it comes to eating out. We recommend the Lakefront restaurant for a superb fine-dining experience.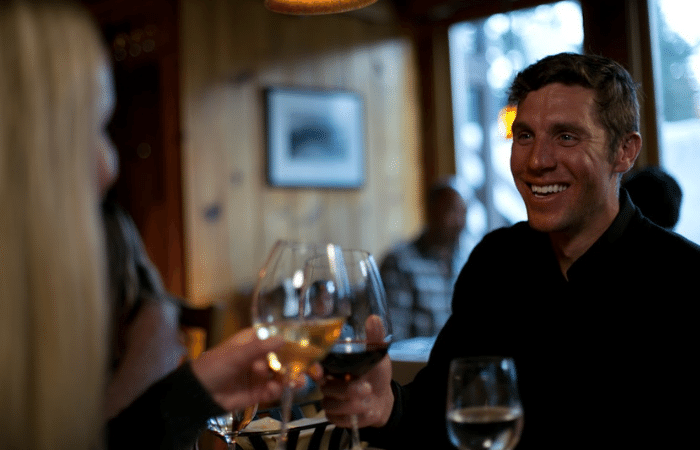 Palisades Tahoe
Previously known as Squaw Valley, Palisades Tahoe has some of the best après ski resorts in the USA. Some of the off the slope activities are unrivalled in any ski resort. There's an impressive indoor climbing wall, trampolining facilities and tobogganing on offer. You can also head out and enjoy the scenery on snowmobiles.
There are several brilliant restaurants in Palisades Tahoe. We recommend Bistro 22 which has a lovely fine-dining option or quick food in a relaxed atmosphere. Something for different price points. When lifts close the KT-Base bar near the KT-22 lift, is a popular spot for a drink after a day on the slopes.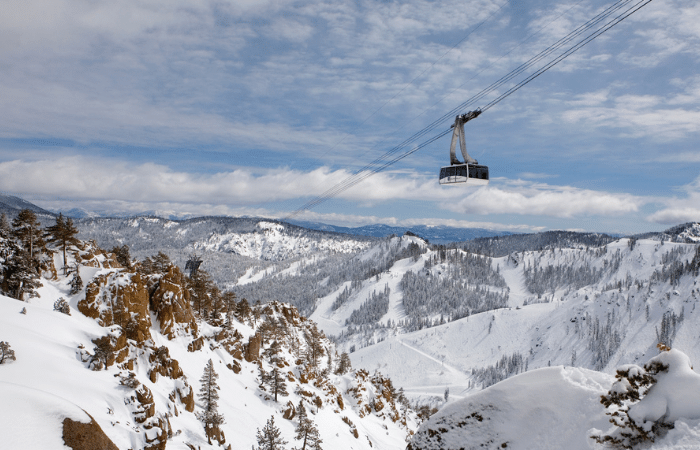 Park City
On and off the slopes, Park City delivers on all fronts. The activities you can do in the resort are endless. The Utah Olympic Park is home to 'The Comet' 3,000ft bobsled ride. Nearby is also an Alpine Coaster ride which is a kilometre journey perfect for taking in the scenery. Thrill-seekers will also enjoy an incredible zipline ride.
Within the village, there are lots of shops on offer. You can also visit the bowling alley, museums and galleries. The main high street has great restaurants to visit. Whether you have the delicious beef at Grub Steak or the top-class seafood at Freshies Lobster you're in for a treat. The best bars to hit in town are the No Name Saloon, Red Tail Grill and the EBS Lounge. All have brilliant live music, a great atmosphere and a wide selection of drinks.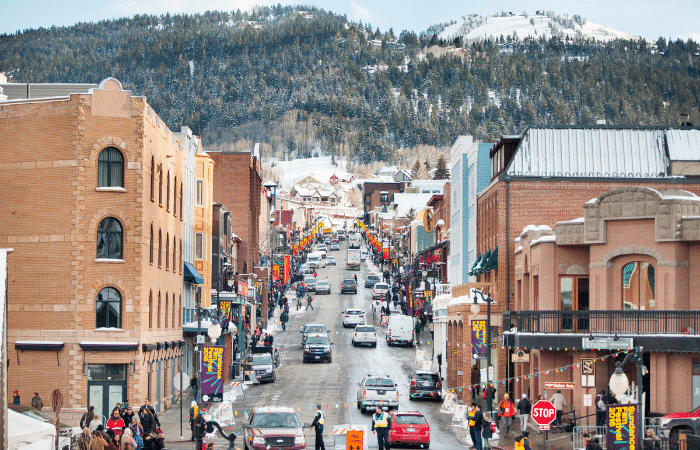 Steamboat
Steamboat has some of the best après ski in America, because of the many bars and restaurants in the ski resort. You can also head out horseback riding, snowmobiling and enjoy sleigh ride dinners. There are over 100 pubs and restaurants, three supermarkets, six cinema screens and ten liquor stores within the village.
For a unique experience, you can get a snowcat journey to the delightful Four Points Lodge restaurant. It serves incredible dishes with breathtaking mountain views. If you're looking for a place to drink, T Bar is ideal for beers and a bite to eat. Truffle Pig is another great bar with live music and a warm fire pit.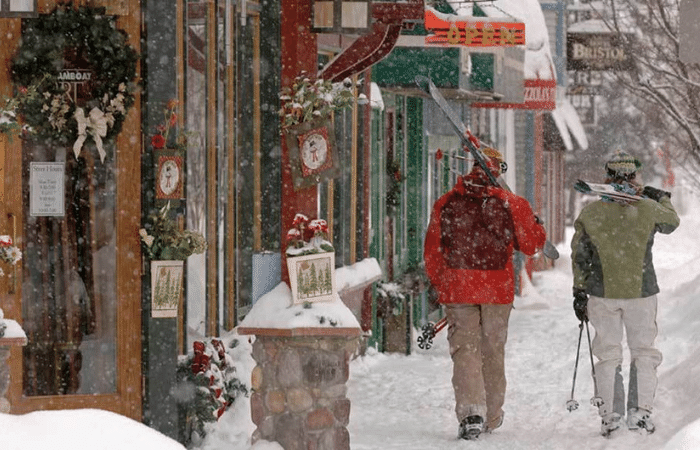 Vail
Vail is a big resort that has many restaurants, spas, bars and cafes to enjoy. A lot of the shops are designer labels if you want to buy the latest fashion trends. The town itself and the surrounding mountain views are stunning. You'll feel like you're in a winter wonderland.
We recommend booking a table at the Larkspur restaurant which serves excellent first-class ingredients and has an extensive wine list. If you're looking for a drink Garfinkles has a brilliant sun deck to enjoy in the sun. They also serve the best Margaritas in town. You can also do a fun day trip to Beaver Creek which is only a 30-minute bus ride.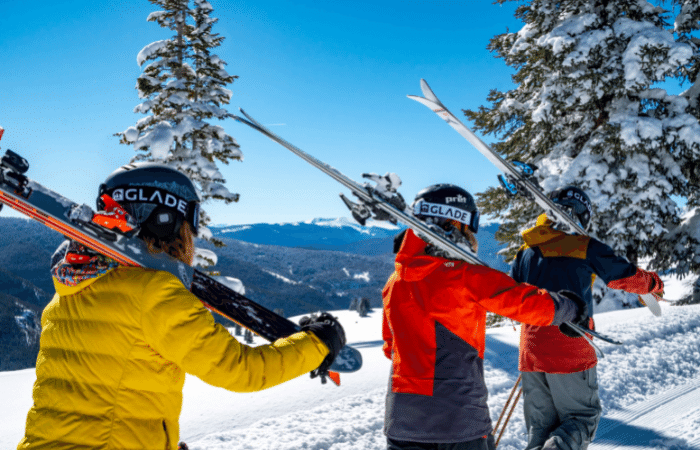 Winter Park
For a relatively unknown ski resort, Winter Park has some of the best après ski in America. There are many off-slope activities available in the ski resort. You can try ice skating, snow tubing and dog sledging after a day on the slopes. The Foundry Cinema & Bowl is a brilliant place for families and groups. In addition, there's also the Grand Park Recreation Centre which has a hot tub, swimming pool, gym and climbing wall.
The restaurants in the area meet different price points and tastes. Situated at the top of the main gondola, Sunspot Mountaintop Lodge restaurant is a brilliant setting for a meal with stunning views. The Winter Park Pub has brilliant live music, drinks and often has Taco Tuesdays. If you want a late-night drink Ullr's Tavern is open into the early hours.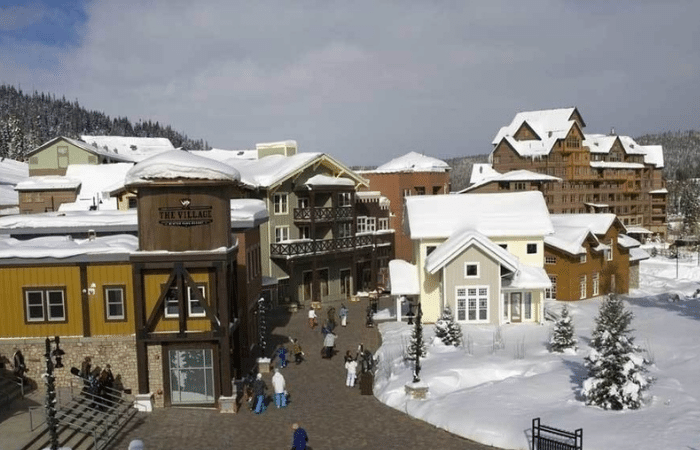 To find out more about the best après ski resorts in the USA, please call our ski experts on 0207 471 7700.