Snowboarding is very popular in North America, more so than in Europe. Whether you're looking for the best freeride terrain or you're learning for the first time, these areas have something for everyone. Take a look at our best snowboarding in North America expert guide.
Whistler, Canada
Whistler is top of many powder hounds bucket lists. The freeride opportunities are a snowboarder's dream and are the reason why Whistler has some of the best snowboarding in North America. It's music to snowboarders' ears that the resort's lift system is only made up of chairlifts, making it easy to ride around the mountain. There is one dreaded T bar but it's worth the hassle to get to a powder pocket at the top.
Whistler has some great snow parks to master tricks and rails. Blackcomb has a 16-acre terrain park and a World Cup standard half pipe to test yourself on. For the intermediate and beginner riders, there are plenty of cruisy blues, in particular the woodland trails below Rendezvous and Glacier Creek.
Stay At:
Pan Pacific Village Centre is one of the finest condominium hotels in town in Whistler.
Whistler ski holidays
Mammoth Mountain, USA
Discover some of the best bowls and natural hits to snowboard in Mammoth Mountain. The freeride terrain is some of the best snowboarding in North America, due to its wide variety. If you're a freestyler there are dozens of parks to check out and test your best tricks. The parks have a dedicated team that looks after each feature and rail, to maximise the quality of each park.
This is a resort that is known for how it takes pride in its piste preparation. Expect immaculate corduroy pistes at the top of the mountain, when you arrive for your first run in the morning. Near the bottom of the mountain, there are some great treeline runs to explore too. There's something for all levels of snowboarder.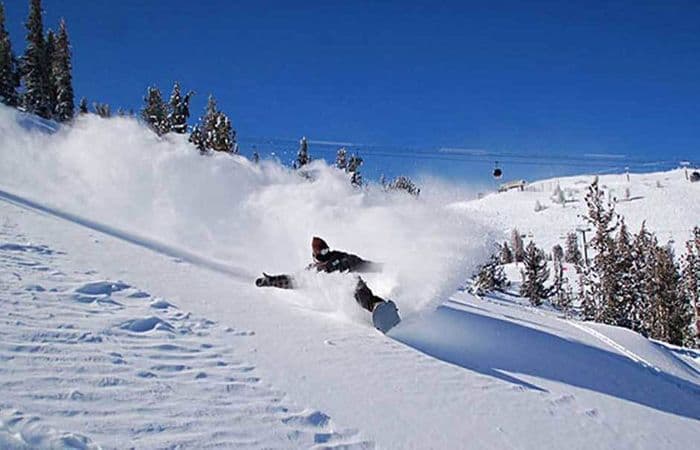 Breckenridge, USA
If you're searching for the best powder bowls, look no further than Breckenridge. The Peak 8 and 9 back bowls have fantastic freeride terrain to drop into on the north face. There are plenty of natural freestyle features in the tree line runs you can dip in and out of.
Breckenridge is also home to several terrain parks which have half pipes, boxes, rails and a combination of small and large jumps. If you're a beginner snowboarder, there's plenty of wide-open blue runs to cruise and learn on. The ski schools are top quality too if you need some valuable lessons on the mountain.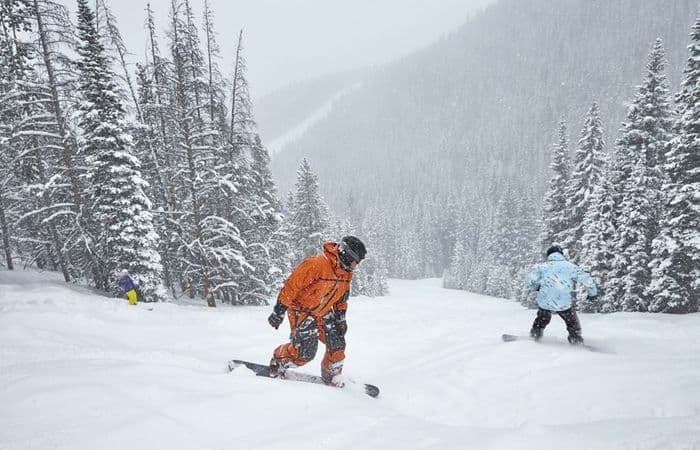 Aspen Snowmass, USA
Before 2001, Aspen Snowmass was famous for its no snowboarder policy on the mountain, but now it's one of the top places to get the best snowboarding in North America. The resort has a dedicated ride guide for snowboarders to maximise the riding experience when visiting for the first time.
If you're a freestyle snowboarder you're in for a treat, Snowmass has the longest terrain park in North America at two miles in size. The pistes are also appealing to riders as there aren't many flat sections and there's plenty of wide-open slopes to carve your way down. Explore what used to be forbidden fruit in the snowboarding world!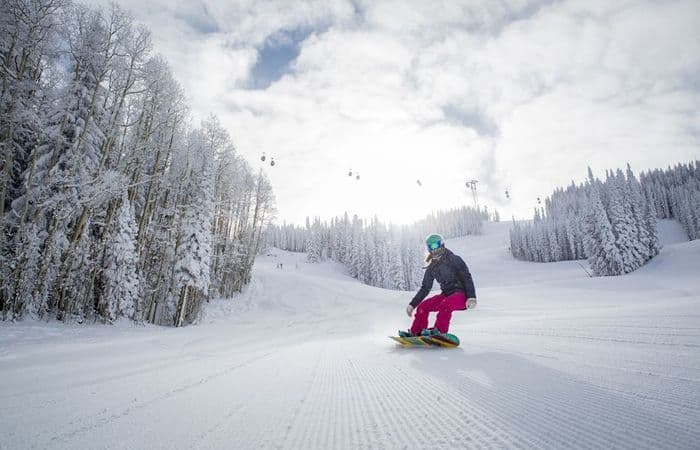 Steamboat, USA
Steamboat has awesome forest terrain to explore and has an excellent snowfall record to match. The US resort has a lot of freeride opportunities on offer. In particular, the Storm Peak and the Christmas Tree Bowl are some of the best powder runs around. A fantastic place who want to dive into some deep powder.
The Maverick terrain park is a whopping 650ft long and has lots of features to test your best tricks on if you're a keen freestyle rider. Steamboat is also an excellent choice for beginners, the resort offers first-timer lessons and gentle green trails right up to 3,000m up the mountain. There's something for everyone!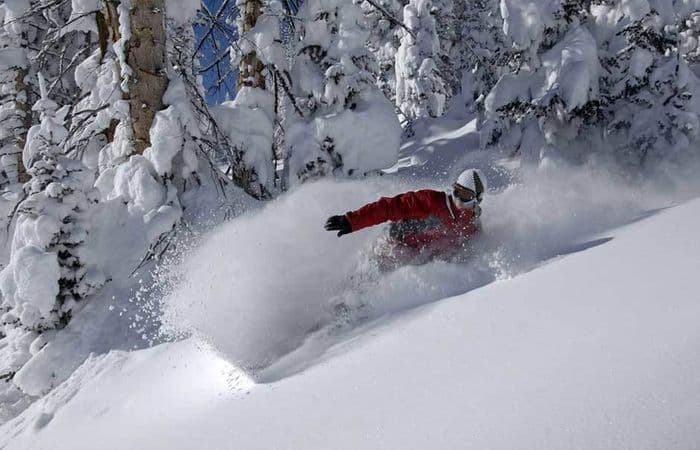 Revelstoke, Canada
Revelstoke is a bit of a gem for snowboarders in Canada. Compared to Whistler, the resort doesn't have as many visitors so it's easier to get around the mountain. There's an abundance of wide open freeride terrain to explore, which makes Revelstoke a snowboarding dream for most riders. If you're looking for some untouched snow, you can book cat-boarding to reach the backcountry with a dedicated guide.
If you're a beginner, there are nursery runs and plenty of easy cruisy blues to develop your skills safely. For those looking to test out their freestyle skills, there's a terrain park under the Stoke chairlift with plenty of jumps and rails.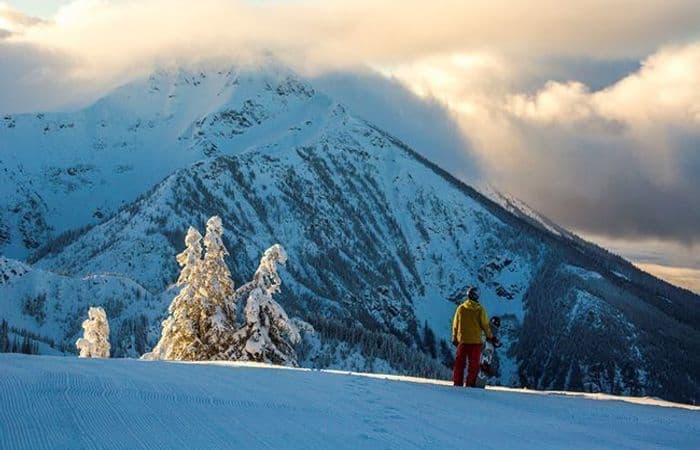 Red Mountain, Canada
Red Mountain is the first stop on Canada's notorious Powder Highway. The freeride terrain is powder heaven for snowboarders heading off-piste. There's plenty of natural hits and tree-lined runs to explore too if you want to dabble in and out of the marked slopes. Many of the top peaks have 360-degree descents, so there's plenty of ways to get down the mountain.
If you're looking to try out some tricks, there's a 6-acre terrain park complete with jumps and rails. The resort itself is perfect for beginners and intermediates too, with plenty of runs to build up your confidence and skills on your board.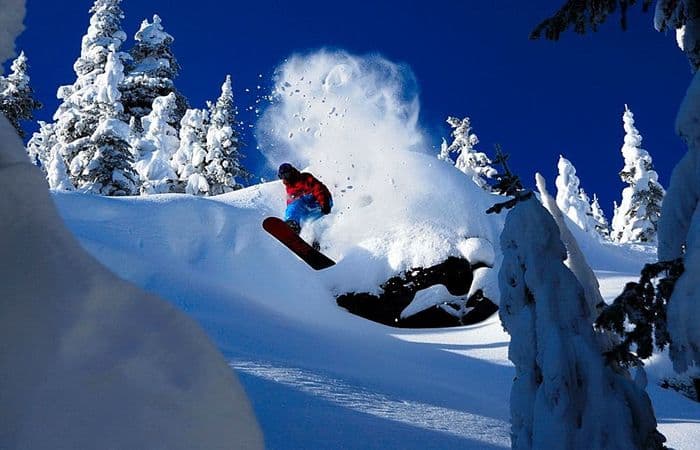 Panorama, Canada
Panorama is geared up for any level of snowboarder with dedicated areas for beginners and more advanced riders. Expert riders can enjoy the many tree-lined runs and the amazing freeride opportunities in the Extreme Dream Zone. For freestylers, the Rockstar Terrain Park is the place to go at the base of the resort.
Novice riders can learn in a specific beginner area with easier slopes to safely build up their confidence on the mountain without too many distractions. There are some of the most breath-taking alpine views in North America to admire if you're at the top of the mountain.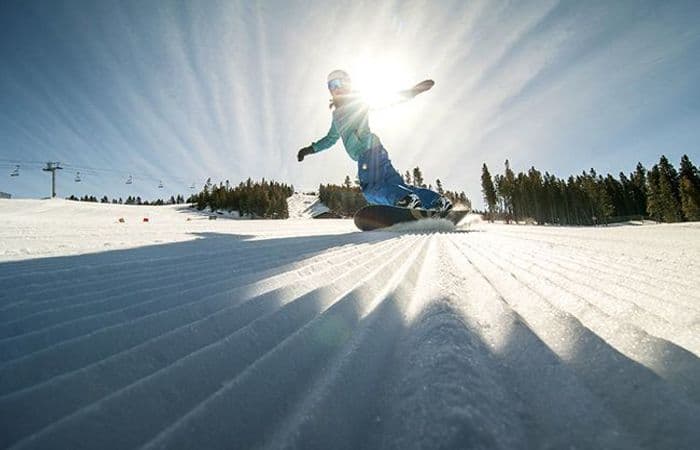 Banff, Canada
Banff is a snowboard area made up of the 'Big 3'; Sunshine Village, Mt. Norquay and Lake Louise. All these areas have their charm and incredible terrain to ride. Sunshine Village and Lake Louise in particular have fantastic powder bowls to drop into if you're looking for some freeride to explore.
There's also snow parks too. You can even get a restricted pass if you're just looking to hit the jumps at the parks. A cheaper option for freestylers. The area has 264km of pistes to explore and has something for everyone. You will not get bored that's for sure!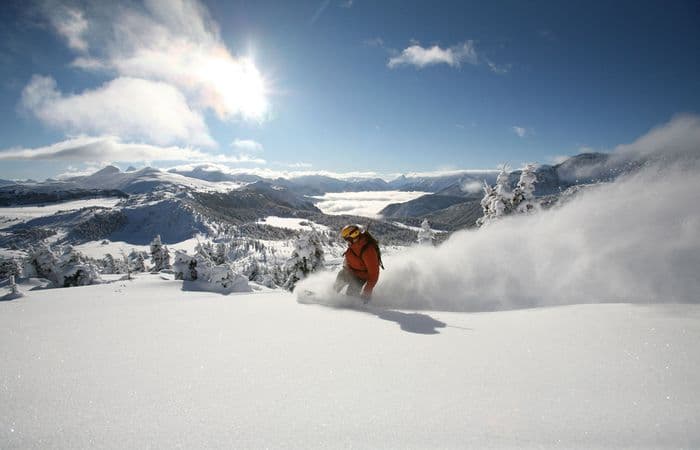 Palisades Tahoe, USA
Palisades Tahoe (previously Squaw Valley) is one of the most famous for snowboarding in North America. It has featured in many ski and snowboard movies and was once home to the legendary Shane McConkey. The resort is packed full of powder freeride runs to explore and some tree runs to dip into too. For advanced riders, there's a lot of double black diamonds to test yourself on.
Beginners are welcome too, there are cruisy blues and nursery slopes to improve your riding skills on the mountain safely. Palisades Tahoe ski resort has an excellent snowboard school service for the younger snowboarders from the age of 3 up to 12.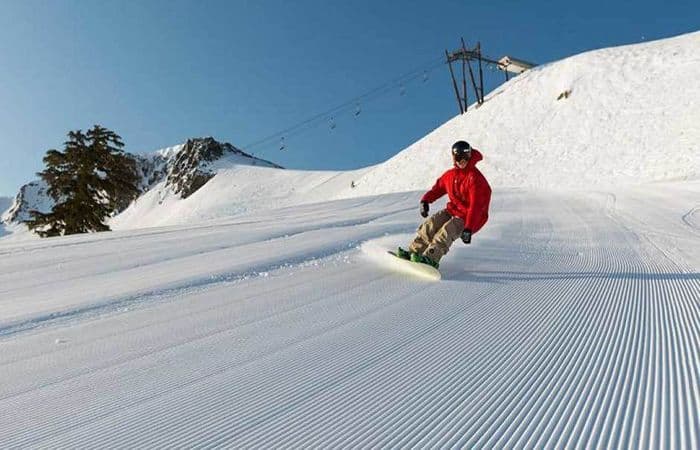 Kicking Horse, Canada
The snowboarding terrain in Kicking Horse is mainly suited to established intermediates and advanced riders due to the amount of challenging pistes in the area. There is 100km of slopes to explore with 60km of them with a black grading. If you love powder there are fantastic freeride opportunities in the area too. Easily accessible by lift you can find great powder bowls to drop into. The snow record in the area makes it one of the must-visit spots.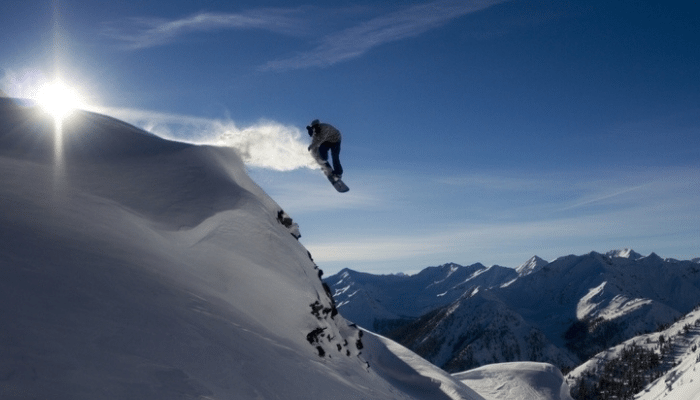 Speak to our experts on 0207 471 7700 for more information on the best North American snowboarding.