From the dry ski slopes of Pendle to the heights of slalom ski racing, Dave Ryding is a unique story within the world of Alpine skiing. Ryding is Britain's most successful World Cup ski racer with six podiums, one of them being his famous win in 2022 in Kitzbühel. Nicknamed Dave 'The Rocket' Ryding, he is now a favourite among ski racing fans around the world and keeps on delivering top performances at the age of 36. Ryding is passionate about improving British skiing as a whole and raises the game of his young teammates. Ski Solutions spoke to Ryding during his summer training in preparation for the 2023/24 World Cup Alpine race season.
Dave Ryding's World Cup podiums
2017: Kitzbühel Slalom, 2nd place
2019: Oslo Parallel Slalom, 2nd place
2021: Adelboden Slalom, 3rd place
2022: Kitzbühel Slalom, 1st place
2022: Garmisch-Partenkirchen, 2nd place
2023: Kitzbühel Slalom, 2nd place
Congratulations on another World Cup podium this year, is Kitzbühel now your favourite place in the world after three podiums there?
It's certainly up there isn't it! It's hard to disagree with that fact. It's definitely a special place for me now.
How does it feel to still be at the top of your game later in your career?
Yeah, it's funny, people always say to me now, 'You must not have much to prove, you've proved all the doubters wrong.' You get new doubters every year but it's nice to just remind people that I can still do it. When the going gets tough on difficult hills like Kitzbühel I'm still right up the top. I'm just happy that all the hard work paid off and I got another podium.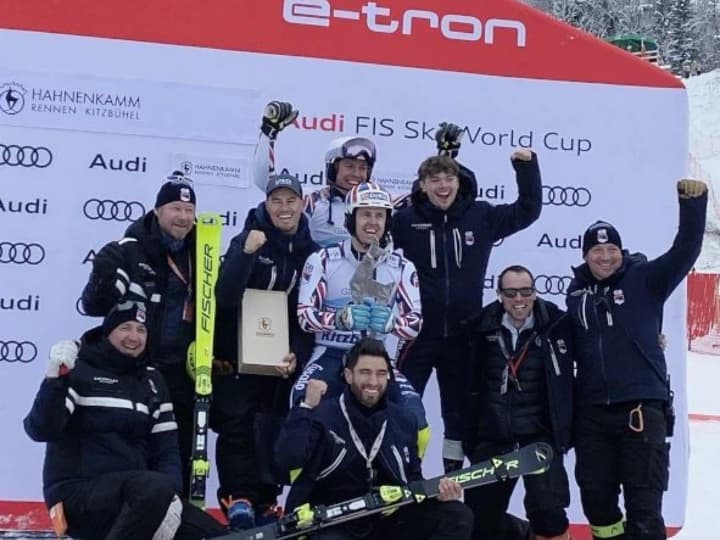 Why does the Kitzbühel race hill suit you so well? It's one of the hardest on the slalom circuit!
As you say it's one of the hardest and one of the iciest with a lot of terrain. That's what I'm good at. I'm good when there's a lot of changes in terrain. You've also got to use some tactics and think on your feet. So everything about Kitzbühel suits me.

It's also the mecca of ski racing. It's the Wimbledon of skiing. For me, it's always been the one that I've dreamt of having a podium. It was always Kitzbühel that I wanted to win and get one of the chamois trophies. Everything sort of vibrates into place whenever I'm in Kitzbühel. It's now become the place where I perform my best.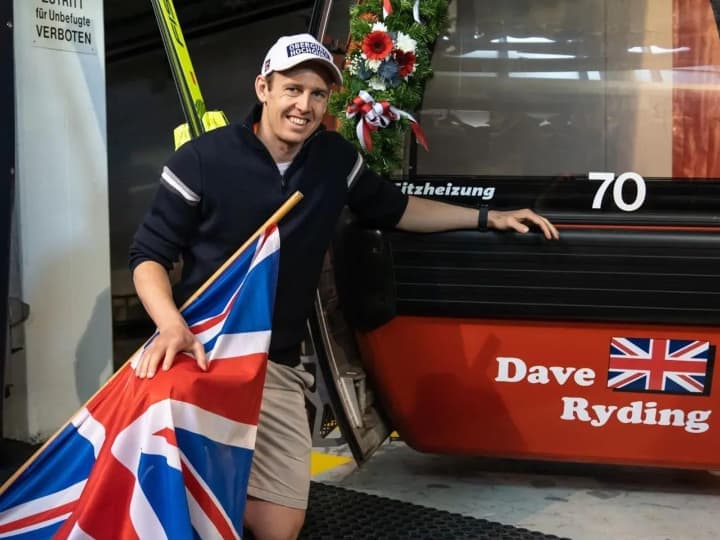 We interviewed Laurie Taylor last year, he was very complimentary about you as a teammate, have the young members of the British squad helped your performance?
In the past it was a solo mission, when I was getting to my 30s it was becoming quite draining. As soon as these young guys came along, Billy Major and Laurie Taylor, it was a whole different vibe and impulsive energy. Some days when I was finding it tough glacier training, they were having a good day so it brought my morale up. We work well together.
I try to lead by example rather than saying too much. They can pick and choose what works for them. They hold me accountable every day whether it's on skis or physical training. They push me to my limit and I want to make sure I still can. It's the constant in-team competition. We're all trying to be better and it raises everyone's game. Thankfully we all get on well.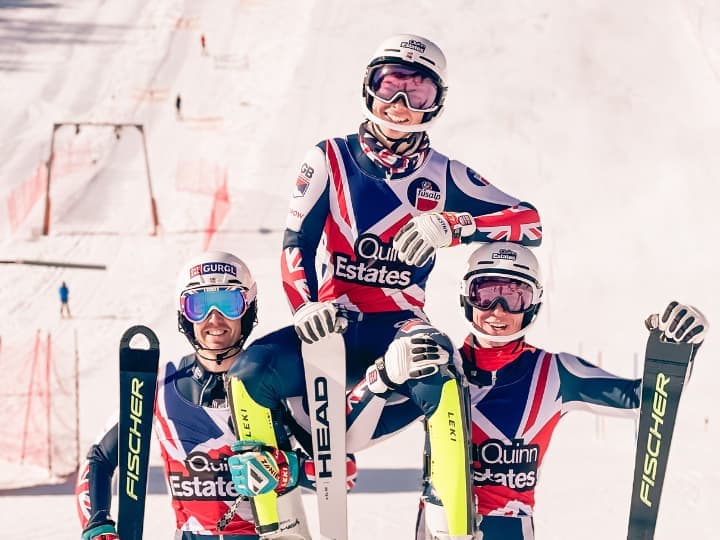 What's your typical training like leading up to the winter?
From September, we're pretty much three weeks of the month on snow. The first race is mid-November in Obergurgl so we're on snow a lot.
Before that, we're balancing it with physical training and snow training. It's an equal amount of both. When September comes around though, it's much more about how to maintain the fitness and the skiing.
How did you get into ski racing?
Basically, it was at my local dry slope in Pendle. I learnt to ski on the dry slope to go on my family holiday. You go through the classes and up each level of ability. Then there was a race club. I was in the advanced class and they just invited me to go training. I have a competitive family so it was logical we gave it a go.
Race training became competing in races locally at eight or nine. Then I was racing up and down the country when I was 10 or 11. I just followed the UK path at the time around dry slopes. I really enjoyed it and made a lot of friends during the weekend races. I raced dry slope until I was 21, and I really loved it.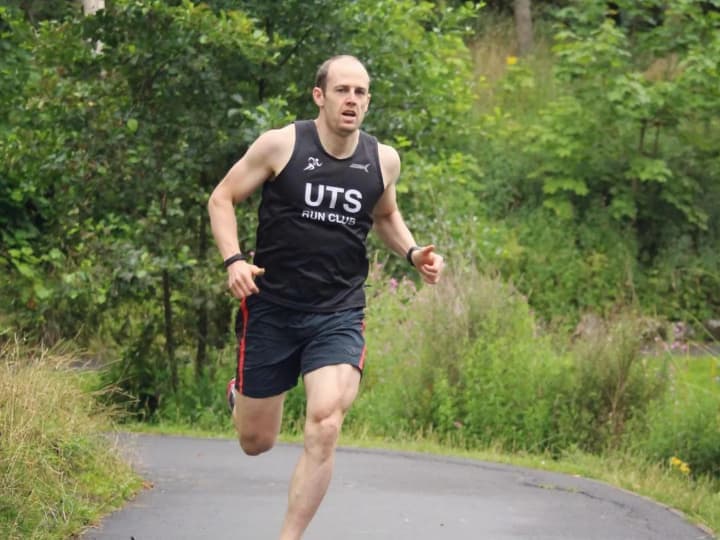 Do you have a favourite ski resort to ski recreationally?
Obergurgl and Hochgurgl have a blend of everything. Not just because I train there as well. They have great accommodation. The après ski is renowned for being very good, not that I have tried that too much. I'm always too tired to try the après properly. But once I finish my ski racing I'd love to give it a go. That's where I feel really at home in the Alps. The first race of the World Cup season is in Obergurgl, so hopefully I can start this year well!
Where did you first go skiing abroad?
I went on a family ski holiday to a place called Samoëns in the Grand Massif near Flaine. It was just to go on a family ski holiday, I didn't even know what ski racing was back then. I loved that I was out of school! The fact I was in the mountains, the speed and the thrill was a hell of a buzz. I absolutely loved it.
I didn't do more than two weeks a year until I was 13. So I was late to the training side of it but I always loved my family ski holidays.
Do you have any top tips for any skier heading to the mountains this winter?
Firstly, going on holiday is all about fun so make sure that happens. The top tip I have is to do a bit of physical fitness training before you go away. People forget how demanding it is on their legs. So, if you can train a little bit, even if it's four or five weeks of running or light weight training, it will help. It will certainly give you a bit of stamina for a day on the slopes.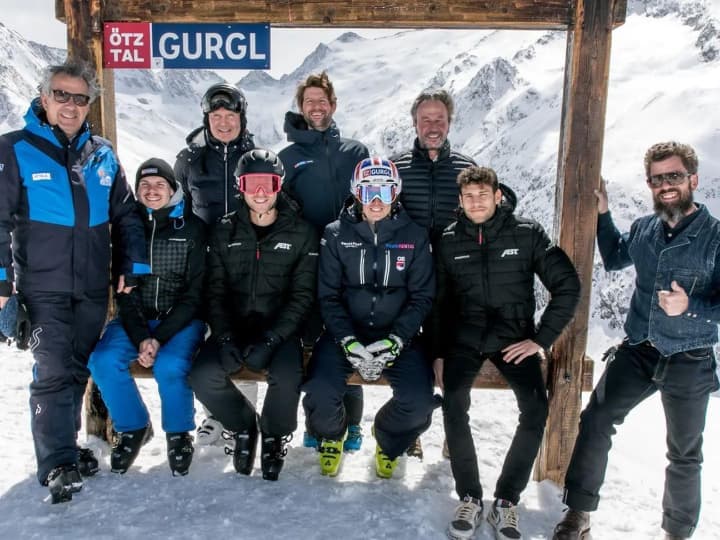 If you didn't get into skiing, what would you be doing now?
If I was doing another sport it would be football. I was good at football when I was young. For some reason, probably stupidly, I decided to go skiing instead. I fancy myself as a bit of Jordan Henderson, a defensive midfielder. To be honest, what've learnt in my career is that you can put your hand to anything if you have the right mental mindset, hard work and passion. With all that you can do anything and the world is your oyster really.
In the last year you've become a dad, how have you found fatherhood so far?
It's been awesome! Thankfully I have a very understanding wife, who looks after Nina around my training. I love it. It's funny, my wife went over to the Netherlands to see her family and I stayed home for a bit before going over. I thought being home alone would be bliss and I would be able to relax a lot more. To be honest I found myself missing the hectic lifestyle with the little one crawling around the floor and causing chaos.
I always wanted to be a dad. My dad was a young parent at 25 and I was able to do so much sport with my dad. I already wanted to be a dad for a few years now but ski racing and my career put that on hold for a bit. It is certainly the right time and while it has brought a different dimension to my life, it's not been a negative one at all.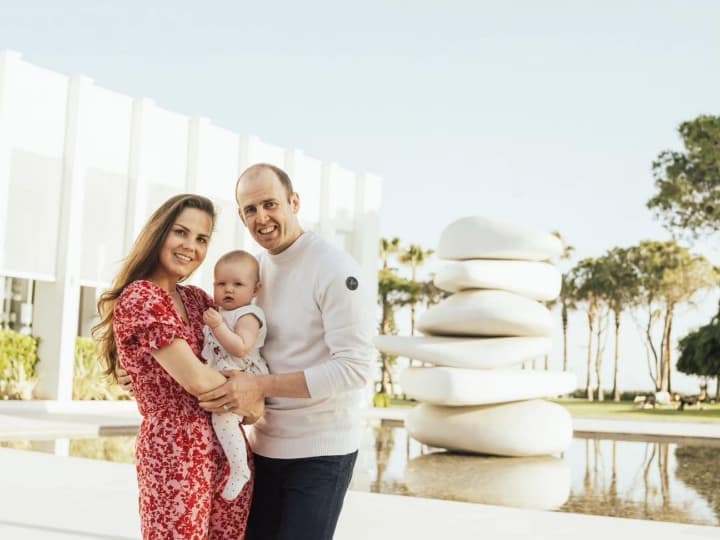 Did you have a sporting inspiration in skiing and other sports?
I was naturally inspired by Alain Baxter growing up as a ski racer. I also loved watching the World Cup when the Austrians were dominating with the likes of Benni Raich and Mario Matt. They were my non-Brit role models. I used to watch so many sports. Valentino Rossi and Steven Gerrard were my out-of-skiing idols that I really liked to watch.
What's it like having an idol of yours, Alain Baxter (2002 Winter Olympic medallist), now part of the coaching team?
Alain has been there and done that. He gets the emotion of an athlete, which is very important. Unless you've been an athlete at a high level yourself, you don't quite understand what's going on in an athlete's mind. He knows how to react to good and bad results when it comes to an athlete's mind.
I grew up watching Alain, I remember watching him getting a medal at the Olympics. That was the moment I thought I could do ski racing as a career for myself. I still remember that feeling I had from watching Alain. To have him on board is fantastic.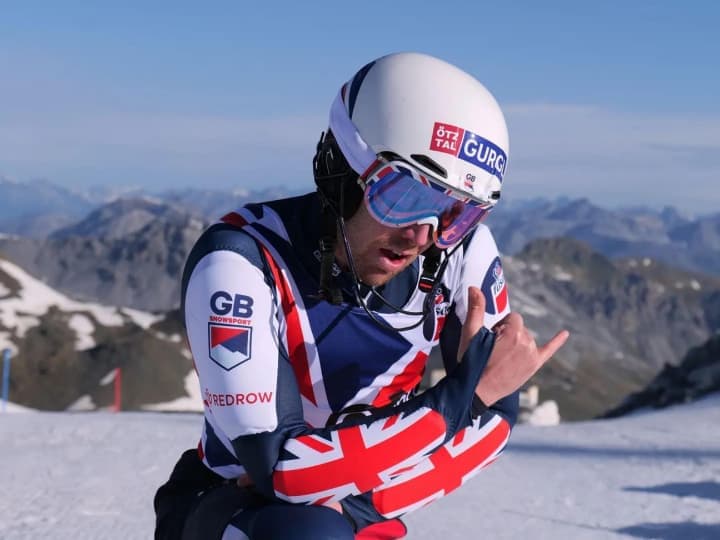 Lastly, do you have specific targets for the upcoming season?
It's hard to say. I still want to compete for podiums. That's where I want to be. Top 10s are still a good result but I still think I can show I can compete for a podium.
My ultimate goal now, off the back of being the oldest-ever winner of a World Cup, I also want the record for the oldest-ever World Cup podium place. It's currently 37 and 20 days I think. So I'll have to wait until January before that's the case. I see that as my legacy. Not just the best Brit, but the best oldest slalom skier ever. That's what I would like to be remembered as. If I can take that accolade, that would be for me a good season.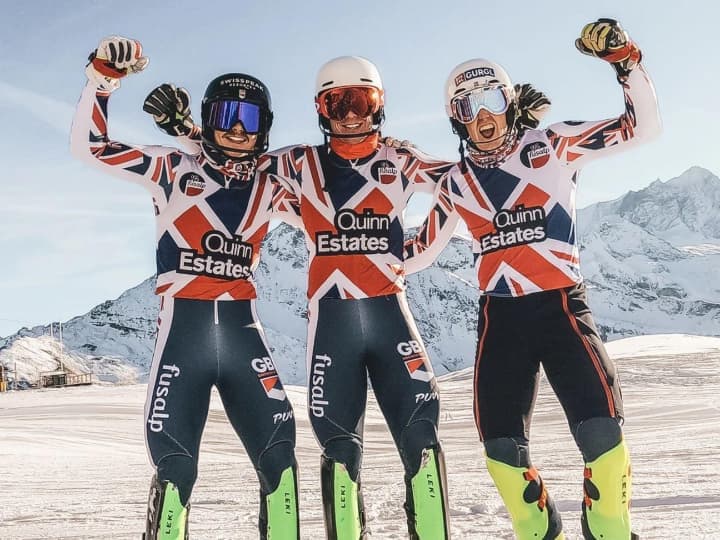 You can watch Ryding in action on 18th November in Obergurgl for the first World Cup Slalom race of the season.
Follow Ryding on:
To find your perfect ski holiday, please call our ski experts on 020 3733 7776.