If you have a short transfer time from the airport to the ski resort, you will maximise your time on the slopes. There are some great destinations to choose from near Grenoble Airport to please every type of skier. Our ski experts have created a guide to the best ski resorts near Grenoble.
Alpe d'Huez – 1 hour 30 mins Transfer Time – 100km
Alpe d'Huez is great for all abilities of skiers with fantastic terrain. There is 250km of slopes to explore in the area with 84 lifts linking to nearby ski resorts Vaujany and Oz-en-Oisans. There are excellent nursery slopes and gentle blues for beginners, plenty of terrain for intermediates and off-piste or black runs for more advanced skiers.
Off the slopes, there are great bars and restaurants to visit. On the mountain head to Chalet du Lac Besson for delicious grilled meats by an open fire. We recommend Le Cremaillere as one of the best restaurants in the village with great meat and fish dishes on the menu. The nightlife has something for everybody. The famous La Folie Douce bar will have you dancing on the tables. In the village, the Brit-run Underground bar is London Underground themed and has a brilliant atmosphere.
Stay At:
Club Med Alpe d'Huez offers a ski-in ski-out all-inclusive ski holiday in one of the finest resorts in Europe.
Alpe d'Huez ski holidays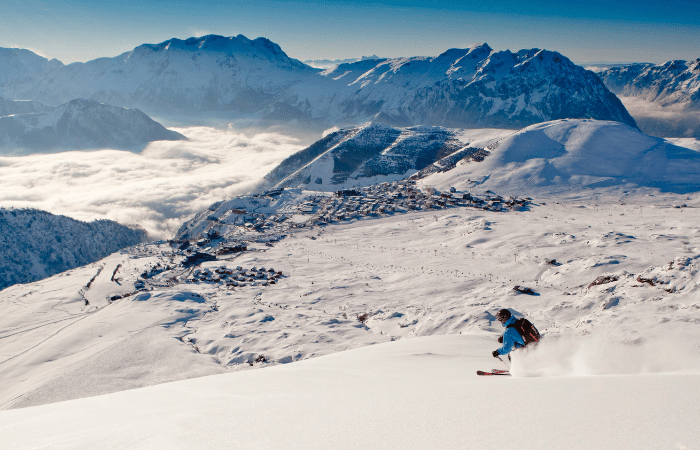 Les Deux Alpes – 1 hour 30 mins Transfer Time – 110km
Les Deux Alpes is one of the best ski resorts near Grenoble because of the vast terrain and snow reliability. You can explore 229km of pistes in the area, which have something for all levels of skier. It is also home to France's second-largest glacier meaning the season can start early and end late. There's also a good snow record in the area with a high altitude of 1,650m-3,570m.
There are brilliant restaurants and bars, whether you're in town or on the slopes. On the pistes, Altitude La Toura serves delicious pizzas and salads. In the town, Michelin-starred Le P'tit serves some of the best gastronomic delights. The après ski is pretty lively in Les Deux Alpes. After a day on the slopes, Le Pano Bar is a great first stop for a drink. L'Avalanche Club is a fun late-night bar where you can dance late into the early hours of the morning.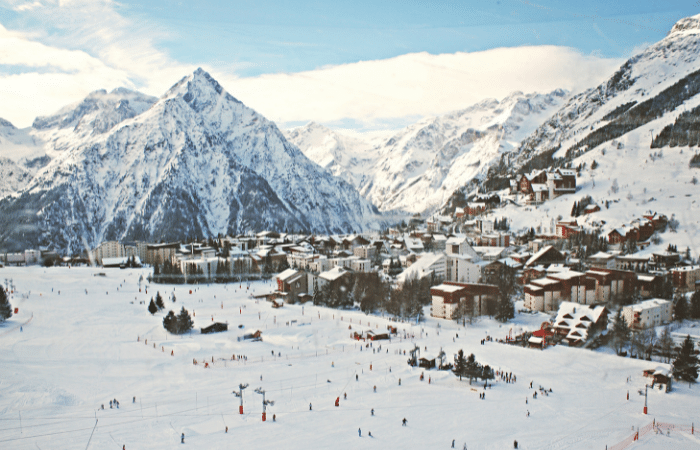 La Clusaz – 2 hours Transfer Time – 160km
Part of the Massif des Aravis ski area, La Clusaz is an excellent ski resort near Grenoble. There is 220km of slopes on the map you can enjoy with a full lift pass. This is a resort where all levels of skier can enjoy what La Clusaz has to offer on the mountain, with its diverse choice of slopes. Considered a hidden gem in the French Alps, La Clusaz has incredible mountain range views on and off the slopes.
There's a great selection of restaurants to visit on the mountain and in town. La Ferme is a favourite for its traditional hearty alpine French cuisine in its rustic chalet. La Cordee is the best place in town for pizza. Despite La Clusaz being suited to family skiing, there's still lively nightlife in the area. L'Écluse and Le Bachal are the best spots in town to dance the night away and enjoy a drink.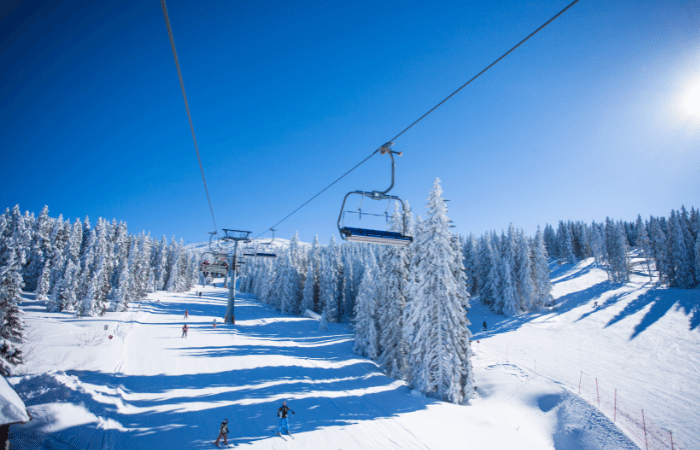 Megève – 2 hours Transfer Time – 160km
Megève is a stylish ski resort that has kept its traditional alpine charm. You can ski an impressive 445km of slopes in the area if you purchase the full lift pass. The skiing is mostly suited to beginner and intermediate skiers, with mostly gentle slopes dominating the piste map. Advanced skiers can check out the powder bowls around Mont Joux and Joly.
If you're a foodie you're in for a treat, Megève has some of the very best restaurants in the Alps. Michelin-starred restaurant Flocons de Sel is a must-visit for its creative and beautiful menu. On the mountain, Le Refuge serves delicious local cuisine. The nightlife in Megève is mostly relaxed. However, if you want to dance the night away Cocoon Club is the main spot for a late-night drink.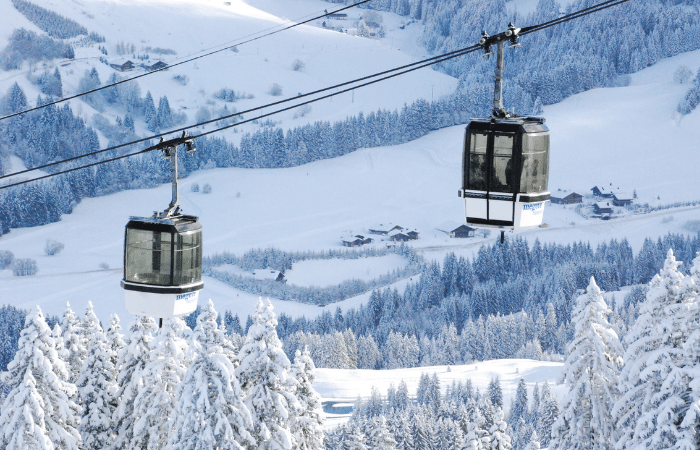 Serre Chevalier – 2 hours Transfer Time – 160km
Considered a hidden gem of the southern French Alps, Serre Chevalier is one of the best ski resorts near Grenoble. You can ski 250km of slopes that suit all levels of skier, ideal for families and mixed ability groups. There are some great powder bowls to enjoy on a snow day if you book a local mountain guide. It is considered a freeride paradise with plenty of routes to try.
There's a great selection of restaurants in the area. La Marotte is popular for its steak tartare and innovative cuisine. If you want the full Savoyard experience, Allo Raclette is the place you want to be. The nightlife is pretty relaxed in the village. L'Alpen is a British run bar that is visited a lot throughout the season. Le Frog is another alternative for an evening drink with live music often playing.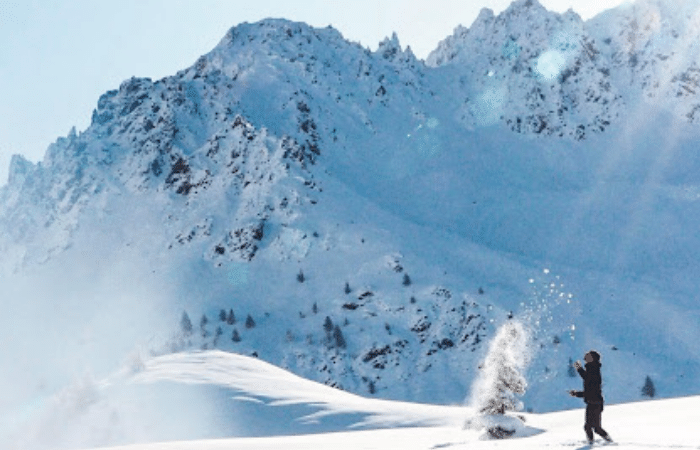 Valmorel – 2 hours Transfer Time – 160km
Part of the Grand Domaine skiing area, Valmorel offers access to 165km of slopes. The skiing is mostly suited to beginner and intermediate skiers, because of the gentle terrain and nursery slopes. It is ideal for first-time skiers or families with young children because of the way the resort is set up. There are excellent ski schools and childcare facilities in the area.
Valmorel has a good selection of restaurants you can choose from. In the village, Le Petit Prince has a relaxed atmosphere and it's got a great menu for families. For the best pizza in town head to La Casa Pizz. The après scene is relaxed, but there are plenty of places to enjoy an evening drink. Jimbo Lolo, Le Café de la Gare and Le Sound Pub & Club are the most popular spots in town.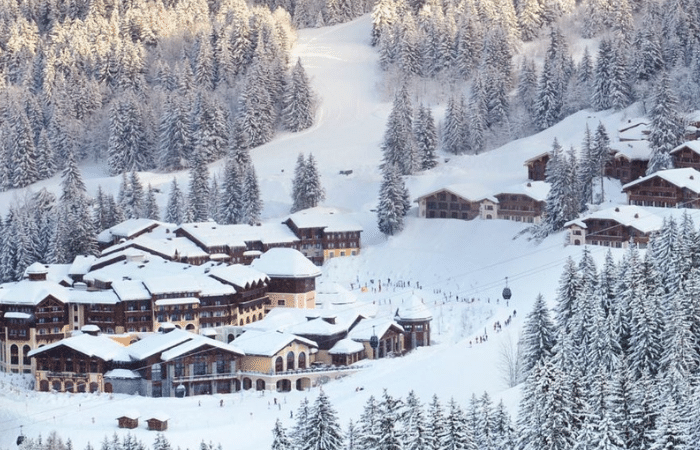 Chamonix – 2 hours Transfer Time -160km
Enjoy some of the best views of Mont Blanc, by visiting Chamonix. You can ski 150km of slopes with some of the most diverse terrain in the Alps. The skiing is mostly suited to intermediate and advanced skiers with some of the most challenging on and off-piste around. Skiers around the world regularly visit Chamonix on a powder day to ski incredible lines.
The village itself is a nice mix of cobbled streets, medieval church towers and traditional chalets. If you're looking for a place to eat we recommend Restaurant Albert 1er for some of the best food in a ski resort, it has been awarded two Michelin stars. L'Amnesia is the main nightclub in the ski resort with an international DJ often playing each night.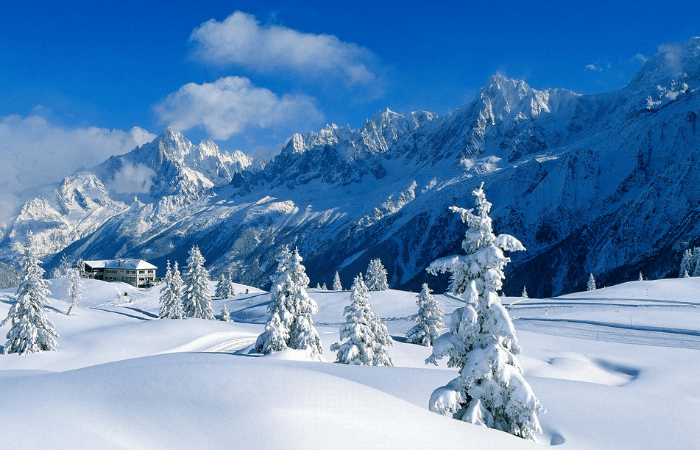 Méribel – 3 hours Transfer Time – 175km
In the heart of the Three Valleys, Méribel is one of the best ski resorts near Grenoble. If you buy a full ski pass you can explore an incredible 600km of slopes. There's something for every level of skier. There are great links to neighbouring ski resorts Val Thorens and Courchevel. It has a fantastic snow record with a high altitude of 1,400m-3,200m.
Off the slopes, there's plenty to enjoy with many restaurants and bars to visit. Blanchot is a delightful fine-dining experience with delicious gourmet food. In addition, there's lively nightlife in Méribel. Le Rond Point, Jack Bar and O'Sullivans are all popular spots in town to enjoy a drink after a day on the slopes.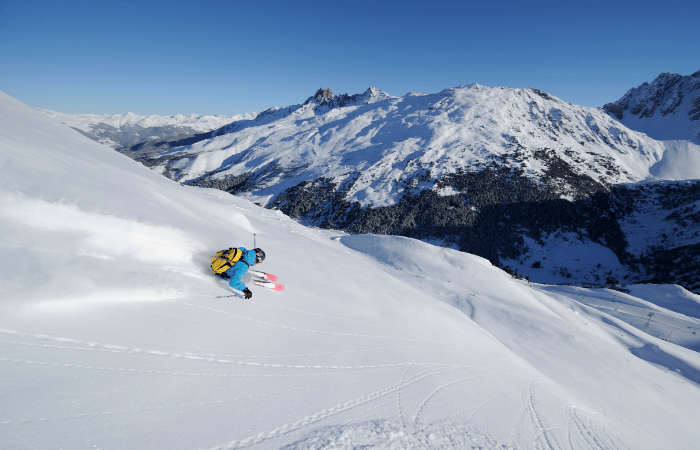 La Plagne – 3 hours Transfer Time – 190km
Part of the Paradiski ski area, La Plagne is one of the most popular ski resorts in the Alps. No wonder with 425km of slopes and excellent connections Les Arcs. Skiing has something for everyone with plenty of diverse terrain to pick from. The north face of Bellecôte is an excellent place for freeride skiing on a powder day.
La Plagne has 12 base villages, each with its own charm. If you're looking for a bite to eat Le Matafan is a delightful place that serves excellent traditional Savoyard cuisine. Le Refuge also has a great ambience and plenty of character in a rustic setting. La Plagne Centre and Belle Plagne have the liveliest après scene in the area. La Tête is the bar to start your evening with live music playing. Scotty's Bar and Bar La Mine also have a great atmosphere. If you want to carry on the night into the early hours, head to the nightclub Saloon in Belle-Plagne.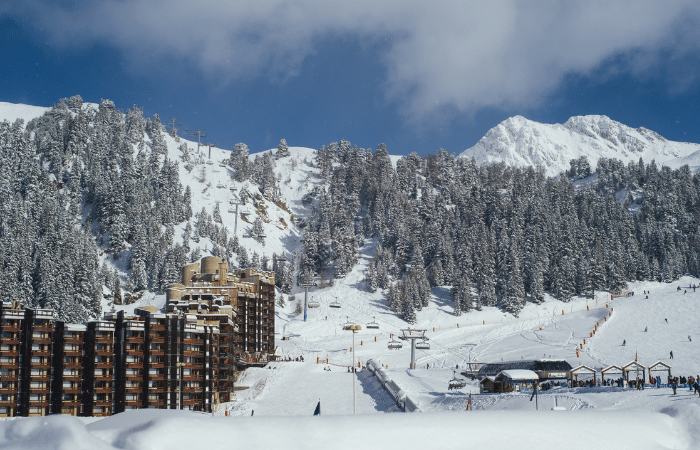 To find out more about ski resorts near Grenoble, call our ski experts on 0207 471 7700.