Covering a staggering 10,000 hectares with an equally remarkable 300 kilometres of piste across 156 marked runs. There is no denying that the Espace Killy (the ski area resulting from the combination of the behemoth resorts of Val d'Isère and Tignes) delivers on sheer quantity of skiing.
To help raise your excitement levels, we have curated a definitive list of the best runs in Val d'Isère to target your skiing to the crème de la crème.
Face de Bellevarde and Stade Olympique (Black)
This is Val d'Isère's steepest run which allows you to ski (almost) the full 1992 Winter Olympic downhill run. The original Olympic start was above the Olympique cable car top station. The pleasant, wide meandering top section narrows and steepens (up to 71°). It then makes its way over rollers before the final glory descent (Stade Olympique) into Val d'Isère. The run has been used for slalom and giant slalom courses more recently. Offering a thigh-burning 959m of vertical descent across almost 3km, this run is a must-ski for all advanced skiers visiting Val d'Isère.
Unsurprisingly, this run attracts crowds and can turn into a busy, slushy, mogulled nightmare towards the end of the day. With careful timing, you can catch the run in the late morning/early afternoon sweet spot. Overnight, when the ice and crust has softened, your chances of skiing this run at its brilliant best are maximised . To access it, take the Olympique cable car, Marmottes chair or Funival funicular to the top of the Rocher de Bellevarde.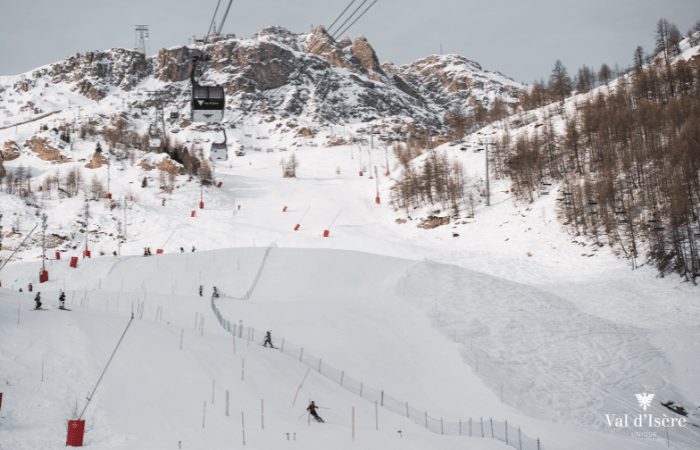 Orange (Red)
Dropping from the opposite side of the Rocher de Bellevarde to Face de Bellevarde all the way to the valley bottom at La Daille, Orange offers interesting skiing through a variety of terrain. It winds its way down beside OK, a world cup downhill and GS run named after French ski legends Henri Oreiller and Jean-Claude Killy. These tend to draw the crowds, leaving the equally superb Orange comparatively deserted. Both runs are fantastic, arguably the best runs in Val d'Isère, especially when carrying a bit of speed.
To get to the top, take the Olympique cable car, Marmottes chair or Funival funicular to the top of the Rocher de Bellevarde.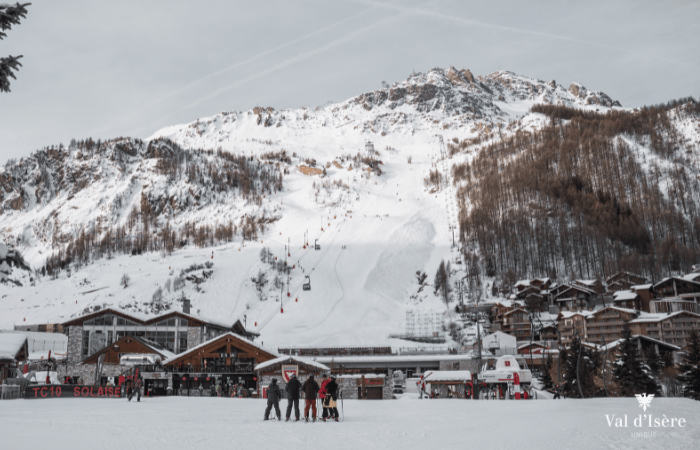 Piste L and Traversée du Laisinant (Blue)
The best way back to Val d'Isère from the higher elevation runs at Solaise 2560 for less confident skiers. Piste L drops down a gully system, almost creating a natural half pipe, which is great family fun. Just after red Germain Mattis joins on the right, fork off left and traverse through the trees down the valley back to Val d'Isère down Traversée du Laisinant.
To get there, from the top of the Solaise bubble ski down Lac-Parc and bear left.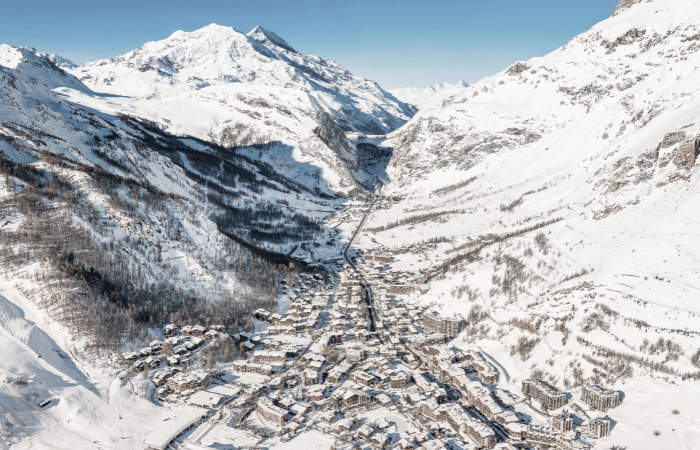 Génépi (Green)
High elevation, wide piste and gentle slopes give cruisy turns resulting in a superb long run that can be enjoyed by skiers of all abilities. This is the perfect run to take in stunning views. You can look out over the wild mountains towards the French-Italian border and Grand Paradiso National Park. This is one of the few places Alpine Ibex survived after extensive hunting in the 18th and 19th centuries left around 100 Alpine Ibex. Successful re-introduction and breeding programmes mean there are 53,000 Ibex living across the Alps today.
It would be remiss to suggest skiing Génépi without wholeheartedly recommending sampling the local herbal liqueur the run is named after. Carefully harvested alpine wormwood provides the flavouring and colouring of this much-loved alpine beverage.
To get to it, take the Borsat chair. A superb extension for a blue/green skier is to snake off right and take the Grand Pré chair for a quick lap of Grand Pré, then the Fontaine Froide chair to get to the top of verte, a rolling green run that drops all the way to La Daille.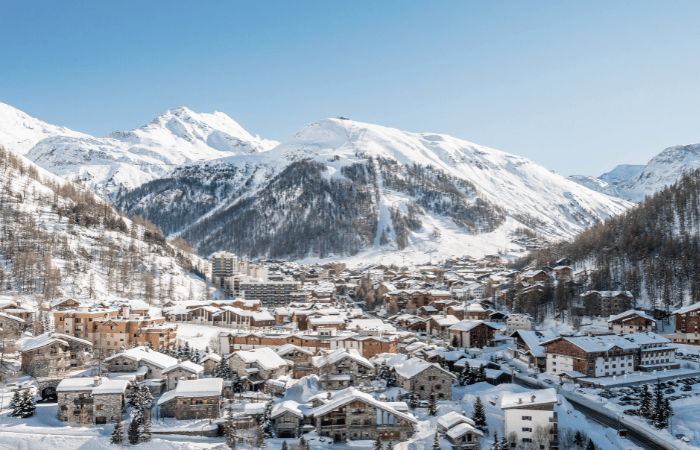 Tunnel (Black)
Included for sheer novelty value (how often do you get to ski underground!), 'tunnel' burrows its way underneath the knife-edge Crête des Leissières ridge. It then emerges on a perch high above the Glacier du Pisaillas. A short, often heavily moguled, thigh-burning descent follows, spitting you out, with much relief, onto the 'Pont Abatte' blue. To get to it, take the TK3000 drag lift and bear right to enter the tunnel, avoiding the '3000' black run which forks off left.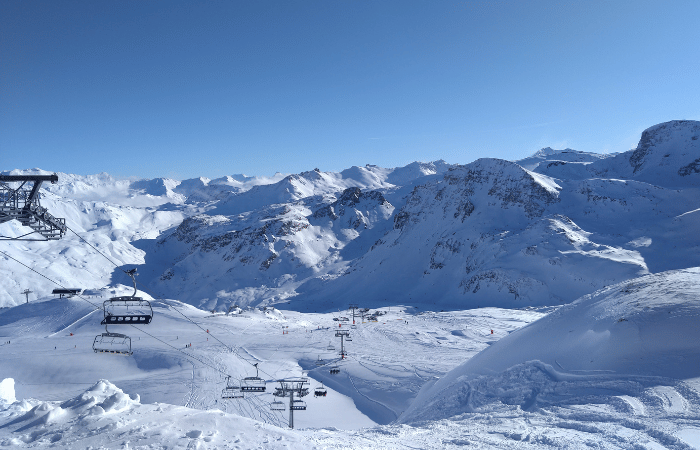 Manguard (Blue)
With the bulk of the skiing in the Espace Killy lying above the tree line, this cruisy blue run serves as a brilliant reminder of just how pleasant gentle turns through trees are! Manguard is one of the best blue runs in Val d'Isère. Dropping through black grouse conservation areas before arriving down an exhilarating final steep-ish pitch into Le Fornet. Around two-thirds of the way down, Chalet-Restaurant L'Edelweiss is well worth calling into for hearty, delicious Savoie cooking. It's so popular that it is well worth booking tables in advance.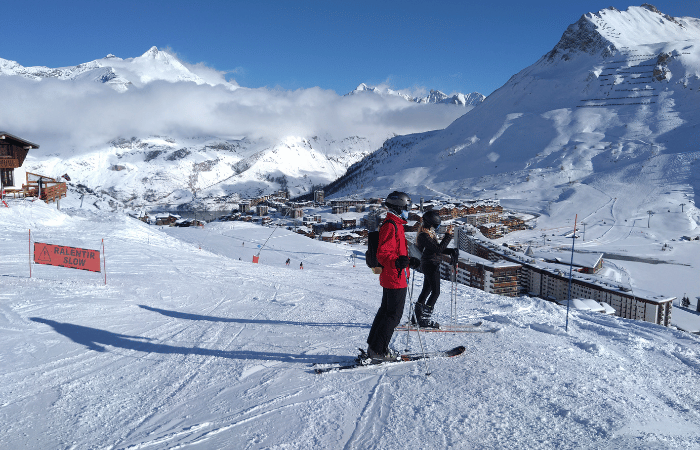 Montet (Blue)
Located on the roof of the resort, it is possible to ski during the summer months on high-altitude, glaciated pistes from the Montet and Cascade lifts. Speedy reds combine with enjoyable blues to offer skiing for all appetites. Equally worthwhile during the winter, it is well worth the effort to get to these runs. These are the pistes to ski for uninterrupted views over the Savoie mountains. Linking Montet to Pisaillas, then Arses with a short hop up the Cema chairlift. You can then ski Pont Abatte, Vallon and Mangard for an excellent descent of over 1000 metres.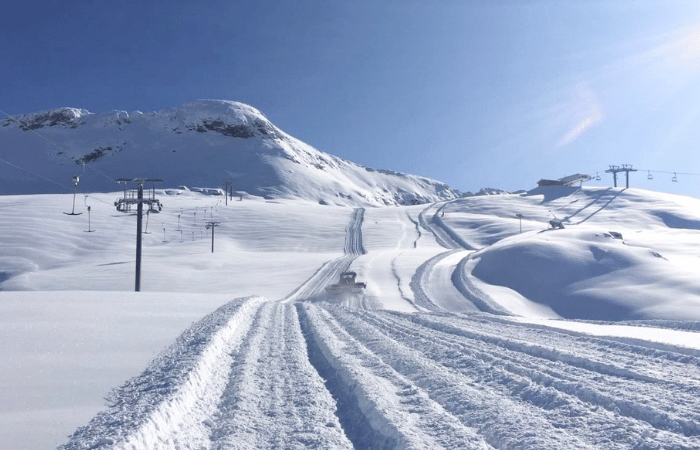 Arcelle (Red)
This run is over 2 kilometres long and dropping some 691 metres. Arcelle offers superb skiing for intermediate and advanced skiers who can let rip and enjoy long carving turns. Dropping into the beautiful Manchet Valley with atmospheric views towards the steep, rocky buttresses of the Rocher du Charvet. To get there, take the Madeleine lift from Solaise 2560. This seldom-skied red is certainly one of the best runs in Val d'Isère.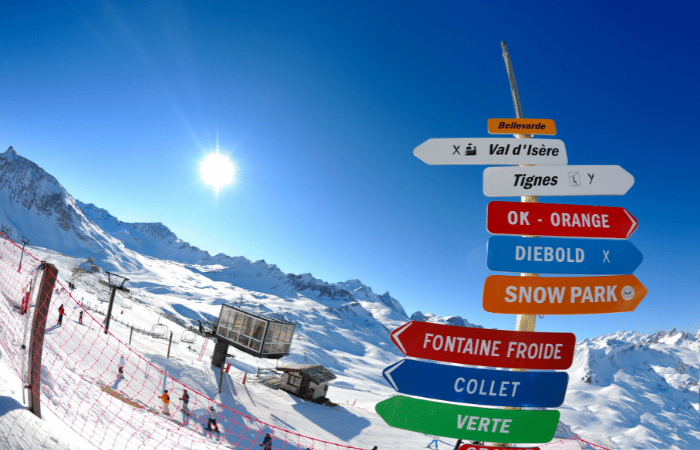 To find out more about the best runs in Val d'Isère, please call our ski experts on 020 3944 7213.