Having watched most of the Ski Solutions team travel out to the Alps on product trip, it was finally my turn to get some snow under my skis with a sneaky 48 hour trip to St Anton with one of our sales team members James Eliot. January is always our busiest month in the calendar. Opportunities to escape the desk are few and far between during the week. I was keen to have the opportunity to work off some of the pounds I've put on over Christmas. More importantly than that, I needed to see for myself what the Alpine conditions are looking like with my own eyes.
Stay At:
Located in the centre of St. Anton, the four-star Hotel Schwarzer Adler is a stone's throw from the lifts.
St. Anton ski holidays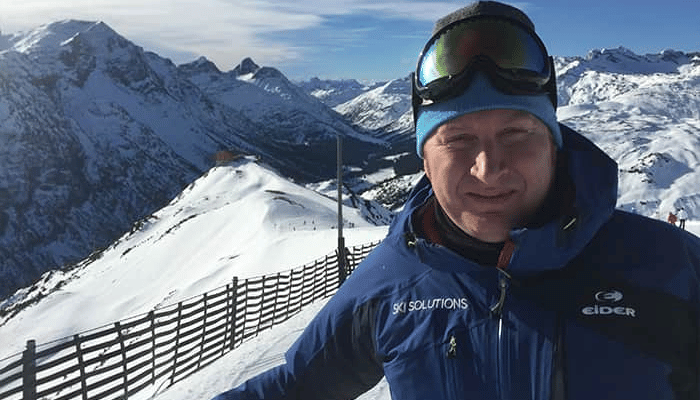 How did you get there?
The trick to a successful weekend ski trip is picking a resort with convenient airport access. St Anton is only 75 minutes from Innsbruck. The airline schedules don't really work for a Fri-Sun weekend, and so for this trip, it was Zurich. With the wind behind you, and no traffic on the road, you can do the 180km drive from Zurich to St Anton in just 2 hours. Compared to the likes of Geneva and Chambery. Zurich is a dream airport to travel through, epitomizing the efficiency the Swiss are famous for.
Where did you stay?
After a late arrival on Friday night, we woke on Saturday morning at the Hotel Banyan to partly cloudy skies and a wacky +5 degrees temperature. The last part of our journey into St Anton was in heavy rain. I must admit, I wasn't particularly optimistic about what I'd find on the mountain. It's been a weird weather season so far with Mother Nature serving up a real mixed bag. We all know that snow depths are generally below average across the Alps, and the temperatures have fluctuated wildly.
The snow was slow to come at the beginning of the season, and then we got walloped on 27th December. Just as everyone was on the move to or from the mountains. Since then, the main resorts haven't seen an awful lot of new snow, though the skiing was good for almost everyone over the New Year week and first few days of January.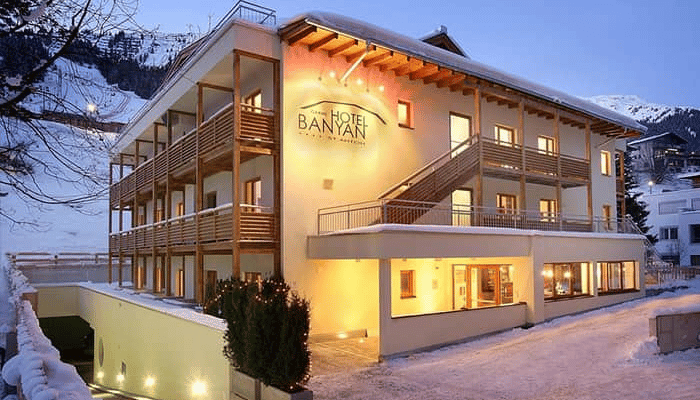 Favourite place to ski in St Anton?
So my 2014-15 ski season started from the top of Galzig in St Anton and one of my favourite descents down into St Christoph. I was pleasantly surprised by the condition of the snow and the quality of the pistes (with a really decent base). The freezing level was high during the night, but the upper slopes had a fresh dusting of powder, and the snow was soft-packed and great fun to ski. There wasn't an icy patch in sight. We headed via the bus to Zurs, where we skied both sides of the valley under increasingly clear skies.
Onwards from Zurs to Lech, where we grabbed a delicious lunch of Tiroler Grostl (potatoes, lardons, and other unhealthy stuff topped with a fried egg) before setting off back towards St Anton. By now the wind had started to pick up, heralding the onset of a new weather front passing over the region. It felt colder too, and the forecast suggested the freezing level would lower to 500m by Sunday evening. We agreed to give ourselves an extra hour contingency for the drive back tomorrow.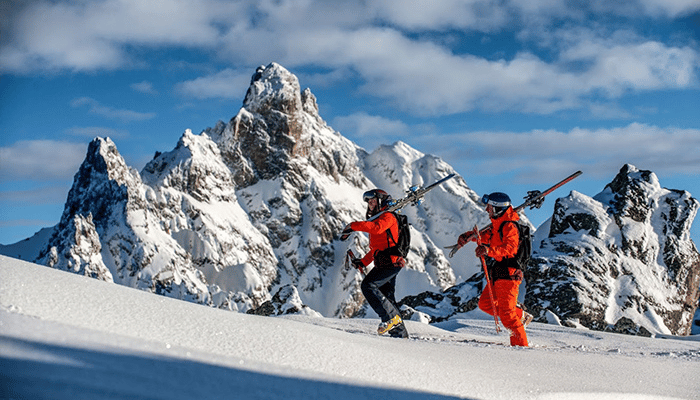 Après ski
Back in St Anton, and time for a beer. Where to? The MooserWirt of course for my annual dose of Europop madness. Weissbiers were followed by Jaeger (they serve it out of a tap in Austria) which were followed by shots of Heisse Witwe – a curious plum liquor, served hot in a shot glass with whipped cream. When in Rome….. My hopes of achieving a net loss of calories on this trip clearly diminishing by the round. The bars in town were busy all night. This is a resort as famous for its après ski as it is for its mountains.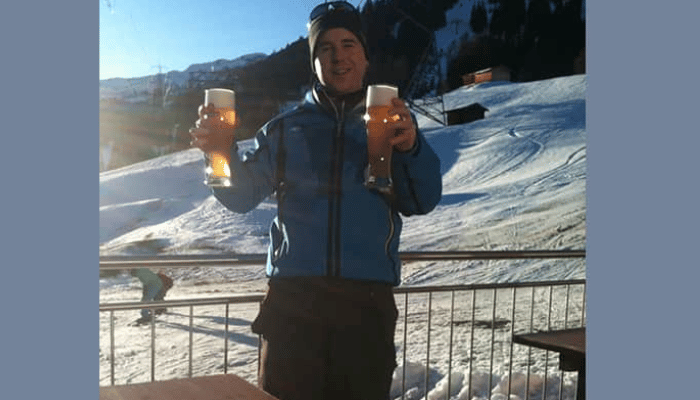 The following morning we woke to heavy snow falling in the village. It was distinctly chilly with a stiff breeze and was shaping up to be one of those 'proper' mountain days were goggles and Gore-Tex rule. Superb breakfast in The Banyan set us up nicely. We headed up the Rendl gondola. The snow was falling heavily, and by 11am approximately 15cm of fresh snow had settled on what was now a very firm, bullet-proof base. The off-piste was still marginal. On the pistes with fresh snow on a true base, there were some joyous turns to be had in ankle-deep freshies.
After lunch, time for one more run. Then back to the hotel to shower and change before the drive back to Zurich. A quick 70-minute flight to London, and home at 10pm ready for the daily commute to work on Monday morning. What a weekend! I'm a huge fan of the short ski break. Ski Solutions are experts at building tailor-made itineraries to suit all budgets.
Call us today on 2027 471 7700 to start planning your ski holiday.