City & Ski: 48 Hours in Oslo
A winter trip to Norway is a magical experience. Crammed with national parks, breathtaking fjords and postcard-worthy ski resorts, this compact Nordic country offers a wealth of snowy adventures. If you're en route to Geilo for a week on the slopes, consider a two-day stopover in Oslo for unrivalled fusion food, contemporary art and historical architecture. Here are our tips on how to spend 48 hours in Oslo.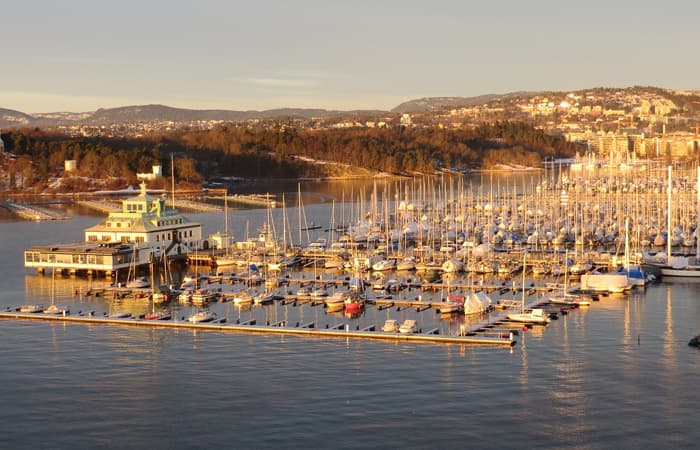 Day 1
Morning
Oslo isn't fast paced. Small and intimate, it doesn't have the sprawl and rush of other capital cities, but instead offers a friendly, laid-back atmosphere. Firstly, start your two-day break the way the locals do, with a hot drink and a pastry. Unsurprisingly for a country that spends most of the winter in darkness, mornings revolve around coffee. You'll find some of the city's best in Grünerløkka, a hip district northeast of the centre. Head to Tim Wendelboe's place for a delicate light roast blend that will keep you going until lunch. Get it to go and grab a Skolleboller, a giant bun filled with custard and flecked with coconut, from the nearby Mathallen food market to nibble on as you browse stalls brimming with sausages, olives and macarons.
Afternoon
Follow a morning of snacking with an afternoon of culture. Head slightly southeast to Sofienberg for a huddle of attractions. The Munch Museum houses a collection of the works of Norway's best-known artist Edvard Munch, celebrating his contribution to expressionism. If you're interested in the wild and the wonderful, then the Botanical Garden and its museums are just around the corner. Here you can learn about Scandinavian plant diversity and native wildlife. Later, the historic Tøyen Park makes a lovely spot for a stroll after a couple of hours indoors. To round off the afternoon, stop by Brutus in Tøyen for a taste of some of the finest names in wine.
Evening
Oslo has a burgeoning foodie scene, with a huge array of both classic and contemporary restaurants to choose from. For tradition, reserve a table at the Grand Café on Karl Johans Gate, which has an extensive wine cellar and serves a legendary duck confit. In Fredensborg is the moody, rock-and-roll Pjoltergeist, serving out-of-this-world Scandi-Asian fusion – from sashimi to langoustine bao buns. After dinner, catch the tram back to Sentrum, Oslo's compact city centre, for a late-night cocktail at either Himkok or Fuglen.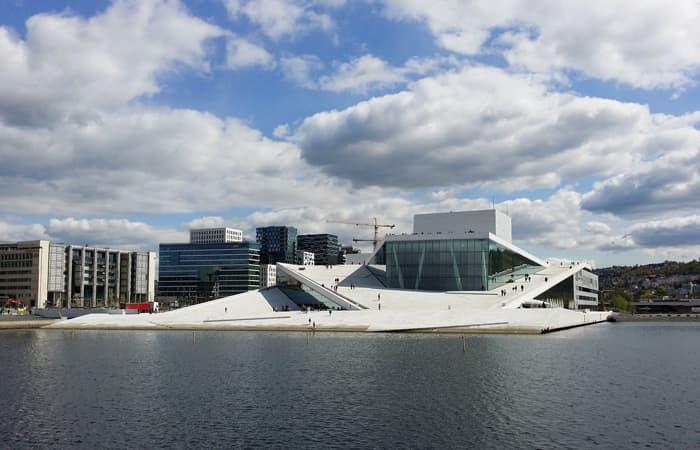 Day 2
Morning
Begin your second day in Sentrum with a walking tour that takes in some of Oslo's striking architecture. Wander up to the neo-classical Royal Palace at the top of Karl Johans Gate for a glimpse at the official seat of the Norwegian monarchy. Later, head to Stortinget, the parliament: an excellent example of 19th century architect Emil Victor Langlet's eclectic work. Get your skates on for a few loops of the ice rink on your way out.
A five-minute walk away is the cathedral, with its imposing baroque interior and history dating back to the 1690s. City Hall is a little closer to the harbour; it's worth a look inside to see the friezes and works by famous Norwegian artists. Work up to lunch with a stroll along the waterfront development over Aker Brygge to Tjuvholmen, with lots of boutique eateries and rows of moored boats. Seafood is certainly the star of the menu in Oslo and it's as fresh and delicious as you'd expect.
Afternoon
Stay at the water's edge for the afternoon to discover more of Oslo's gems. The Opera House on Kirsten Flagstads Plass is a great place to catch a matinee or climb up to the roof for views across the city and harbour. Further along the shoreline is Ekebergparken Sculpture Park. Here you'll find an open-to-the-elements exhibition of imaginative sculptures by international artists and some must-visit photography spots.
Evening
Round off your stay with an evening boat trip out to the fjords. Cinematic in the moonlight, a three-hour cruise gets you up close to Akershus Fortress, Hovedøya island and the lighthouses that dot the harbour. Dinner is simple: mountains of freshly caught shrimp. If, however, you'd prefer to eat on dry land, treat yourself to a sumptuous feast at the Michelin-starred Maaemo, behind the Barcode Project district. Head Chef Esben Holmboe Bang presents a menu of Nordic delicacies that promise "a journey through the Norwegian landscape". Notable dishes are langoustine with pine butter and a gel of spruce shoots and chicken foot with liver and fermented lingonberry juice.
Call our ski experts to find out how to best spend 48 hours in Oslo.