One of my all-time favourite ski areas is the bijou Italian resort of Courmayeur. The scenery (with the focus on Mont Blanc, the highest peak in the Alps) is second-to-none, the little old climbing town, with its pretty-much pedestrianised Via Roma main street, complete with enticing restaurants and bars (don't miss the bustling Bar Roma, with its free antipasto buffet!), is charm personified.
And the welcoming mountain restaurants – in particular the Maison Vieille, run by the devastatingly handsome Giacomo Calosi – bring the resort very close to perfection. And just down the road at neighbouring Entrèves, the exciting, futuristic new Mont Blanc Skyway cable car proves this picturesque ski region is not living in the past. The state-of-the-art lift rises to 3,466 metres (11,372 ft) on the Italian side of Mont Blanc – arguably the closest point to the iconic summit and the "roof of Europe" accessible by public transport.
Stay At:
The Grand Hotel Courmayeur Mont Blanc is a five-star hotel set in an excellent location close to the slopes.
Courmayeur ski holidays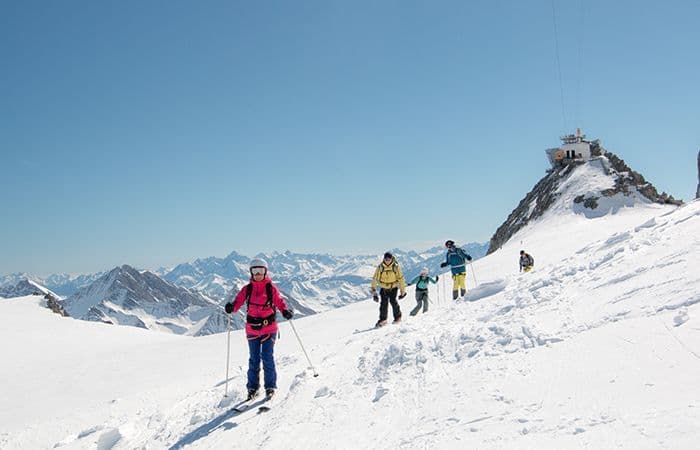 When I first looked at the blueprint for this starship of the slopes, shaped a little like a gigantic old-school NASA space helmet, it occurred to me that it was rather like the skiing equivalent of three model-T Fords being replaced by a Porsche.
Three years on from its demise, the tiny old cabin – the highest and smallest of three ancient ski lifts that used to squash skiers and snowboarders on its final climb from the Rifugio Torino up to the giddy heights of Punta Helbronner – is now a distant memory. The new two-part €138 million cable car now rules supreme.
The space-age lift, with zinc titanium coated steel, took four years to build, using the skills of hundreds of construction workers.
During the three-year time-lapse between the old and the new, the lower two lifts from La Palud to Rifugio Torino remained open, so visitors with a guide could still get to the exciting ski route down the Toula glacier back towards Entrèves. Later a new bridge and piste enabled skiers to resume the Italian version of the celebrated off-piste Vallée Blanche run down to Chamonix.
The views from the cable cars are exhilarating: both of them complete 360 degree rotations during the journey, at a speed of nine metres per second, carrying 800 passengers per hour.
Luca Rolli, a board member of Courmayeur's Società Guide Alpine, said: "The new Skyway cable car system is a grandiose construction allowing visitors amongst perennial glaciers, granite peaks and breathtaking panoramas."
Coming back to earth after such heavenly wanderings, while you're visiting Entrèves, you might consider visiting the Maison de Filippo, celebrated for its fixed-price feast of 36 dishes!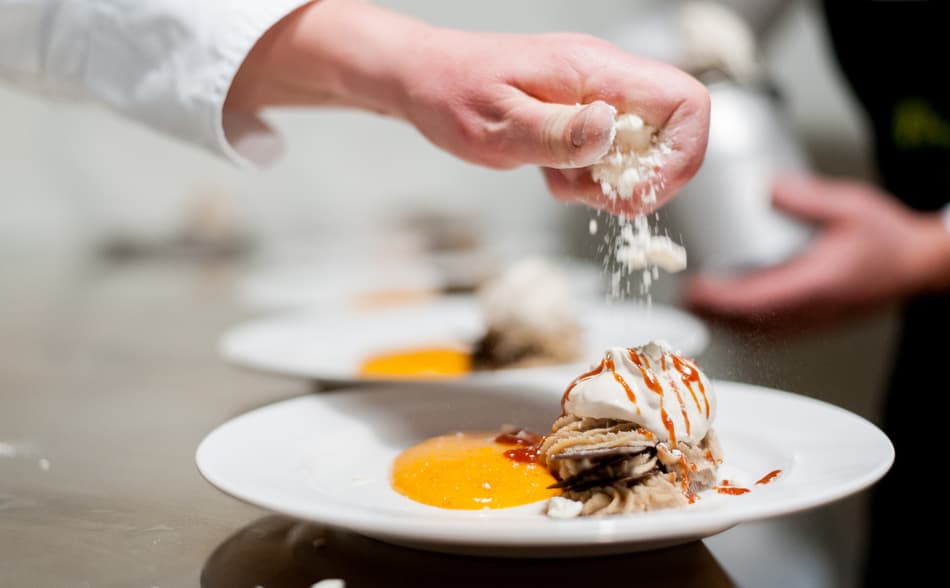 Back in Courmayeur itself, because I wasn't expecting to ski much off-piste terrain, I rented some pretty standard "all-mountain" skis. Without getting too technical, these work fairly well on and off piste, but if you're really getting into the "steep and deep", they don't work so well. This was quite embarrassing in front of my peers, including our host, Craig Burton, the MD of Ski Solutions. Of course, he skied like a dream!
Like all the staff at Ski Solutions, Craig doesn't hang about once his skis are pointing downhill – or when the lifts have shut, either. He and his team are all dab hands – and feet! – at having fun on the slopes and enjoying the night life too. And selecting comfortable accommodation later.
In Courmayeur, for example, they might just admit slumbering at the five-star Grand Hotel Courmayeur, and no doubt dreaming about a powder day to follow. And that goes for three-star hotels such as Pilier d'Angle too.
As for my rather poor performance on the slopes, what I really needed, our instructor Aiace Bazzana ("just call me Ace" he said modestly) told me, was some really big fat skis. "I have a pair of new Völkl 1s" he said. "Do you want to borrow them?" Didn't I just? Anything to stop me tumbling over far too often on the rather unsuitable skis I was using.
The transformation was immediate. While the huge fat blue skis were a bit cumbersome on piste, it was like skiing on two snowboards or surfboards in deep snow. I was a different skier – I could relax and let rip to my heart's content. What's more, for the first time in my life, I became a fashion icon. Apparently my huge blue skis (with green bases), green jacket and blue-green tinted sunglasses were quite the ensemble!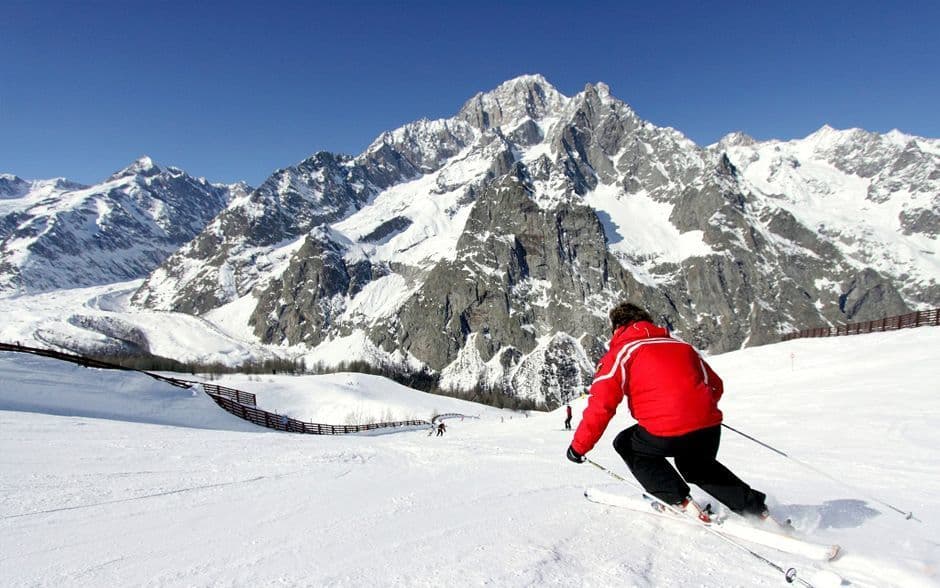 And so, led by the Ace, we romped down every bit of exhilarating off-piste we could safely ski – wallowing through the trees, round the trees and zooming through the wide open spaces. If it hadn't been for the fact that lunch would be in my favourite restaurant in the Alps – or pretty much any other mountain range come to that – I would have been reluctant to stop, I was enjoying myself so much. But I wanted to surprise my old friend Giacomo, who greeted me with a huge hug, a vast grin, and a big plate of steak tartare.
There are few restaurants anywhere that I normally allow to devour too much skiing time, but lunch at the Maison Vieille is not to be rushed. By the time we'd got through all the courses – and Giacomo had produced a bottle or three of exceptional red wine – it was almost time for the last run of the day. A near perfect day.
What a shame I had to return those jolly green giants to Ace. But trying to steal them – or smuggle them out unseen under my ski jacket – would have been just a little too ambitious. Hell, I didn't even nick a bottle of Giacomo's wine!