When is the best time to go a skiing holiday?
When is the best time to go skiing may seem straightforward. Pick a week during the ski season and book your holiday. But in fact each month has its own distinct attractions, and knowing when this is guarantees a great ski trip. Whether you're only going once in the season, or fitting in several trips, it's important to time it right for the best time to ski so you know what to expect.
Our team have been lucky enough to ski throughout the season, so know when's the best time to ski for what. The ski season in Europe and North America typically runs from December through to April, so a holiday early in the season can be very different to one later on.
The good news is this means there's a time that'll suit you best, depending on what you're looking for in a ski holiday. If you're a family tied to school holidays but looking for quieter slopes, Easter can be a great option. If you're a group looking for the best value then early March is worth considering. If you're an expert wanting the most reliable snow conditions, take a bet on late January. When is the right time for you? Read on to find out the best time to go on a skiing holiday in Europe and North America.
Is December the best time to go skiing?
December is an exciting time in ski resorts. The season is just beginning and the local businesses are reopening after closing for the low season. But it's very much a month of two halves. While the Christmas and New Year weeks are popular with families and groups, and prices reflect that, head out earlier in the month and you'll find some great ski deals and empty slopes.
Visit the handful of high-altitude ski resorts that open from the beginning of December (or even late November), such as Val Thorens in France or Ischgl in Austria, and you'll be in for a treat. These ski resorts in Europe throw huge opening season parties with lots of events and activities both on and off the slopes. It's worth noting though, snow conditions can be unreliable early in the month and some resorts don't open until Christmas week. But if you're happy to gamble, or can book last minute, early December can be a great value time to ski.
Spending Christmas in a ski resort is a fantastic experience, and one that should deliver a white Christmas. Booking a chalet for a family ski holiday is a real treat and often comes with all the Christmas trimmings. Or you can opt for a luxury hotel for a pampered Christmas like no other. It really is one of the best times to go on a skiing holiday for that festive experience.
Spend New Year's Eve in a ski resort and you're guaranteed a big party. Resorts go to town, and will often have fireworks displays (Courchevel's in France are epic) and live music or DJs in the village centre. And there's no better way to clear a New Year's Day fuzzy head than by going skiing!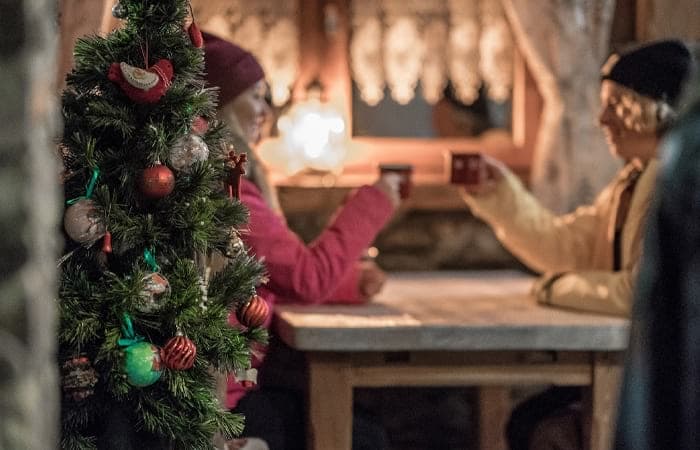 January – is this the best time to go skiing for me?
After the mayhem of New Year, things quieten down dramatically in ski resorts and the first week of January can often be the cheapest week of the season. If you're not tied to school holidays, it can also be one of the best. The slopes will be quiet, lift queues will be non-existent and the snow coverage should be great by then.
The whole of January tends to continue in this vein, making it one of the best months to go on a skiing holiday. January often sees some of the largest snowfalls of the season, so conditions in resorts of all altitudes are likely to be good. For beginners and early intermediates this means soft, forgiving snow to cushion falls. For more experienced skiers it means virgin snow for off-piste adventures.
January is also one of the best times for a skiing holiday if you want to improve your skills and technique. Those empty slopes make for the ideal classroom, either on a dedicated training camp or in standard ski lessons. You also won't waste precious learning time in lift queues. For ambitious intermediates wanting to learn new skills, Verbier is one of our favourite ski resorts in Europe.
One thing to note for January. If you're skiing with young children, it's worth holding off until March. January can be very cold. This makes for great skiing if you're wanting lots of fresh powder and perfectly groomed runs (as well as the perfect excuse to stop at a cosy mountain hut for a warming hot chocolate), but it isn't great for little ones hanging around the nursery slopes.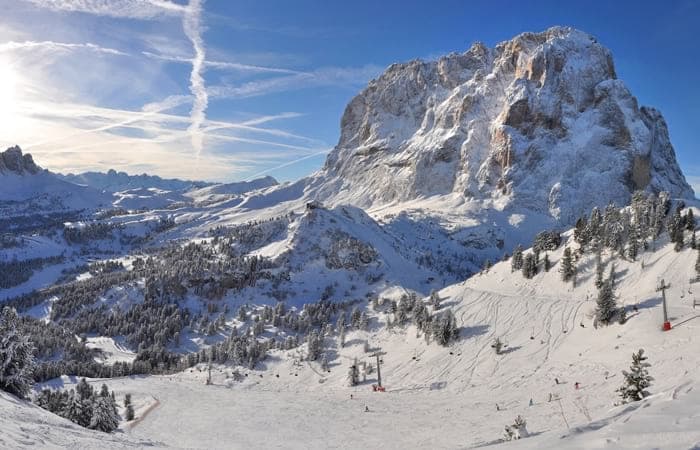 Is February the best time?
February is great fun in the mountains. Across Europe, it's peak holiday time for school children, so the resorts often arrange lots of additional family-friendly activities and animations, both on and off the slopes. Expect anything and everything, from treasure hunts to magic shows and free concerts.
February is also good because it begins to get a bit warmer, but not too warm, and is when lower altitude ski resorts can be at their best. These are some of the reasons why many families consider February the best time to go on a skiing holiday with children.
To make the most of a ski holiday in February you need to be organised. After New Year it's the busiest time of the season, so it's worth booking lessons, ski hire and any additional activities before you arrive. Our client concierge team here at Ski Solutions can do all of that for you. And if you've got your heart set on a particular ski resort or accommodation, book it as far in advance as you can. There's a great buzz in ski resorts during February and the villages are at their liveliest. This atmosphere is unbeaten and makes this month one of the best times to go on a skiing holiday.
If you're put off by the prices in European ski resorts during February, it's worth taking a look at North America. Their resorts don't follow quite the same booking pattern, so prices can be competitive.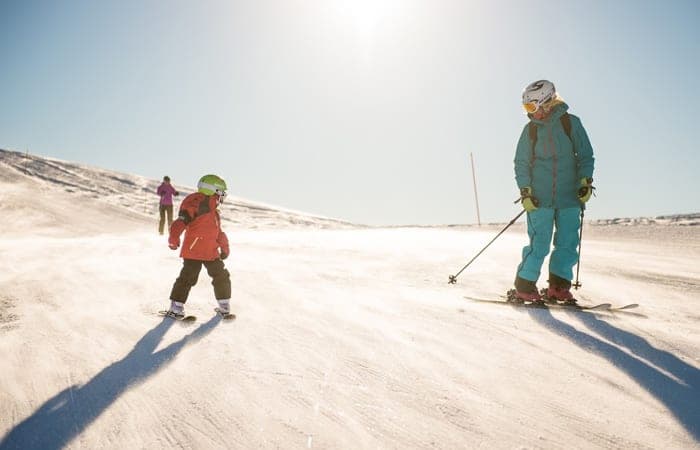 March is the best time to go on a skiing holiday!
As you've hopefully discovered, each month of the ski season has its merits. But March is a firm favourite for its warmer days, reasonable prices and reliable snow conditions. It's famed for what we call bluebird skiing. Crisp white snow, deep blue skies and not a cloud in the sky. Opt for March and you'll have your pick of ski resorts at all altitudes, particularly early in the month. And with no school holidays to plan around, there's usually plenty of available accommodation and uncrowded slopes. One of the best times to go on a skiing holiday, it's a firm favourite for a reason.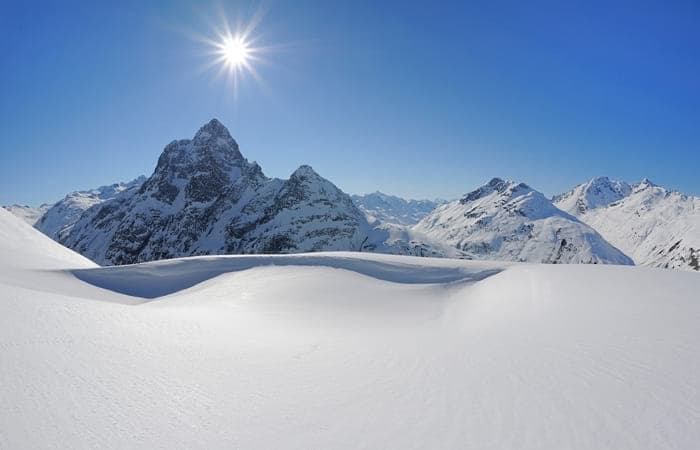 Why it's worth considering April
If you're tied into school holidays, skiers always wish for an early Easter break (as opposed to later in April) for the best Easter conditions. Book a high-altitude ski resort and you'll hopefully have long sunny days and soft but not too soft snow conditions. Plus the prices aren't as high as the school holidays in December or February.
The wonderful thing about skiing in April is it can feel like two ski holidays in one. Head out early to ski, then as the day warms up (usually after lunch), head back to resort and go for a walk or a swim, a bike ride or a game of tennis. Some would say this makes April the best time to go on a skiing holiday. You'll feel like you've had both a summer holiday and a ski holiday. In a few ski resorts in North America and Europe skiing continues into May. Particularly with Cervinia in Italy, Tignes in France and Breckenridge in Colorado. It's then only six months to wait until the northern hemisphere season starts again.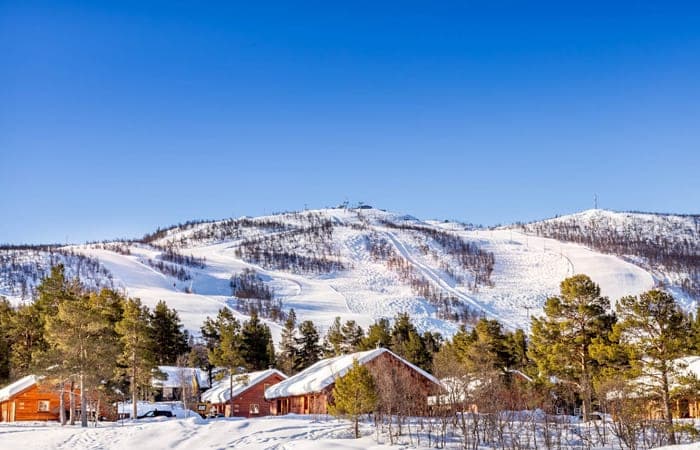 The best time to go on a skiing holiday
When is the best time to ski depends entirely on what you're looking for and what your commitments are. Each month is brilliant for its own reasons and we'd happily ski all of December, January, February, March and April.
To discuss which month is personally best for your ski holiday, speak to our team of ski experts. Call us on 020 7471 7700.